Oli must shoulder responsibility for Baskota, say party members and anti-corruption campaigners
The prime minister finds himself in a tenuous position, given that Gokul Baskota is a close aide and many believe that he cannot have acted without Oli's approval.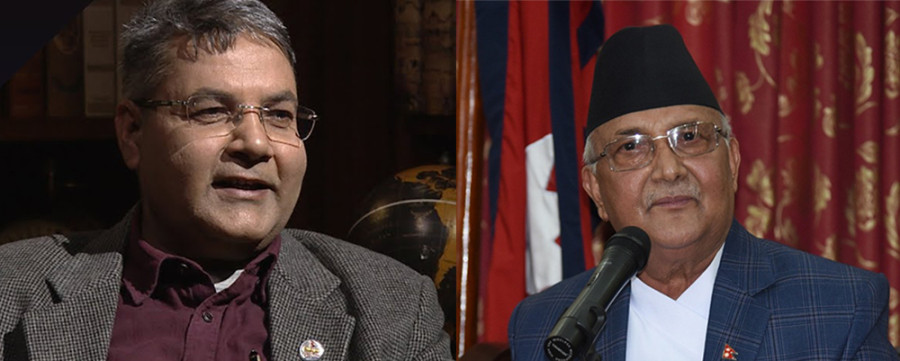 Post photos..
bookmark
Published at : February 22, 2020
Updated at : February 22, 2020 07:22
Kathmandu
Gokul Baskota might have resigned as minister for communication and information technology over a leaked audio record of him seeking kickbacks in public procurement, but there are many who say that it is Prime Minister KP Sharma Oli who is ultimately responsible.
Baskota resigned after being caught on audiotape negotiating a Rs 700 million "commission" with the local agent of a Swiss company over the planned security printing press. But Baskota is one of Oli's closest confidantes and there are voices from both within the Nepal Communist Party (NCP) and without who believe that Oli must have been aware of Baskota's solicitation.
Although she refrained from naming the prime minister, Asta Laxmi Shakya, a Standing Committee member of the ruling party, demanded that all those involved in the scandal be identified and prosecuted.
"Baskota alone cannot make a deal on such an unimaginable amount of money," Shakya told the Post. "There must be other actors behind the scene and they must be revealed."
This suspicion has only been bolstered by the account of Bijaya Prakash Mishra, the local agent in question.
Speaking to Kantipur daily, the Post's sister publication, on Friday, Mishra said that he had provided Oli with the audiotape two months ago.
"But he did not take any initiative to take action against Baskota," Mishra told Kantipur.
Oli has long favoured Baskota, elevating him from a junior minister in his Cabinet to full minister and the government's spokesperson. In the last Cabinet reshuffle, despite much criticism about Baskota's abrasive style and the plethora of bills his ministry was aiming to introduce, Baskota kept his ministerial berth.
Given the close connection that Oli and Baskota have, party leaders believe that Oli should take moral responsibility for the actions of a trusted Cabinet member.
"Even though I believe that the prime minister should take moral responsibility for Baskota's action, the mentality of leaders appears to be to protect those who are close to them," said Ganesh Sah, a Standing Committee member of the ruling party and a former minister.
Public criticism about the scandal has been immediate, with many calling for Baskota's expulsion from the Cabinet and an investigation into the allegations. Baskota stepped down on his own but there is now an expectation that investigation and prosecution will follow.
"Any failure to take further action, as expected by the people, will certainly take him, the party and the nation to a very difficult situation," said Yubaraj Chaulagain, a Central Committee member. "This comes as a huge blow to the prime minister."
But given past experiences, there is not much optimism regarding the due process. In 2010, Krishna Bahadur Mahara, the former House Speaker who was recently acquitted of attempted rape charges, was similarly caught on audiotape asking a Chinese person for Rs500 million to "buy lawmakers".
For anti-corruption campaigners, an investigation into Baskota would be welcome, as there has long been a tendency for Nepali leaders to 'sacrifice' lower-ranking officials in order to save 'bigger fishes'.
"In Nepal, it's only the common people who have to undergo legal procedures," said Shree Hari Aryal, former president of Transparency International's Nepal chapter. "The anti-graft body tends to save those leaders who can influence the prime minister."
Aryal was referring to the Baluwatar land grab, known colloquially as the Lalita Niwas scam, where the Commission for Investigation of Abuse of Authority refrained from indicting Nepal Communist Party General Secretary Bishnu Poudel, despite his involvement in the scam. Poudel too is from the Oli camp in the ruling party.
But pressure is mounting on Oli from all sides. The opposition Nepali Congress has seized the opportunity to take the Nepal Communist Party to task while the public mood is foul. Even within the party, Oli finds himself surrounded. Party Chairman Pushpa Kamal Dahal, who has recently acquired a majority on the party's nine-member secretariat, will likely use this occasion to press Oli further.
"It appears that leaders are becoming more corrupt," Dahal said at a programme organised in Bhaktapur on Friday morning. "We must commit to correct our mistakes and take action against the wrongdoers to strengthen and purify the party."
Baskota's resignation will not just weaken Oli's position within the party but has damaged his image, especially given his pronouncements on controlling corruption.
"Everyone knows that Baskota has very close connections with Oli," said Aryal. "I cannot believe that Baskota did this without the knowledge of the prime minister."
---
---