How Nepal's communications minister went from being a reporter to a hardline politician against free press
The Minister for Communications and Information Technology, who started his career working for left-leaning publications, is now one of the prime minister's most trusted ministers, and a spokesperson for the government.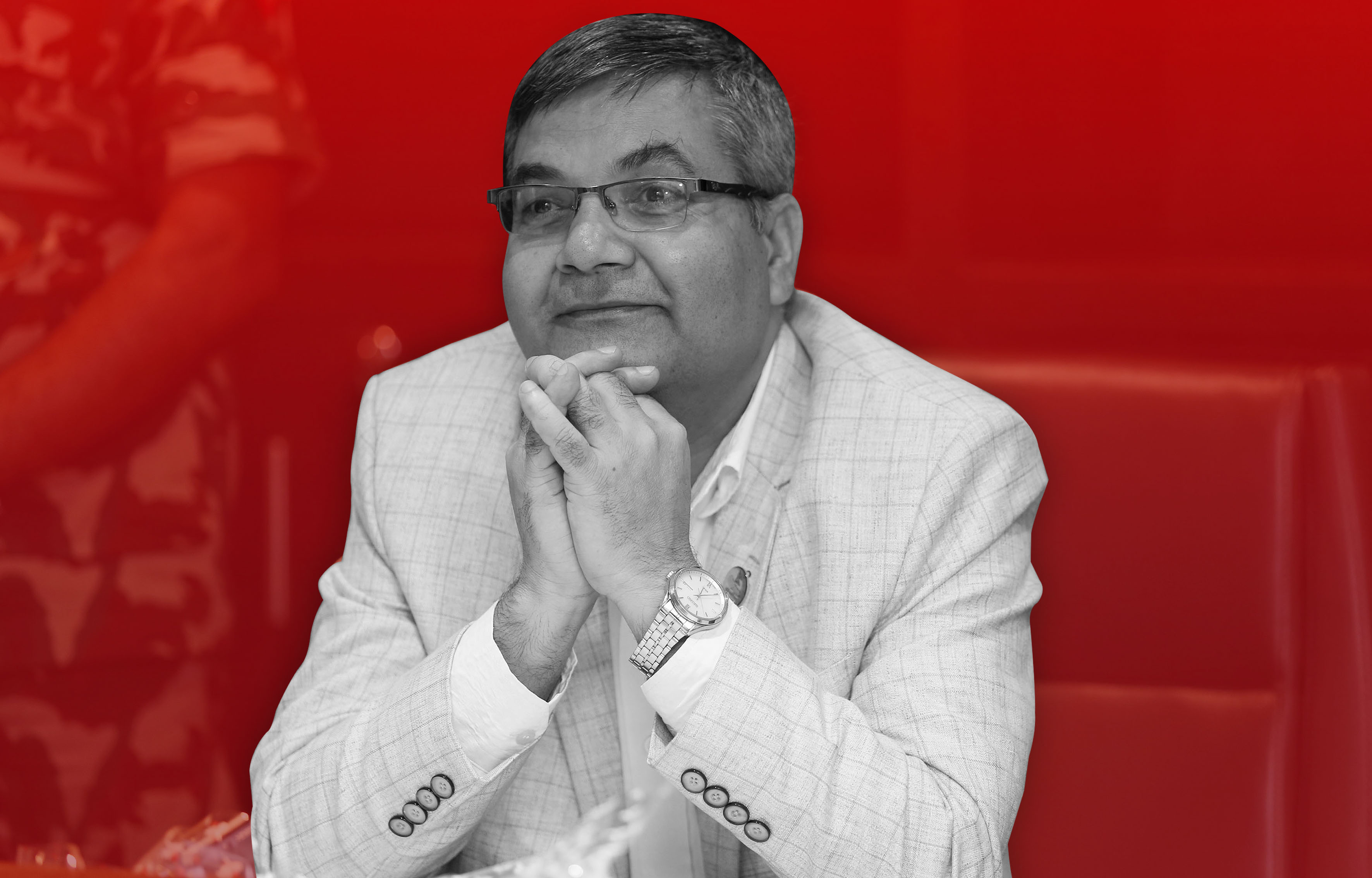 Minister Gokul Baskota Post Photo: Kiran Panday | Illustration: Raj Kumar Poudyal
Published at : June 23, 2019
Updated at : June 24, 2019 12:02
For Gokul Baskota, the last twelve months have been particularly busy. Since taking the helm of the Ministry of Communications and Information Technology, which had been without a leader for several months before his appointment last June, Baskota has eagerly placed himself at the centre of a nonstop media storm, defending every controversial bill the government has tabled or passed—from the Medical Education Bill to the Media Council Bill and the Guthi Bill.
Last week, he made headlines again, this time for referring to guthis as "lingering remnants of feudalism" during the weekly press conference on June 13. He strongly denied making such a statement in Parliament on Friday.
But Baskota wasn't always the way he has appeared in public since joining the KP Sharma Oli administration last year. Until ten years ago, the man who belittles and taunts the media during the administration's weekly press briefings and at other public forums was sitting across the dais, firing a volley of questions at those in power. Baskota was a journalist.
"During his journalism days, he was even more sharp-tongued than he is now," said Sambhu Shrestha, editor and publisher of Drishti vernacular weekly, where Baskota worked as executive editor for nearly 12 years.
To understand how Baskota, a former journalist, became the face of the Nepal Communist Party government's aggressive push against the press, one has to travel back nearly five decades, to the tiny village of Naya Gaun in Kavre district.
Baskota was drawn to the communist party from a young age, and by the time he was in the fifth grade, he was already active in student politics.
"Gokul was probably drawn by the party's lofty ideas of fighting for poor people's welfare," said Kishor Shrestha, acting chairman of the Press Council, and Baskota's longtime acquaintance.
Shrestha, who was also active in student politics during the Panchayat years, remembers meeting Baskota for the first time nearly 33 years ago, when he administered Baskota's oath as a member of the Kavre chapter of the Communist Party of Nepal (Marxist-Leninist)'s student wing. Since their activities were closely monitored by the state then, Shrestha says the oath was administered in a jungle near Nagarkot.
But it was his career in journalism working for left-leaning publications that helped him lay the foundations for his later political incarnation.
Baskota began his career as a journalist working for Chhalphal weekly during the Panchayat years, when he was already a member of the Marxist-Leninist party. It was here that Baskota developed a flair for writing leftist political analysis and reportage for pro-Marxist publications like Drishti, shaped by the ideals of communist leaders like Madan Bhandari and those in Bhandari's close circle. Among them was Khadga Prasad Sharma Oli, a rising UML leader who had served as Home Minister during the Manmohan Adhikari-led government in 1994.
Baskota and Oli's history can be traced back to the 1990s. Their relationship solidified during the UML's seventh convention in Janakpur, where Baskota placed himself firmly in the Oli faction. Since then, the party has splintered, come together and, in 2018, united with the Maoists. And through it all, Baskota has remained loyal to, and stood by, Oli.
It was this unwavering faith in Oli, and years of relationship building, that gave Baskota—a district level leader—direct access to the party's central committee members.
Until then, Baskota's politics was limited to the district level. His attempt to enter national politics failed when he was denied a ticket in the 2013 Constituent Assembly election. But he was finally able to contest the 2017 general election, which swept him into the federal parliament, paving the way for him to become the spokesperson for the Oli-led government.
"They [Oli and Baskota] share the same wavelength and have similar natures when it comes to speaking without thinking," said Sambhu Shrestha of Drishti weekly.
When Baskota couldn't find accommodation in the ministers' quarters after his late appointment to the Cabinet last June, Oli offered his home in Balkot for Baskota's residence, another testament to the two men's steadfast bond.
"Oli wouldn't have handed over his house to Baskota if he didn't trust him so much," said Kishor Shrestha.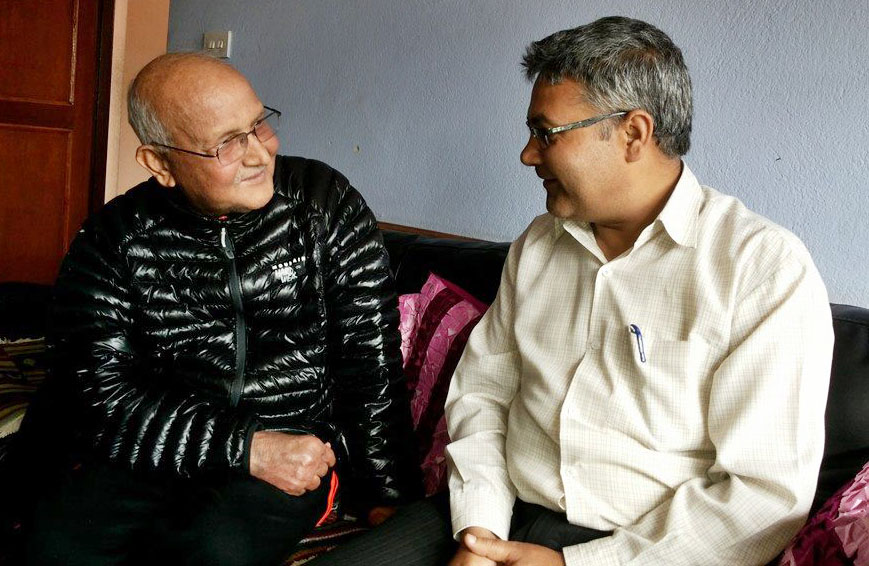 Baskota with Oli in a 2015 photo. (Photo via Baskota's Facebook page)
Because he was once a journalist himself, Baskota's strained relationship with the press, particularly the mainstream publications, has surprised many. According to his former colleagues, Baskota often wrote critical pieces when journalists were harassed, disappeared or killed by both the Maoists and the state security agencies during the decade-long conflict.

"He had well placed sources everywhere," said Shambhu Shrestha. "I remember how he re-wrote the lead story for February 1, 2005 hours before we went to press, signaling the palace's ill intentions after he got wind of what was cooking." Hours after Drishti hit the newsstands on the morning of February 1, King Gyanendra declared a state of emergency and suspended all constitutional liberties.
In the mid-1990s, Baskota was also an active member of the Federation of Nepali Journalists, which staged a protest against the arrest of journalists during the Krishna Prasad Bhattarai administration. Nearly two decades later, the same organisation where he advocated for journalists' rights has condemned Baskota on several occasions for trying to muzzle the press.
Criticism against Baskota came thick and fast when a talk show, which had aired on the state-run Nepal Television for the past 12 years, was abruptly cancelled after the host questioned Baskota about his property during an interview. The programme's producer, Raju Thapa, said that the show was cancelled at the direct intervention of the minister, allegations which Baskota has rebuffed.
Many media observers say his relationship with the press is even more combative than that of Tanka Dhakal, who was the spokesperson and information minister during King Gyanendra Shah's direct rule.
Journalists who have been in positions similar to Baskota's, from being a reporter to facing the reporters, say they are shocked by his actions and words.
"Journalists will grill us, try to provoke us sometimes," said Rajendra Dahal, who served as the press advisor to President Ram Baran Yadav. "I faced the same situation as well, but it's our duty to not get provoked.".
Since he took office last year, Baskota has been vocal about his disdain for critical voices against the government, especially those from the media. He has repeatedly admonished the press in public and private for critical coverage of the current government. The increasingly intolerant climate for journalists in Nepal has also been pointed out by international and local civil liberties groups.
Last year, Baskota ordered state media to muzzle—and counter—news reports related to Nirmala Pant, a 13-year-old girl from Kanchanpur, who was raped and murdered, and Dr Govinda KC, who was then staging a hunger strike demanding reforms to medical education in the country. The minister summoned the editors of five state media outlets and asked them to effectively discredit and mitigate the private media's trenchant coverage of the government's inaction in both cases.
Several reporters from state media from outlets told the Post how "surveillance has increased" in their newsroom since Baskota took the reigns of the communications ministry. All of them spoke on the condition they not be identified.
A journalist who has been with Nepal Television for several years said that governments in the past have always tried to influence their image through the state-run media but the current government is a bit "too harsh".
"We are now being told what is and what is not news based on how it reflects on the government," the reporter told the Post. "This government is pushing us around and dictating what we write and how we write on issues concerning the public."
The most recent controversy was around the story about the Dalai Lama in the state-run news agency, Rastriya Samachar Samiti (RSS).
RSS journalists working at the English desk of the news agency—Mohani Risal, Somnath Lamichhanne and Jivan Bhandari—faced an investigation for translating and disseminating a wire report about the Dalai Lama being discharged from a hospital in New Delhi after treatment.
In a phone interview with the Post, Baskota said that the Tibet issue is sensitive for China and the dissemination of a report regarding the Dalai Lama by the state-run news agency—particularly during President Bidya Devi Bhandari's state visit to China—was against Nepal's commitment to the One-China policy.
"We should be sensitive to our neighbors' concerns," Baskota told the Post. "If a state-owned media [wing] in Nepal publishes a news item on Kashmir during a visit of the Indian prime minister, the Indian side will definitely raise their concerns."
"No state media writes about any controversial issue when the President is visiting the concerned country. That's why I ordered a probe," he said.
Another reporter from RSS said his colleagues' stories have been dropped altogether when they write about opposition leaders' strongly-worded criticism of the government, like when some of the Oli government's moves are deemed "authoritarian". Now, the journalists said, they have learned to frame the stories differently. Since the protests and criticism around the controversial guthi bill began last week, reporters at the state-run news agency say they have taken a roundabout approach to writing about it.
"If we say the government is making it easy for land mafias to grab guthi land, we know it won't be published," the reporter said. "So we say people are protesting because the bill will have an adverse effect on the culture and traditions kept alive by these guthis."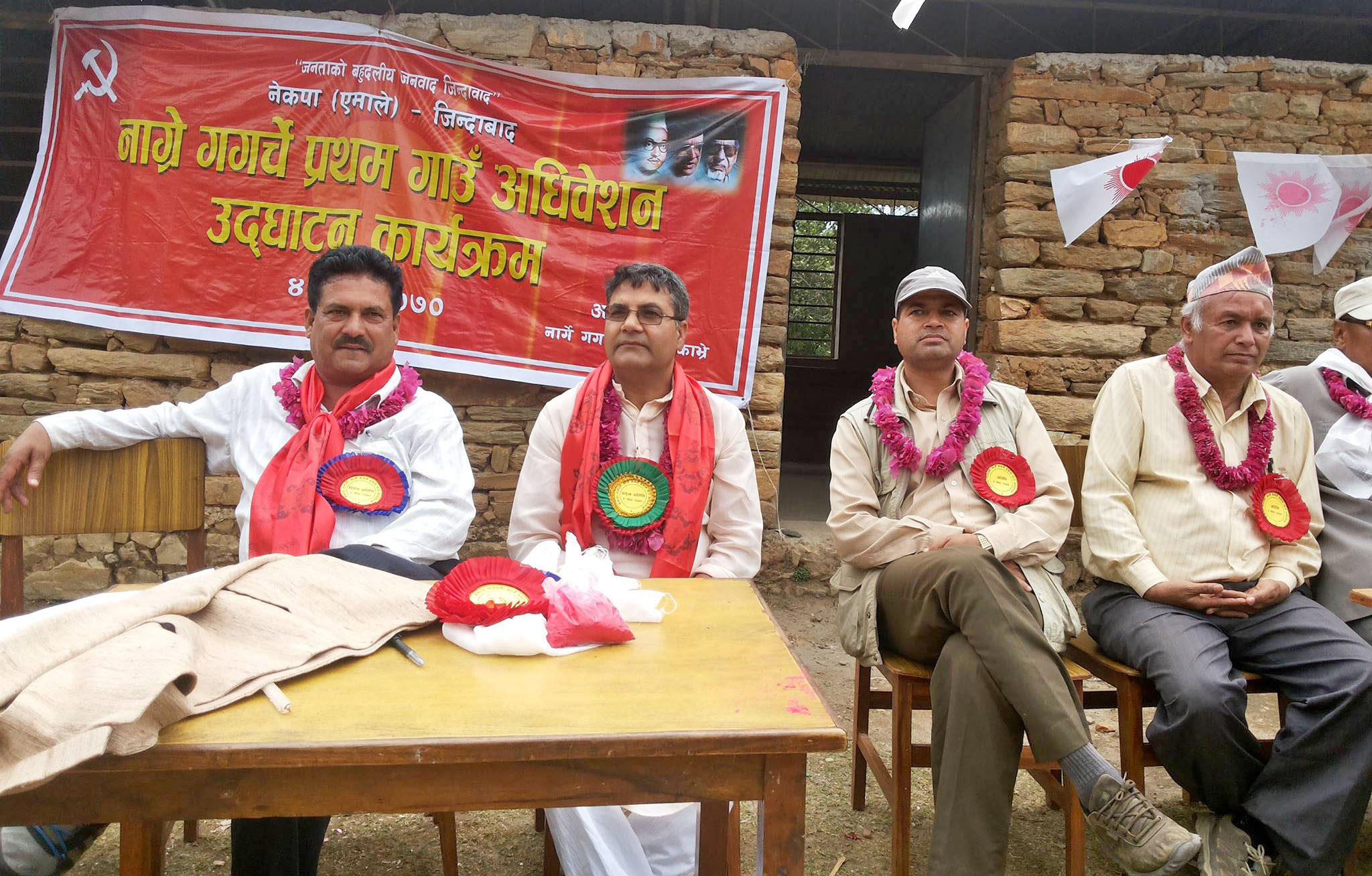 Baskota joined local politics in Kavre and rose through the ranks. (Photo via Baskota's Facebook page)
Some of Baskota's friends and former colleagues, however, say that people might be misreading his straightforward, no-nonsense nature as being combative.
Gopal Budhathoki, the editor of Sanghu weekly and a longtime friend of Baskota, says he is among the few people who have suggested that Baskota change his ways after joining the Cabinet.
"I tell him he should talk like a minister now, with restraint, and not as the aggressive journalist he used to be," said Budhathoki, who has known Baskota for over 25 years. "That's just how he is, he doesn't mince his words. But the man has a good heart."
Budhathoki remembers Baskota as a young and active journalist, who after working at Chhalphal, Drishti, and running his own paper called Sambodhan, became a "whole timer" in politics.
"He immersed himself in Kavre's local politics and climbed up the ranks," said Budhathoki.
For a low profile district leader from Kavre, who was relatively unknown until the last election, getting a plum position in government came as a surprise to many within the party itself. His role as the spokesperson was particularly intriguing since there were other more visible leaders like Yogesh Bhattarai, who was already handling the party's public relations. But Bhattarai was close to Madhav Kumar Nepal and because Nepal and Oli weren't on the best of terms even after the party's sweeping victory in the 2017 elections, political observers say the most visible portfolio fell into Baskota's lap.
Last year, during an interview with Ratopati, when Baskota was asked why the Cabinet was delaying information on its decisions, he defended the government's action saying "there is no constitutional provision, which says journalists need to know everything." He went on to say that people would criticise him for being upfront about saying things as they are.
His comments were swiftly followed by criticism on social media, but Baskota's stance towards the media didn't soften. That very attitude, people in his close circle say, could backfire.
"He is in a responsible position now and needs to think twice before speaking," said Sambhu Shrestha. "It'll be unfortunate if his political career is damaged by his current actions."
But there are others who feel that Baskota, because of his temperament and his political ambitions to stay in the game for the long haul, is in the wrong ministry. During the 2017 election, Baskota campaigned on economic prosperity, committing to building a small airport in his home district for mountain flights and developing Kavre as an agricultural production hub. Since his appointment, a good chunk of his time has been spent defending the prosperity plans of Prime Minister KP Sharma Oli.
"He has little to show or give to his constituency through this ministry," said Kishor Shrestha, who has been critical of the Media Council Bill and Baskota's role in defending the bill.
But Shrestha, whose long-standing relationship with Baskota is believed to have soured because of their differences over the Media Council Bill, is quick to add that the nature of this ministry, which requires him to adopt the voice of the government and the people he is representing, might have done more harm than good to his image.
"This portfolio wasn't something Baskota looked forward to because it has not helped him appease his constituency," said Shrestha. "If there is a Cabinet reshuffle, I think he would gladly trade places with someone else."
---