Parties often prioritise women candidates to cash in on sympathy votes
The fielding of a number of candidates in the upcoming by-elections fits a tendency to award election tickets to women after the demise of their husbands.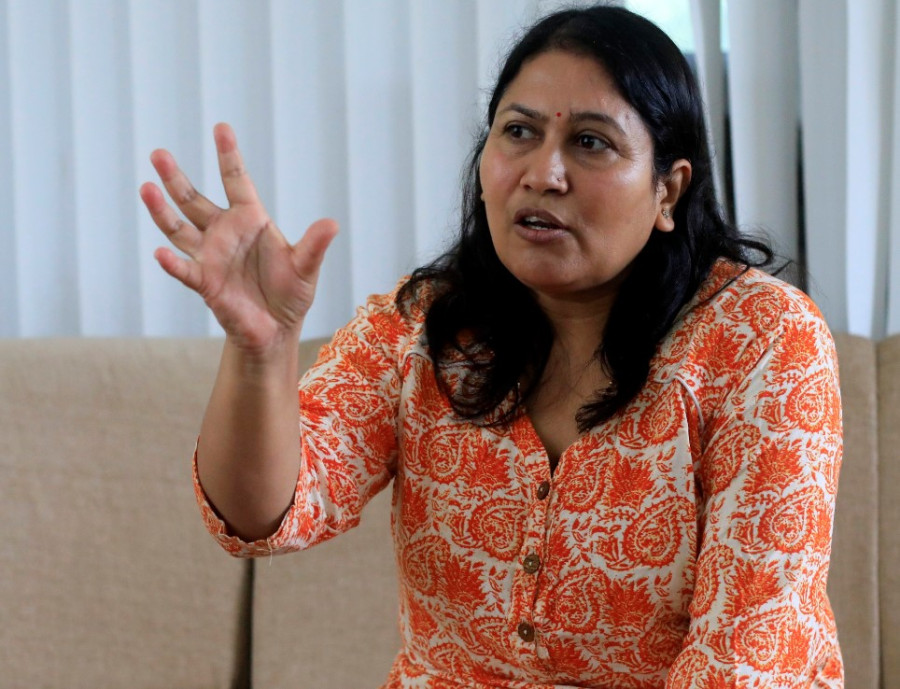 Bidya Bhattarai, the wife of late Rabindra Adhikari, is contesting the Kaski-2 by-election on a Nepal Communist Party ticket. Hemanta Shrestha /TKP
bookmark
Published at : November 12, 2019
Updated at : November 21, 2019 14:33
Kathmandu
Nepali political parties have been traditionally conservative when it comes to giving space to women leaders. Unless dictated by law, leadership positions for women within the party or candidacy during elections have not been customary.
Despite the lobby from women leaders and activists, just 146 women, including independent candidates, contested the 2017 parliamentary elections that had a total of 1,945 candidates. Only six of them won the elections, as the parties fielded women candidates from constituencies where they didn't stand much of a chance.
These same parties, however, are quick to pick women for elections or leadership positions after the sudden demise of their husbands. This is a tendency that is prevalent across the political spectrum.
"Parties want to cash in on sympathy votes. It's nothing but a strategy to win elections," Nepali Congress leader Pushpa Bhusal told the Post. "This has nothing to do with women empowerment or increasing their representation."
For the upcoming by-elections, scheduled for November 30, the Nepal Communist Party has fielded Bidhya Bhattarai from Kaski Constituency-2 for a seat in the federal parliament. The constituency has been vacant since her husband Rabindra Adhikari died in a helicopter crash on February 27.
Similarly, Bimala Oli is contesting the provincial by-elections from Dang Constituency- 3 (B) on a Nepal Communist Party ticket after her husband, Uttar Kumar, died in a road accident in February, leaving the constituency vacant.
Bhattarai and Oli, however, are not the first women to be fielded by parties in the constituencies vacated by their late husbands.
President Bidya Devi Bhandari was given the ticket by the then CPN-UML to run against senior Nepali Congress leader Krishna Prasad Bhattarai from Kathmandu after the death of her husband Madan Bhandari in 1993. Similarly, Tirtha Gautam made her foray into politics from the UML after her husband Yadu was killed by the Maoists in 1999.
Again, in 2015, after the death of Constituent Assembly member Hari Bahadur Khadka, the Nepali Congress picked his wife Champa Devi to contest the by-elections from Baglung Constituency-1. The Congress also gave prominent space in party politics to Sita Devi Yadav, the incumbent treasurer, after her husband was killed by the Maoists. Shila Sharma Khadka also became a Member of Parliament after her husband Khum Bahadur Khadka, a senior Nepali Congress leader, died.
The trend is equally prevalent in the Madhes-based parties. Anandi Devi Singh became president of Sadbhawana Party in 2003 after the demise of her husband Gajendra Narayan Singh, a veteran Madhesi leader.
Many leaders say that the parties may have favoured women after the death of their husbands, but many of these women leaders come with a political background.
"A large number of women leaders who got space in politics after the death of their husbands do come from political backgrounds," said Binda Pandey, a Nepal Communist Party leader who is a strong proponent of women empowerment. "As far as Bhandari and Bhattarai are concerned, both were active in student politics."
Bhattarai was active in student politics and participated in the 1990 movement for the restoration of democracy. After marrying Adhikari in 1999, she gradually distanced herself from politics and took up teaching as a profession.
Bhandari, who became president in 2015, was inclined towards communist politics since an early age, but her active political journey began in 1980 when she became a member of the Communist Party of Nepal (Marxist-Leninist) in 1980.
Oli, the candidate fielded by the Nepal Communist Party in Dang, is a housewife.
Pandey agrees that the women got the ticket after the deaths of their husbands as part of the party's strategy to win elections.
"No matter how progressive our parties sound in their ideology, the patriarchal mindset in the decision-making process still exists," said Pandey.
According to her, the political leadership will face a real test when the country goes to general and provincial elections in three years.
"We will see who all will get tickets for those constituencies," she said.
Political analysts describe the tendency to present women as sympathetic vote pullers as a wrong practice. Election tickets should be awarded on merit, not just to cash in on sympathy, they say.
"I don't think there is a dearth of competent women in politics," said Meena Baidya Malla, a former professor of political science at Tribhuvan University. "The parties must give equal opportunity to such women, even during normal situations."
---
---