Internal conflict in Rastriya Janata Party delays unification process
Informal talks for unification have gained momentum to create a strong alternative force to compete with both Congress and Communist parties.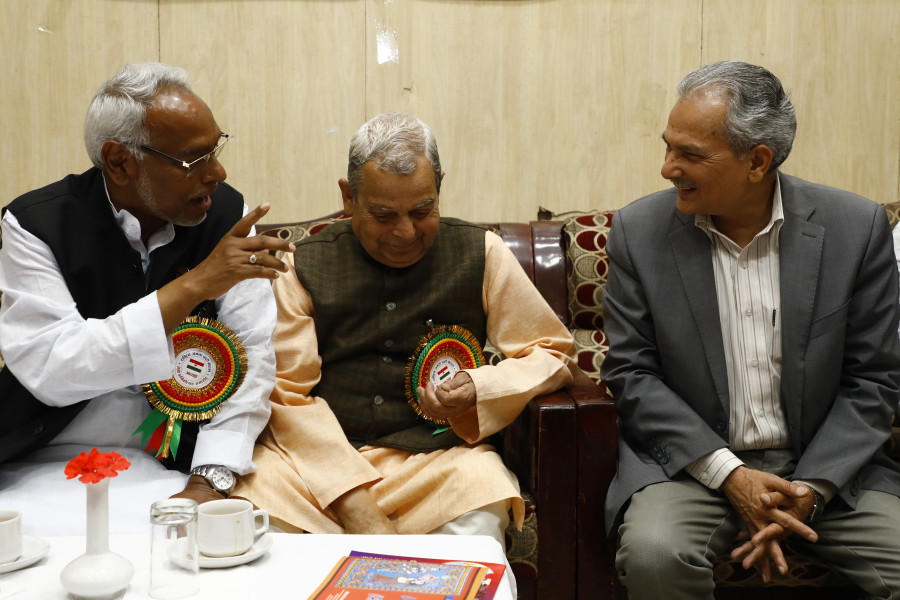 Samajbadi Party is learnt to have proposed Baburam Bhatarai (right) as chairman of the federal council and Mahanta Thakur (centre) as honorary chairman. Post File
bookmark
Published at : September 3, 2019
Updated at : September 3, 2019 07:45
Kathmandu
With internal conflict escalating among the six leaders of the Rastriya Janata Party, Nepal presidium, its unification with the Samajbadi Party, Nepal to develop a strong alternative force to compete with the Congress and Communist parties has taken a back seat.
Since the six top leaders themselves are divided over whether they should move ahead with unification before or after the party's first unity convention, discussions on how to proceed began on Sunday.
Upendra Yadav, deputy prime minister and chairman of the Samajbadi Party's central executive committee, told a party meeting on Wednesday that the unification process with the RJP has been delayed because the latter had failed to take a concrete decision.
A day after the Samajbadi Party held its executive committee meeting last Wednesday, an informal meeting was held between the two parties where Baburam Bhattarai, Upendra Yadav, Ashok Rai, Rajendra Shrestha and Navaraj Subedi were present from the Samajbadi Party and Rajendra Mahato, Sharat Singh Bhandari, Mahendra Yadav and Rajkishor Yadav from the RJP.
During the meeting, according to one participant, the Samajbadi Party proposed Baburam Bhattarai as chairman of the federal council, Mahanta Thakur as honorary chairman, Upendra Yadav as chairman of the central executive committee, Ashok Rai as senior leader, Rajendra Mahato as senior leader; and Rajendra Shrestha, Mahendra Raya Yadav and Sharat Singh Bhandari as secretariat members.
Currently, the Samajbadi Party has 25 office bearers with two chairpersons, a senior leader and a co-chair, eight vice-chairs, three general secretaries, three deputy general secretaries, six secretaries and a treasurer. Samajbadi Party leaders have assured the RJP that the six members of its presidium would be adjusted into the unified party's office bearers and secretariat.
Citing concerns over appropriate adjustments, two RJP leaders—incumbent coordinator Rajkishor Yadav and Anil Jha—are reluctant to proceed with the unification.
Earlier, in an informal proposal, RJP leaders had demanded that Mahanta Thakur be given first rank in the unified party. The proposal, floated by one of the party's general secretaries, also stated that the Samajbadi Party should quit the government before announcing the unification of the two parties.
"We have floated a proposal to RJP leaders and are waiting for their response," said Navaraj Subedi, vice-chair of the Samajbadi Party, who was also present in the latest informal meeting with RJP leaders.
"Once we receive a positive response from them, talks teams from both parties will take up formal discussions," he said.
Rajendra Shrestha is leading the talks team from the Samajbadi Party while Rajendra Mahato leads the RJP team.
The RJP's Sunday discussions are likely to continue until all six leaders come to a conclusion on how to respond to the proposal floated by the Samajbadi leaders.
"We are for a respectable unification that is based on equality and collective responsibility," said Bhandari. Leaders from both parties, according to Bhandari, are on the same page about creating a strong alternative force to safeguard the achievements of the various political movements but have yet to reach a collective decision on the modality of party unity.
***
What do you think?
Dear reader, we'd like to hear from you. We regularly publish letters to the editor on contemporary issues or direct responses to something the Post has recently published. Please send your letters to tkpoped@kmg.com.np with "Letter to the Editor" in the subject line. Please include your name, location, and a contact address so one of our editors can reach out to you.
---
---