Deadly highways
Last month, when an ill-fated bus carrying students and teachers fell 600 metres from the road at Ramri, Dang, killing at least 23 people, my heart sank in despair.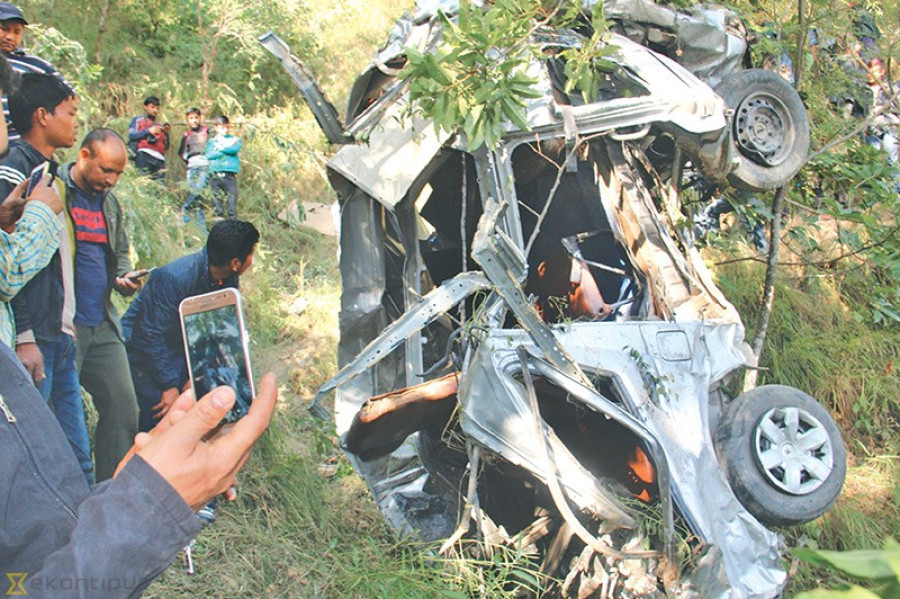 bookmark
Published at : January 29, 2019
Updated at : January 29, 2019 09:45
Last month, when an ill-fated bus carrying students and teachers fell 600 metres from the road at Ramri, Dang, killing at least 23 people, my heart sank in despair. As an avid traveler, I traverse through this road often, especially while going to Salyan and Rolpa. From Tulsipur, Dang to Kapurkot, Salyan, this road section is is riddled with potholes. Last month, 20 more passengers died when an overcrowded mini truck fell 300 metres from the road at Dupcheshwar Rural Municipality, Nuwakot.
As scores of people are dying every month in road accidents across the country, it is high time we made road safety our national priority. According to recent police data, 4,298 road accidents took place in the first four months of fiscal 2018-19, leaving 864 people dead and 1,488 critically injured. In the whole of fiscal 2015-16, there were 10,013 accidents in which 2,006 persons lost their lives. The World Health Organisation dubs road accidents a 'hidden epidemic' as it claims the lives of 1.3 million people around the world every year, with more than 90 percent of the victims coming from poor and middle income countries like Nepal. Road accidents were the ninth leading cause of death in 2004 and could be the fifth by 2030 according to the World Health Organisation. In an attempt to make our roads less dangerous, the World Health Organisation in 2011 launched a 'decade of road safety' with a plan to save five million lives and prevent 10 times as many serious injuries by 2020.
There are so many underlying reasons why road fatalities are increasing in the country. Rash driving, disregard for traffic rules, bad road conditions, technical faults, lack of traffic police personnel and prevailing syndicate system are some of the often cited reasons behind frequent road accidents. The health condition of the driver is often neglected. Even while applying for a driving licence, health certificates can be easily purchased without undergoing a health checkup.
It seems that the government doesn't take the health condition of drivers seriously. It is said that due to continuous stress and irregular sleepless nights and diet, most of the drivers are suffering from diabetes, hypertension and coronary heart disease. While driving for long hours continuously, drivers suffer scores of health related problems such as diabetic neuropathy (loss of sensation in the legs) or swelling of the legs which can be a potential road safety hazard. When drivers suffer from these problems, they can easily lose control of the accelerator or brakes at any time which leads to fatal accidents.
When working long hours, drivers may suffer eyesight problems and intolerance to the bright lights of vehicles coming from the opposite direction. The blood sugar level or pressure can cause giddiness which will make drivers weak. Many drivers even become hard of hearing as a result of the high frequency audio video system played inside the bus during the entire journey which often irritates fellow travelers. The matter is made more complicated by bus owners who employ a single driver even for a 20-hour-long drive. One of the possible remedies to this problem is subjecting bus drivers to periodical medical check-ups.
According to a report prepared by the traffic police, 90 percent of the road accidents can be attributed to syndicate even though the law bans such rotation systems. The Competition Promotion and Market Protection Act, 2007 bans all forms of anti-competitive practices and behaviors, but nearly all major bus routes are controlled by these syndicates who effectively run as a cartel.
Even though the Oli administration has banned syndicates and given them a deadline to register as private transport companies, only a few have done so, forcing the government to extend the closing date. It has become urgent to establish an independent transportation agency with experts in public transport to regulate Nepal's unruly transportation sector to make it safer and more reliable as scores of people are dying untimely deaths due to reckless driving.
Kainee is a freelance writer and Social activist.
---
---