Wanted: Governance
The Nepali government must be held culpable for infrastructural challenges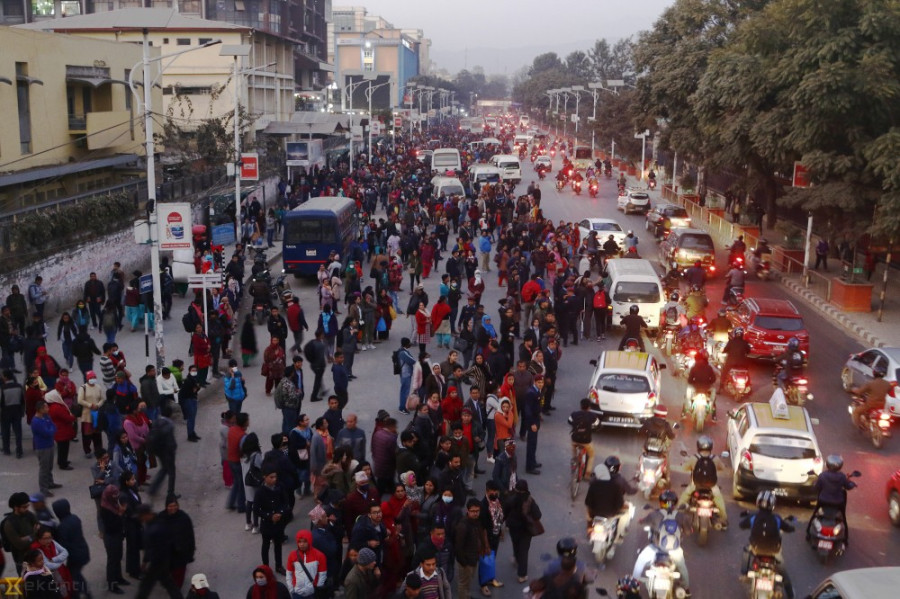 bookmark
Published at : December 30, 2018
Updated at : December 30, 2018 09:08
As an avid traveler, I've spent a lot of time seeing different countries and societies. One thing I like to pay attention to when traveling is how different societies and governments function. During my time in Nepal, one thing has been clear to me—the government does not work for the Nepalese.
A government should work to stimulate growth and development to help raise the quality of life of everyday citizens. The Nepalese government needs to actively work to cut down on internal corruption and nepotism to best serve the needs of their own impoverished people. Especially within a country where around a fourth of the thirty million Nepalese live below the poverty line, infrastructure is failing, and the government lacks a clear economic strategy going forward. There are obvious avenues of development the government can pursue to improve the quality of life starting right in the Kathmandu valley.
A lack of governmental environmental regulation has allowed the Kathmandu valley to descend to the brink of ecological disaster. Kathmandu is one of the most polluted cities in the world as the result of multiple different conflicting factors. With the aftermath of the 2015 earthquakes, necessary infrastructure was destroyed, and the ensuing rush of people into Kathmandu from more rural areas of the country overloaded Kathmandu's housing and road systems. Furthermore, Kathmandu's location in a natural bowl prevents air pollution and dust from clearing the area. As a result of this rampant pollution, many respiratory diseases like chronic obstructive pulmonary disease are prevalent among the general population. One key cause of this air pollution is the crumbling transit infrastructure.
To say that Nepalese transit infrastructure is a work in progress would be an exaggeration. There is no clear plan or system to the roads outside of the ring roads around Kathmandu; rules of the road are even less clear. For a country with a vast potential for tourism, the government has made no discernible effort to make tourism easy. The government could redirect efforts into building a modern infrastructure, and in doing so could produce a positive effect of cutting down on traffic accidents, reducing air pollution, and making Nepal more accessible for the influx of tourist money. For me, the sight of dust covered
roads haphazardly built will be just as memorable as Durbar Square or the Garden of Dreams. Fixing the transit system in Nepal would also allow the Nepalese to unite in a way never possible before. Creating the possibility for people to come together means that there is a greater exchange of ideas which can only serve to help modernise Nepal and help move development forward. My time in Nepal was mostly spent working as an intern in a Lalitpur hospital, during which I had the opportunity to watch skilled doctors work in high-stress environments. These skilled professionals often talked to me about their desire to move abroad to practice medicine for a variety of factors like a desire for a higher quality of life and higher wages. These discussions are symbolic of a very real brain drain (a fourth of Nepal's economy is dependant on reparations) depriving Nepal of an educated middle class, men and women crucial to sustainable development in sectors ranging from transit infrastructure to healthcare. The government can also take responsibility for the brain drain currently taking place in Nepal. Current regulations sorely lack emphasis on quality education and are ineffective in increasing the quality of life, which means that Nepal is risking on missing out on the possibility of internal development. I firmly believe that Nepal would be better off by trying to retain as many educated professionals as possible. The government has to take steps to promote development through the retention of trained professionals capable of contributing to Nepalese growth.
In terms of potential solutions, a developing country like Nepal has no room for purely ceremonial positions like that of the president. Especially because of the wages and additional benefits the president demands. When taking into account population differences, the Nepalese government is almost eight times larger than the American government. For a developing country of less than thirty million to have over three hundred seats in Congress is absurd. The Nepalese government should focus on streamlining and cutting out superfluous positions that are a waste of money, including the wages and benefits of politicians, helping ensure that people involved in the government are there because of a desire to improve Nepal rather than for financial and social gain. The role of a government in a republic like Nepal is to serve the people they represent, not serve themselves.
In short, Nepal's government's lack of governance is preventing the country from developing. When I open a newspaper here, I want to see articles about how the government is focused on developing Kathmandu into a modern city, not articles about how they are requesting 160 million rupees to buy a new fleet of cars. By increasing governance and regulations, the Nepalese government is capable of creating an environment ripe for positive growth and development, but until that point, they must be held culpable for the abysmal standards of living of the Nepalese people.
Kolesky is pursuing a medical degree in the United States
---
---