Statistical feast in Bhutan
Numbers provide us with interesting insights into the country's agrarian economy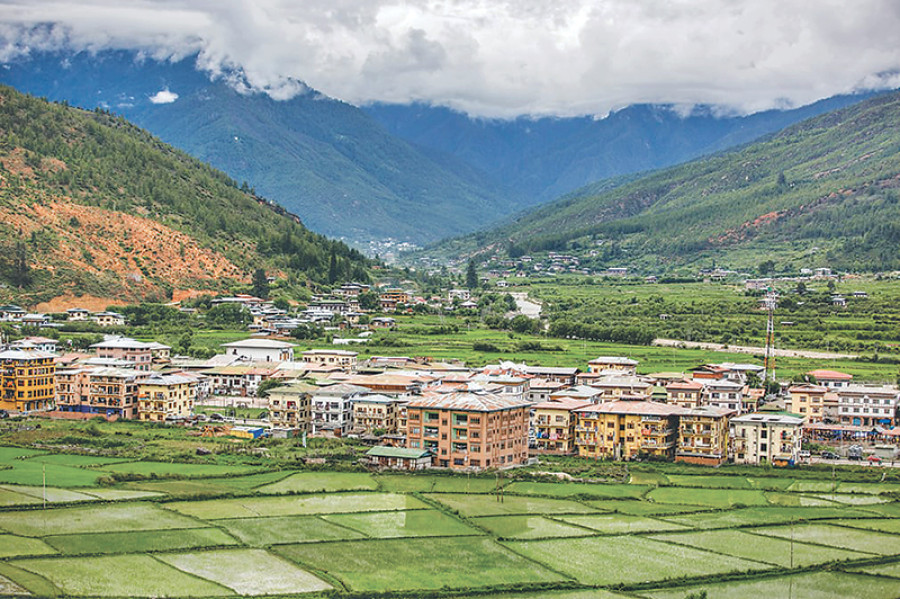 bookmark
Published at : August 22, 2018
Updated at : August 22, 2018 10:41
A modernising Bhutan is reflected in many ways including the way various statistics are now collected, collated and published. Even two decades back, agriculture-related statistics were in a shambles, highly scattered and questionable.
Today, there are volumes full of documents that could become a feast for scholars, analysts and policymakers. Bhutan is primarily an agrarian economy with a long history of mountain agriculture practices and heritage. Agriculture, livestock and forests contribute about 17 percent of the gross domestic product of Bhutan which stood at $2.28 billion in 2016.
Out of the country's total area of 3.84 million hectares, agricultural land constitutes over 13 percent of which arable land would be hardly 8 percent and irrigated land 3 percent. Hardly 10 percent of the country's total area is below an altitude of 600 metres. Out of the total wetlands of 31,910 hectares, dzongkhags (districts) like Punakha, Samtse, Wangdue Phodrang and Sarpang constitute almost 54 percent; and Bumthang, Gasa, Haa, Monggar, Pema Gatshel, Thimphu, Trashi Yangtse and Zhemgang constitute hardly 10 percent. Interestingly, Chukkha, Dagana, Lhuentse, Monggar, Pema Gatshel, Samdrup Jongkhar, Samtse and Trashigang would constitute over 57 percent of the total dry land of 68,255 hectares. Apple orchards are mostly concentrated in Paro and Thimphu, cardamom in Samtse and areca nut in Samtse and Sarpang.
Over 58 percent of the population is dependent on agriculture. The highest concentration of the farming population is found in Trashigang, Samtse, Monggar and Wangdue; and the lowest in Gasa, Thimphu, Bumthang and Haa. In most cases, both female and male farmers participate in equal numbers. Though the agriculture sector is of prime importance for ensuring food security and reducing poverty and regional disparity, annual budgetary allocations have sharply gone down in relative terms over various plan periods from 44 percent (4th Plan) to 33 percent (5th Plan), 5.5 percent (10th Plan) and 6.40 percent (Nu 126.08 billion 11th Plan 2013-18). The Bhutanese currency ngultrum (Nu) is valued at par with the Indian rupee.
Seed recycling
With over 80 percent of the total population living in rural areas, subsistence farming has been the standard practice in Bhutan. However, in recent years, there has been a steady movement towards cash crops like apple, orange, areca nut, cardamom, chilli and vegetable. Total food crop production stood at 176,760 tonnes in 2016 of which paddy constituted 48 percent, maize 46 percent and buckwheat 2.1 percent. Dagana, Paro, Punakha, Samtse, Sarpang, Tsirang and Wangdue Phodrang contributed almost 75 percent of the total paddy production. The highest yield of paddy is recorded at 2,225 kg per acre in Thimphu and the lowest at 1,065 kg per acre in Pema Gatshel. Bhutan has had a very small production of legumes and pulses (1,475 tonnes) and oilseeds (1,314 tonnes) in 2016.
There are some interesting statistical revelations. For instance, in 2016 alone, farmers retained over 1,200 tonnes of paddy, 1,460 tonnes of maize, 67,000 tonnes of pulses, 82,000 tonnes of barley, 9,000 tonnes of potatoes and 2,500 tonnes of ginger for seed purposes. This in a way indicates that the traditional seed conservation practice is still widely alive in this mountain kingdom. This is definitely an inspiring situation where traditional farmers are not yet enamoured by commercial gene terminator-based seeds promoted by multinationals that have started adversely affecting a major portion of farmlands in South Asia.
Similarly, while demonstrating that the rural population is still dependent on the age-old practice of drinking home-made alcohol, farmers set aside 5,700 tonnes of maize, 556 tonnes of paddy, 613 tonnes of wheat, 383 tonnes of bitter buckwheat, 253 tonnes of barley and 302 tonnes of finger millet for brewing alcoholic beverages. This Gross National Happiness enhancing healthy trend is in contrast to the drugs, psychotropic substances and fatal chemical-based alcohol that pervade a huge topography of the highlands of the eastern Himalaya including Sikkim, Darjeeling, Manipur, Meghalaya and Arunachal Pradesh.
Himalayan Viagra
Off-farm activities, mainly livestock rearing, have been a vital aspect of the rural livelihood in Bhutan in which the total available livestock in 2016 was 437,327 head (cattle 70 percent, sheep and goats 11.6 percent, yak 11.4 percent, horse/equine 4.3 percent and pig 3.5 percent). On the production side, milk-related products stood at 54,000 tonnes and meat-related products at 3,000 tonnes. Fruit production reached 67,000 tonnes in 2016 in which apple, mandarin and areca nut contributed more than 87 percent. In the list of vegetables produced, potato (58,800 tonnes) and turnip (10,500 tonnes) were the key produces in 2016. Notably in 2016, medicinal aromatic plants and herbs fetched these farmers Nu 39 million and cordyceps (yarsha gunba: caterpillar fungus) Nu 138 million. Cordyceps also known as 'Himalayan Viagra' is widely used in China and Southeast Asian countries as a key ingredient in their traditional medicine system.
Landholding has been fragmented and characterised by a low level of irrigation and relatively poor infrastructure. Though market amenities in the district headquarters are being developed, the very local hats are still the major outlets for farmers. Farm product vendors take full advantage of the immobility of farmers in rural areas thereby making a huge margin between the price they pay while procuring and the price they realise from the ultimate consumers in townships like Thimphu and Phuntsoling in Bhutan, and Jaigaon and Siliguri in India.
A survey related to the proportion of farming households by self-sufficiency of food in 2016 found that 34 percent of the farmers stated that they did not produce enough food for the entire year, and the worst affected dzongkhags were Gasa, Samtse, Thimphu, Tsirang and Dagana. Most of them reported that they faced the highest food shortage during May and August every year, and they used sales of livestock, off-farm activities, borrowing from neighbours, cash remittances from employed family members and daily wages as coping mechanisms. While being questioned on the constraints they faced in farming, the key constraints identified were labour shortage followed by crop damage by wild animals, insufficient irrigation supply, limited access to markets and crop damage by insects. Contrary to popular perception, a very low percentage of farmers reported crop damage due to natural calamities.
Wildlife incursions
There are major climate change related vulnerabilities that have increasingly affected Bhutan in terms of ensuring food availability, securing access to food, and effective utilization of food. Invasive wild animals leading to crop destruction and farmland dislocations have become quite visible now. A 2016 estimate shows that Bhutanese farmers lost 1,356 tonnes of rice, 3,890 tonnes of maize, 105 tonnes of wheat, 2,000 tonnes of potato and 412 tonnes of fresh vegetable due to incursion by wild animals. The guarding of fields by farmers during both day and night cost another hefty amount.
Besides consciously promoting organic farming through interventions like National Organic Standard and the Bhutan Organic Certification System, Climate Smart Agriculture launched in 2013 aims to inject adaptability in the agriculture sector. This project is likely to benefit 1,800 farmers directly in 14 pilot sites under six districts. The formation of Water Users Committees and Climate-Smart Farmers Associations could lead to institutionalisation of these initiatives and establish Climate Resilient Agriculture.
The World Bank launched a five-year $8 million Food Security and Agriculture Productivity Project (FSAPP) in 2017 to support efforts to reduce rural poverty, food insecurity and malnutrition to benefit the Bhutanese people. The Food and Agriculture Organisation has implemented a Farm to School (F2S) programme. Value addition in agricultural products, development of 'farm brands' and an 'organic vision', and cooperatives as an alternative approach to business are some of the measures suggested.
Lama is a senior professor at Jawaharlal Nehru University, New Delhi and wrote the first Economic Survey of Sikkim in 2005.
---
---