Dahal sworn in as prime minister
President Bidya Devi Bhandari also administered the oath of office and secrecy to seven ministers of the Dahal government, including 3 deputy prime ministers.

Angad Dhakal/TKP
bookmark
Published at : December 26, 2022
Updated at : December 26, 2022 17:57
Kathmandu
Pushpa Kamal Dahal was sworn in as the prime minister of Nepal amid a special function at the president's residence in Sheetal Niwas, Maharajgunj, Kathmandu on Monday.

President Bidya Devi Bhandari administered the oath of office and secrecy to Dahal during the function.
Dahal's predecessor Sher Bahadur Deuba, former prime ministers KP Sharma Oli, Madhav Kumar Nepal, Baburam Bhattarai were present during the ceremony.
Several former ministers and heads of diplomatic missions also participated in the swearing in ceremony of Dahal.
Bhandari, on Sunday, had appointed CPN (Maoist Centre) Chairman Dahal as the prime minister as per Article 76 (2) of the constitution. Dahal had reached the president's office to claim the PM's post with the support of 169 House members, including 78 from the CPN-UML, 32 from his own Maoist Centre party and 20 from the Rastriya Swatantra Party, apart from 14 of the Rastriya Prajatantra Party, 12 from the Janata Samajbadi Party, six from Janamat Party, and four from Nagarik Unmukti Party. He has also secured the backing of independent lawmakers Prabhu Sah, Kiran Kumar Sah and Amresh Kumar Singh.
This is Dahal's third stint as the country's chief executive.
Likewise, the president also administered the oath to three deputy-prime ministers and four ministers upon recommendation from Prime Minister Dahal.
Bishnu Poudel of the CPN-UML, Narayan Kaji Shrestha of the CPN (Maoist Centre) and Rabi Lamichhane of the Rastriya Swatantra Party were sworn in as deputy prime ministers.
Poudel has been given the portfolio of Finance Minister while Shrestha will head the Ministry of Physical Infrastructure and Transport and Lamichhane has been appointed as the Home Minister.
CPN-UML lawmakers Damodar Bhandari, Jwala Kumari Sah and Rajendra Rai and Janamat Party vice chairman and lawmaker Abdul Khan were also sworn in as ministers in the Dahal-cabinet.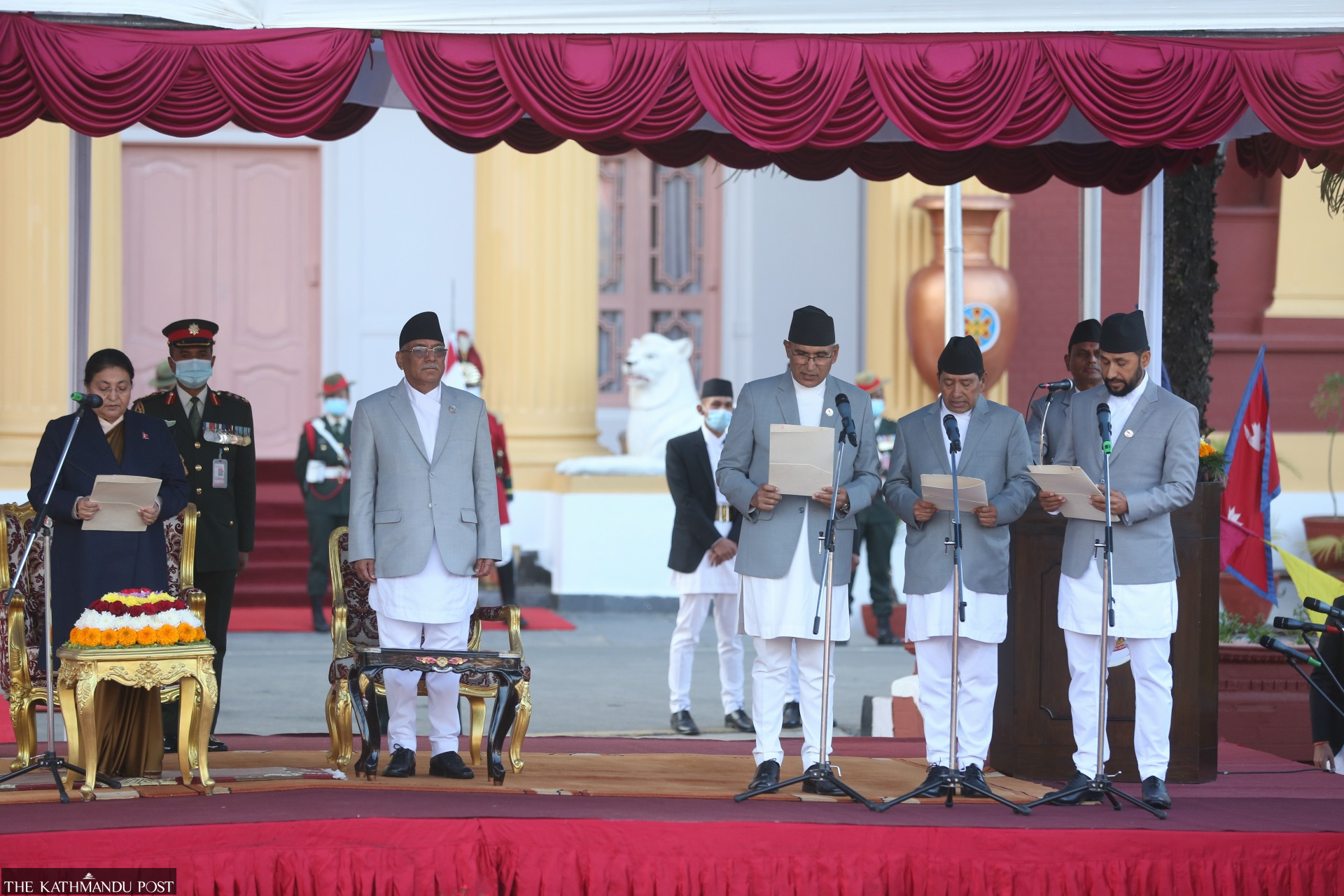 Angad Dhakal/TKP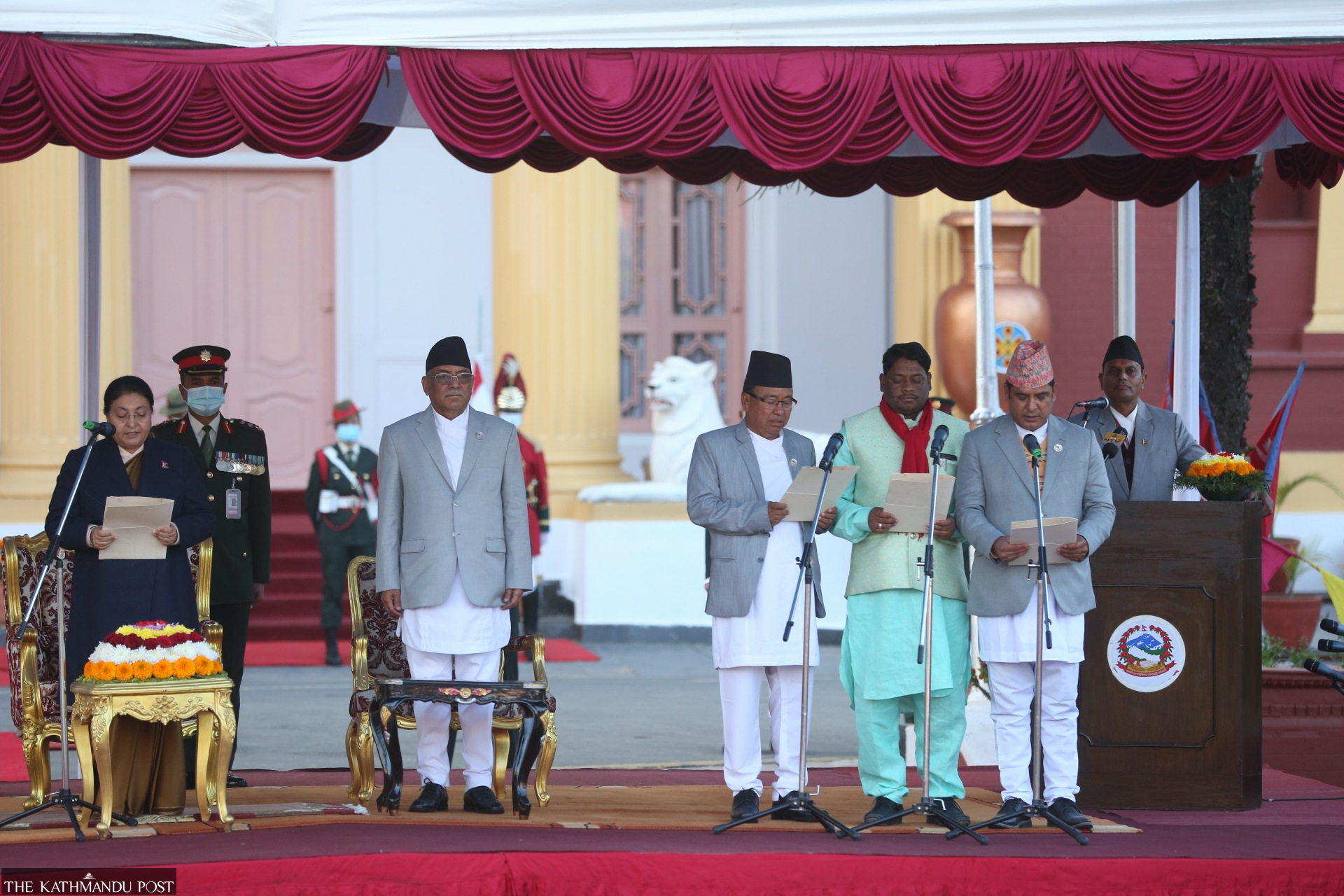 Angad Dhakal/TKP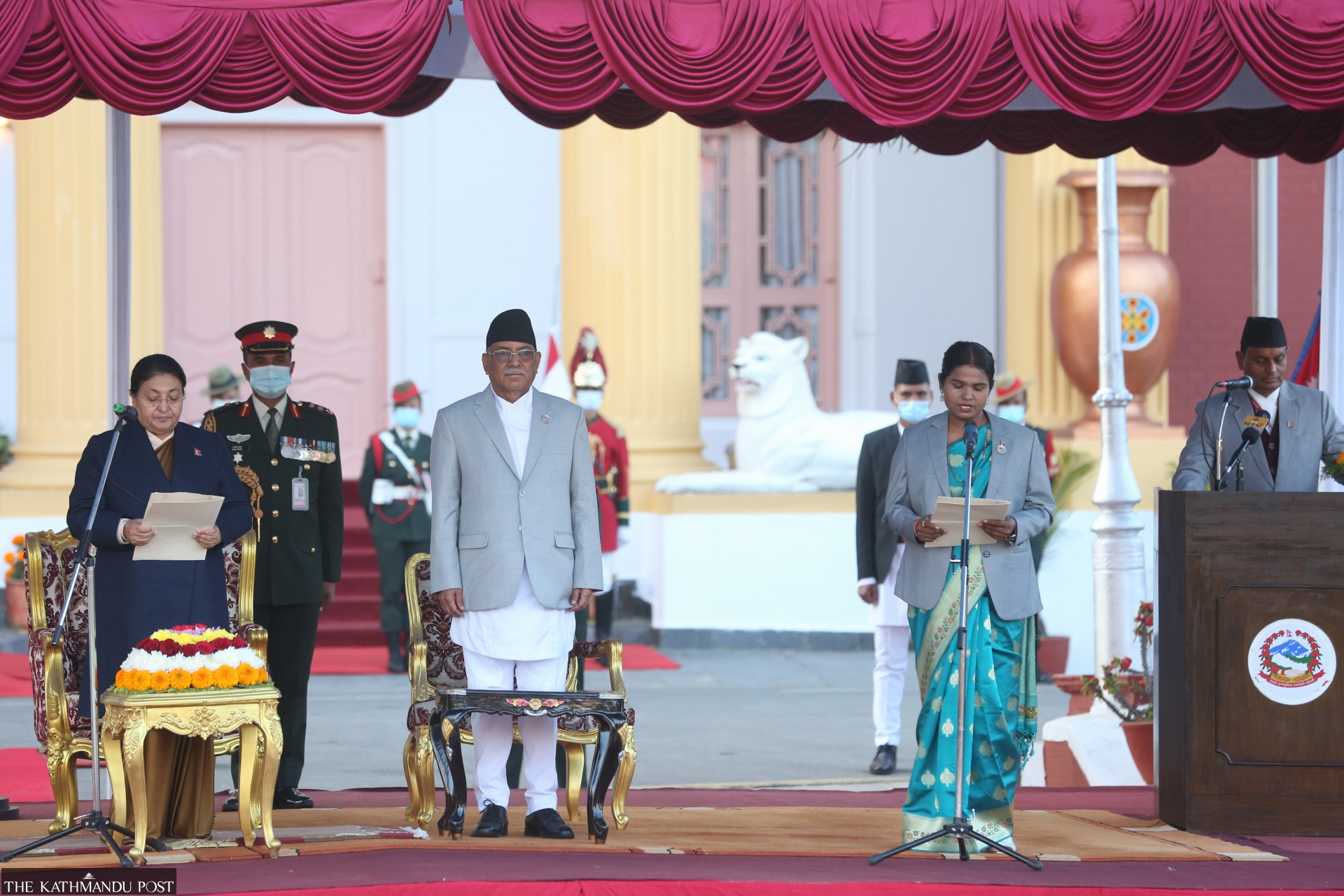 Angad Dhakal/TKP
---