Dahal receives warm welcome in Delhi as Nepal's envoy is kept cooling his heels
Officials at the Nepali embassy say they are still awaiting response from the Indian ministries for formal meetings with Shankar Sharma, Kathmandu's ambassador to India.

Photo Courtesy: Dr. S. Jaishankar/twitter
bookmark
Published at : July 18, 2022
Updated at : July 18, 2022 10:41
Kathmandu
On March 25, President Bidya Devi Bhandari administered the oath of office and secrecy to Shankar Sharma as Nepal's ambassador to India. He assumed office a week later.

Nearly one and a half months after taking charge as Nepal's envoy to India, Sharma on May 11 presented his credentials to Indian President Ram Nath Kovind.
Formal diplomatic engagement starts after the submission of the credentials. To set the activity in motion, the embassy wrote to the Ministry of External Affairs, India requesting to arrange a time for a courtesy meeting with Foreign Minister S Jaishankar and Foreign Secretary Vinay Mohan Kwatra, within a few days after Sharma presented his credentials to the Indian president.
The embassy had also approached other Indian ministers for the courtesy meeting but to no avail, according to officials at the ministry.
So far, there has been no intimation as to when Sharma would get to meet them.
The embassies maintain diplomatic relations with their host countries through the foreign ministry of the respective countries.
However, in Sharma's case, besides brief informal meetings on some occasions, he has not had the chance to meet Kwatra and Jaishankar, among other high-ranking officials.
Officials at the Nepali embassy in New Delhi say they are still awaiting a response from the Indian ministries to schedule a formal meeting between them and Sharma.
"It's been long since we wrote to half a dozen ministries in Delhi seeking time for meetings with our ambassador," a senior official at the Nepal embassy in New Delhi told the Post over the phone. "We haven't received any response yet."
New Delhi's newly-appointed envoy to Kathmandu, Naveen Srivastava, landed in Kathmandu on June 25, exactly three months after Sharma got his appointment. Five days after his arrival in Kathmandu, Srivastava presented his credentials to President Bidya Devi Bhandari. In less than a month, he has met with everyone he desired, from the President to Prime Minister Sher Bahadur Deuba to cross-party top leaders, ministers and heads of different government agencies. On Sunday, he met with Speaker Agni Sapkota.
The tardy approach to Nepal's request for formal meetings with the Indian president and ministers is a clear indication of the southern neighbour's reluctance to communicate through diplomatic channels with Nepal, says Nilambar Acharya, Nepal's former ambassador to India.
"It is clear that meeting our ambassador is not on the priority list of the Indian government," Acharya told the Post. "When you are unwilling to meet, you can find various reasons not to do so."
Jaishankar, the Indian foreign minister who seems reluctant to allocate time to Sharma, was seen fully engaged during CPN (Maoist Centre) chair Pushpa Kamal Dahal's three-day visit to India that ended on Sunday.
Jaishankar held talks with Dahal on Saturday. He was also present in Dahal's meeting with Bharatiya Janata Party President JP Nadda on Sunday. He was present for the entire duration of the meeting and during Dahal's inspection of the BJP's headquarters in New Delhi.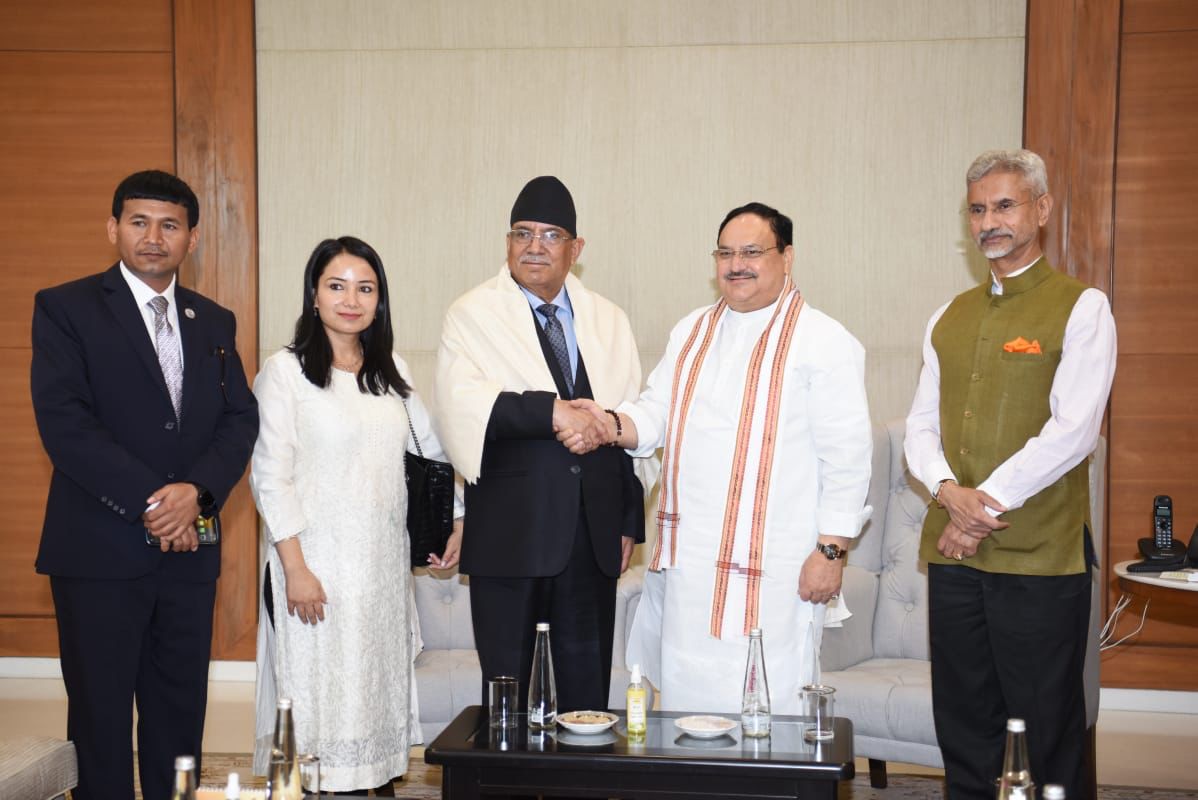 Photo Courtesy: Ramesh Malla/Twitter
Experts on foreign affairs say the Indian leadership ignores the diplomatic channel with Nepal because it directly deals with the political leadership.
"We have given so much to India that arrogance has set in in them," Khadga KC, professor of International Relations and Diplomacy at Tribhuvan University, told the Post. "Sharma hasn't yet got the opportunity to meet with Indian ministers not because the Indian officials don't have the time. They just don't want to."
Experts, however, also say that the blame for this diplomatic "failure" lies with the Nepali leadership for failing to create a strong position and space for Nepal on foreign shores.
"I am not going to blame India for it. We must introspect whether our own government gives due importance to our diplomatic missions," said Acharya, the former ambassador to India. "Do they get the government's backing to present themselves strongly in the host countries?"
Had Nepal's political leadership taken some concrete steps to strengthen foreign diplomacy, the situation would have been different today, says Acharya. "Nepal should also reciprocate the actions of the Indian authorities. If only our leadership had asked the Indian ambassador to wait for some days before beginning official meetings since our ambassador too was waiting in New Delhi, it would have put some pressure on India to allocate time to our ambassador," he said.
India had delayed in sending the agrément for Sharma. It took more than three months to accept it, a move viewed by many as New Delhi's cold response to Sharma's recommendation as the ambassador.
The Nepal government wrote to India on December 10, 2021 for Sharma's approval as ambassador but India responded only on March 16 this year. The delayed agrément was interpreted by some as Delhi's "welcome but not welcome" view.
Vijay Kant Karna, a professor of political science and Nepal's former ambassador to Denmark, however, said there's no need to read much into it as big powers like India and small countries like Nepal have their own dynamics and therefore do not qualify for comparisons.
"The delay in allowing Sharma to present his credentials and kick off official communication is not sending a good message," he told the Post. "But I wouldn't call it a cold shoulder from India as such."
---
---