Nepal's graduation to developing country hinges on political stability
Experts stress taking measures at reducing the cost of doing business by improving the country's infrastructure connectivity and human resources.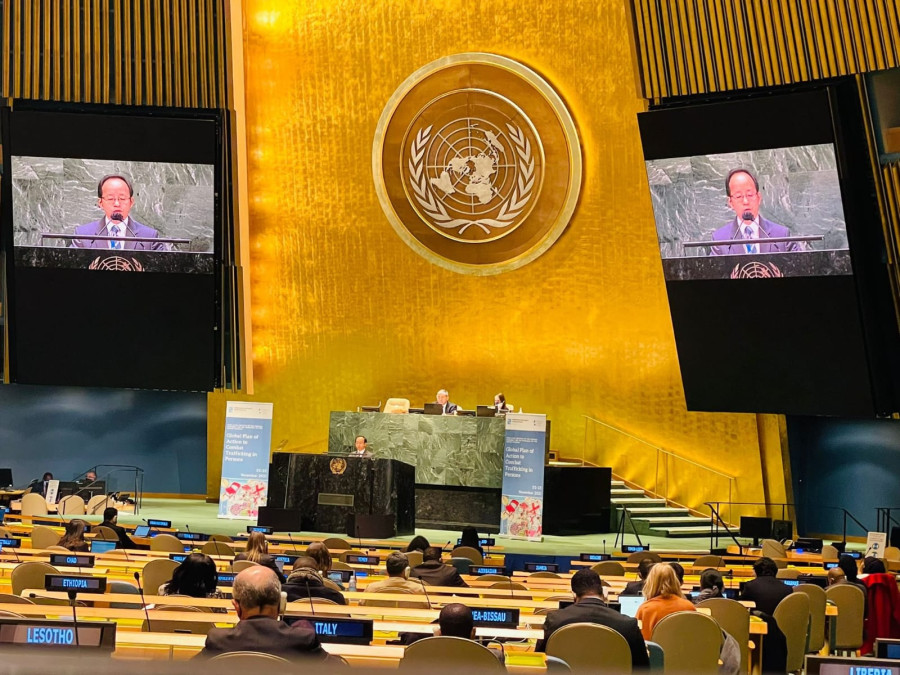 Nepal's envoy to the UN Amrit Rai speaks at the United Nations General Assembly at the UN headquarters in New York on November 24. Photo via Nepal mission to the UN/Twitter
bookmark
Published at : November 29, 2021
Updated at : November 29, 2021 07:26
Kathmandu
Nepal's recent history of development is marred by a paradox. Despite political instability, Nepal has recorded brisk poverty reduction. It, however, still is one of the poorest and slowest-growing economies in Asia.
According to a World Bank report, Nepal's per capita income rapidly fell behind its regional peers and it was unable to achieve its long-standing ambition to graduate from low-income status.
The country has halved the poverty rate in just seven years and witnessed an equally significant decline in income inequality.
Last week, the United Nations General Assembly approved a proposal to upgrade Nepal from the least developed country category to developing country category by December 2026.
The announcement comes at a time when Nepal's economic growth has slowed to a crawl and the country has plunged into yet another cycle of political uncertainty.
If the current political dynamics is anything to go by, a stable government is a chimera.
Amid this, experts see a host of challenges for Nepal to graduate within five years, the preparatory period given to Nepal.
Posh Raj Pandey, former member of the National Planning Commision, said sustained political instability could hamper policy reforms, a prerequisite to decrease cost of doing business in Nepal and to make up for the losses of tariff advantage for exporting our goods.
"For example, Nepal will lose duty and quota free market access in Europe after graduation to the developing country. We have to make up for this loss by reducing our cost of production through reforms in domestic policies and improving our infrastructure," he said. "There is a risk that political instability will prevent us from carrying out necessary policy reforms and infrastructure development."
A study report titled "Nepal Growth Diagnostic", jointly prepared by the government and the Millennium Challenge Corporation, a bilateral US foreign aid agency in 2014, pointed that political instability was one of the key constraints for Nepal's economic growth.
"Political instability affected the government's ability to invest in infrastructure projects, resulting in sluggish capital expenditure," states the report.
When KP Sharma Oli was elected prime minister in February 2018 after his party, the CPN-UML, and the Communist Party of Nepal (Maoist Centre) swept the 2017 elections, Nepalis believed that political stability had finally returned to the country after decades.
The two communist forces merged to form the Nepal Communist Party (NCP) in May 2018. Oli had a nearly two-thirds majority in Parliament and was set to govern for a full five-year term, something that had not happened in more than two and a half decades. But Oli's misadventures and opposition from within his party led to the fall of his government.
The stability dreams were shattered.
The days of coalition government appear to have returned again.
Currently, a five-party coalition government is led by the Nepali Congress. The country would soon go to polls and a hung parliament is possibly on the cards.
Despite political instability and impact of the Covid-19 pandemic on the economy, the Nepal government, however, has expressed its readiness to graduate itself to a developing country. To do so, the country needs to prepare itself to face the reality, for which government officials are now preparing a transition strategy.
Officials said the new strategy would suggest measures to ensure a smooth transition by tackling the risks the country is likely to face due to potential loss of preferential treatment in the areas of aid, international trade and access to funds created specifically for the LDCs.
The United Nations General Assembly has given a five-year preparatory period to implement those strategies so that the country could withstand the negative scenario created by the loss of preferential treatment to Nepal and its businesses.
Experts said that the country has been forced to overcome the challenge of loss of preferential treatment at a time when the economic foundation of the country has been weakened by the pandemic.
"At a time when we are struggling to boost our exports despite getting tariff waiver in many countries, making cost-effective products to be competitive in the international markets is really challenging for Nepal," said Shankar Sharma, former vice-chairperson of the National Planning Commission.
Sharma said it's time to take measures that would help reduce the cost of doing business by improving the country's infrastructure, connectivity and human resources.
"In the next five years, we have to take measures to increase domestic production and productivity by completing the infrastructure projects and improving the trade logistics, develop special economic zones and develop new tourism products to substantially increase tourism earnings," said Sharma.
He, however, said that accomplishing these tasks would be challenging given the fact that the government agencies take much time to complete a single project.
Currently, the country's domestic production is limited and the country has been swarmed by imported goods. Nepal's export basket is limited and the country is making limited earnings from exports.
As a result, Nepal's per capita income has remained less than the minimum threshold required for the graduation i.e. $1,222.
At present Nepal's per capita income is $1,191, according to the Central Bureau of Statistics.
Nepali is being promoted to the developing country status by just meeting the indicators related to the human asset index and economic vulnerability index in three consecutive triennial reviews in 2015, 2018 and 2021.
Nepal is heavily reliant on remittances for the people's buying capacity and remittances are the largest source of foreign exchange reserves in the country.
"During the preparatory period, we have to implement the policies that would help boost the per capita income because we had earlier refused to be graduated to developing country status due to our low per capita income," said Pushpa Lal Shakya, an economic expert, who is coordinating the preparation of the transition strategy for the government.
"The transition strategy will recommend the areas of intervention to boost the people's income."
But high economic growth is an essential condition to achieve substantial growth in per capita income which Nepal failed to achieve in 45 years–from 1970-2014.
Nepal's economy grew at an average annual rate of 4 percent, while the growth rate of per capita income was the lowest in South Asia, averaging just 2 percent during this period, according to the World Bank.
Even though the country achieved over six percent growth for three consecutive fiscal years since 2016-17 along with the increased reconstruction activities and hope for political stability along with the elections in 2017.
Even though the economy was struggling in early 2019-20, the Covid-19 pandemic that hit the country in early 2020. Nepal saw a negative economic growth for the first time since 1982-83 and a recovery is expected to be at four percent in the last fiscal year 2020-21.
Shakya said the transition strategy would suggest completing major infrastructure projects including hydropower projects, taking measures to export electricity, increase use of electricity to reduce the import of fossil fuel among others so that per capita GDP would grow and electricity would work as a new item to boost export and export substitution.
Recently, India has started to buy Nepal's electricity through its exchange market.
Shakya also said that the transition strategy would also suggest measures to tackle the risks to the economy due to loss of tariff concession for Nepali products in foreign countries, access to grant and concessional loans and access to funds created specifically for the LDCs.
There are possibilities of reduced exports in some markets due to high tariffs, and access to funds created specifically for the LDCs will be adversely affected after Nepal's graduation to developing country category, according to a report titled "Nepal Human Development Report 2020: Beyond LDC Graduation: Productive Transformation and Prosperity."
The National Planning Commission and the United Nations Development Programme had unveiled this report jointly in December last year.
As per the report, particularly, funding from the United Nations group is expected to go down although aid from multilateral donors like the World Bank and the Asian Development Bank as well as aid from most bilateral donors is not expected to be impacted.
Nepal also will have to face loss of preferential market access and increased competition in international markets. This would disproportionately impact export-oriented small and medium enterprises and employment generated by them.
In particular, export to the European Union, which provides duty and quota free market access under its "everything but arms" policy, could be affected badly. Exports to the European Union could decline by as much as 57 percent due to erosion of the preference, the report says.
Officials said that the country should be prepared to face the certain disadvantages from the losses of tariff waiver but it would not have much impact on access to foreign loans even in concessional terms.
Biswo Nath Poudel, vice-chairperson of the National Planning Commission, said the government would focus on bilateral trade treaties to regain the tariff waiver eligibility post-graduation. "For this, we have to strengthen our economic diplomacy," he added.
He, however, said that they would study sectors to be hit by losses of tariff waivers and prepare sectoral strategies to tackle the impact of loss of tariff advantage.
The government is not worried about losing access to concessional foreign aid though.
"Our 80 percent of external aid comes from the World Bank and the Asian Development Bank and they have their own standards in providing foreign aid," he said. "As the component of grant being provided to Nepal has been reduced significantly in recent years, we should not worry about cuts in grant."
Despite the added cost, there could be a silver lining for Nepal too.
According to the last year's report of the planning commission, graduation makes countries more creditworthy by international credit rating agencies, thus improving access to commercial finance.
"Graduation from the LDC category would transmit a positive message to the global community about Nepal's development prospects. It can be branded as a potentially competitive destination for foreign direct investment inflows and other private investment," the report says.
But Nepal's credit worthiness is yet to be determined as there has never been a sovereign rating of Nepal.
The prospects of sovereign rating could be affected if the country plunges into political instability, according to experts.
They said that political instability would also send a negative message about Nepal as an investment destination for foreign investors.
"It appears that political instability is a given thing in the context of Nepal," said Sharma.
As the country is aiming to graduate to a developing country without meeting the threshold of per capita income, political instability may prevent the country from meeting the threshold anytime soon.
"Now, we are preparing to graduate to the developing country status based on the progress in the areas of human asset index and economic vulnerability index even though we have failed to meet the threshold of per capita income," said Pandey. "Political instability may pose risks to the gains made even in the two indicators forcing us to fall back to the LDC category."
---
---