Two enumerators pass countless hurdles to reach frontier villages
Khagendra Karki and Lokendra Ter chase a treacherous trail abandoned for long in the call of their duty to count Nepalis living in the country's north-western corner.

Khagendra Karki, assistant census officer of Darchula, struggles to pass a section of the trail. Photo Courtesy: Khagendra Karki
bookmark
Published at : November 27, 2021
Updated at : November 27, 2021 10:30
Kathmandu
Until November 18, Khagendra Karki, assistant district census officer of Darchula, was waiting for an entry pass from the local Indian authority for him and his colleagues to travel to Chhangru and Tinkar.
The two villages in Darchula, on the northwestern corner of the country, are inaccessible, as there is no road link from within Nepal. To travel from the district headquarters Khalanga to the two villages and vice versa, people have to cross over to India. But an entry pass from the Indian local authority is a must.
After the Indian authority refused to provide entry passes citing "damaged road" on the Indian side, Nepali authorities had two options. The enumerators either are airlifted by a helicopter or they use a foot trail that is barely used.
Time was running out. The census had to be completed in Chhangru and Tinkar by November 25.
After the Central Bureau of Statistics, the government body responsible for conducting the census, failed to secure a helicopter, Nepali authorities decided to send Karki and his team to these villages via the long-abandoned foot trial.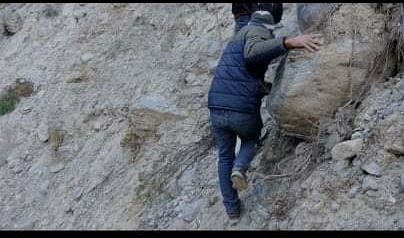 Photo Courtesy: Khagendra Karki
There were initially three enumerators but the third abandoned the travel plan citing physical weakness.
"I, along with my colleague Lokendra Ter, set out for Chhangru and Tinkar on foot using the foot trail on the morning of November 19," said Karki over the phone from Darchula.
Karki, 35, from Mahendrangar, Kanchanpur was well aware of the fact that it would take days to reach the two remote villages and he and his colleague had to make an arduous journey through steep hills and forests where no human settlement exists.
"So we packed dry food like noodles and biscuits and started our journey," said Karki.
After walking throughout the day, they reached Dumling village, the last settlement before reaching Chhangru.
"Even though the trail leading to Dumling was long abandoned, there were certain traces of the trail which we followed to reach Dumling," said Karki. "But the usual trail was blocked at different places due to landslides and we had to find an alternative route."
When they started their journey from Dumling, it was difficult to find even a foot trail to Chhangru.
"We followed our instinct," said Karki. "We knew we wouldn't find any human settlement between Dumling and Chhangru. There were foot trails on the steep hills and forests and we were worried that we might encounter wild animals."
Locals, however, told the two men that they will have to spend the night at kharkas (pastures, with sheds built for the cattle and their herders).
A local man named Bahadur Singh Bista then offered to help and he joined in.
"Bista knew where the kharkas were and we followed him," said Karki. "We had to clear shrubs at many places to make the way."
Karki said they were fearful of wild animals but they were more worried about steep, slippery trails.
"One misstep and we could fall off the cliff into the raging Mahakali river," Karki recalled.
Ter shared a similar experience.
"We had just a handful of shrubs to hold on to while we climbed slippery cliffs," Ter told the Post over the phone from Khalanga.
Ter has also shared videos of their journey on his Facebook page.
"The most difficult terrain was on the way from Dumling to Thi, where the first kharka was found," he said.
Ter, a resident of Gurukhola of the Dasharathchand Municipality-1 in Baitadi district, said he had never made such a treacherous journey.
Karki, Ter and Bista were completely disconnected from the outside world. They were not in a position to seek assistance in case of any accident. They were walking through a region where there was no telephone connection.
Bista, however, managed to guide the two men to a kharka in the middle of the jungle where they met some cattle herders who served them dinner.
"For the first time in my life I saw a bear in the wild," said Karki. "But it did not take us long to spot another. The next day we saw a second one."
Both times the bears were found near the kharkas.
After spending two nights at two kharkas, they finally reached Chhangru on November 22—the fourth day since they began their journey from Khalanga.
As expected, they didn't spot any humans throughout the journey after departing from Dumling, except at two kharkas and two isolated houses after departing from the first kharka, according to Ter.
"We made it to Chhangru and Tinkar only because of Bista," said Karki. "Otherwise, we might have easily gotten lost in the jungle."
Then it was back to work. Karki and Ter started collecting details from the households in Chhangru.
"The locals were very welcoming and sympathetic to us for taking such an arduous journey to collect details from them," said Karki. "They wondered how we managed to walk for four days through the abandoned trail which they stopped using long ago."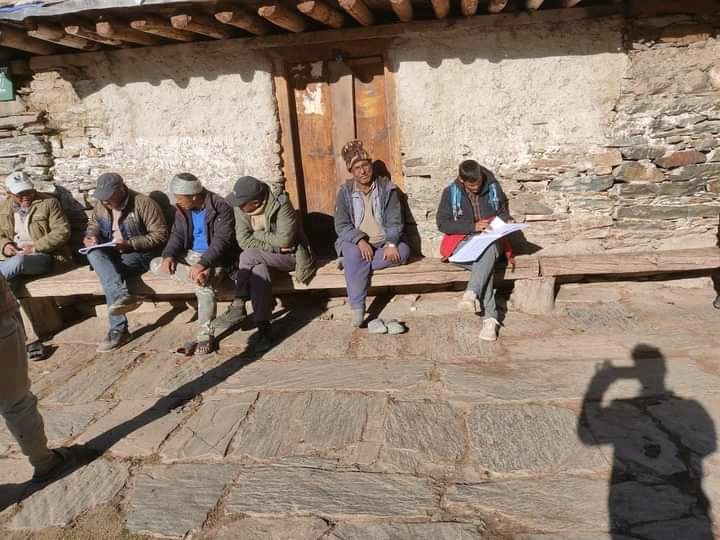 Photo Courtesy: Khagendra Karki
The next day (on November 23), they went to Tinkar, some five-hour walk from Chhangru, and returned to Chhangru the same day, as there are not many households in Tinkar.
"There are just 33 households in Tinkar," said Karki.
In both Chhangru and Tinkar, there are a total of 113 households, according to the Central Bureau of Statistics.
Karki and Ter are among the census staff deputed temporarily for collecting details from the households. However, they are the only ones who probably went beyond their call of duty to collect the details from the households.
After the job was done in Chhangru and Tinkar, the two were flown to the district headquarters Khalanga by a helicopter.
"The helicopter was arranged as we did not want to put them at risk again," Padam Raj Pandey, district census officer of Darchula, told the Post over the phone.
Karki and Ter did have the option of travelling to the district headquarters via India.
"But we were worried there could be some issues," said Karki.
When the census team was waiting for the Indian authority to issue entry passes, there were concerns that the Central Bureau of Statistics might fail to conduct the census in the two villages. It would have been a major setback, as the census could not be conducted this time in the Kalapani region despite Nepal claiming it to be its own territory.
Nepali officials suspect that Indian authorities deliberately refused to provide entry passes for the enumerators fearing they could conduct an informal census in the Kalapani region, which India claims as its own.
The government of Nepal last year published a new map depicting Kalapani, Limipiyadhura and Lipulekh within the Nepali territory. The decision had led to the souring of ties between Nepal and India.
Officials at the Statistics Bureau said that both Karki and Ter pulled off what once looked impossible after they were denied entry passes.
"They managed to accomplish their assigned task overcoming the challenges they faced," said Pandey, the district census officer.
Tirtha Raj Chaulagain, information officer at the bureau, said that Karki and Ter deserve a reward as they did not abandon their duty.
"The bureau has been in discussion to reward them in some ways," he added.
Karki, however, said he was just doing his job.
He has spent around 10 years in Darchula as an employee at the District Public Health Office. He was deputed to work as a census officer for the time being.
"This walk to the remote Chhangru and Tinkar villages is the most adventurous journey of my life," said Karki. "It will count as a memorable experience of my lifetime."
---
---