Nepal sets climber quotas to prevent crowds on Everest
Tourism Department has issued Everest permits to 377 individuals so far, and the number is expected to rise close to 400.

In 2019, the government issued 381 Everest climbing permits, a record number so far, leading to "traffic jams" on the icy route to the top of the world. Photo courtesy: Nirmal Purja
bookmark
Published at : April 21, 2021
Updated at : April 22, 2021 07:54
Kathmandu
Nepal has introduced a quota system setting the maximum number of climbers that will be permitted to make an attempt on Everest in a desperate measure to prevent overcrowding on the world's tallest peak as the country braces for a record number of mountaineers this season beginning May.

Issuing a directive on Wednesday, the Department of Tourism said a specified number of mountaineers, selected on the basis of their climbing permit numbers, would be allowed to make attempts at the summit during the first "weather window" that becomes available after the ropes and ladders are fixed up to the top. Another specified number will be allowed to make attempts at the summit during the second weather window, or a period of good weather when it is safe to climb, and so on.
If this plan does not work, the expedition outfitters will have to coordinate among themselves and organise the climbing, limiting numbers to a maximum of 170 individuals in one weather window, the Department of Tourism said.
According to Guinness World Records, which lists ultimate record-breaking facts and achievements, the most number of people to reach the peak of Everest on a single day is 354, with 212 climbers from the Nepal side, as recorded on May 23, 2019.
The previous record of 266 people was set on May 19, 2013.
In 2019, the government issued 381 Everest climbing permits, a record number so far, leading to "traffic jams" on the icy route to the top of the world. Also, 10 people died on the Nepal side, the highest death toll in four years.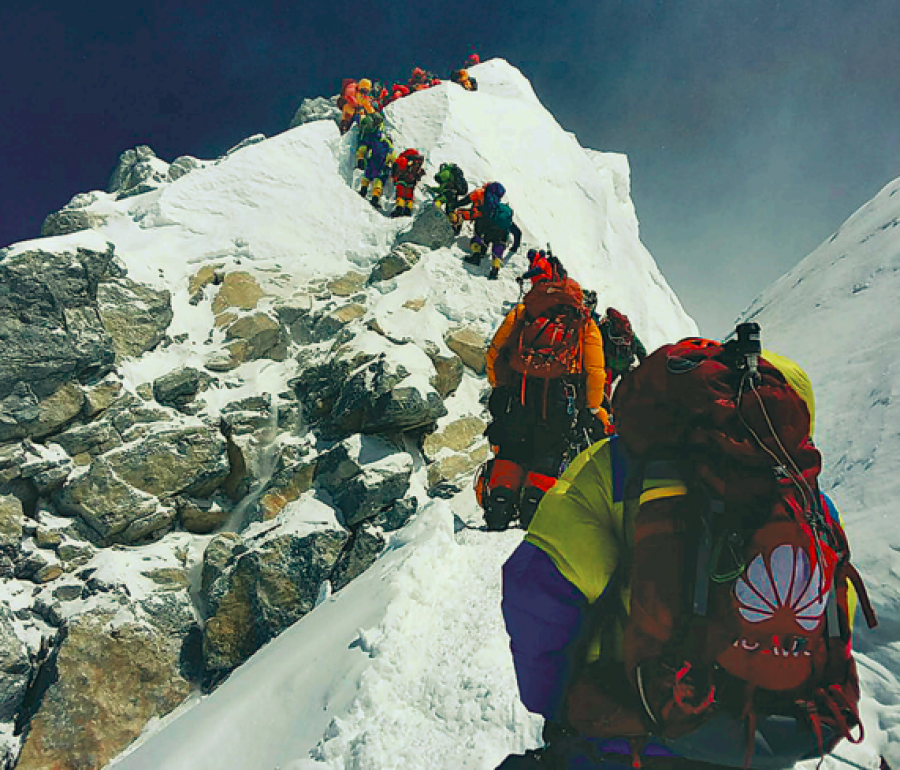 An undated photo shows a queue of climbers making a final push towards Everest summit. Photo courtesy: Kami Rita Sherpa
This year, in the midst of the second wave of Covid-19, the number of permits issued is expected to hit another record high. As of Wednesday, the department has issued climbing permits to 377 individuals.
"Based on the current trend, we estimate the number of permits to be close to 400," said Mira Acharya, director of the Department of Tourism. "We have issued a slew of measures to control crowds this year. If this does not work this season, we will come up with other measures next year."
With every fee-paying climber hiring a guide, Everest may see a throng of more than 800 people crawling up its slopes this year, raising worries of yet another record crowd on the planet's highest point.
"We are concerned about the climbers' safety," said Acharya.
Dambar Parajuli, president of the Expedition Operators Association, said the new directives sound good so far and expeditions must adhere to the government decision, but it is not "practically implementable".
"The influx of climbers is manageable as long as the weather is good. In a situation where Everest opens for less than a week, it causes havoc leading to a traffic jam. Everyone wants to climb anyhow because they have paid for it, and the money is non-refundable," said Parajuli. "But let's see if this plan works this year."
According to Parajuli, expedition organisers had been allowed to fix the number of climbers based on mutual understanding in past years too. "But this year, it has come as a decree," he said.
A "traffic jam" like situation occurs on Everest when many climbers vie for the summit at the same time, and when it happens above 8,000 metres, the "Death Zone", it can be hugely dangerous. The last steep challenge before the summit is the Hillary Step, a vertical rock face at 8,790 metres, which many climbers said was dislodged in the 2015 earthquake.
In a "traffic jam", exhausted climbers are often forced to wait for several hours, awaiting their turn to ascend or descend on a single rope, increasing chances of exhaustion, frostbite or altitude sickness.
Climbers could also run out of oxygen during the final phase of the ascent.
Under the latest directive, a climber is not allowed to make an attempt on another mountain immediately after finishing the first ascent in the wake of the Covid-19 threat.
According to the guideline, a climber must submit a negative polymerase chain reaction test report before heading for another climb.
This condition, however, is not applicable to climbers on Everest and Lhotse as the two peaks are connected by South Col which is 7,906 metres high.
Mountaineer Colin O'Brady's plans to climb Everest and then the 8,516-metre Lhotse, the world's fourth highest peak this season.
This double-summit feat was achieved by American guide Michael Horst on May 14, 2011. Horst climbed Everest and Lhotse in less than 21 hours.
While Horst had used supplementary oxygen during the two climbs, according to alpinist.com, O'Brady plans to achieve the feat of back-to-back ascents of Everest and Lhotse without bottled oxygen.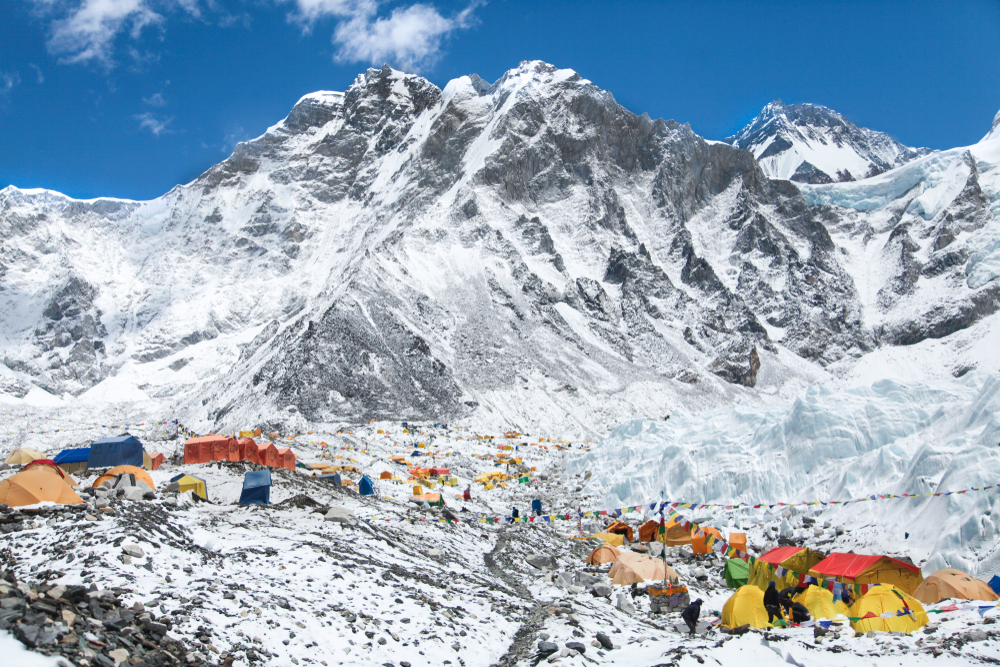 The Department of Tourism on Wednesday issued circulars to all expedition outfitters, asking groups not to mix with other groups. Shutterstock
Everest remained shut for climbers last year due to the Covid-19 pandemic. Now, as climbers have assembled at Everest base camp, at an altitude of 5,500 metres, from where expeditions start their ascent, concerns are growing about the coronavirus.

The sudden surge of virus cases in Nepal has become a cause for concern. The country has been reporting a steady rise in the number of new infections for the last two weeks.
On Wednesday, the Ministry of Health said the country reported 2,220 new infections in the last 24 hours, a sharp rise from 580 on April 14.
On April 15, a Norwegian climber reportedly complained of a cough and fever, also the symptoms of Covid-19, at Everest base camp, and was immediately airlifted to a hospital in Kathmandu.
The incident has stoked concerns among the mountaineering community and on social media if the coronavirus has made it to Everest base camp, where around 2,000 people have gathered.
"It's not confirmed yet. The hospital where the patient is being treated has informed us that he is suffering from pneumonia," said Acharya. "After people started saying on social media platforms that the situation is getting out of control, we immediately launched an inquiry."
Acharya dismissed social media posts as rumours.
"Based on officials' reports from base camp, we can say there is nothing to worry about," said Acharya. "People also suffer from 'Khumbu cough' and it's not a new phenomenon."
Khumbu cough is a high-altitude cough and is caused by a combination of high altitude and low relative humidity. It can be severe enough in some instances to result in broken ribs.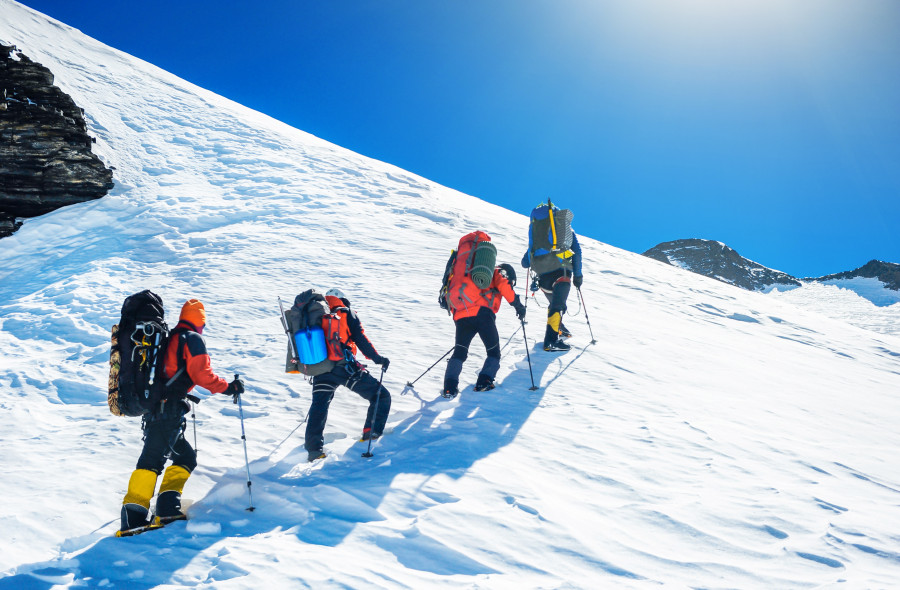 Shutterstock
Lakpa Norbu Sherpa, who has been coordinating rescue missions on Everest since 2003 as the base camp manager of the Himalayan Rescue Association, told the Post over the phone that there were rescues conducted over the past two weeks, and many cases were related to high-altitude pulmonary edema (HAPE), a potentially fatal form of severe high-altitude illness.
HAPE is a type of noncardiogenic pulmonary edema caused by hypoxia. It affects the lungs and is characterised by increased breathlessness with exertion progressing to breathlessness during rest, a dry cough, chest tightness or congestion, rapid heart beat, general weakness, and blue/purple skin tissue coloration.
Developing HAPE symptoms can be life threatening if untreated. Immediate descent to a lower altitude and administration of oxygen are imperative.
An official of Simrik Air, who wished not to be named, told the Post that they had rescued several people from Everest base camp, but the hospital or clinics where the patients were treated have not informed them about any Covid-19 case.
"If there was a Covid-19 case, we would have been informed by the hospital for contact tracing," said the official at the helicopter company.
Climbers are required to hold a negative PCR report before they are allowed to head for the mountain trails; but it is not mandatory for Nepalis and high-altitude climbing guides, which is a cause for concern, according to him.
The rescue from Everest base camp nonetheless set off alarm bells in Kathmandu.
The Department of Tourism on Wednesday issued circulars to all expedition outfitters, asking groups not to mix with other groups.
Acharya, who is also the head of the mountaineering division at the department, said they had issued orders to fix ropes separating one camp from another.
"All should remain isolated," said Acharya, adding that only a limited number of people are allowed to dine together. "But they are not allowed to bring new members to the dining tent."
---
---