Nepal Airlines permitted to fly to Brisbane to repatriate Australian citizens
A Qatar Airways flight chartered by US embassy takes 300 American citizens back home.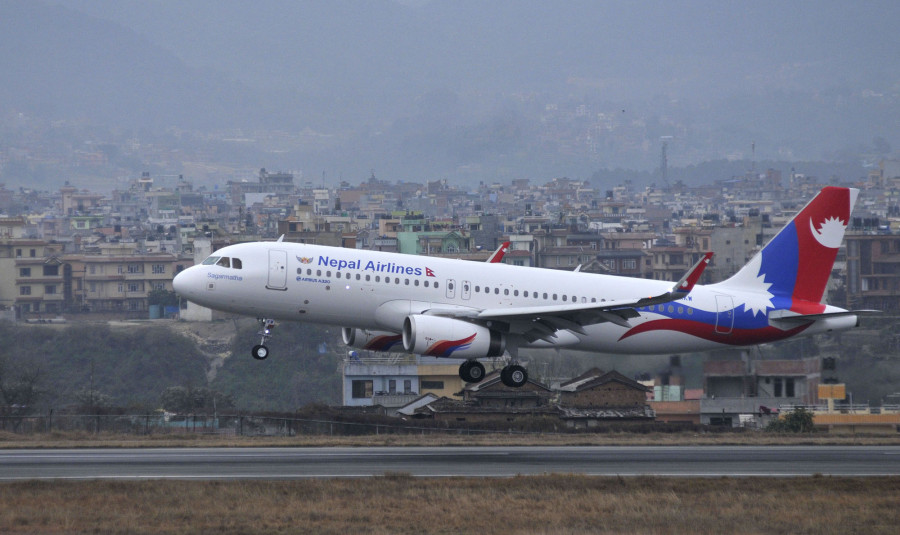 Post File Photo
bookmark
Published at : March 31, 2020
Updated at : March 31, 2020 19:52
Kathmandu
The Australian authorities on Tuesday cleared Nepal Airlines to fly to Brisbane, Australia to repatriate Australian tourists stuck in Nepal.

As per the plan, the carrier will make its maiden 13-hour-long charter flight to Australia on Wednesday evening.
"We received the operating authorization from the Australian authority today morning. We will take off at 5:30pm from the Kathmandu airport on Wednesday. All internal preparation has been completed," Captain Deepu Raj Jwarchan, director at the airlines' operation department, told the Post on Tuesday.
The 274-seater Airbus A330 plane can accommodate 260 passengers. Nepal Airlines will fly with 20 crew members, said Jwarchan.
On Monday, the Tourism Ministry granted permission to conduct charter operations to Australia at the request of the Australian embassy in Nepal.
The national flag carrier has to secure overflying permits from India, Bangladesh, Myanmar, Thailand, Singapore and Indonesia as well.
The carrier had originally planned to land at the Sydney airport but the plan changed after the Australian government refused to issue landing permit citing poor quarantine facility in Sydney, which has reported most infected cases of Covid-19.
"The plane will touchdown in Malaysia for refuelling," said Suresh Acharya, joint secretary at the ministry who looks after the aviation affairs. "We have communicated with five countries through th Foreign Ministry requesting for overflying permits."
Australian Ambassador to Nepal Pete Budd posted on his embassy Facebook page that the cost to Kathmandu-Sydney flight would be USD 1,800 per person for economy seating and will include a USD 2,300 option for business class travel.
"On social media, there have been concerns expressed about cost. We appreciate where these expressions of frustration are coming from," he wrote. "In the event there are future flights, if there are future flights, they are only likely to be more expensive."
Meanwhile, the United States will also repatriate its citizens from Nepal via a Qatar Airways flight on Tuesday.
According to a Qatar Airways official, the Kathmandu-Doha-Washington DC flight departed on Tuesday afternoon. The flight has been chartered by the US embassy in Nepal for 300 American citizens .
Similarly, the Tourism Ministry has also granted approval for South Korea and China to repatriate their citizens as Nepal has extended the lockdown until April 7 midnight.
On Friday and Saturday, the German and French governments repetritared more than 900 European from Nepal.
Jwarchan said that they have started preliminary negotiations with the British embassy in Nepal to fly British citizens back home. Qatar Airways is also negotiating with the embassy, according to an official at the airline
Frequently asked questions about the coronavirus outbreak
UPDATED as of September 22, 2020
What is Covid-19?
Covid-19, short for coronavirus disease, is an illness caused by the coronavirus SARS-CoV-2, short for severe acute respiratory syndrome coronavirus 2. Common symptoms of the disease include fever, dry cough, fatigue, shortness of breath and breathing difficulties. In severe cases, the infection can cause pneumonia, severe acute respiratory syndrome, kidney failure and even death.
How contagious is Covid-19?
Covid-19 can spread easily from person to person, especially in enclosed spaces. The virus can travel through the air in respiratory droplets produced when a sick person breathes, talks, coughs or sneezes. As the virus can also survive on plastic and steel surfaces for up to 72 hours and on cardboard for up to 24 hours, any contact with such surfaces can also spread the virus. Symptoms take between two to 14 days to appear, during which time the carrier is believed to be contagious.
Where did the virus come from?
The virus was first identified in Wuhan, China in late December. The coronavirus is a large family of viruses that is responsible for everything from the common cold to Middle East Respiratory Syndrome (MERS) and Severe Acute Respiratory Syndrome (SARS). After an initial outbreak in Wuhan that spread across Hubei province, eventually infecting over 80,000 and killing more than 3,000, new infection rates in mainland China have dropped. However, the disease has since spread across the world at an alarming rate.
What is the current status of Covid-19?
The World Health Organisation has called the ongoing outbreak a "pandemic" and urged countries across the world to take precautionary measures. Covid-19 has spread to 213 countries and territories around the world and infected more than 31,405,983 people with 967,505 deaths and 22,990,260 recoveries. In South Asia, India has reported the highest number of infections at 5,557,573 with 88,943 deaths. While Pakistan has reported 306,304 confirmed cases with 6,420 deaths. Nepal has so far reported 65,276 cases with 427 deaths.
How dangerous is the disease?
The mortality rate for Covid-19 is estimated to be 3.6 percent, but new studies have put the rate slightly higher at 5.7 percent. Although Covid-19 is not too dangerous to young healthy people, older individuals and those with immune-compromised systems are at greater risk of death. People with chronic medical conditions like heart disease, diabetes and lung disease, or those who've recently undergone serious medical procedures, are also at risk.
How do I keep myself safe?
The WHO advises that the most important thing you can do is wash your hands frequently with soap and water for at least 20 seconds or use hand sanitizers with at least 60 percent alcohol content. Avoid touching your eyes, nose and mouth with unclean hands. Clean and disinfect frequently used surfaces like your computers and phones. Avoid large crowds of people. Seek medical attention if symptoms persist for longer than a few days.
Is it time to panic?
No. The government has imposed a lockdown to limit the spread of the virus. There is no need to begin stockpiling food, cooking gas or hand sanitizers. However, it is always prudent to take sensible precautions like the ones identified above.
---
---