Officials confirm coronavirus in Nepali man who returned from Wuhan
Specimens collected from the man have come back positive from a WHO laboratory and officials are now attempting to trace his location and activities.

The Department of Health Services in the Capital. Photo Courtesy: Department of Health Services
bookmark
Published at : January 24, 2020
Updated at : April 1, 2020 11:50
Kathmandu
Officials on Friday confirmed that specimens from a Nepali man suspected to have contracted a new strain of coronavirus, had tested positive, marking the entrance of the virus into the country.

Dr Hemanta Chandra Ojha, an official at the Epidemiology and Disease Control Division, said that samples from a 31-year-old Nepali student who had returned from Wuhan, China earlier this month, had come back positive for the new virus from a World Health Organisation laboratory in Hong Kong. The novel coronavirus originated in the central Chinese city of Wuhan, the capital of Hubei province.
Read: What do we know about the new strain of coronavirus, and should we be worried?
The man, who is doing his PhD in Wuhan, had returned from the Chinese city on January 5. He had visited the hospital complaining of respiratory problems and was admitted on January 13. He was given medication and once his health condition improved, he was discharged five days later.
The hospital had taken specimens—throat swabs and blood samples—from the patient and sent it to the WHO's Collaborating Centre in Hong Kong on Tuesday.
"We have received the report and specimens have tested positive," said Ojha. "We are now in the process of searching for the man and his family in order to test them for further infection."
Ojha said that they had no indication as to where the man had gone and his activities over the past five days, ever since he was discharged on January 17.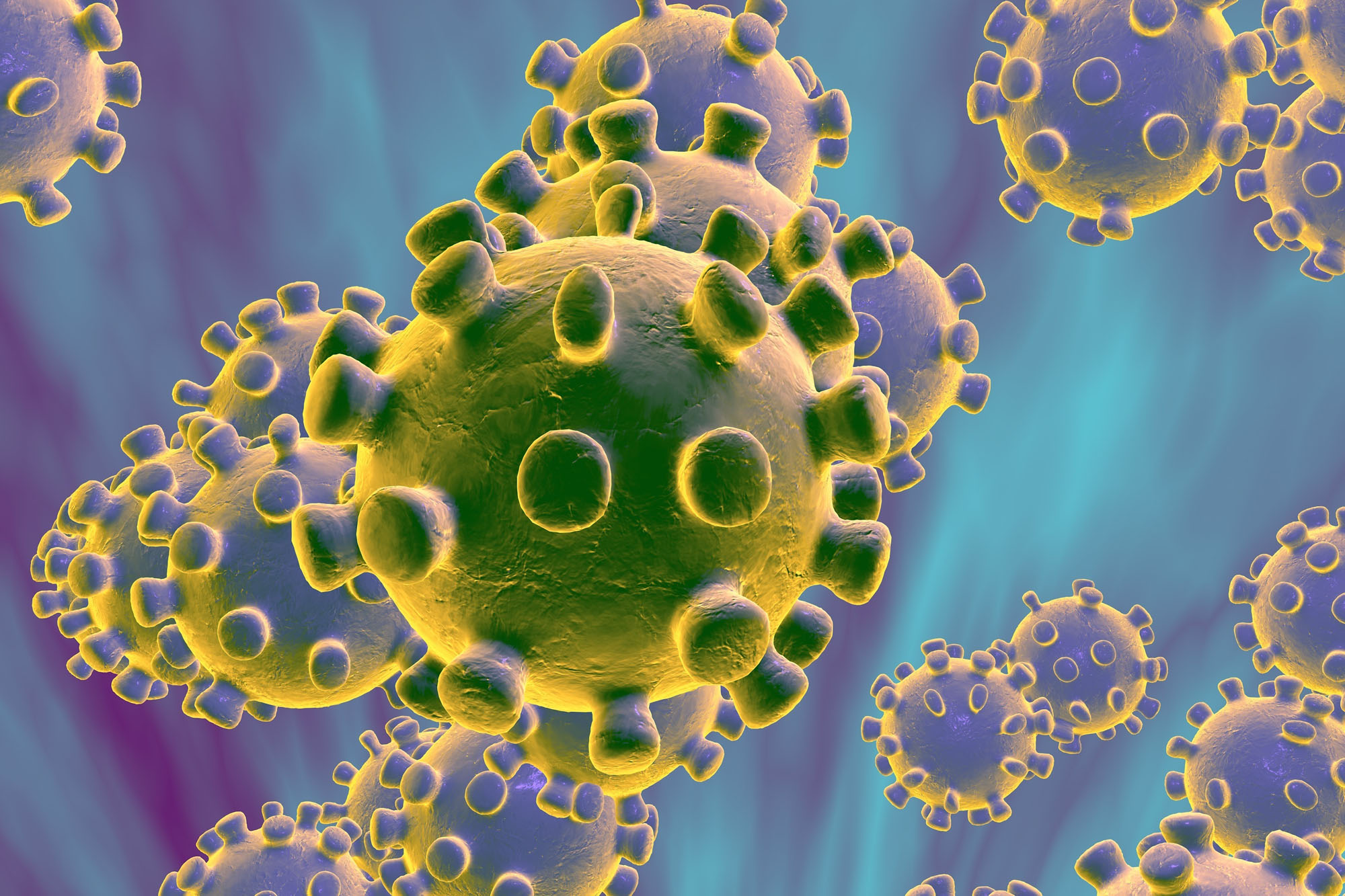 Three-dimensional drawing of Coronavirus. Shutterstock
First identified in Wuhan in December last year, the virus, dubbed 'novel coronavirus' by the WHO causes symptoms that are akin to pneumonia and Severe Acute Respiratory Syndrome. The virus has so far claimed 26 lives and has infected nearly 900 people across the world, according to the international media. The virus has spread to Taiwan, South Korea, Singapore, Japan and as far as the United States.
The death toll from the virus has increased rapidly over the week. On Tuesday, Chinese authorities had confirmed six deaths. By Friday, 26 deaths had been confirmed. At least 10 Chinese cities, including Wuhan, have been placed under lockdown, restricting the movement of some 30 million people. Numerous countries, including Hong Kong, Thailand, Malaysia, Singapore and South Korea, have instituted mandatory screenings for Chinese travellers at airports.
In Nepal, the authorities have been slow to react. Airport screenings have yet to be made mandatory. A health desk with a doctor and paramedics was reinstituted only recently, after the WHO issued an alert. However, images of the health desk shared on social media showed lettering from when there was an Ebola outbreak in Africa a few years ago.
Neither the airport nor the Sukraraj Tropical and Infectious Disease Control Hospital has a proper, functioning isolation ward for patients. A WHO team had inspected the 10-year-old isolation ward at the Sukraraj Hospital and recommended a number of improvements, including the construction of a ramp and the installation of high-efficiency particulate air (HEPA) filters.
However, Dr Basudev Pandey, director of the hospital, had told the Post on Wednesday, that it will take millions of rupees to bring the isolation ward into operation. The ward, which was set up with the support of the World Bank at the time of the avian flu epidemic, has not housed a single patient.
Nepal is especially vulnerable to epidemics like the coronavirus, which spread quickly through the air. A lack of detection infrastructure, both at the airport and in hospitals, means that carriers could easily spread the disease before they are detected and quarantined. Thousands of Chinese tourists also visit Nepal every year, with the country aiming to attract 350,000 Chinese tourists under its Visit Nepal 2020 campaign.
Frequently asked questions about the coronavirus outbreak
UPDATED as of September 22, 2020
What is Covid-19?
Covid-19, short for coronavirus disease, is an illness caused by the coronavirus SARS-CoV-2, short for severe acute respiratory syndrome coronavirus 2. Common symptoms of the disease include fever, dry cough, fatigue, shortness of breath and breathing difficulties. In severe cases, the infection can cause pneumonia, severe acute respiratory syndrome, kidney failure and even death.
How contagious is Covid-19?
Covid-19 can spread easily from person to person, especially in enclosed spaces. The virus can travel through the air in respiratory droplets produced when a sick person breathes, talks, coughs or sneezes. As the virus can also survive on plastic and steel surfaces for up to 72 hours and on cardboard for up to 24 hours, any contact with such surfaces can also spread the virus. Symptoms take between two to 14 days to appear, during which time the carrier is believed to be contagious.
Where did the virus come from?
The virus was first identified in Wuhan, China in late December. The coronavirus is a large family of viruses that is responsible for everything from the common cold to Middle East Respiratory Syndrome (MERS) and Severe Acute Respiratory Syndrome (SARS). After an initial outbreak in Wuhan that spread across Hubei province, eventually infecting over 80,000 and killing more than 3,000, new infection rates in mainland China have dropped. However, the disease has since spread across the world at an alarming rate.
What is the current status of Covid-19?
The World Health Organisation has called the ongoing outbreak a "pandemic" and urged countries across the world to take precautionary measures. Covid-19 has spread to 213 countries and territories around the world and infected more than 31,405,983 people with 967,505 deaths and 22,990,260 recoveries. In South Asia, India has reported the highest number of infections at 5,557,573 with 88,943 deaths. While Pakistan has reported 306,304 confirmed cases with 6,420 deaths. Nepal has so far reported 65,276 cases with 427 deaths.
How dangerous is the disease?
The mortality rate for Covid-19 is estimated to be 3.6 percent, but new studies have put the rate slightly higher at 5.7 percent. Although Covid-19 is not too dangerous to young healthy people, older individuals and those with immune-compromised systems are at greater risk of death. People with chronic medical conditions like heart disease, diabetes and lung disease, or those who've recently undergone serious medical procedures, are also at risk.
How do I keep myself safe?
The WHO advises that the most important thing you can do is wash your hands frequently with soap and water for at least 20 seconds or use hand sanitizers with at least 60 percent alcohol content. Avoid touching your eyes, nose and mouth with unclean hands. Clean and disinfect frequently used surfaces like your computers and phones. Avoid large crowds of people. Seek medical attention if symptoms persist for longer than a few days.
Is it time to panic?
No. The government has imposed a lockdown to limit the spread of the virus. There is no need to begin stockpiling food, cooking gas or hand sanitizers. However, it is always prudent to take sensible precautions like the ones identified above.
---
---