Dhaulagiri glacier shrinking, thanks to climate change
Dhaulagiri glacier has started shrinking due to melting of ice. The glaciers are becoming thin in the mountainous region of late.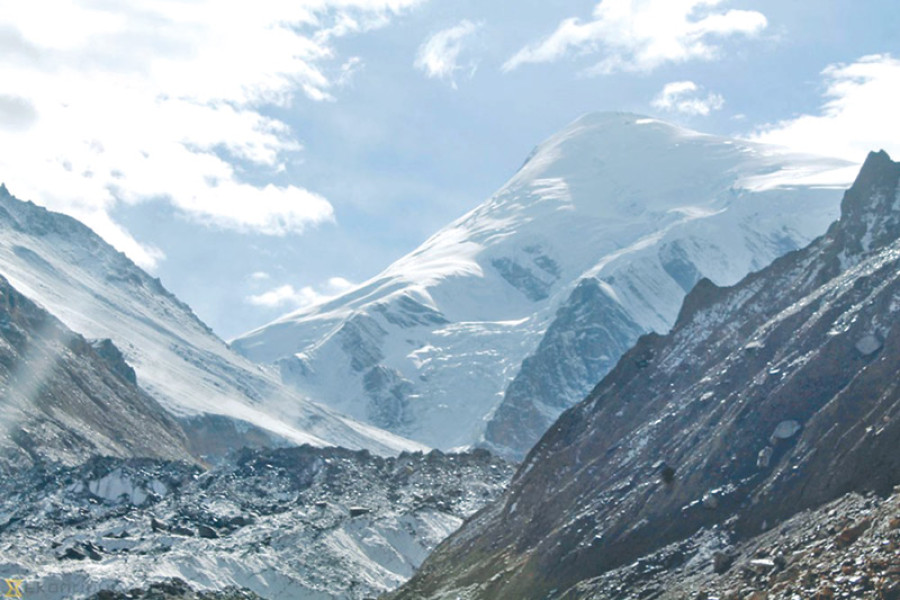 bookmark
Published at : December 21, 2016
Updated at : December 21, 2016 20:14
Myagdi
Dhaulagiri glacier has started shrinking due to melting of ice. The glaciers are becoming thin in the mountainous region of late.
This year, the southern part of Mt Nilgiri lost ice more than previous years.
Tourism entrepreneur Tej Bahadur Gurung of Narchyang VDC said the mountain has turned into a "black cliff".
"The stream flowing from the mountain should be small during this season, but the water level of the stream is still same," he said.
Local traders said the glacier has shrunk by 200 meters in the last 25 years.
"The glacier is about 20 meters thin now," said Tej Bahadur.
The glaciers used to melt during May and June each year, however, ice is melting even in the month of December.
Snow starts accumulating in the glacier whereas water sources dry up after November, but the rise in temperature has started affecting the environment negatively over the last few years, locals say.
'Cause of Upper Mustang flash flood yet to be confirmed'
The authorities are yet to confirm the cause of a flash flood that has cut off Upper Mustang from other districts since Saturday night.
A team of officials from the District Administration Office, the Nepal Army, Nepal Police and the Armed Police, which was sent to inspect the site, found that the sudden flash flood in ward numbers 8 and 9 of Dhakmar Village swept away two houses, four wooden bridges and eight water mills, said Mustang Chief District Officer Bhim Raj Pokharel.
No human casualty was reported in the incident.
"We are yet to ascertain the cause of the flash flood whether it was the result of glacial lake outburst flooding or dry landslide," he said.
Rishi Raj Sharma, director general of the Department of Hydrology and Meteorology (DHM), said it is unusual to experience flash flood in Upper Mustang during winter when the weather is dry.
"One of the two glacial lakes located in Upper Mustang could have burst," he said. "We need to conduct a scientific study to find out the cause."
The high mountainous regions of the country including Upper Mustang are home to thousands of glacial of lakes and 21 of them are considered dangerous as they could burst after rapid glacier melting due to climate change.
Of these 21 glacial lakes, seven are at listed as high-risk ones, including Thulagi glacial lake in Manang, the adjoining district to Mustang.
In October this year, the government successfully drained out water from Imja glacial lake in Solukhumbu district, one of the seven glacial lakes at high risk of potential glacial lake outburst flood disaster. The water level in the lake was lowered by 3.5 meters.
(With inputs from Mustang)
---
---