Chinese tourists are returning to Nepal after three years
China's culture and tourism ministry on Friday gave permission to its citizens to travel to 40 countries, beginning March 15. Nepal tops the list.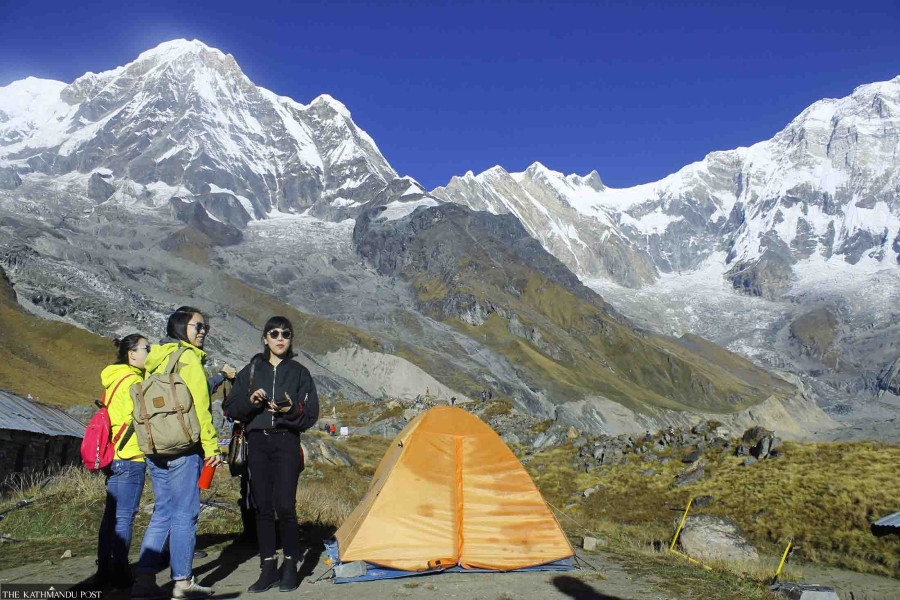 China was Nepal's second-largest tourism source market after India before the start of the Covid pandemic. POST FILE PHOTO
bookmark
Published at : March 10, 2023
Updated at : March 11, 2023 10:42
Kathmandu
Beijing has allowed its citizens to travel to Nepal as tourists from next week after more than three years.
According to a notice issued by the Ministry of Culture and Tourism of the People's Republic of China on Friday, starting from March 15, the national travel agencies and online travel companies are allowed to resume, on a pilot basis, outbound group tours for Chinese citizens to relevant countries.
On January 20, China announced the resumption of outbound travel from February 6.
To begin with, Beijing allowed its citizens to travel to 20 countries, but that excluded Nepal.
Nepal's private sector then urged China to add Nepal to the list.
In the second list, China's culture and tourism ministry has allowed its citizens to travel to 40 countries, with Nepal being placed on top.
"Chinese tourists will come back to Nepal on a large scale," a Chinese diplomat in Nepal told the Post.
China was Nepal's second-largest tourism source market after India before the start of the Covid pandemic.
Arrivals from the northern neighbour were blocked after all flights linking China and Nepal were suspended.
In February, Nepal received 2,266 Chinese tourists, the highest since March 2020.
"This is in fact very good news for Nepal," said Kishore Raj Pandey, chairman of Saathi Nepal Travel and Tours, who was the first person to bring Chinese tourists to Nepal in 2001.
Pandey, who used to bring more than 500 Chinese tourists per week before the Covid pandemic via chartered flights, said arrivals from China would give Nepal's tourism the necessary momentum.
Chinese arrivals to Nepal crossed the 100,000 mark for the first time in 2013, largely due to the improved air links between the two countries. Around 93 percent of Chinese tourists were first-time visitors to Nepal, according to the Tourism Ministry's statistics.
In 2014, Nepal received 123,805 Chinese visitors.
The back-to-back 2015 earthquake and the blockade by India led to arrivals from China dropping to a four-year low of 64,675 individuals in 2015, down 47.76 percent from 2014.
The surface road at the Tatopani border point where Nepal used to receive a large number of Chinese tourists was also blocked.
On December 25, 2015, Nepal announced 'free visa' for Chinese tourists, giving them the same treatment accorded to South Asian visitors, in a bid to revive flagging arrivals. The free visa scheme was implemented in January 2016.
Thereon, tourist arrivals from China started rising steadily, and Nepal saw the strongest growth of 46.8 percent in tourist arrivals from China to 153,633 visitors, in 2018.
In 2019, Nepal received a record 169,543 Chinese tourists.
The number fell to 19,257 in 2020. In 2021 and 2022, there were 6,198 and 9,599 Chinese tourists in Nepal—comprising mostly diplomats and those who got stranded in third countries came to Nepal when Beijing enforced never-ending lockdowns.
When the Chinese economy started to boom, Nepali investors started to build luxury hotels that started to multiply.
Instead of serving a bucket in the bathroom preferred by Indian tourists, hoteliers say, they started serving noodles.
The boom, alas, turned to bust almost as fast. The Covid pandemic came, and all the Chinese tourists were gone in a flash.
Most Chinese restaurants in Kathmandu and Pokhara—key spots preferred by a majority of Chinese visitors are now closed, and the advertisements hanging over their doorways have come down.
Chinese airlines have also started resuming their flights to Nepal.
Sichuan Airlines has announced that it would resume its scheduled flights to and from Kathmandu's Tribhuvan International Airport from March 20.
The airline will conduct four weekly flights from Chengdu—on Mondays, Wednesdays, Fridays and Sundays, according to a statement issued by the airline.
It has also announced a one-way fare for Melbourne and Narita.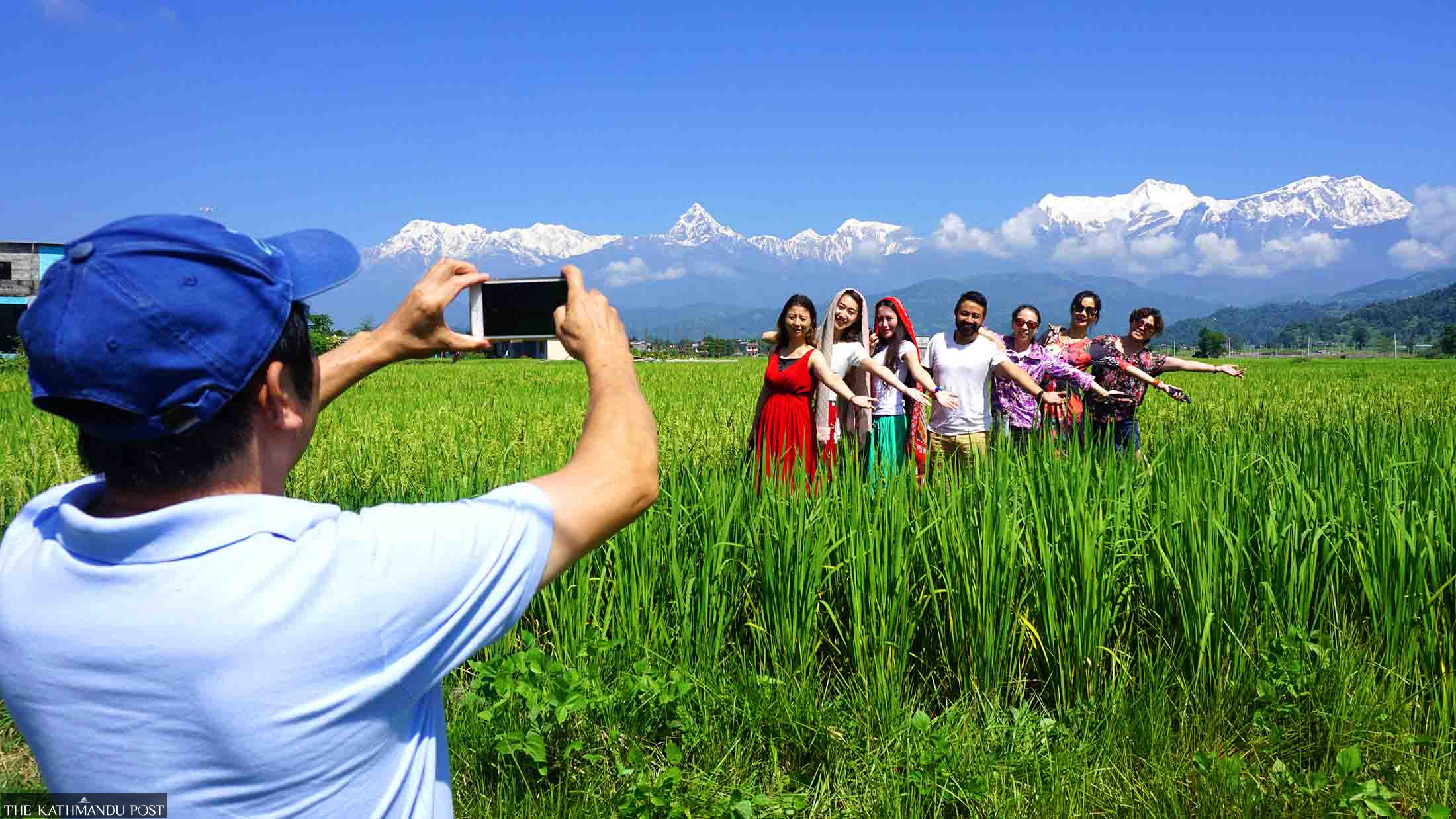 POST FILE PHOTO
Sichuan Airlines has announced a special introductory one-way fare of Rs79,999 to Melbourne and Rs65,999 to Narita from Kathmandu with 46 kgs check-in baggage and 7 kgs cabin luggage.
"Most of the Chinese planes connecting Nepal are full," said Sangam Lama, a ticketing executive at Osho World Travel Nepal.
Guangzhou-based China Southern Airlines, the largest airline in China in terms of passenger volume, which resumed flights on the Kathmandu-Guangzhou sector in November last year after a break of nearly a year and a half, is more than 80 percent sold out for March.
The carrier operates two flights a week—on Tuesdays and Saturdays.
According to Lama, Air China, which resumed the Chengdu-Kathmandu flights in September last year, and operates two weekly flights, is 90 percent sold out.
On March 10, 2022, Nepal threw the door wide open to tourists, removing all pre-arrival testing requirements, in a bid to recharge its moribund tourism industry.
However, international tourist arrivals did not increase as expected because of the Russia-Ukraine war.
Travel trade entrepreneurs say that because the inflation has jumped so high, people across countries, mostly in Europe and the United States, have cut their travel budgets amid signs of recession. This has been reflected in Nepal's tourism industry.
From hotel rooms to airline tickets and from food and beverages to local transport, the prices have soared.
The appreciation of the US dollar did not translate into cheaper trips for foreigners travelling to Nepal because the rates are quoted in dollars.
"As we see China's economy recovering, we don't have to be pessimistic on the spending by Chinese tourists," said Pandey.
According to Pandey, millions of Chinese have started travelling. "We are hopeful that Nepal too will receive them in healthy numbers."
---
---