All-female crew on Dubai-Kathmandu flight
Six women script history flying the Nepal Airlines RA230 for four hours on Wednesday.

Photo Courtesy: Nepal Airlines
bookmark
Published at : March 8, 2023
Updated at : March 9, 2023 00:16
Kathmandu
In 1983, an 18th military airlift squadron crew flew a C-141B Starlifter from McGuire Air Force Base, New Jersey, to Rhein-Main Air Base in Germany, in what was the world's first all-female flight.

Four decades later, Nepal Airlines on Wednesday scripted history by taking to the skies in what is believed to be Nepal's first all-female crew flight.
Six women were at the helm of Wednesday's RA230 flight that landed at Tribhuvan International Airport, Kathmandu from Dubai at 10:30 am—completing the four-hour journey and passing yet another milestone for Nepali women's empowerment, said Ganesh Kumar Ghimire, deputy spokesperson for Nepal Airlines.
"For the first time in Nepal's aviation history, Nepal Airlines operated the flight with an all-female crew."
Captain Bhawana Giri Pant commanded the A320 aircraft with Shreejana Rawat acting as her deputy or co-pilot.
On March 5, these two pilots flew from Kathmandu to Dubai.
They returned with all-female crew flights, carrying 153 passengers on board, to celebrate International Women's Day on Wednesday.
Soon as they landed in Kathmandu, congratulatory messages started pouring in on social media platforms.
"We were given a chance to make this historic flight," Captain Pant, the flight commander, told the Post. "We were able to write a new chapter in Nepali aviation history."
"I'm extremely proud to be a part of this," she said.
Others in the crew on the flight lasting 4 hours and 8 minutes were Basna Rana, chief of the cabin crew, and her deputy Anjak Maharjan. Sangita KC and Anisha Prajapati were the flight attendants.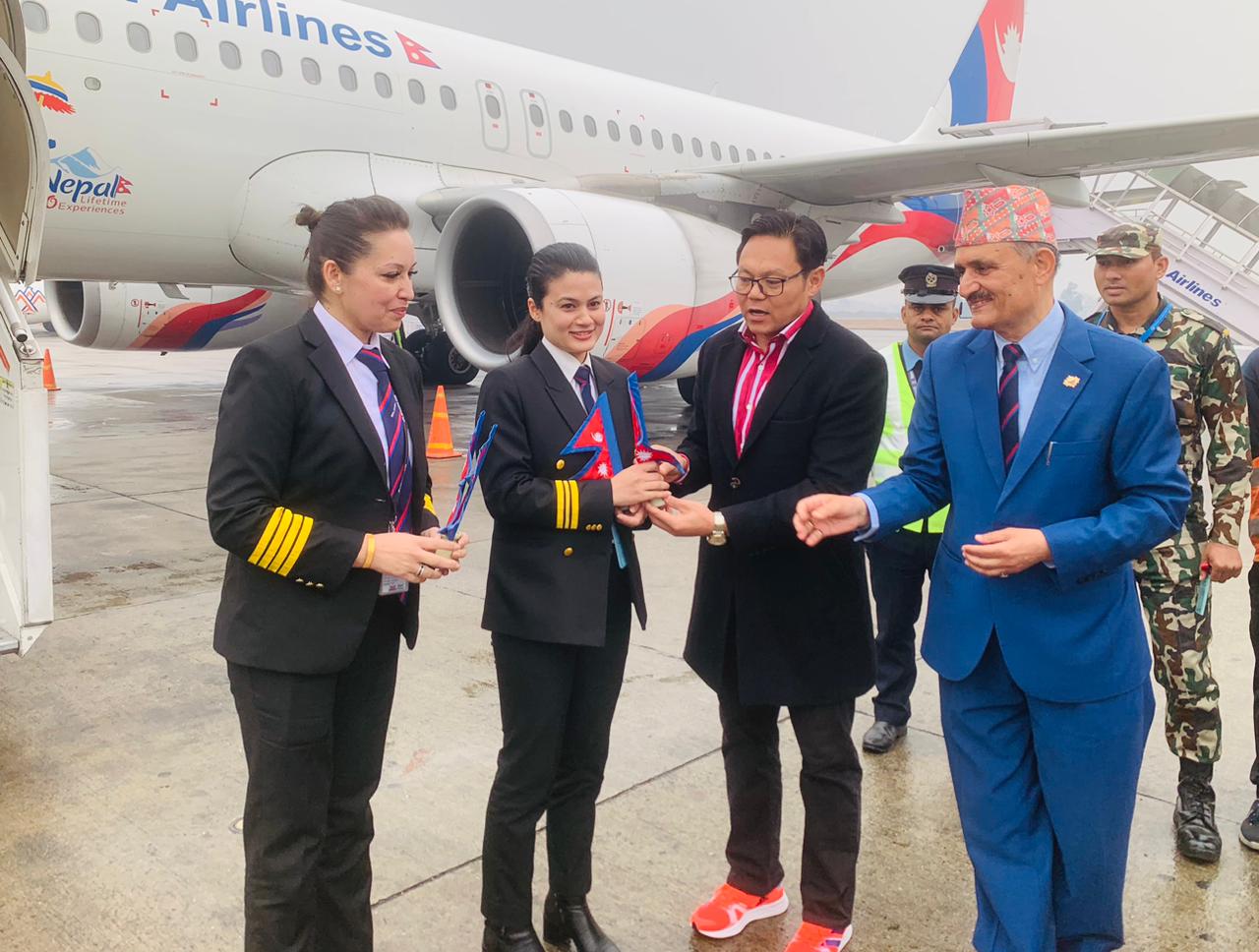 Photo Courtesy: Nepal Airlines
After Sony Rana became Nepal's first woman pilot in 1988, more and more women have opted for careers in the cockpit.
In actual flight, Pant is Nepal's second woman pilot after Rana, though Rakshya Rana was the second woman to obtain a flying licence in the country.
Pant, the daughter of late captain Balram Pant, completed her flying training in Kiev, the capital city of Ukraine, in 1993.
"I started flying in 1997," said the 46-year-old captain.
Pant began her career at Necon Air flying in the Nepalgunj-Jumla sector. She served Necon Air for six years.
She then joined Buddha Air and flew for nine years, before joining Saurya Airlines.
Pant left Saurya for Nepal Airlines in 2018.
"It's been 26 years that I have been flying. I'm happy to fly."
Nine female pilots are currently serving Nepal Airlines. Of them, Sony Rana flies Airbus A330. Pant, Rawat, Hira Thapa and Liberty Bhandari fly Airbus A320.
The domestic operation has four female pilots, according to Nepal Airlines.
The company has 72 pilots altogether, including 41 co-pilots. The national flag carrier has 145 cabin crews in total—96 of them women.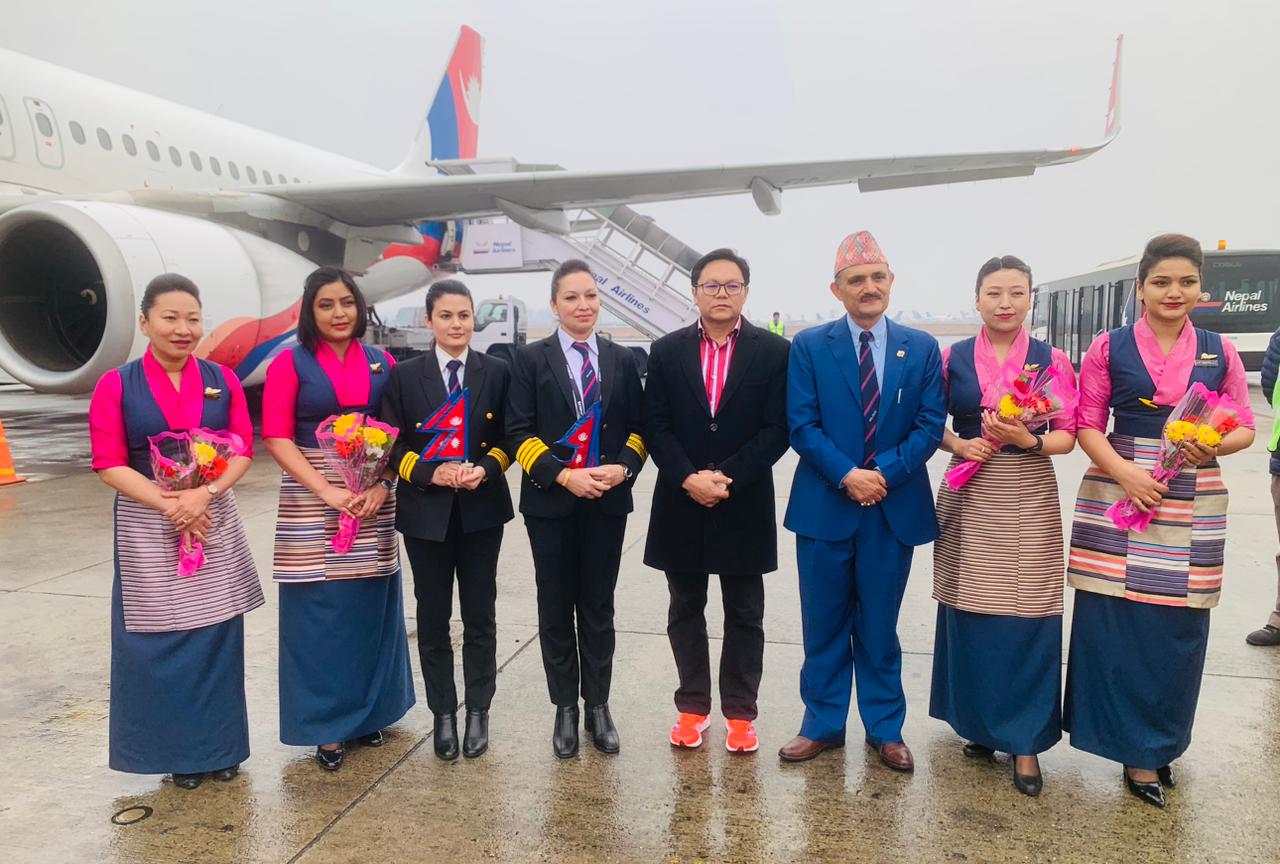 Photo Courtesy: Nepal Airlines
Piloting has long been a male-dominated industry. However, the scenario is changing.
"The number of female pilots is growing," said Birendra Bahadur Basnet, managing director of Buddha Air, Nepal's largest domestic airline.
"We strive for an equitable representation of women, especially in the leadership position. We are proud to have women in key positions that have traditionally been considered male bastions in aviation," said Basnet.
A few years ago, the ratio of male to female pilots in private airlines used to be 20:1.
It means that for every 20 male pilots, there was 1 female pilot.
"Now, we have a 10:3 male to female ratio or for every 10 male pilots, there are 3 female pilots," said Basnet.
All cabin crew members serving Buddha Air are female.
"The only constraint in the women's pilot career is the childbearing period as there are issues of renewing licence, training, among others," he said. "We provide a [one-time] pregnancy leave with pay for a year for the cockpit crew."
Buddha Air said it has the policy to encourage gender diversity and equal pay.
"The most important thing is, we don't tolerate sexual harassment in the workplace," said Basnet.
---
---