Roads allow Karnali's farm products to reach overseas
The region's crops have also found fans in Kathmandu where cereals from distant districts have become trendy.

Karnali produces 390,000 tonnes of food grain annually and has a deficit of 16,000 tonnes. Post File Photo
bookmark
Published at : December 15, 2022
Updated at : December 15, 2022 07:58
Jumla/surkhet
Bhim Bahadur Budha of Chakheli Rural Municipality, Humla grew 1.3 tonnes of foxtail millet (kaguno) on his farm this year, all of which was snapped up by traders and shipped to Kathmandu.

Foxtail millet from Nepal's far west has found new fans as a health food as it is rich in calcium, especially in the country's capital where cereals grown in distant districts have lately become trendy.
Sur Bahadur Shahi, a farmer in the adjoining district of Jumla, sold three tonnes of marsi paddy this year, which was also dispatched to Kathmandu.
Umesh Budha, another farmer in Jumla, is currently busy taking care of his bean, foxtail millet and proso millet plants. Budha exports most of his harvest to overseas markets, and does not sell it in the local market.
Jumla in north-western Nepal, once known as the back of beyond, has started creating a different identity.
Mention of Karnali, located in the far west and the largest province in Nepal, evokes images of annual food shortages and food drops. The region has long been deemed a food-insecure region, leading the government to dispatch hundreds of tonnes of subsidised rice every year.
This perception is gradually changing. Karnali is producing high-value cash crops, thanks to the construction of new road networks.
Jumla was connected to the national highway system in April 2007, spreading hope of development in the far west. It's becoming real and visible now.
Visitors to Karnali used to say that apples could be bought for less than Re1 each as there were no roads to get them out to market. Fast forward to the present, and Budha's products are now exported to Australia and Canada.
"That's the benefit roads have brought to Karnali," said Budha of Tila Rural Municipality.
These days, traders go to the apple orchards and buy the fruits on the trees before they can be picked. Apple growers say there are a few international buyers nowadays.
More than a dozen shops in the district sell local produce. They collect the crops from the farmers and send them to markets in various cities across the country.
"We send the farm products as per the orders," said Govinda Acharya, proprietor of Koseli Ghar Jumla. "Traders from Kathmandu Valley are the largest buyers. They ship our products to foreign countries."
Jumla Ghar Organics and Superfoods, an agricultural cooperative, exported around 55 tonnes of food products to Canada and Australia in the last fiscal year.
The company exports the popular Jumli marsi (a red rice variety), beans, millet flour, foxtail and proso millet, apples, garlic, lentils, walnuts, herbal tea, jimbu (Himalayan herb) and timur (Szechuan pepper) produced in Karnali.
State-owned Food Management and Trading Company also buys crops grown in Karnali. The firm started procuring marsi rice in 2021 and has been selling proso millet, beans and lentils in Kathmandu.
The Agriculture Development Office in the district says it has been encouraging farmers to increase production by providing incentives as demand for organic goods has shot up.
Raj Shahi, proprietor of Jumla Ghar Organics and Superfoods, said they export farm products of Karnali to Canada.
The company has exported one tonne of beans, one tonne of split black lentils and 10 kg of dried apple chips to Japan so far this year. Agro experts say that's a good initiative of farmers in Karnali to produce high-value crops that could transform the local standard of living.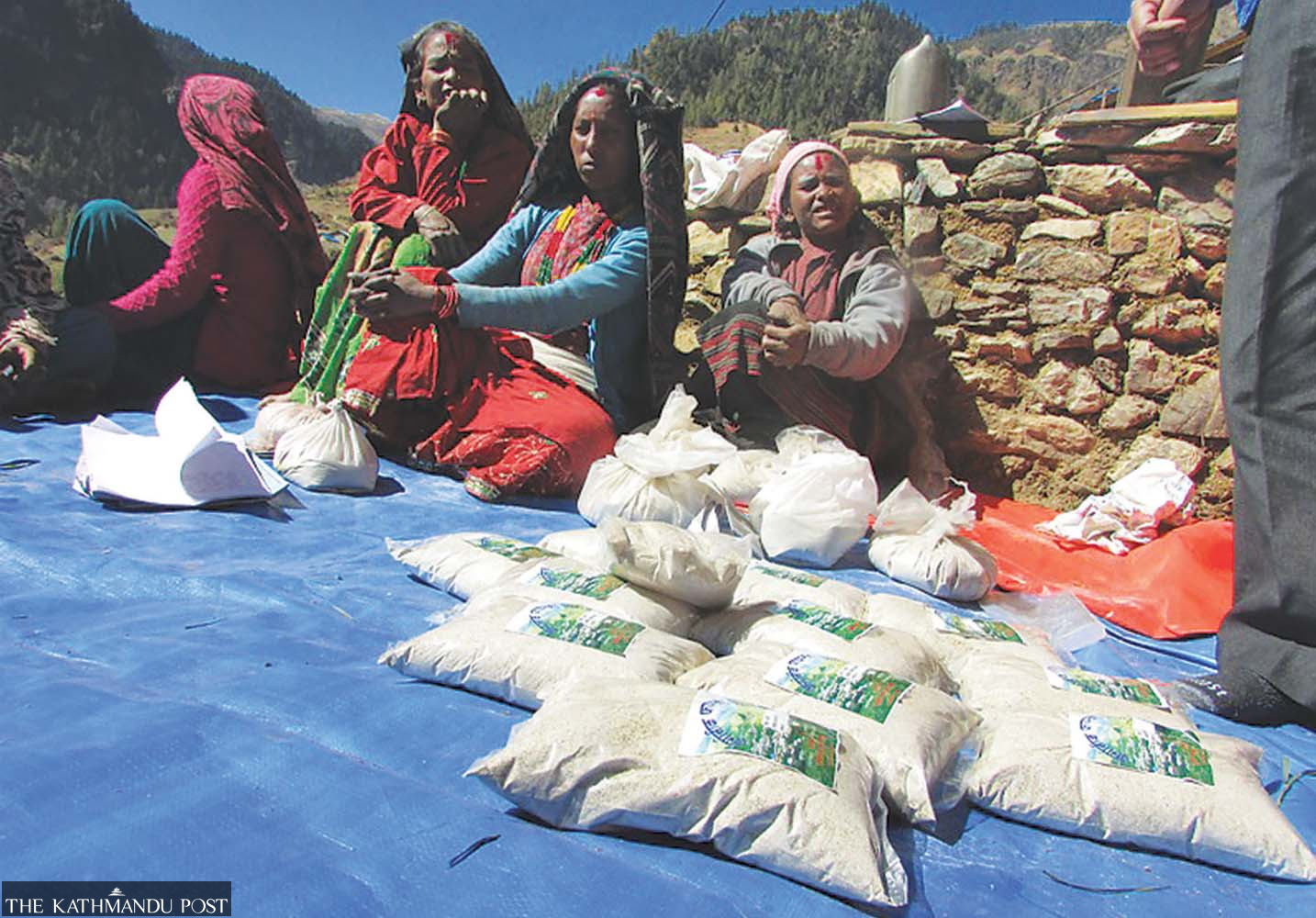 Road access has been a boon to Karnali, the last region in Nepal to be connected by roads. Post File Photo
Rishi Ram Pandey of Gidi Khola in Tatopani Rural Municipality displayed a tonne of dried apple chips and 100 caps made of rabbit wool at the Asian Credit Union Forum 2022 held in Thailand in August.
"There were representatives from 16 countries at the conference," said Pandey, who has been exploring markets abroad. Pandey says he has received orders for some products.
Jumla Ghar Organics and Superfoods has been exporting marsi rice to the United States for the past two years.
"We exported four tonnes of Jumli marsi rice to the US last year," said Shahi. "We also exported this type of rice to Germany, Bangladesh and the United Kingdom, but in small quantities."
The road has been a boon to Karnali, the last region in Nepal to be connected. But road connectivity also has brought negative impacts to the region.
The road has made it easier to bring food to Karnali, and many people have stopped growing it because they can get it at subsidised prices.
"Of course, the road has made the people too lazy to grow their own food," said Budha. "Our dependence on imported foods is increasing."
He said many farmers were still unaware of the significance of local farm products. "Production has been decreasing every year."
Shahi agrees with Budha. "It is ironic that though there is high demand for our farm products in foreign countries, farmers here aren't much interested in growing them. They have grown used to the easy life of getting subsidised imported foods from the government."
Shahi said commercial production could change Karnali, which is at the bottom of the human development index ranking. "Commercial production will not only reduce our dependence on imported foods but also promote a sustainable farming system in the district."
There are several agricultural cooperatives sending local products from Karnali to Kathmandu and foreign countries.
Khalanga-based Chandannath Cooperative dispatches Jumla's products to Kathmandu and Himalayan Multipurpose Cooperative exports apples to Bangladesh.
Jeevan Bahadur Budha, a farmer from Jumla, worries that indigenous crops could be lost.
"While there is easy access to imported food, indigenous crops are being exposed to pests," said Jeevan. "So we are compelled to use hybrids and improved seed varieties to grow more."
Farmers grow 6,125 tonnes of marsi rice on 2,850 hectares in Jumla annually, according to the district's Agriculture Development Office.
The Provincial Planning Commission says Karnali has 299,000 hectares of land suitable for cultivation, but only 216,000 hectares has been utilised.
Karnali produces 390,000 tonnes of food grain annually and has a deficit of 16,000 tonnes.
According to the Ministry of Land Management, Agriculture and Cooperatives, Karnali produces 20,868 tonnes of millet on 19,076 hectares annually. Farmers also grow 13,075 tonnes of proso millet on 18,072 hectares and 575 tonnes of foxtail millet on 948 hectares.
Farmers and experts say that international sanitary and phytosanitary laws are the main barriers to exports.
"Lack of organic certificates has affected the export of foods produced in Karnali," said Ganesh Adhikari, chief of the Agriculture Development Office, Jumla. "The federal government should take the initiative to promote Karnali's crops."
---
---