Rice eaters face rising prices after India strangles supply
The southern neighbour initiated the move to boost supplies and calm prices after below-average monsoon rainfall curtailed planting.

Shutterstock
bookmark
Published at : September 25, 2022
Updated at : September 25, 2022 07:34
Kathmandu
Nepalis eat rice for lunch, and rice for dinner, and after India strangled the supply, prices soared to all-time highs.

On September 9, India, the world's largest grain exporter, banned shipments of broken rice and imposed a 20 percent export duty on various types of rice, except parboiled and basmati rice.
The southern neighbour initiated the move to boost supplies and calm prices after below-average monsoon rainfall curtailed planting.
The repercussions were immediately felt in Nepal. Local retailers say the price of imported long grain and fine rice saw the single largest jump of Rs10 per kg.
Market insiders say the rise in the price of rice would affect all, particularly the poor.
Experts say that since Nepal's paddy harvest has been expected to drop, it would put more pressure on prices in the coming months.
"The retail price of imported rice has increased by Rs150 to Rs200 per 20-kg bag," said Amul Kaji Tuladhar, general secretary of Nepal Retailers Association. "It's mainly due to India imposing an export duty on rice."
Nepal, a country of farmers, is becoming gradually dependent on imported rice. "Now, India's intervention in the price of rice affects the market here," he said.
"The price hike of this single commodity has a direct impact on many Nepalis. It has been raised ahead of Nepal's biggest festival Dashain," Tuladhar said.
India first tightened wheat exports, followed by an export ban on broken rice.
In a new development, it has hiked the export duty on non-basmati rice to discourage buyers from making purchases from India.
Nepal imported 550,000 tonnes of paddy, 520,000 tonnes of rice and 50,000 tonnes of broken rice, mainly from India, according to the Department of Customs.
In terms of value, Nepal imported rice worth Rs29 billion and paddy shipments amounted to Rs16.99 billion.
Long grain rice holds a unique charm in global markets including Nepal, and this has resulted in a growth in rice imports although the country produced surplus grain, agro experts said.
Nepal does not grow fine rice in adequate quantities, and Indian rice is much cheaper compared to the local product because of the low cost of production and India's heavily subsidised farm sector, according to experts.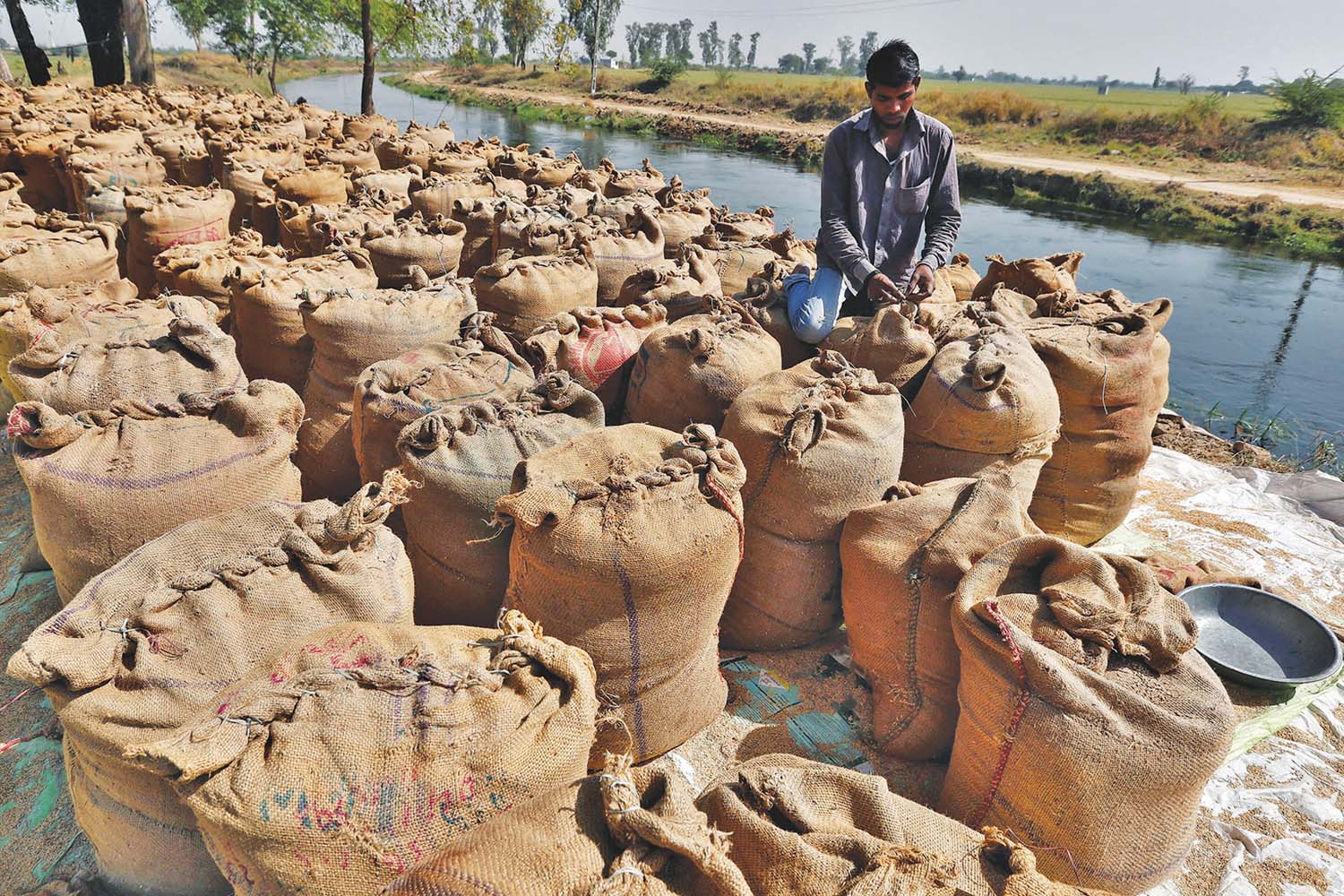 A worker packs a sack filled with rice on the outskirts of the western Indian city of Ahmedabad. Reuters
The price of wheat and refined flour too has increased. The price of refined flour increased by Rs20 per kg.
The price of cumin (jeera) has also increased sharply.
The price of cumin, Nepal's most popular spice to flavour meats and vegetables, jumped from Rs480 per kg to Rs540.
Customers have something to cheer about too. The price of edible oil has decreased by Rs50-60 per litre, especially sunflower and soybean oils, said retailers.
"Sunflower oil now costs Rs285 to Rs295 per litre, while soybean oil costs Rs260 per litre," Tuladhar said.
But the price of mustard oil has not gone down. It costs Rs320 to Rs370 per litre, depending on the brand, retailers said.
Sugar retails for Rs100 per kg.
The price of lentils and legumes has increased by 8 percent, according to retailers.
Officials say that the market has seen a dramatic rise in prices due to multiple factors—fuel price hikes, appreciation of the United States dollar and transportation costs.
According to Nepal Oil Corporation, the price of petrol increased by 28.17 percent to Rs181 per litre in a year while the price of diesel surged by 36.51 percent to Rs178 per litre.
While wholesalers say prices of food items have not increased much, retailers claim food items have become vastly more expensive.
According to Nepal Rastra Bank, the year-on-year consumer price inflation stood at 8.26 percent in the first month of the fiscal year compared to 4.35 percent a year ago.
Under the food and beverage category, the prices of ghee and oil rose by 19.58 percent, fruits by 18.79 percent and milk products and eggs by 10.19 percent.
Sanjay Kumar Phuyal, proprietor of Asma Enterprises, Balaju, a wholesaler of rice, said the price of edible oil and lentils has decreased over the past month.
The price of musuro (split red lentil) lentil has also declined to Rs140 from Rs150 per kg.
The wholesale price of brown gram has dropped to Rs93 per kg from Rs98.
With food prices taking off, manufacturing companies have launched discount offers to promote sales.
"There are discounts galore in edible oil, lentils and legumes and sugar," said Panu Poudel, chief operating officer at Bhat Bhateni Super Market.
"We are selling food items at a discount of Rs5-10 per kg. Our prices are comparatively lower than at government-run fair price shops. Bhat Bhateni outlets in Kathmandu Valley are selling sugar at Rs84 per kg, while it costs Rs104 in the market," Poudel said.
The price of rice increased after the Indian government imposed duties. "The price of rice has increased by around 10 percent from last year's festive season," said Poudel.
---
---