New TV sets, foreign booze unlikely during upcoming big sporting events—because there's an import ban
Traders say they're at their wits' end and unable to decide on any schemes as they don't know when restrictions will end.

Nepal imported 165,471 television sets worth Rs3.48 billion in the last fiscal year. Post File Photo
bookmark
Published at : August 18, 2022
Updated at : August 18, 2022 07:49
Kathmandu
Every time the World Cup comes around, whether it is the football or cricket championship, sports-crazy Nepalis have to go out and buy a new TV, especially big ones.

Liquor flies off the shelves by the case during big sporting, festival and election seasons, with happily astounded shopkeepers working hard to make sure they are never short of inventory.
This year two World Cups, the festival season and the general and provincial elections are happening back to back, but let all those making celebration plans be forewarned that there may be no foreign booze and no new television sets. There is an import ban in the country.
Since April, there has been an embargo on 10 types of goods designated as luxury items, including TV sets larger than 32 inches and foreign alcoholic beverages.
The ICC Men's T20 World Cup is slated to start on October 16 in Australia. Right after that the FIFA World Cup kicks off on November 20 in Qatar. After the two sports extravaganzas and feasts, Nepalis will go to the polls on November 20.
Television dealers say sports fans have already started inquiring about the latest ultra high definition sets. But there is no cheer in the market because of a depressed economy and import ban on electronic items.
The government imposed the import ban, which will remain in place until August 30 or longer, in an effort to conserve foreign exchange, which has seen gradual depletion over the past few months.
Hotels and restaurants have criticised the government policy as not being tourism-friendly when the country is trying to increase arrivals after the Covid disaster.
"There is no doubt that the World Cup is the key event to boost TV sales globally. In Nepal, sales double or triple," said Bishnu Gyawali, deputy general manager at CG Electronics. CG is the authorised distributor of LG, TCL, Sansui and CG television brands in Nepal. "Demand is starting to stir up. If the ban remains, a shortage of the latest TV sets is certain."
Many traders were expecting a sales boom to give them a fillip as they have been struggling amid rising costs.
Traders say that such events boost the confidence of the market because shoppers who have been refraining from spending on non-essentials, partly because of inflation, tend to open their wallets wide for the special occasions.
"The ban is until August-end. We have limited time to place orders for the goods because we have to make pre-bookings," Gyawali told the Post.
Based on the sales trend during the last World Cup, distributors say there are a lot of people who want to see the programmes on a large TV screen.
Many TVs manufacturers have introduced innovative technologies in their latest TV line-up ahead of the FIFA World Cup to capitalise on higher sales opportunities.
Generally, dealers launch offers and schemes during the festival and World Cup seasons. This year, traders say they haven't announced any sales promotions for TVs and other electronic items because of the import ban.
According to them, they don't know what to do regarding advertising and sales plans this year.
"TV sets of 55-inch, 65-inch and 75-inch sizes are the biggest sellers during the World Cup," said Amrit Ratna Kansakar, senior manager of Nepa Hima Trade Link, the authorised distributor of Sony TVs in Nepal. "We are not sure about the government's policy. As it is already late, we are not even sure whether large-sized TVs will be available for pre-bookings. In fact, we have not started any planning."
According to Kansakar, the continuation of the ban means there will be no offers and schemes for the World Cup.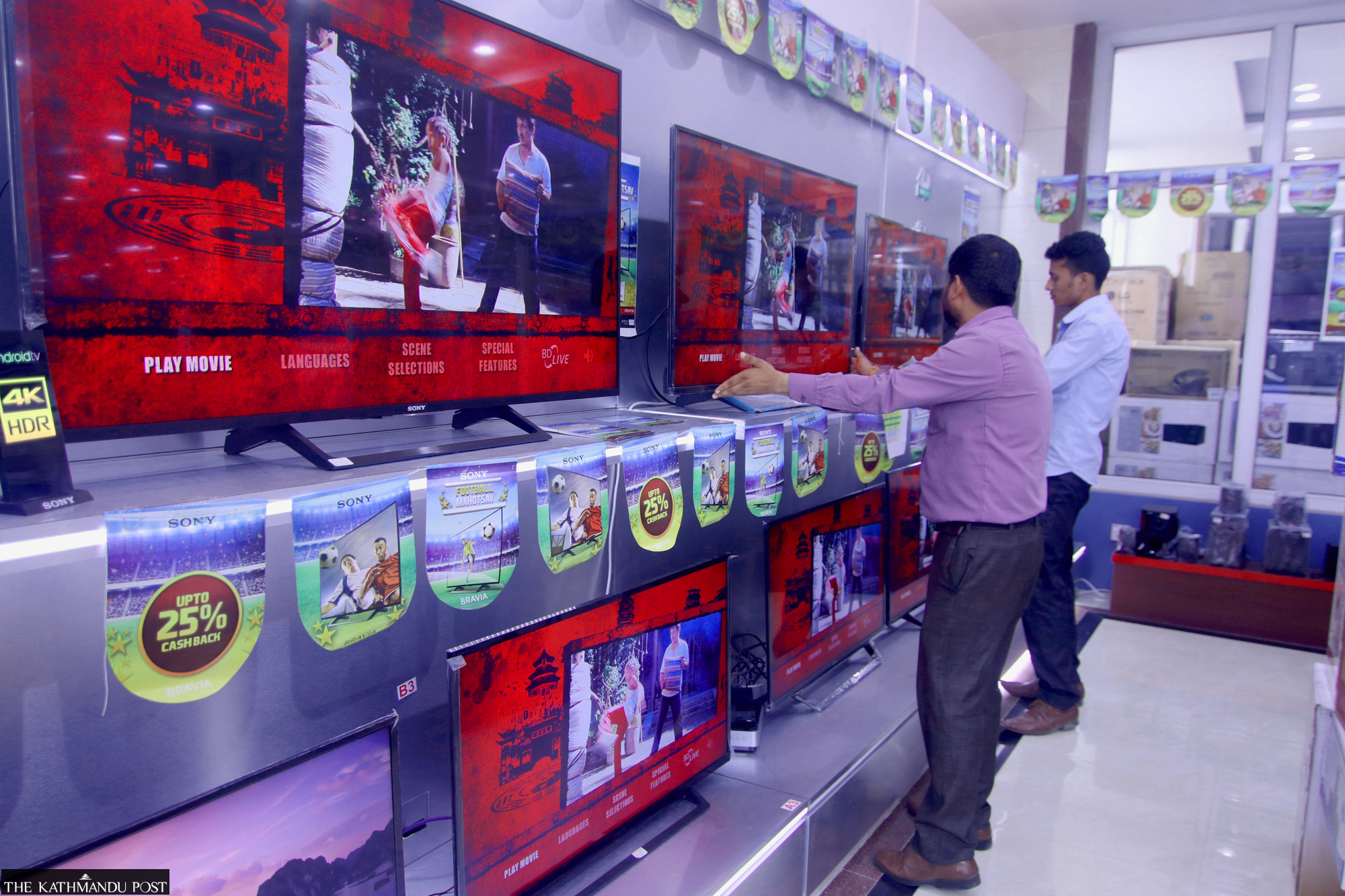 Many traders were expecting a sales boom to give them a fillip as they have been struggling amid rising costs. Post File Photo
TV imports rose by 29.85 percent in the last fiscal year ended mid-July as compared to the previous fiscal year, according to the Department of Customs.
Nepal imported 165,471 television sets worth Rs3.48 billion in the last fiscal year, up from 142,630 sets valued at Rs2.68 billion in the year before.
Demand for imported liquor also goes up during the World Cup, as fans like to lean back and watch the programmes with a drink in their hands.
The 2022 World Cup is the first in the tournament's 92-year history to be played in a Muslim country, and Qatar too has restricted alcohol.
According to reports, FIFA and Qatari organisers are still working on plans to serve all fans who want to drink at the games when the tournament starts.
Gaurav Sharda, director of SPG Trading, a large importer of various alcohol brands, said sports lovers waiting for the World Cup matches might not be able to get their favourite brands this year.
"The ban may cause a huge supply gap during such mega sports events this year," he said. The company imports popular brands like Absolut, Ballantine's, Beefeater, Chivas Regal, Jacob's Creek, Jameson, Royal Salute and The Glenlivet.
The import ban on liquor has been in place for four months.
"Even if the government lifts the ban by August-end, it will take two months for the goods to arrive," said Sharda. "If it takes longer, definitely there will be a shortage."
Many traders are worried that illegal trade will boom because of increased consumption during the festivals, followed by the World Cups and elections. That means no tax revenue for the government, they say.
"Not only will illegal trading flourish, the production of counterfeit products will also spread," he said.
Trademark infringement cases have been on the rise in Nepal in recent years. Look-alike products sell because consumers cannot figure out if they are buying the genuine product or a fake one due to similar logos and packaging.
An alcohol product named Royal Tag is available in the market which customers can easily confuse with the established Royal Stag whisky.
Sharda said that sales of alcoholic products double during sports events like the FIFA World Cup because of high demand from hotels and restaurants too.
Hotels, who were the hardest hit by the Covid-19 pandemic, are greatly worried by the ban as it may keep guests away.
Tourism is one of the country's key foreign currency earners, and hoteliers say that without imported drinks, the MICE segment—which stands for meetings, incentives, conferences and exhibitions—will fall flat.
According to hoteliers, alcohol sales account for 15 percent of revenues at upmarket hotels. Demand swells during weddings and large events, which have emerged as a lifesaver for many hotels because tourist arrivals are still in the doldrums.
The government says the import ban is intended to stop further depletion of the country's foreign currency reserves.
According to Nepal Rastra Bank, the gross foreign exchange reserve decreased 18.9 percent to $9.54 billion in mid-July 2022 from $11.75 billion in mid-July 2021.
The foreign exchange reserve of the banking sector is sufficient to cover prospective merchandise imports of 7.8 months, and merchandise and services imports of 6.9 months.
Gunakar Bhatta, spokesperson for Nepal Rastra Bank, said the government makes the decision whether or not to lift the import ban.
"We have no comment on this issue at this point of time," Bhatta told the Post.
---
---