Liquor import ban leaves Nepal's hospitality industry in low spirits
Alcohol sales account for 15 percent of revenues at upmarket hotels, say hoteliers, calling the restriction bad for tourism.

The government on April 26 banned the import of 10 types of 'luxury' goods including liquor. Photo courtesy: Madira Palace
bookmark
Published at : July 28, 2022
Updated at : July 28, 2022 07:54
Kathmandu
The three-month-old ban on imported liquor, which is intended to save foreign exchange, has left Nepal's hospitality industry in low spirits.

Tourism is one of the country's key foreign currency earners, and hoteliers say that without imported drinks, the MICE segment—which stands for meetings, incentives, conferences and exhibitions—will fall flat.
MICE accounts for a sizeable chunk of the hospitality business even in the best of times, and it has become particularly important in the current situation when the tourism industry is trying to regain its footing after the Covid disaster, insiders say.
Alarmed by the country's rapidly depleting foreign reserves due to runaway imports, the government on April 26 banned the import of 10 types of goods it has designated as luxury items.
Liquor (excluding raw materials), cigarettes and tobacco products are among the 10 embargoed products. The ban, which was originally to last until July 16, has been extended till August-end.
"This is a negative move, at least for the hospitality industry," Shreejana Rana, president of Hotel Association Nepal, told the Post.
"If we are open to the world, we should fulfil the demand. We all know tourists demand alcoholic beverages. They have their own choices. And if we cannot offer them what they want, it will send a negative message."
According to her, the government should exempt hotels and restaurants by developing a certain mechanism.
"The move may ruin the industry otherwise," she said.
According to hoteliers, alcohol sales account for 15 percent of revenues at upmarket hotels. Demand swells during weddings and large events, which have emerged as a lifesaver for many hotels because tourist arrivals are still in the doldrums.
Varun Talwar, general manager of five-star property Hyatt Place Kathmandu, said the ban on the import of international alcoholic products had made them more expensive.
"Due to the short supply, prices obviously will rise. If this move is extended, it will have a significant impact on the hospitality industry in the near future," he said.
In Nepal, a large number of Indian tourists, who currently make up 40 percent of total arrivals, consume international brands, according to hoteliers and tourism industry insiders.
The Liquor Importers Association of Nepal said in a statement on Tuesday that hotels, restaurants and bars would lose revenue in large amounts as a result of the ban on alcohol imports. It said that the extension of the ban had raised questions about the sustainability of luxury properties.
Travel and tourism businesses, which accounted for around 8 percent of the country's gross domestic product and provided more than 1.05 million jobs directly and indirectly in pre-Covid days, were the hardest hit after travel restrictions came into force in late March 2020 after the pandemic hit the country.
On September 23, 2021, Nepal dumped the seven-day quarantine requirement and resumed issuing on-arrival visas to all vaccinated foreign travellers in a bid to bring its virus-ravaged tourism industry back to life.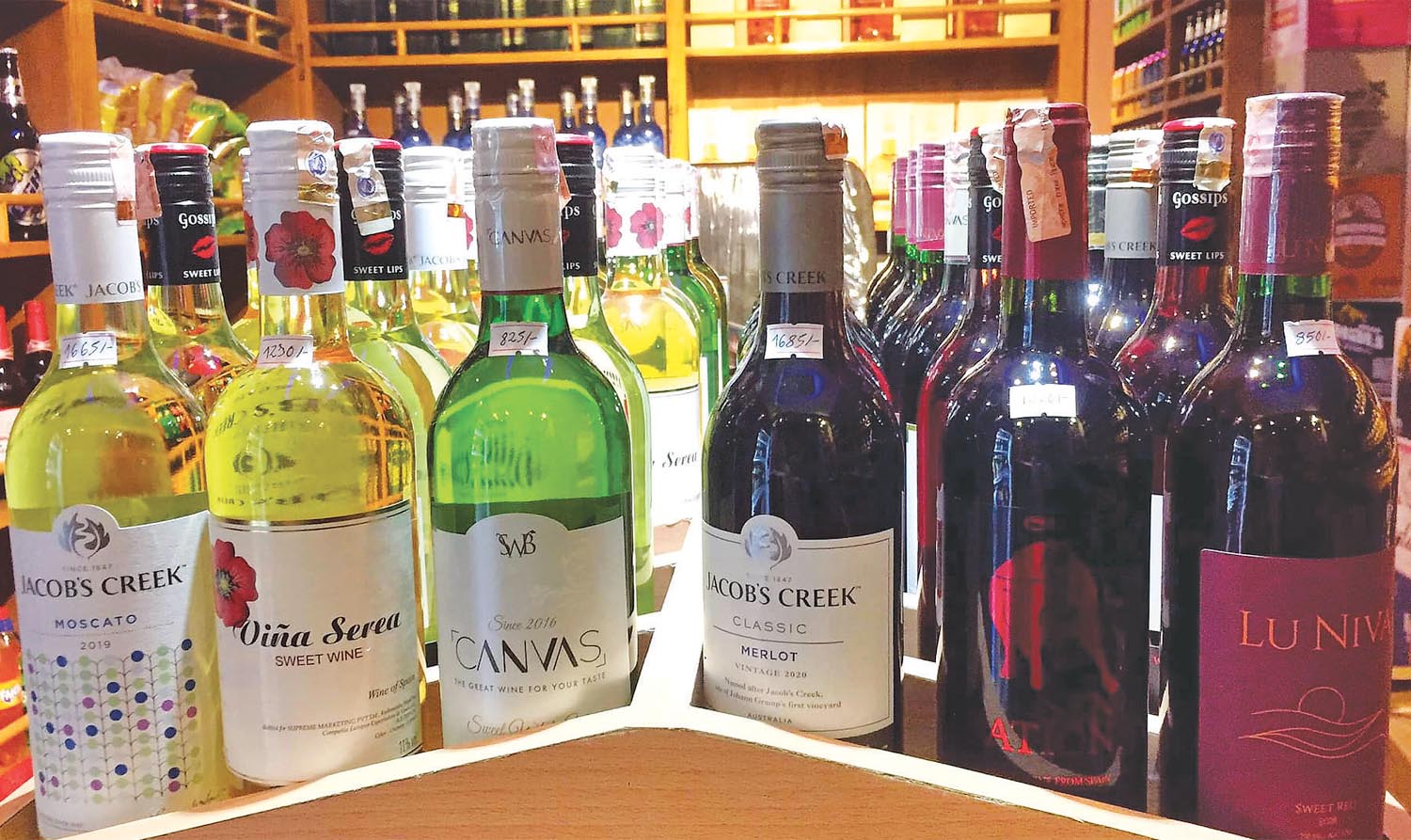 A large number of Indian tourists, who currently make up 40 percent of total arrivals, consume international brands, according to insiders. Photo courtesy: Madira Palace
Travel restrictions and an economic slowdown triggered by the Covid-19 pandemic have delivered a wallop to Nepal's luxury hotels, decimating revenues and profits, and the dazed hospitality industry is still struggling to recover amid huge losses.
Nepal received 1.19 million tourists in 2019.
In 2020, Nepal had just launched an ambitious Visit Nepal Year campaign with much fanfare, aiming to attract at least 2 million tourists, only to have to abandon the programme after the incipient pandemic took global proportions.
The disastrous year ended with 230,085 arrivals. Following a difficult end to 2020, Nepal's tourism suffered further setbacks as countries tightened travel restrictions in response to new virus outbreaks.
The number of foreign visitors entering the country last year totalled 150,962. Arrivals in 2021 were the lowest figure since 1977 when the country hosted 129,329 tourists, a year after tourist numbers in Nepal reached six digits for the first time.
Tourist arrivals in the second quarter of 2022 continue to be disappointing. The outlook for the third quarter isn't much better, and unemployment remains a risk. Experts have attributed the poor show to global inflation, which has made travel packages pricier than ever.
The Tourism Ministry recently unveiled a plan to revive the ailing industry but industry insiders say the plan does not outline how to increase tourist numbers.
According to the Liquor Importers Association, Nepal imports alcoholic beverages worth $12 million (Rs1.5 billion) annually, which accounts for about 0.1 percent of the total annual foreign exchange outflow.
The association says it is unfair to impose a ban on alcoholic beverages because it is also a source of foreign exchange earnings.
As per the association, the country spends $15 to import a litre of foreign alcoholic beverage, but hotels, restaurants and bars raise $120 for every litre they sell. The country earns eight times more in foreign currency than what it spends.
Fake products are circulating rampantly in the market as a result of the ban, and this may hurt the industry as a whole, the association said.
Tek Bahadur Mahat, chief operating officer of Hotel Association Nepal, said that since the government has accorded priority to increasing tourist numbers, a major source of foreign exchange, it should not take quality and standardisation for granted.
"As of now, the situation has not become so severe, but if the restriction is prolonged, the industry may face larger consequences," he said.
Before Covid, the hospitality industry was the key driver of the growth of Nepal's services sector, particularly with the unprecedented investments in hotels, restaurants and adventure leisure activities.
In just three years from 2017 to 2019, the country saw an addition of 25 four-star properties producing nearly 3,000 room nights. Since 2017, a bevy of 17 new five-star deluxe and luxury resorts and hotels have been built.
Hoteliers say that more and more luxury resorts are coming up, mostly operated by reputed global hotel chains, as investors are optimistic that the industry will grow in the near future.
But investors rue the government's short-sightedness as it has been bringing policies that are counter-productive for the industry.
"In Nepal, most government agencies enforce stringent rules instead of assisting the industry with proper and attractive policies, which ultimately becomes counter-productive," Yogendra Sakya, a senior travel trader entrepreneur, told the Post in a recent interview.
Mahat said that they had informed the government about the possible consequences of the import ban.
"The government should consider these issues before it's too late."
---
---