Nepal aims for 2 million tourists in 2020, but cities lack nightlife
Social activities and entertainment in the evening and at night can significantly contribute to making the Visit Nepal campaign a success, entrepreneurs say.

New Year revellers at Mandala Street in Thamel, Kathmandu. Post File Photo
bookmark
Published at : December 30, 2019
Updated at : December 30, 2019 08:43
Kathmandu
On a dreadfully cold Sunday evening, Dina Pal from Greece was haggling to knock down prices for woollen garments she intended to buy from a vendor in Thamel, a hub of foreign tourists in the heart of Kathmandu.

The 57-year-old who arrived in Nepal for the first time for a three-week stay said after some purchases, she would like to head for a pub.
"I like lively conversations, especially after having a few drinks. I like to enjoy good food too and would like to see the streets coming alive during the nights for a party feeling," said Pal, well aware of Kathmandu's dull nightlife.
Throughout its long history, nightlife has been central to Thamel's identity, but except for a few bars, it usually goes off to sleep before the clock strikes 10. The authorities say shops, restaurants and bars have to be closed by 10pm for security reasons. That, however, may have seemed valid until a few years ago.
The decade-long insurgency (1996-2006) that killed 17,000 people had heightened security across the country. Security was beefed up during the second people's movement in 2006. Logistically, until mid-2017, the country was facing acute power outages, up to 18 hours a day. All these events had a profound impact on nightlife tourism in Nepal.
The situation, however, has improved and things are far better now. After ending a long-drawn transition and attaining political stability, the country is on the cusp of economic expansion and it relies heavily on Visit Nepal 2020, which will be launched on Wednesday.
But Kathmandu and other major cities seriously lack nightlife, which is a major spending avenue for tourists across the world.
Despite calls from tourism entrepreneurs and promises from the authorities, nightlife in Nepal has not been as vibrant.
Travel trade entrepreneurs say as the country is inaugurating Visit Nepal 2020, it's the right platform for the government to announce that cities like Pokhara, Kathmandu, Bhaktapur, Lalitpur and Bhairahawa remain open 24/7.
"Except for a few discos in Thamel that have permits to operate until 2am, all [bars and restaurants] close by 10pm," said Ashok Pokhrel, proprietor of Rum Doodle, a popular bar which used to be in Thamel before it moved to Naxal after the 2015 earthquake.
According to Pokhrel, Thamel, Tangal and Jhamsikhel in Kathmandu Valley can be developed as nightlife hubs. "This will prompt retail shops, taxis and other services to remain operational," said Pokhrel.
Nightlife avenues are among the infrastructures that the government has failed to build for the Visit Nepal campaign that aims to attract two million tourists from around the world and generate revenue amounting to Rs200 billion.
Last week, Tourism Minister Yogesh Bhattarai said that Nepal's capital goes inactive after 6pm.
"Let's keep the nightlife alive during the Visit Nepal 2020," said Bhattarai. But his focus was largely on lighting the temples.
Experts have long complained about the failure to rebrand Nepal in the international market by the concerned authorities, including Nepal Tourism Board, as they have always portrayed Nepal as a country of mountains and temples. Since not all tourists climb the mountains or go on a trek, cities need to offer them more—at least nightlife, they say.
Entrepreneurs say they will be happy to operate their facilities round-the-clock if the authorities allow them to.
"We have no problem keeping our bar open 24 hours," said Anil Lama, manager at Echo Bar in Thamel. "If there is an increased footfall, then why not?"
The bar is one of the privileged ones to open from 6pm to 2am.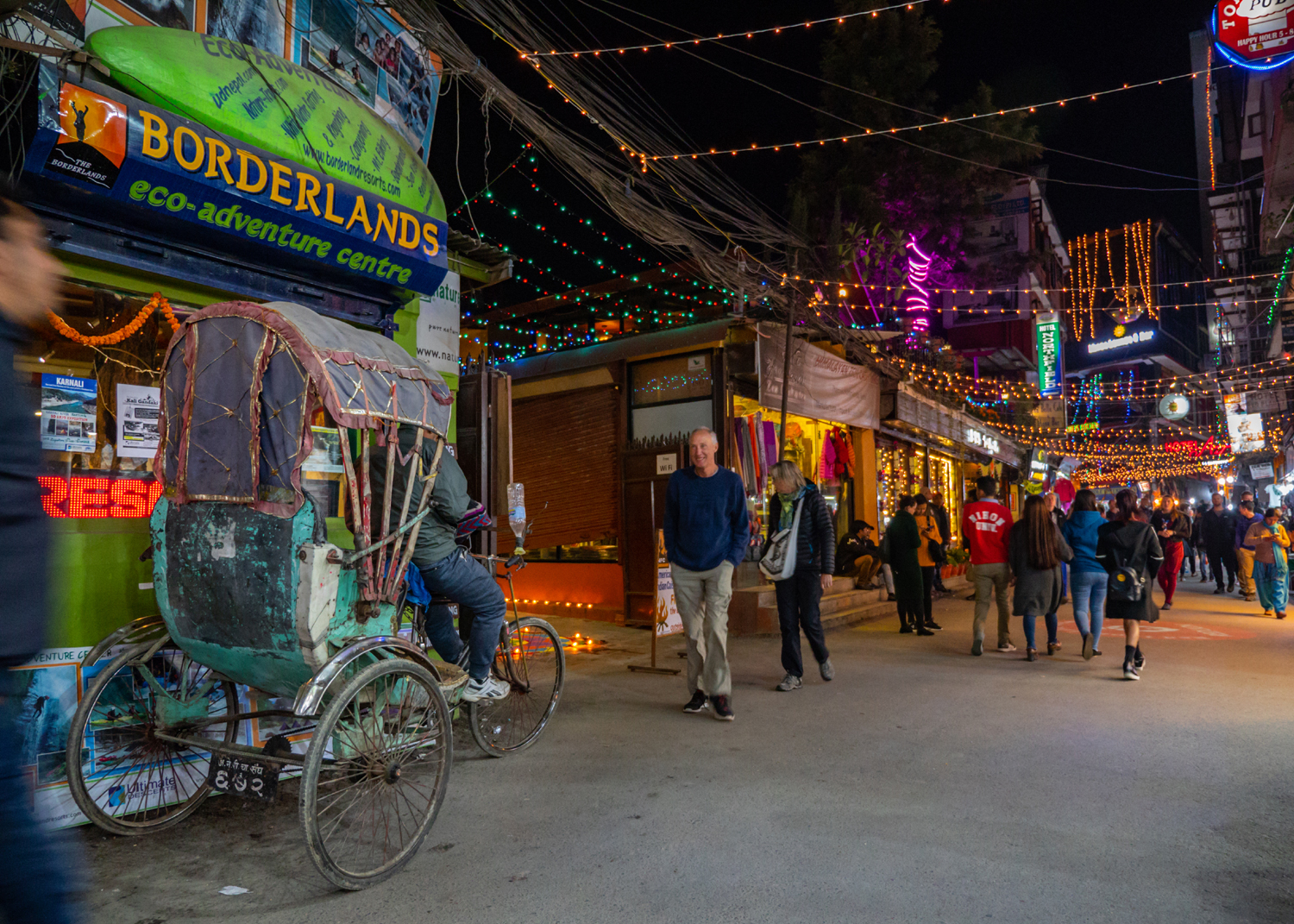 Shutterstock
Though there are no studies on the nightlife's economic impact, industry insiders say it's double the tourists' spending in the daytime.
"We have observed that tourists' spending doubles between 5pm to 9pm, as compared to 9am to 5pm," said Pokhrel. "We can increase tourists' per day spending if we offered them nightlife."
Thamel has been the tourist hub for over four decades that started from the hippie movement. "Most low-budget travellers consider Thamel a tourist heaven, but now that tag needs to be changed," said Pokhrel.
Ram Sharan Thapaliya, former president of the Thamel Tourism Development Council, said that in early 2014 the government had announced keeping Thamel and Durbarmarg open round-the-clock in order to encourage tourism business. Before that, Thamel used to operate until midnight.
"But a certain group went to court against the government's move," said Thapaliya. "Because there is no clear demarcation on residential and commercial areas in Thamel and certain people claimed that it will affect the harmony of the residential areas with noises emanating from the night clubs." The court ordered to open Thamel only until 2am.
The properties that have proper lighting and sound-proof system in their clubs are the ones allowed to open until 2am.
"And now, there are around a dozen of such nightclubs operating in Thamel," said Thapaliya. "Opening Thamel and Durbarmarg for 24 hours can boost night businesses like garments, fast food and retail. The night markets can double the employment and income. Other businesses that cater to tourists in the area would also benefit."
Until 2017, investors weren't much encouraged to open restaurants, bars and disco clubs as the country was reeling from 18 hours-long load shedding.
After the Nepal Electricity Authority declared the country load-shedding free in September 2017, nightlife started to return to Thamel.
Tourism entrepreneurs say Thamel and other cities have been seeing a new wave of millennials who have money to invest and buy and that's an encouraging sign.
"The nightlife is making a comeback," said Pokhrel. "But still, its operations depend on the police. Security is the main concern."
Stephanie Thornton, 32, a native of California, US, whom the Post interviewed in Thamel last week, said her concern grows in Kathmandu during the nighttime, especially when she has to deal with taxis.
"The authorities need to strictly enforce meter fares for taxis so that foreign tourists don't get fleeced," she said.
The Nepal Police, however, said it has recently opened new vacancies for the tourist police, a dedicated unit, to help tourists and provide security for them.
"Besides providing security, we will also be monitoring the tourists' activities," said Uttam Raj Subedi, chief at Metropolitan Police Range. "We are planning to mobilise additional police officers to ensure tourists' security not only in Kathmandu but across the country."
According to Subedi, night clubs in Thamel are allowed to be open until 2am, a couple of hours more than the restaurants and bars.
"But if they take permission to open 24/7, we don't have any objections," Subedi told the Post.
According to statistics released by the Tourism Ministry, the average spending per tourist per day last year dropped to $44, the lowest in seven years.
According to Thapaliya, the former president of Thamel Tourism Development Council, nightlife could mean tourists spending double or triple per day.
"The local economy benefits a great deal from a vibrant nightlife," said Thapaliya. "It's a simple fact that when restaurants, bars, theatres and nightclubs are allowed to stay open 24/7, it would boost employment opportunities as the shops would require staff to work two to three shifts, and in the process, the state's revenue would increase too."
---
---