Nepal scrambles to secure fertilisers as paddy season begins
Minister in Delhi as India seeks details from Kathmandu to tide over crisis of essential farm inputs like urea and DAP.

A vendor selling chemical fertilisers waits for customers at Lumbini Cultural Municipality,1, Khungai, Rupandehi last month. Prakash Chandra Timilsena/TKP
bookmark
Published at : June 3, 2022
Updated at : June 3, 2022 07:35
Kathmandu
Efforts are on to bring chemical fertiliser from India to avert a crisis ahead of the key paddy planting season as Nepali farmers have been suffering endlessly due to recurrent shortages, officials say.

In accordance with a government-to-government deal signed with India three months ago, the southern neighbour has asked Nepal to send details about its chemical fertiliser requirement. Under the pact, India will supply the farm inputs on a long-term basis.
At least four top officials from the ministries of Agriculture and Livestock Development and Foreign Affairs told the Post that they had sent a detailed plan for "immediate crisis management" and were hoping for a major breakthrough next week.
Minister for Agriculture and Livestock Development Mahendra Raya Yadav also flew to New Delhi on Wednesday. He is set to hold discussions with his Indian counterpart Narendra Singh Tomar about the supply situation on Friday.
The two ministers will confer about the quantity, pricing, packaging and delivery schedule, a Nepali official told the Post over the phone from New Delhi.
The Agriculture Ministry has asked for 60,000 tonnes of urea and 20,000 tonnes of diammonium phosphate (DAP) as an immediate requirement to avoid a fertiliser crisis for the paddy planting season.
As the country received plenty of pre-monsoon rains, farmers have started sowing paddy seeds and preparing their fields. While farmers in the hills have already started transplanting paddy, it may begin in the Tarai next week.
The monsoon too is expected to become active in Nepal from next week, according to weathermen.
Agriculture is the mainstay of Nepal's economy, employing around 60 percent of the total workforce and contributing 25.83 percent to the national economy.
According to top government officials, the government has been working frantically on a "plan B" for obtaining fertiliser from other countries if the expected shipments from India fail to materialise. But there has been no concrete development so far.
Foreign Ministry officials recently held talks with a delegation from China on the possibility of fertiliser trade—either commercial or through a government-to-government deal.
Details were not immediately available though.
Officials, however, said there won't be a crisis in immediate terms.
"We will not face a shortage of DAP this season," said Govinda Prasad Sharma, secretary at the Ministry of Agriculture and Livestock Development. "But we are indeed worried about urea."
Nepal requires 210,000 tonnes of chemical fertilisers for the paddy planting season, and it must have 150,000–170,000 tonnes to avoid a disaster.
The DAP requirement for the paddy season is 60,000 tonnes.
"We currently have 15,000 tonnes in stock, and a shipment of 20,000 tonnes will arrive through Birgunj within the next few days," he said.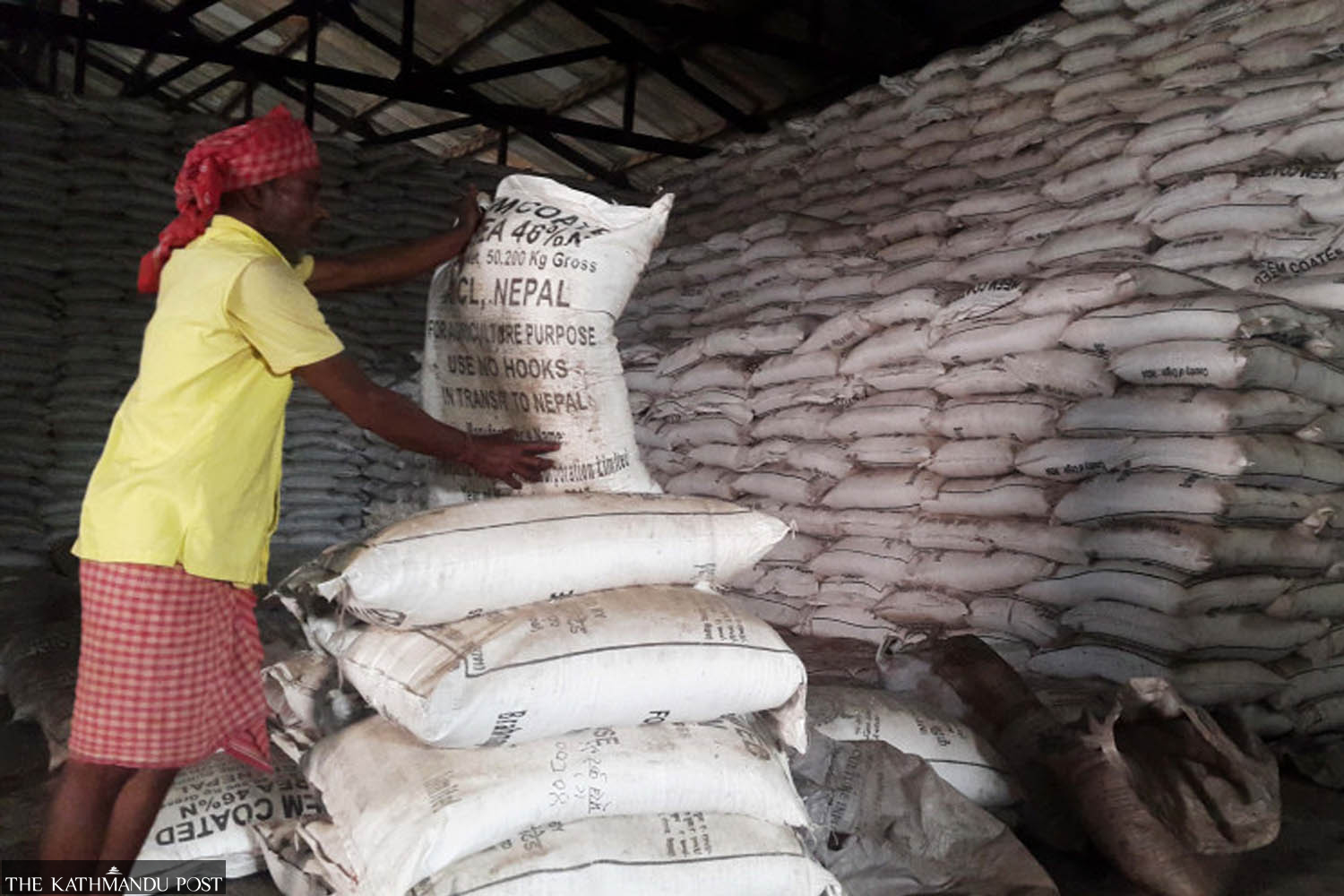 Shortages of chemical fertilisers have become a problem during every crop season for the past several years. Post File Photo
State-owned fertiliser buyer Agriculture Inputs Company and the supplier Swiss Singapore Overseas Enterprises are scheduled to sign a contract for DAP within a few weeks, according to Sharma. "If we get 20,000 tonnes from India, DAP will not be in short supply."
The paddy season begins in June and lasts until mid-August if there is abundant rain. It extends into September if water is not adequately available.
The ministry said a small amount of urea is in stock.
"We only have 300 tonnes of urea in stock," said Sharma. "There are a few planned consignments, but they will take time to arrive."
Officials say if India fails to fulfil its commitment, there may be havoc in the country.
Shortages of chemical fertilisers have become a problem during every crop season for the past several years.
Farmers across the country are beginning to worry about their paddy crops without fertiliser.
Farmer Shambhu Lal Yadav of Tilathi Koiladi-8 in Saptari is concerned that he may not get the vital farm input this year too.
"If fertiliser is not provided at the right time, there will be no production," Yadav told the Post in a recent interview. "We pay for the fertiliser but we cannot get it when we need it."
Many farmers hop across the border to India to smuggle in the indispensable plant nutrient. They have to pay high prices for low quality products because of the government's inability to supply them.
Over the coming months, a major challenge will be in accessing fertilisers, which may impact food production across many crops in different regions, according to the World Bank's May report on food security.
Agro experts say urea needs to be applied during the transplantation and then first top dressing—two to three weeks after transplantation.
Officials at the Agriculture Ministry say that the planned procurement of urea from Tibet may get delayed or cancelled.
Salt Trading Corporation has ordered 22,000 tonnes of urea from Indonesia. The shipment is expected to be dispatched from June 10 and enter Nepal by June 21.
"There is massive demand for urea. Failure to bring urea from India could be a big problem," said an official at the ministry. "This will not only create unrest among the country's politically important farmers ahead of the general elections, but also hurt food production."
On February 28, Nepal had signed a government-to-government deal with India to procure chemical fertilisers for five years, raising hopes that the constant nightmare of shortages during the planting season would finally end for Nepali farmers.
As per the deal, Nepal can buy 150,000 tonnes of crop nutrients—100,000 tonnes of urea and 50,000 tonnes of DAP—from the southern neighbour in the first year, which means the ongoing fiscal year 2021-22.
In the second year, Nepal will be able to procure 170,000 tonnes, in the third year 195,000 tonnes, and in the fourth and fifth years, 210,000 tonnes each.
The government-to-government contract bypasses the lengthy global tendering process to avoid scarcities during the main growing season. Normally, it takes six months to import chemical fertiliser through the global tendering process.
The memorandum of understanding will assure supply of at least 30 percent of Nepal's annual fertiliser requirement, officials said. The Ministry of Agriculture and Livestock Development has estimated that the annual demand for fertilisers stands at around 600,000 tonnes.
Since then, two meetings between the joint steering committees of Nepal and India have been held. A management team of the Agriculture Inputs Company visited Mumbai and held talks with officials of the Rashtriya Chemicals and Fertilisers, which India had appointed to supply fertiliser to Nepal.
The team then visited New Delhi to hold discussions for a commercial agreement with Rashtriya Chemicals and Fertilisers.
Shankar Sharma, Nepal's ambassador to New Delhi, told the Post over the phone on Thursday that the fertiliser suppliers of the two countries were in the final stages of signing a commercial contract.
"All the formalities to export fertilisers from India to Nepal will be completed within the next few days," he said.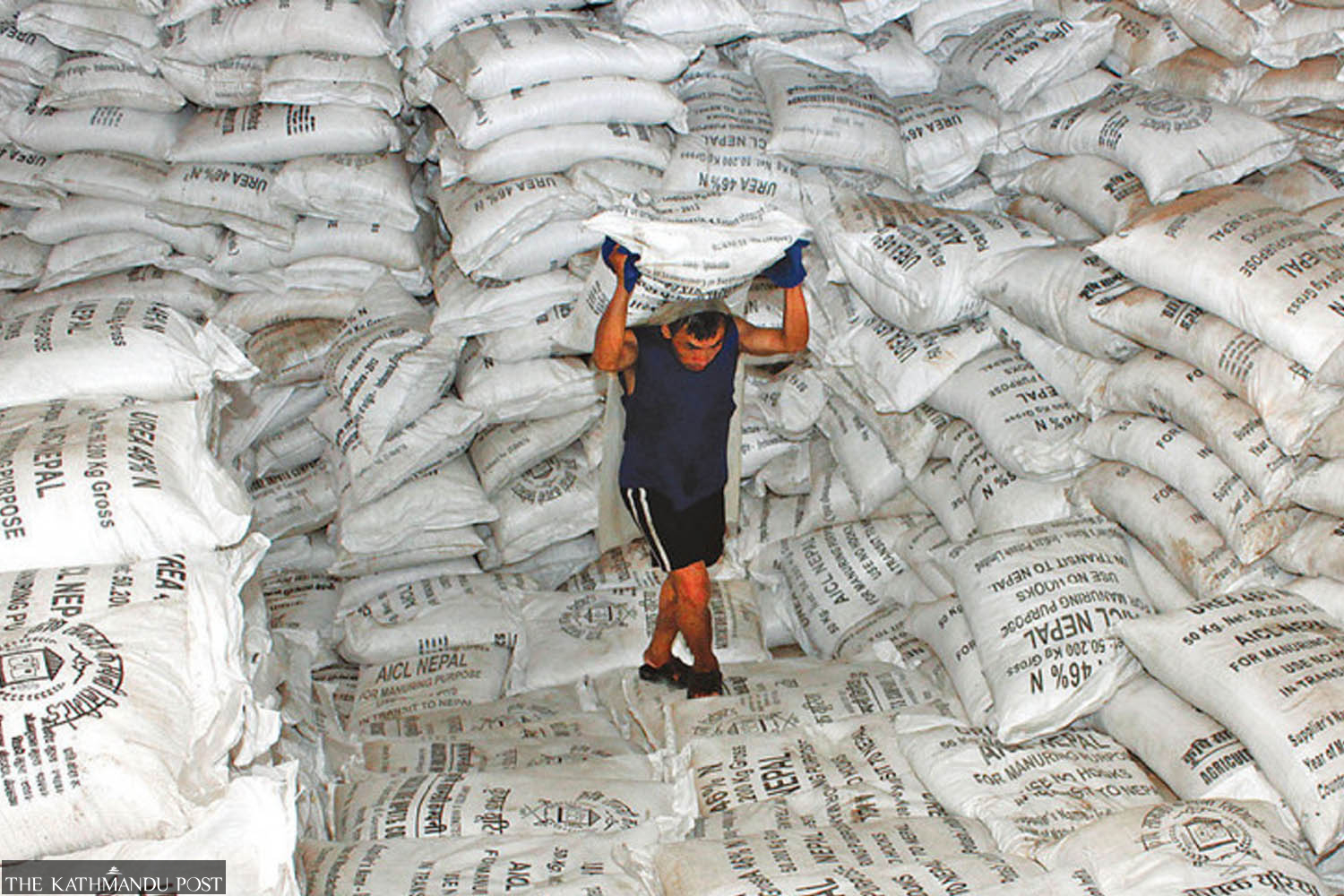 Nepal requires 210,000 tonnes of chemical fertilisers for the paddy planting season, and it must have 150,000–170,000 tonnes to avoid a disaster. Post File Photo
According to Prakash Kumar Sanjel, spokesperson for the ministry, India had communicated to Nepal to send details of the quantity of chemical fertilisers needed to avoid a crisis.
"We are going through a fast track process to bring fertiliser, particularly for paddy," he said. "We have replied to India."
According to him, India has two processes. In the first process, it will take six months to send the fertiliser. The Indian company will import fertiliser and then send it to Nepal as per the import parity price.
"Under the fast track process, India will send fertiliser from its current stock," said Sanjel. "We have sent details of our monthly fertiliser requirement."
According to him, on Tuesday Nepal also sent the "ready for signing", a consent draft for the commercial fertiliser contract that will be signed between Nepal and India.
"We are hopeful all processes will be completed by next week," he said.
Sanjel said that as part of diversifying sources of fertiliser, Nepal held talks with China. "But we are unaware of the development."
In India, according to Secretary Sharma, legislation of both countries delayed the process.
"We are doing a formal government-to-government deal for long-term fertiliser supply, and this needs many formalities including amendments to laws," said the secretary.
One of the reasons behind the delay, even after signing the memorandum of understanding three months ago, is the subject of payment.
"We have to place an order, and for this, we have to send the entire payment as per the Indian company's rules. But our procurement law allows us to send only 10-20 percent of the total cost as advance payment," said Sharma.
"So we have to get this proposal passed by the Cabinet to release the full amount. Once this happens, the Indian and Nepali companies will sign the commercial agreement," said Sharma.
Some government officials say there has been progress in bringing fertiliser from India at the last hour; "but until the product reaches Nepal, we should not be optimistic."
---
---