Nepal signs deal with India to procure chemical fertiliser
The government-to-government contract bypasses the lengthy global tendering process to avoid scarcities during the main growing season.

Agriculture secretary Govinda Prasad Sharma (standing) and his Indian counterpart Rajesh Kumar Chaturvedi signed a fertiliser deal during a virtual meeting on Monday. Photo Courtesy: Agricultural Ministry
bookmark
Published at : February 28, 2022
Updated at : March 1, 2022 10:06
Kathmandu
Nepal on Monday signed a government-to-government deal with India to procure chemical fertilisers for five years, raising hopes that the constant nightmare of shortages during planting season will finally end for Nepali farmers.

The government-to-government contract bypasses the lengthy global tendering process to avoid scarcities during the main growing season. Normally, it takes six months to import chemical fertiliser through the global tendering process.
The memorandum of understanding will assure supply of at least 30 percent of Nepal's annual fertiliser requirement, officials said.
"It's a major breakthrough," Mahendra Raya Yadav, Minister for Agriculture and Livestock Development, told the Post. "This will ensure supply of chemical fertiliser at times of crisis," he said.
As per the memorandum, Nepal can buy 150,000 tonnes of crop nutrients—100,000 tonnes of urea and 50,000 tonnes of diammonium phosphate (DAP)—from the southern neighbour in the first year, which means the ongoing fiscal year 2021-22.
In the second year, Nepal will be able to procure 170,000 tonnes, in the third year 195,000 tonnes, and in the fourth and fifth years, 210,000 tonnes each.
Regarding pricing, a joint steering committee of the two countries will determine the rate before any purchase agreement is made in the respective years, according to the Agriculture Ministry.
"The rates determined by the committee will be tabled at the cabinet for approval," said Yadav.
"The provision of determining the rates annually was inserted in the pact because fertiliser prices keep fluctuating. We will soon form the negotiation team for this fiscal year," said Yadav.
Ministry officials said that the pact allows Nepal to import chemical fertiliser within a few months as the country is reeling under a severe fertiliser crisis due to steep price rises in the international market.
Multiple sources say the government will not be able to meet even half of the chemical fertiliser requirement this fiscal year ending mid-July, which may trigger farmer protests during the proposed local elections in May with prices soaring to historic highs.
"But with the deal, we expect to ensure supply and avoid shortages," said Yadav.
Govinda Prasad Sharma, secretary of Nepal's Ministry of Agriculture and Livestock Development, and Rajesh Kumar Chaturvedi, secretary for the Department of Chemicals and Petrochemicals of India's Ministry of Chemicals and Fertilisers, signed the memorandum.
They signed and exchanged the memorandum through a virtual meeting.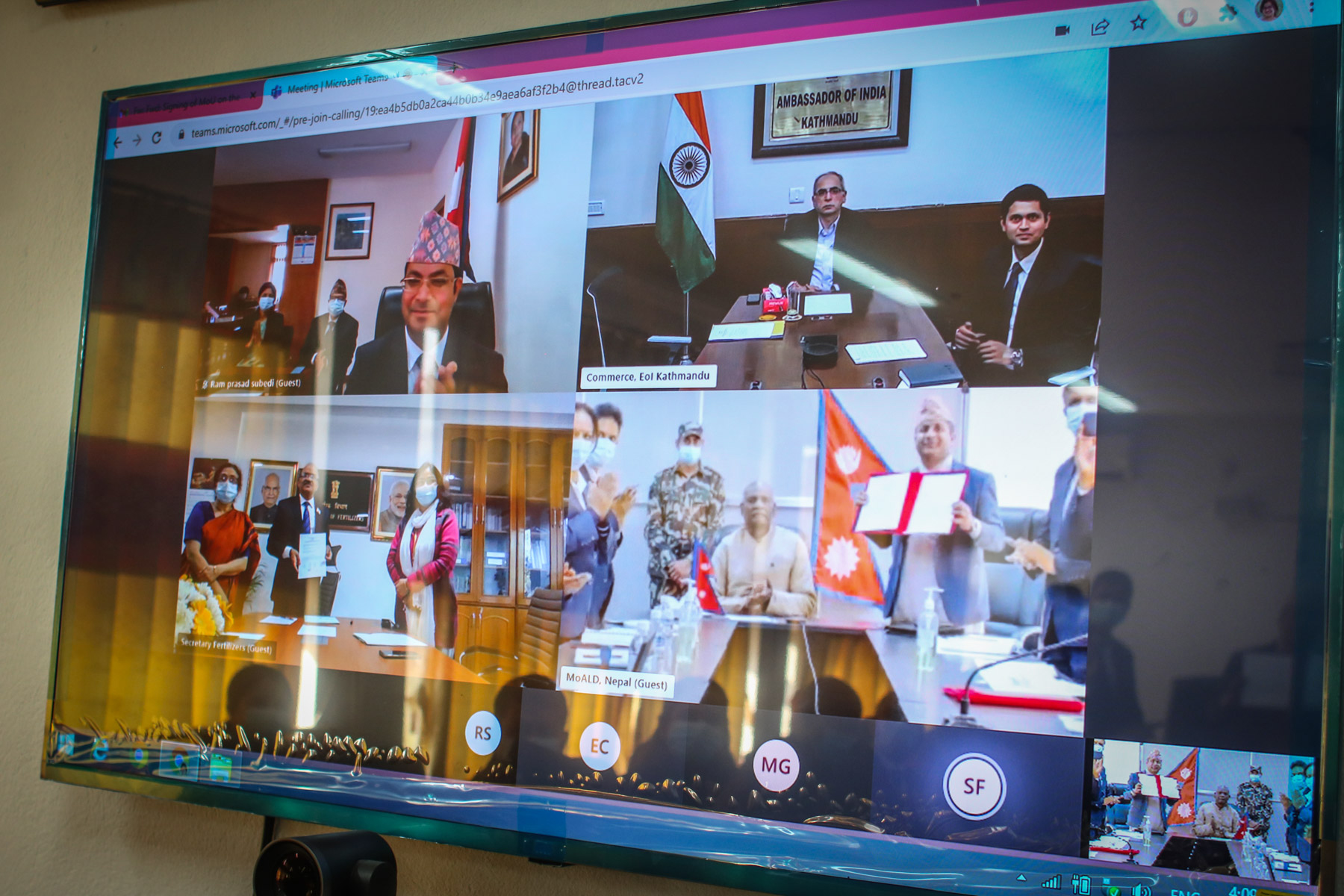 Nepali and Indian officials sign a MoU through a virtual meeting on Monday. PHOTO COURTESY: Ministry of Agriculture and Livestock Development
After the signing ceremony, Chaturvedi highlighted the close and multi-faceted nature of India-Nepal ties, and hoped that the deal would further boost bilateral cooperation in the agriculture sector by supporting Nepal's economy and food security.
"The signing of this memorandum is expected to help address recurring fertiliser shortages in Nepal, and improve agricultural productivity for the direct benefit of Nepali farmers. The pact is yet another milestone in bilateral economic cooperation and also an important reflection of the priority attached by India to its partnership with Nepal," the Indian Embassy in Kathmandu said in a press statement.
"India will supply chemical fertiliser at import parity prices," said Sharma. The import parity price (IPP) is the price at the border of a product that is imported, which includes international transport costs and tariffs. Import parity price is a pricing policy adopted by suppliers of goods for sale to domestic customers.
The procurement will be conducted government to government by state-owned Agriculture Inputs Company. "The Indian side has not yet fixed the exporter," said ministry officials.
"We have just concluded the agreement. The necessary tasks will follow," said Sharma, adding that the pact allows Nepal to buy fertiliser not only during times of crisis but also during normal times.
Chemical fertiliser has become a political commodity, and Nepali farmers have been plagued by repeated shortages when they need it the most, severely slashing their income and hitting the country's economic growth which largely depends on farming.
In May 2018, Indian Prime Minister Narendra Modi had pledged during his speech at the Dwarika's Hotel Kathmandu that India would supply chemical fertiliser to Nepal at import parity price or give equal treatment to Nepali farmers as Indian farmers.
Accordingly, the then prime minister KP Sharma Oli asked the Agriculture Ministry to prepare and proceed with a long-term fertiliser deal. "But later, India communicated that it won't be able to supply chemical fertiliser at import parity price," said a former agriculture secretary who wished to remain anonymous.
"Without import parity price, the fertiliser becomes expensive. Nepal was unable to proceed with the deal then."
This was not the sole reason behind the delay. India decided to involve a private company to handle the consignments in Nepal. "In a government-to-government deal, the involvement of any third party other than government bodies is illegal. So the agreement did not happen."
The expected government-to-government pact remained pending since December 2018, when Nepal submitted the first draft of the proposed memorandum of understanding.
In December 2020, Nepal revived long-stalled talks for a chemical fertiliser agreement with India.
Nepal had made several deals with India to obtain chemical fertiliser in the past, but they were all signed on an ad-hoc basis.
Nepali private companies are reluctant to engage in the fertiliser trade due to the high costs and risks involved. Agriculture Inputs Company has been allowed to import 70 percent of the fertiliser requirement and Salt Trading the rest. Both are both state-owned enterprises.
It normally takes six months to procure chemical fertiliser following a global tender call under the Public Procurement Act. And in case the procurement is cancelled due to price volatility or other factors, it leads to havoc in the farm sector.
Nepal is perpetually short of chemical fertilisers due to multiple factors—from lean inventories to poor supply mechanisms and from faulty policies to fluctuating international prices. This causes chronic distress to tens of thousands of farmers annually on top of other risks like droughts, floods and crop failure.
Agriculture is the mainstay of Nepal's economy, employing around 60 percent of the total workforce and contributing 25.83 percent to the national economy.
The Ministry of Agriculture and Livestock Development has estimated that the annual demand for fertilisers stands at around 600,000 tonnes.
In 2009, in a bid to end the perennial shortages, Nepal signed an agreement with India for 100,000 tonnes of chemical fertiliser (60,000 tonnes of urea and 40,000 tonnes of DAP) annually at import parity prices.
In 2018, Nepal had proposed to renew the agreement to procure chemical fertiliser for at least five years at import parity prices.
The proposal was in line with the 10-year Prime Minister Agriculture Modernisation Project introduced in 2017 which aims to boost farm output substantially.
---
---