Experts warn against supply cuts as daily fuel imports hit Rs1 billion
Fuel accounts for 14.1 percent of Nepal's imports. Officials believe curbing imports can put economy back on track.

Photo Courtesy: Nepal Oil Corporation Limited
bookmark
Published at : April 13, 2022
Updated at : April 13, 2022 07:19
Kathmandu
Nepal's fuel import bill has swollen to Rs1 billion daily, prompting worried policymakers to consider slashing supply to save fast depleting foreign currency reserves.
The central bank recently instructed the country's commercial banks to restrict the opening of letter of credit (LC) to import luxury goods, including automobiles, cosmetics and gold.
Nepal Rastra Bank has also asked Nepal Oil Corporation to tighten supply of petroleum products, which is the country's largest import and contributor to the government's tax revenue.
But experts have warned against such a move as gasoline shortages or even reports about a possible scarcity during election season could cause a political backlash.
On May 13, Nepalis are going to the polls to elect representatives in six metropolitan cities, 11 sub-metropolitan cities, 276 municipalities and 460 rural municipalities.
Hemanta Malla, a retired deputy inspector general of the Nepal Police, said any announcement of cutting fuel supply would not only trigger a public uproar, but also jeopardise national security, particularly in the border areas.
People are on edge during election season, and possible public protests over fuel shortages could snowball into something bigger, he said.
"The government's plan to impose the odd-even number plate rule for automobiles to slow fuel consumption is a bad idea too. It will be difficult for the traffic police to keep vehicles off the roads because people will flout the rule," Malla said.
The country's economic indicators are not performing well. Among a number of reasons, one is ballooning imports, which experts say has gone out of control and has put a dent in the country's treasury.
Nepal's annual import bill crossed the trillion-rupee mark for the first time in fiscal 2017-18. The surge in spending was a result of massive reconstruction works following the 2015 earthquakes and rising disposable incomes because of a jump in remittance inflows.
Three years later, Nepal was splurging Rs1 trillion in six months on foreign goods.
The government thinks controlling imports can bring the economy back on track.
Nepali banks said they had received a "verbal directive" from the central bank to "discourage" traders from opening letter of credit to import non-essential goods in an effort to stem the outflow of foreign exchange.
The import of petroleum products soared by 91.1 percent year-on-year to Rs184.98 billion in the first eight months of the current fiscal year ended mid-March, according to the Trade and Export Promotion Centre.
Fuel accounts for 14.1 percent of Nepal's total imports. The country imports most of its daily needs, chiefly food and fuel.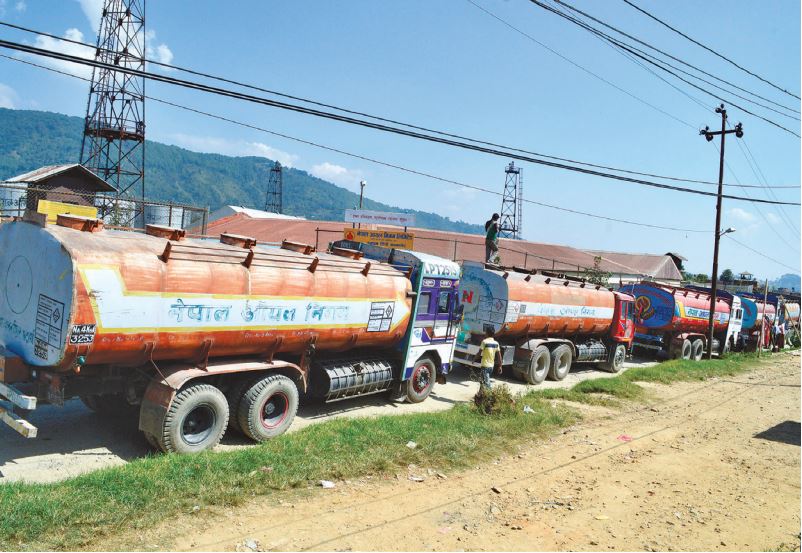 Petroleum fuel is the country's largest import and the biggest contributor to tax revenue. Post File Photo
State-owned monopoly Nepal Oil Corporation has said it is broke. The corporation has hiked gasoline prices 18 times in the past 12 months, with petrol reaching a record Rs160 per litre and diesel costing Rs143 per litre. A 14.2 kg cylinder of cooking gas is priced at Rs1,600.
Officials at Nepal Oil Corporation say a drop in crude prices in the global market in recent days has provided some relief.
"There are few chances that we could be forced to cut imports right before the elections," Sushil Bhattarai, deputy managing director of Nepal Oil Corporation, told the Post. "We have not decided anything yet. Discussions are going on at different levels," he said. "But crude oil prices have started to fall. That's good news for all."
The price of Brent crude dropped to $99.92 per barrel on Friday, the first time it slid into double digits since mid-March, but it climbed to $104.59 on Tuesday. The war between Ukraine and Russia had caused crude prices to soar, with Brent rising to a notch under $140 per barrel in March, according to international media reports.
"The Ministry of Industry, Commerce and Supplies, which now has a new minister, will make appropriate decisions," Bhattarai said. "Different measures are being weighed to manage the import of petroleum products by analysing the current situation."
Nepal used to subsidise fuel costs to prevent spiralling market prices. Every time the price rose, the oil monopoly would reduce imports to keep its ballooning losses in check, resulting in shortages and massive queues in front of fuel stations.
Nepal is fully dependent on imported oil, and it has a high stake in the country's economy. As a result of the June 2008 oil volatility, Nepal's annual inflation climbed to double-digit figures, reaching 12.62 percent in 2009, one of the highest.
Bhattarai said that the Rs13 billion in the price stabilisation fund was all gone.
The corporation is in the red, and has been asking the government for money to pay for oil imports at a time when the country's economy is under severe stress, and elections are around the corner.
"The situation is really tough. It is difficult to manage imports for two months," said Bhattarai.
At the current selling price, the corporation said it is incurring losses of Rs9.27 billion monthly.
Economists say that the plan to cut fuel imports poses a security threat.
"The government's plan to cut imports of petroleum products is a serious matter for national security and a challenge for the economy," said economist Min Bahadur Shrestha.
"Travel demand is high during the election season, and that automatically pushes up fuel demand," he said. "Hence, the idea of cutting fuel imports is definitely a bad idea."
In a bid to save foreign exchange reserves, Nepal Rastra Bank has told banks that traders need to keep 100 percent margin to open a letter of credit to import alcoholic drinks, tobacco, silver, furniture, sugar and foods that contain sweets, glucose, mineral water, energy drinks, cosmetics, shampoos, hair oils and colours, caps, footwear, umbrellas, and construction materials such as bricks, marble, tiles and ceramics, among others.
"More stressful days are ahead for the economy. If we increase fuel supply so that the election can be conducted smoothly and peacefully, the trade deficit will increase, putting further pressure on the balance of payments situation," Shrestha said.
---
---