The start of a sustainable urban food system
Green Growth links producers to the consumers directly, by using new media technology.

In the next five years, the company is aiming for 5,000 customers inside Kathmandu, 50 outlets inside Kathmandu and a per month sales target of Rs 2 million. Shutterstock
bookmark
Published at : March 8, 2020
Updated at : March 9, 2020 08:23
Kathmandu
Green Growth, a startup that buys agricultural produce directly from the farmers and then resells it to an expanding network of urban customers in the Kathmandu Valley, has a unique story of how it started. It was incubated inside Story Cycle, a multimedia and map-based storytelling organisation.
Back in 2014, while the Story Cycle was travelling to Jumla district with Story Camp, which is a workshop for people demonstrating the ability of digital storytelling to bring out unheard voices of a community, the promoters received good feedback.
One thing led to another and the locals sent Saurav Dhakal, one of the promoters of Green Growth, a ton of Jumla walnuts and Marsi rice.
"We sold the walnuts within a couple of months, using our social media network. That was exactly the beginning of the concept of Green Growth and a sustainable urban food system," said Dhakal.
"Initially, we continued promoting it because we enjoyed the sense of feeling that we are practising something that represents an interdependent nation. Slowly Green Growth gained momentum inside Kathmandu and we realised the importance of food production being done the right way in our lives," he added.
In October of 2016, Green Growth was registered legally, with core team members Saurav Dhakal, Deepika Gyawali, Nischal Pokharel and Samita Kapali. The company's objective was to link the producers to the consumers directly, by using new media technology.
In March of 2019, seed investors funded Green Growth to broaden its market. As Green Growth developed, it also broadened its vision from a sustainable urban food system to promote the circular economy and develop the products accordingly. Currently, the company is working with different organic and local producers from Kavre, Sindhuli, Khotang, Saptari, Humla, Jumla, Mustang, Nuwakot, Biratnagar, Mahottari and Dolpa.
"We currently have five outlets and nine people in our operation team. We do our deliveries thrice a week — on Mondays, Wednesdays and Saturdays. Today, we are partnering with more than 30 farms and have a base of more than 700 customers," Dhakal said.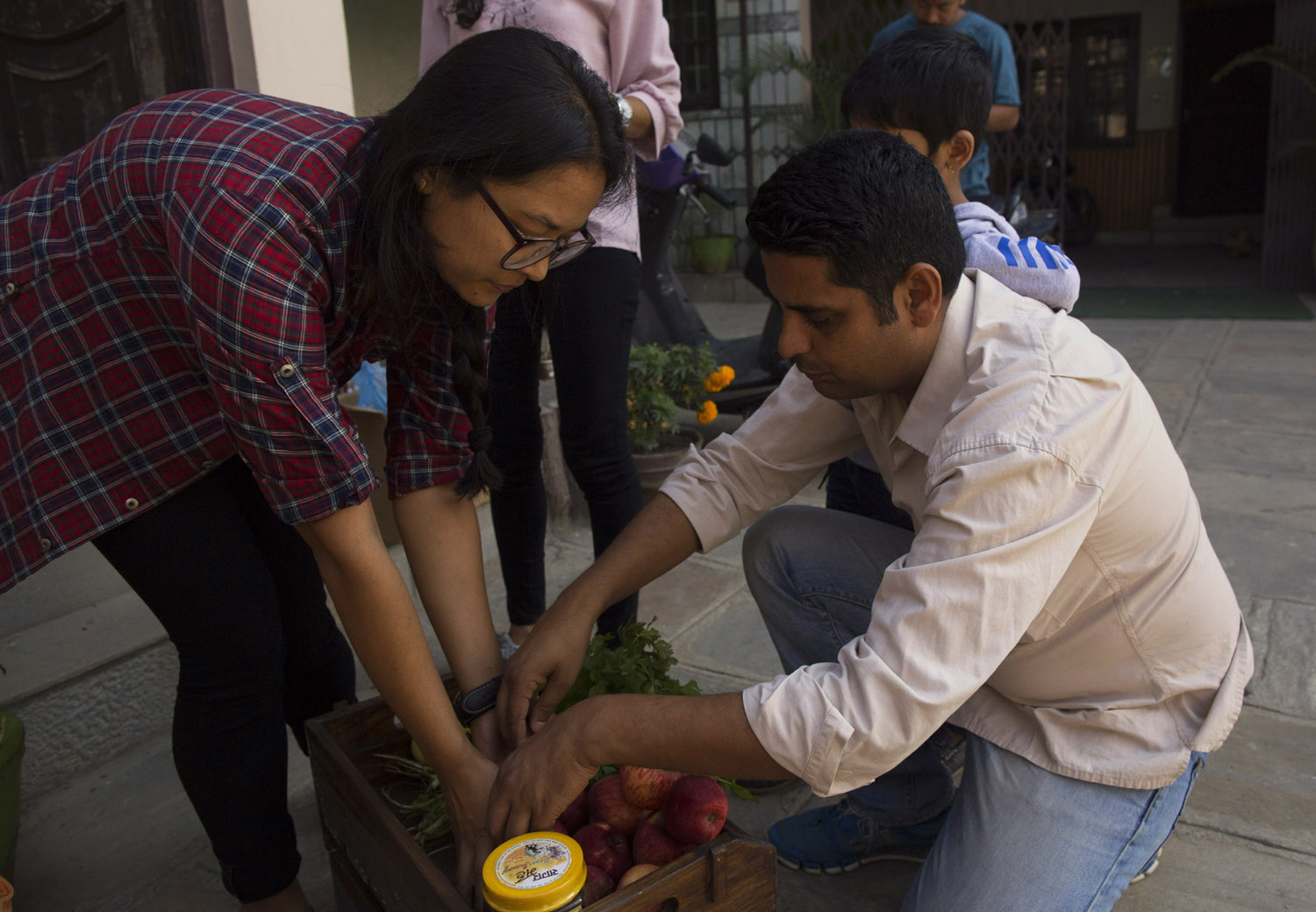 Photo Courtesy: Green Growth
"Our initial Investment was 400,000 rupees. Now we have five partners in the business, which includes an investor as well. We are yet to reach the breakeven point in the business though," he added.
He said the scope for Green Growth's expansion is tremendous. "Kathmandu alone has about four million people living here with more than 700 thousand families. If we reach out to only 5 percent to 10 percent of the populace, we can see exponential growth. Last year, we sold 2.5 tonnes of mangoes within 3 weeks. If we provide safe food at a reasonable price, we have a good market for fruits and vegetables."
Dhakal added, "Over the next one year, we are aiming to have at least 1,500 total customers with 25 percent regular orders, 10 outlets inside Kathmandu, 500 online orders per month and have an average sales of at least 500,000 rupees a month," said Dhakal whose company also has an online platform for local agricultural products.
In the next five years, the company is aiming for 5,000 customers inside Kathmandu, 50 outlets inside Kathmandu and a per month sales target of 20 lakhs.
As part of Green Growth's expansion plans, Dhakal said they are looking at having a cold storage facility along with processing units such as vegetable washer, grading and packaging.
"We aim to make safe food products available at a competitive price. We want to brand Green Growth as a seller of safe food products for consumption. We plan on introducing more local producers and opening more outlets and mobile carts throughout the city. We also want to promote less plastic packaging and practice zero waste. We want to replicate the success of Green Growth in other emerging cities like Pokhara and Chitwan," said Dhakal.
He said they earn a moderate profit margin of 10 percent on each sale to woo more customers.
"Our service and responsiveness and the quality of our products helped us retain our customers. Our promotion strategies like product-focused social media promotion, organising different events and outlets have helped us find new customers," said Dhakal.
---
---