Debt-ridden Nepal Airlines to sell a 25 percent stake to other state-owned enterprises
There are hopes that an injection of capital will help the ailing corporation but many are sceptical whether the plan will work without changes to management.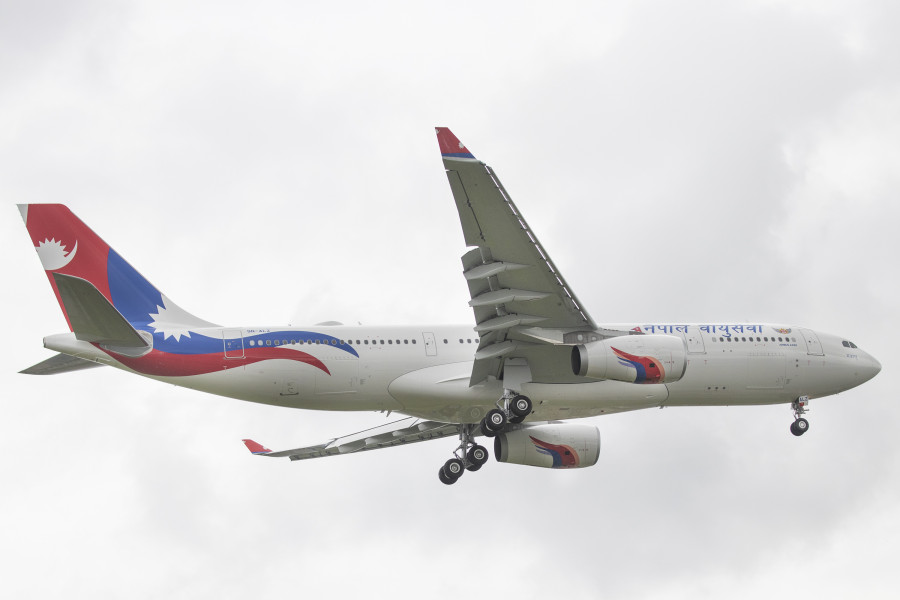 Post File Photo
bookmark
Published at : February 25, 2020
Updated at : February 25, 2020 07:43
Kathmandu
The Nepal Airlines board has approved the Tourism Ministry's plan to divest a 25 percent stake in the ailing national flag carrier to other state-owned enterprises to raise capital, but many, including board members themselves, do not believe that the plan is going to work.

"We have decided to divest a 25 percent stake in Nepal Airlines as this will allow state-owned firms like the Employees' Provident Fund, Citizen Investment Trust, Nepal Oil Corporation and others entities to invest in the carrier," said Tourism Secretary Kedar Bahadur Adhikari, who is also the chairperson of Nepal Airlines Corporation.
Adhikari said that the proposal was aimed at injecting capital into the company, but assured that there were no immediate plans to privatise Nepal Airlines.
But aviation and economic experts believe that the plan is just smoke and mirrors.
"We should understand that the proposal of equity injection into a debt-ridden state-run agency by another state-run agency is a strategy to ruin them both," said Bimal Wagle, a former government secretary.
Wagle, who was once chief of the Public Enterprises Board, said that equity investments are basically made for two purposes—either for a cash injection to improve the financial health of the company or to reform the company by introducing new management.
"But in the case of Nepal Airlines, none of these objectives will be met," he said.
Wagle believes that the national carrier is in dire need of reform in management, which the divestment plan will not contribute meaningfully to.
"How can Nepal Airlines, which is notorious for its management, improve simply because another state-owned company injects funds into it?" he said.
Even former Nepal Airlines officials are concerned about the divestment plan, especially since the board has approved it without knowing the airlines' total assets. Nepal Airlines' paid-up capital currently stands at Rs340 million, which means that a 25 percent stake will amount to Rs85 million.
"That amount would hardly buy a couple of tyres for Nepal Airlines' planes," said Ashok Pokhrel, a former board member. "I don't know how this proposal was approved. Who will buy equity in a loss-making, debt-ridden company?"
In more than six decades of operation, Nepal Airlines has never conducted a financial audit and no one knows its financial position, the value of its moveable and immovable assets, and the risks associated with its business.
In 2017, Nepal Airlines had asked for Rs20 billion from the government to support its financial restructuring plan. The Finance Ministry had rejected the proposal and said that it would not give the corporation a paisa until Nepal Airlines divests or finds a partner.
"As the Finance Ministry turned down the carrier's request, the Tourism Ministry seems to be adopting the Finance Ministry's suggestion for divestment," said an official at the Tourism Ministry on condition of anonymity. "But they decided to choose public enterprises instead of foreign or private equity partners."
Last year, Prime Minister KP Sharma Oli had ridiculed Nepal Airlines, saying that the corporation's only achievement after 61 years of operation was the accumulation of loans worth Rs36 billion.
"How to make Nepal Airlines a success is a big question," Oli had said.
Oli gave a few examples of how the airline had been stumbling from one fiasco to another.
"The company buys planes first and finds the pilots to fly them later. Again, it procures wide-body jets but it doesn't have destinations to fly to. There is high demand for services to Japan's Narita International Airport, but it decides to fly to Kansai International Airport in Osaka instead," Oli said.
What led to all of these issues has always been the corporation's management, said current and former officials.
"The core problem lies in management, which no one has bothered to reform," said an incumbent board member on condition of anonymity.
Following the acquisition of two Airbus A320s in 2015, the corporation had acquired two more long-range A330s in 2018. With the acquisition of the Airbus and four additional Chinese aircraft, the carrier's long- and short-term loans stand at Rs41.73 billion. It owes more than Rs3.66 billion in interest annually.
"Who will buy the stake?" said the board member who admitted he didn't have any say on the tabled proposal. "This is the result of a short-term plan proposed by someone with vested interests. Wasting time on this kind of strategy will not help the carrier to grow."
According to the Nepal Airlines management, the proposal did not originate from them and is largely the decision of the Tourism Minister.
"We don't know about the board's decision as we didn't table the proposal," said Ganesh Bahadur Chand, acting managing director at the corporation. "We are also unaware of the kind of modality the government is adopting."
Nepal Airlines has been headless ever since its executive chairman Madan Kharel resigned in January.
Secretary Adhikari confirmed that the proposal had been tabled by the Tourism Ministry itself and that the ministry would turn the carrier into a company from a corporation before divestment.
Given the airlines' perennial woes, the government has long been considering privatising the airline or bringing in a strategic partner. In 2007, it initiated a plan to hand over management to a foreign strategic partner so that it could reform and rescue the troubled carrier. However, the plan fell apart due to frequent changes in the government.
In 2015, Lufthansa Consulting and German Aviation Capital had offered to make a 76 percent capital injection into Nepal Airlines. German Aviation Capital had proposed that if Nepal Airlines were to sign an agreement with Lufthansa Consulting, it would help the airline finance the purchase of four narrow-body and two wide-body jets. But the plan did not move forward as Nepal Airlines would have to be first transformed into a company by amending its law through Parliament and that could take years.
---
---