More Nepalis travelling by air due to cheaper tickets
There were 3.18 million domestic passengers last year compared to 1.37 million a decade ago.

There were 124,255 flight movements last year, 74 percent of them domestic. SHUTTERSTOCK
bookmark
Published at : February 8, 2020
Updated at : February 9, 2020 10:10
Kathmandu
International passenger numbers at Kathmandu's Tribhuvan International Airport dropped for the first time in four years in 2019, but domestic passenger growth remained robust as airfares remain subdued due to intense and rising competition. Domestic airlines dangled cheap tickets to attract 340,727 new passengers last year.
Airport statistics show that domestic passenger traffic increased by a solid 11.96 percent to 3.18 million last year. This translates into an average of 8,735 persons travelling by air daily. A decade ago, there were 1.37 million air travellers in the domestic sector.
Among the total domestic air passengers, 43,612 individuals flew with 10 helicopter companies.
Nepal's international and domestic air passenger traffic has crossed 7.32 million with more than 20,000 travellers taking to the skies daily.
As per Tribhuvan International Airport statistics, domestic flight movement dropped by 3.93 percent to 91,816 flights in 2019 as most airlines added larger aircraft into their fleets.
There were 124,255 flight movements last year, 74 percent of them domestic. This means 340 flights take off and land daily at Kathmandu's congested airport.
DOMESTIC TRAVEL IS SKYROCKETING
Three factors are putting more passengers into airplanes, said Deo Chandra Lal Karna, spokesperson for Tribhuvan International Airport.
The first is an expanding economy and rising incomes. "The swelling middle class in Nepal, in particular, is pulling people towards air travel," he said. The second reason is cheaper airfares.
"The domestic sector has witnessed a dramatic boom with airlines inducting larger planes like the 72-seater ATR-72. A bigger aircraft means airlines have more seats to fill, and as a result, they are competing more fiercely to cut airfares which has made flying more accessible," said Karna.
The third reason is infrastructure. As airlines are bringing larger aircraft, it has created pressure on the Civil Aviation Authority of Nepal to lengthen the runways at the country's airports and expand other infrastructure, he said. "Today, domestic flights can operate during the night too. This has also helped to increase passenger numbers to some extent."
Traveller movement has been fluctuating since 2009 due to the airfare structure and safety concerns, but the domestic airline industry went on a record breaking spree after the 2015 earthquake. Domestic passenger movement dropped to an eight-year low of 1.36 million in 2015 following the disaster that caused a severe economic downturn. But the very next year, passenger movement rebounded by 28.9 percent to 1.75 million.
The sun shone brightly for domestic airlines in 2017 too, and they recorded a 39.47 percent jump in domestic air passenger movement as they expanded their fleets to cater to growing travel demand. Domestic airlines flew a record 2.45 million passengers in 2017 as travellers chose to fly rather than drive over bumpy national highways which seem to be perpetually under repair.
The year 2018 was another bumper year for domestic airlines when they flew 2.84 million passengers, up 19.22 percent from the 2017 figure. The carriers received 459,169 new flyers attracted by their low-fare schemes.
The rise in air seat demand has been largely induced by low fares, said Anil Manandhar, corporate manager of Shree Airlines. "Airlines have been able to maintain high load factors because of discounts. With airlines planning to add more aircraft to their fleets, low-fare schemes will continue."
According to him, flying to Janakpur today costs Rs1,800 and going there by surface transport costs Rs2,000. Shree Airlines on Friday started commercial flights on the Pokhara sector with its Bombardier Q400 Dash 8 high-speed turboprop airliner. The plane can carry 80 passengers. Most of the discounted tickets on offer are for off-season months like December-February and June-August.
PAINFUL YEAR FOR NEPAL AIRLINES
Although domestic passenger movement saw robust growth in 2019, it was a painful year for Nepal Airlines which saw its passenger market share shrink to 2.36 percent despite having a large fleet. The state-owned carrier flew 74,236 travellers, a 6.23 percent drop from the previous year.
Nepal Airlines has nine planes serving the domestic sector. According to airline officials, passenger occupancy on the domestic sector has been on a decreasing trend because the carrier has not been able to utilize its six Chinese-made aircraft due to various reasons—one is a shortage of pilots to fly them.
Nepal Airlines has planned to put all four of its Chinese-made planes back in the air by February, but that has not happened for lack of spare parts. Previously, it had been forced to ground them because there were no pilots to fly them. Now that there are pilots, there are no parts, according to officials.
The national flag carrier has four 17-seater Y12e planes in its fleet. Three are sitting in the hangar while one flies twice daily in the Dang sector. It has two 56-seater MA60 planes but flies only one of them.
Buddha Air was the clear winner in passenger movement in 2019. The carrier recorded a strong 20.06 percent growth in passenger numbers last year, flying 1.59 million passengers, the highest number for a single airline. One out of every two domestic passengers in Nepal flies on Buddha Air.
Buddha's closest rival, Yeti Airlines, saw its passenger numbers grow 24.71 percent to 833,942 in 2019 after adding five 72-seater ATR planes to its fleet
Nepal's largest helicopter operator, Shree Airlines, which diversified into fixed-wing services in April 2017, flew 475,069 passengers, up 6.07 percent year-on-year, to take the third spot in terms of passenger carriage last year.
Saurya Airlines, which started operations in November 2014, carried 78,387 passengers, down 26.14 percent.
Yeti's subsidiary Tara Air, which only operates on remote sectors, also observed a sharp decline of 36.54 percent in passenger movement. It flew 33,172 passengers last year.
Simrik Airlines and Summit Air (previously known as Goma Air) saw passenger numbers drop in 2018, with Simrik flying 28,146 passengers, down 36.78 percent; and Summit carrying 16,032 passengers, a drop of 61.98 percent.
Sita Air flew 14,481 passengers, down by 52.37 percent. According to short takeoff and landing aircraft operators, their passenger movement from Kathmandu has dropped because they are now operating their Lukla flights out of Manthali airport.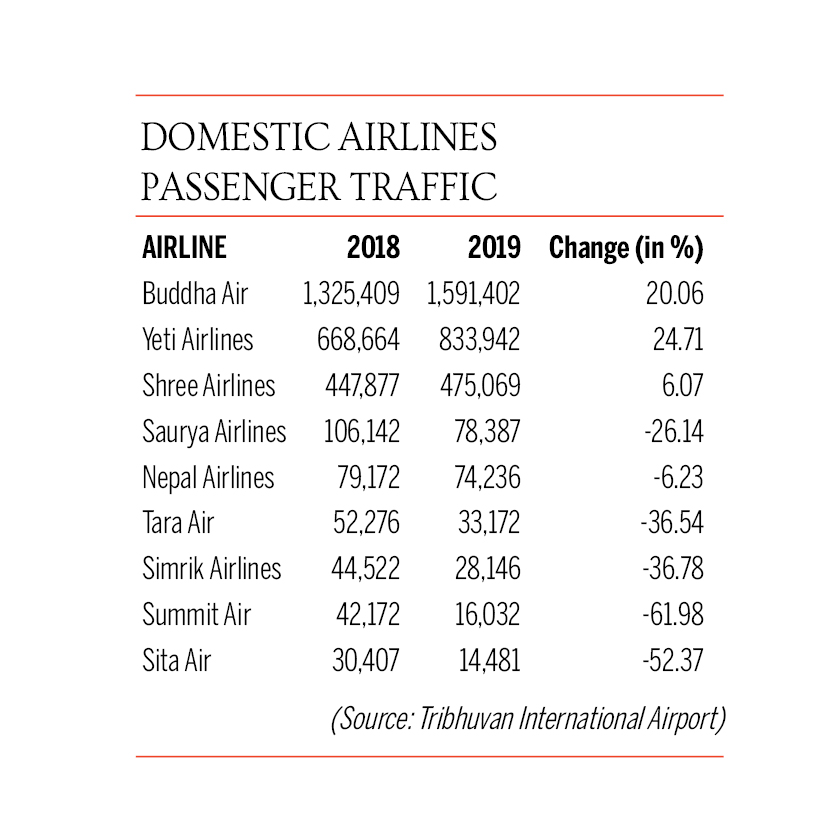 ---
---