Rs 10 million worth of red roses arriving for Valentine's Day
Delhi, Bangalore and Kolkata are the largest suppliers of flowers to Nepal, traders say.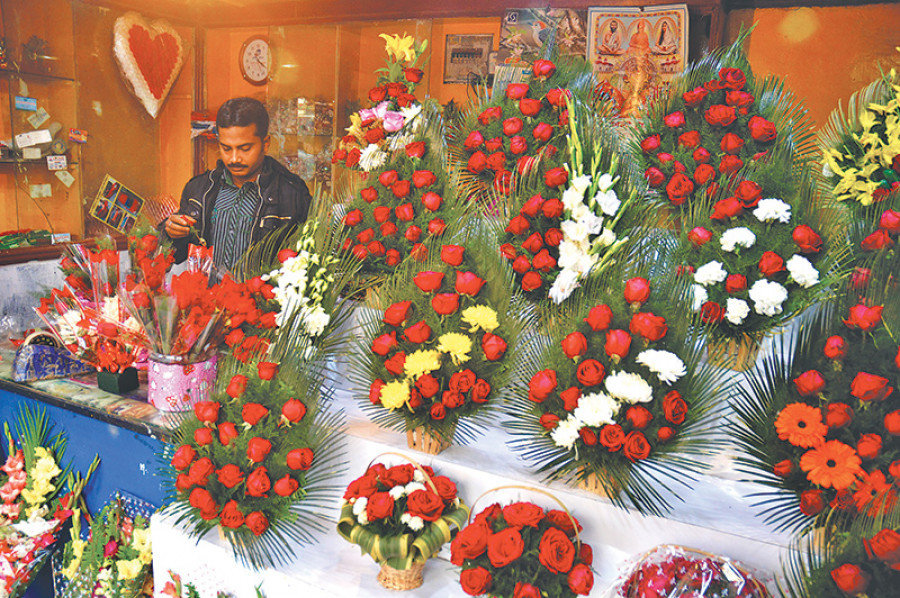 A vendor arranges roses at a flower shop in Kathmandu. POST FILE PHOTO
bookmark
Published at : February 6, 2020
Updated at : February 6, 2020 21:15
Kathmandu
Kathmandu's florists have ordered 130,000 stems of long stem red roses worth Rs10 million from India for Valentine's Day.

On this special day when lovers cannot do without the special flower to express their undying affection, demand far outstrips domestic production, traders said.

Output slows during the winter and we have no high-tech greenhouse system, said Kumar Kasaju Shrestha, president of the Floriculture Association Nepal.

According to Shrestha, demand for long stem red roses explodes to 150,000 stems on Valentine's Day. The most local flower growers can come up with is 30,000-40,000 stems, and the rest have to be imported from India. Delhi, Bangalore and Kolkata are the largest suppliers of red roses to Nepal, he added.

Admirers are expected to spend Rs20 million on flowers and gifts during Valentine's week, including Rs10 million on red roses alone. A stem of long stem red rose costs Rs80 to Rs100 retail, said Shrestha.

Almost 80 percent of the requirement of red roses is fulfilled through imports as establishing high-tech greenhouses involves a large investment, and local entrepreneurs don't have that kind of money.

So a lot of money goes out of the country to pay for red roses during this time of the year, Shrestha said. Flower production falls from mid-December to mid-March because of the cold.

But demand for red roses seems to have eased a bit this year, he said, a condition he attributed to the proliferation of artificial flowers.

According to the association, flower traders imported 160,000 stems of long stem red roses worth Rs10.5 million for Valentine's Day last year. Demand is down with more and more youths going abroad for higher studies, Shrestha said.

Traders have stocked up on gifts for Valentine's Day by placing orders with their Chinese suppliers well in advance.

But they could hike prices citing difficulties in getting supplies due to the coronavirus outbreak in China, said Ghanashyam Chaudhary, owner of Archies World in New Baneshwor.

Almost 95 percent of the gift items, mostly decorative goods for Valentine's Day, come from China.

Meyar Ranjit, owner of Emus Gift Shop at Kalopul, said he had already purchased adequate stocks of gift items for Valentine's Day from his wholesaler.

Ranjit said that customers prefer Chinese products compared to Indian products because they are cheaper, so 95 percent of his inventory consists of goods from China.

According to him, traders order goods four to five months in advance, and the shipments arrive a month before the festival. He said that gift items cost 30-40 percent more this year due to higher wholesale prices.

Chaudhary said that the turnover at gift shops had plunged by half because people have stopped giving traditional presents like photo frames, clay statues, tea mugs and greeting cards.

"These days they are turning away from fancy or decorative items and prefer to give things that can be used like shoes, wallets and dresses," he said.

Footfall at the shop has also fallen sharply as more people are doing their buying online because they find it more convenient, he added.
---
---