High operating costs and few passengers force Buddha Air to cancel Kolkata flights
The airlines' cancellation does not bode well for the domestic aviation or tourism industry, analysts and entrepreneurs say.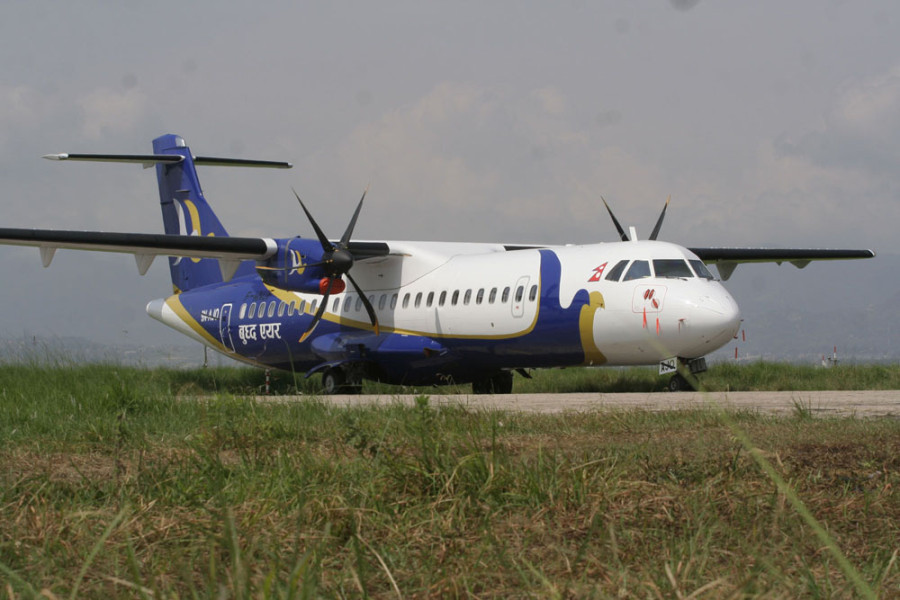 Buddha Air has announced that it is discontinuing its Kolkata flights from December 1. Post File Photo
bookmark
Published at : November 25, 2019
Updated at : November 26, 2019 09:32
Kathmandu
Just six months after beginning direct flights to Kolkata as part of its preparations to enter long-haul international markets, Buddha Air has announced that it is discontinuing its Kolkata flights from December 1.

This announcement has effectively ended Nepal's largest carrier's ambitious plans to enter the international market by August 2020 by gradually expanding its routes from one-hour flights to three-hour and beyond.
"The cross-border flight was our trial. We operated 78 flights on Kolkata-Kathmandu route and ended up with losses amounting to Rs100 million," Birendra Bahadur Basnet, managing director of Buddha Air, told the Post.
The 22-year-old home-grown airline now plans to focus on provincial connectivity and start short-takeoff-and-landing operations to remote hill and mountain regions.
"Obviously, we had an ambitious plan, but what is the role of the government in promoting home-grown companies?" said Basnet. "We have not asked for direct subsidies, but practically, the government can indirectly support us with tax holidays and in oil."
Aviation fuel prices at Tribhuvan International Airport are among the highest in the world, at $1,000 per kilolitre, which is why even foreign carriers hesitate to fly to Kathmandu.
Sanjiv Gautam, former director-general of the Civil Aviation Authority of Nepal, said Buddha has taken a wise decision.
"In the present context, it's difficult to begin international flights with little investment," he said. "Besides, the Nepali aviation market is tough due to oil prices and tax burden. It's an open secret that without the government's support, it's difficult for home-grown operators to expand its wings to international routes."
According to Gautam, the government doesn't want to entertain a tax rebate for airline companies as they still deem the industry a luxury mode of transport.
"The economic benefit that an airline company creates in the country is not understood," he said.
At a time when a number of domestic airlines, including Himalaya and the flag-carrier Nepal Airlines, are increasingly attempting to break into the international market, Buddha's failure to crack Kolkata does not bode well, said travel trade entrepreneur Ashok Pokhrel.
"It's not easy for Nepali carriers to compete with international airlines without the support of the government," said Pokhrel. "The national flag carrier and Himalaya Airlines are both struggling. It's not that they are not capable of flying, it's because of the government's policy."
Through a cross-subsidy model, Nepal Oil Corporation charges aviation fuel heavily but subsidises cooking gas.
"The country will have an energy surplus this fiscal year," said Pokhrel. "Let's see if the government continues to promote cooking gas by offering subsidies or electricity."
But it is not just governmental policies that led to Buddha Air's failure in Kolkata. This is a bad time for airlines in general, said Gautam.
"Who would have imagined that Jet Airways would collapse?" he said. Jet's collapse is attributed to high costs in the Indian market and the airline's inability "to change with the times" to compete with low-cost carriers.
"The market is competitive, and globally, low-cost carriers are threatening legacy carriers," said Gautam.
In October, Thai Airways International president Sumeth Damronchaitham admitted, for the first time, that the national flag carrier is in deep financial crisis.
China Southern Airlines profits slumped nearly 50 percent last year as a result of rising fuel costs and a weak Yuan. The Chinese government has planned an equity diversification of China Southern Airlines that will involve a capital injection of $4.36 billion.
Nepal Airlines too recently announced that it is teetering on the verge of bankruptcy due to competition from budget airlines.
However, the failure of Buddha Air's foray into Kolkata also has ominous overtures for the upcoming Visit Nepal 2020.
Buddha had planned to fly to key Indian cities from Tribhuvan International Airport by August 2020. By the following year, it had ambitions to add two jets and enter the long-haul international markets like Guangzhou, Bangkok and Dhaka. Buddha currently owns the largest fleet in Nepal, with 13 aircraft, most of them ATR twin-engine turboprops.
Although tourist arrivals from India grew 25.1 percent to 200,438 individuals last year, Basnet said there wasn't much interest among travellers from Kolkata, an artistic and cultural hub, to visit Nepal.
"India has more than 40 million outbound travellers annually and is the fastest-growing outbound market behind China, but the arrival numbers to Nepal are very nominal," Basnet said. "Something is definitely wrong."
---
---