Year Ender 2016: Unshackled
Even before receiving the CNN SuperHero Award, Pushpa Basnet was already a hero to her 'children'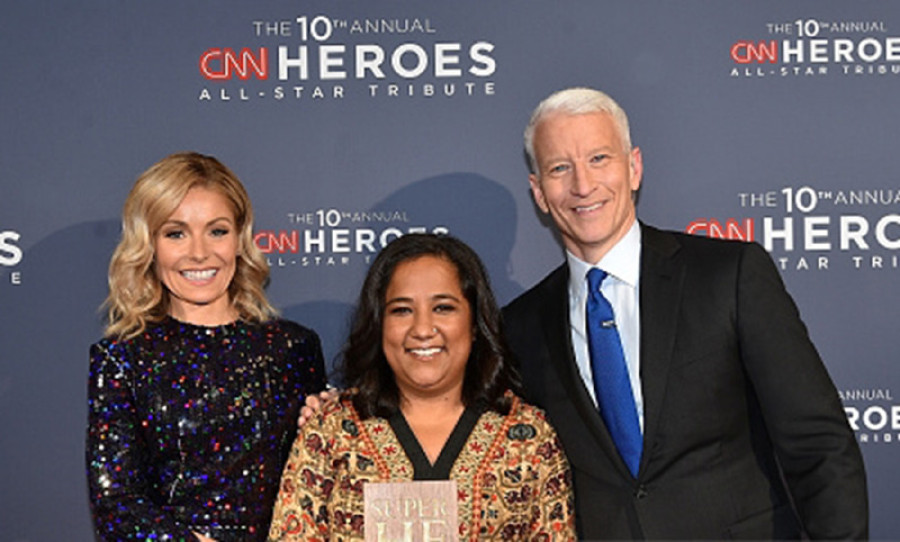 bookmark
Published at : December 29, 2016
Updated at : December 29, 2016 18:29
As Pushpa Basnet walked up the stage at the Shrine Auditorium in Los Angeles to acknowledge a prestigious award, her children's eyes, back at the Early Childhood Development Centre (ECDC) in Budhanilkantha, were keenly glued to CNN Live on YouTube. Nepal's Pushpa Basnet, CNN Hero for the year 2012, had been named CNN SuperHero 2016 on December 12, where she was given a standing ovation in recognition of her perseverance.
Basnet is the founder of ECDC, a non-profit that provides housing, education, healthy meals and medical services to children who are forced to live in prison with their parents through no fault of their own. The American television network had nominated five former CNN Heroes for the CNN SuperHero award this year to celebrate a decade of CNN Heroes. Basnet, who was the second Nepali to win this coveted award after Anuradha Koirala—the founder and director of Maiti Nepal in 2010—was awarded 50,000 USD for winning her SuperHero award.
"It is yet another achievement for our 'mamu'," says Laxmi Tamang, who is one of the many children to grow up in Basnet's care and is pursuing a bachelor's degree in Fine Arts at Kathmandu University. Tamang says that Basnet has been her only inspiration and support in achieving this level of educational success. "Her winning this title is a moral boost for all and a reminder that if you do good for others, it will only come around for your own betterment," says Tamang. She feels that she, along with all the other children at the centre, to whom Basnet is their "mamu", are incomplete without her.
Sabin Singh, an employee at the centre, says that everyone was extremely happy to learn about Basnet winning the CNN SuperHero award. Singh, who is a great admirer of Basnet's, feels that every staff at the centre is inspired by her personality and devotion towards the children. "One can learn a lot from her humble personality, empathy and immense amount of compassion for her children, and it gives everyone a positive vibe while working here," says Singh.
Basnet's ECDC, established in 2005, currently houses 37 children. Since the establishment of the centre, she has been working relentlessly to promote the rights of children living behind bars with their incarcerated parents. She has played a huge role in bringing the hardships of these children to the forefront. Her hard fought battle and achievements, however, have not come this far without her own share of struggles. She recalls the initial persuading it took in her own family when she had first decided to start the organisation. She struggled to even pay Rs1,500 for the registration of the organisation. Her own father and relatives doubted her initiative; her mother, though, was supportive right from the get go. "My father was not happy because he thought it was a wrong decision on my part. But girls can change the world and this award I have is for my dad" says Basnet.
Basnet realised her passion for social work after she enrolled at St Xavier's College for a Bachelor's degree in social work. Thereafter, a visit to Sundhara's jail opened her eyes to the plight of the children of imprisoned parents. Her ability to understand that those children did not have to be confined in prison and remain deprived of education, opportunity and better future led to the establishment of ECDC two years later. What initially started as a small child care centre for the children, later grew to become the ECDC in 2005, with the support from her family and friends, as she started bringing in children with the permission from their parents and the prison's administrative staff.
The "SuperHero", who has now become a guardian to over three dozen children, looks forward to nurturing, providing quality education and opening up the doors of a better future to these children who would otherwise straggle in the dark prison cells, behind the shadows of their parents. She dreams to make each one of them an independent individual and a responsible citizen of the country.
"It is hard, but I feel blessed to have this big family of mine, and the only thing that gives me happiness is to be with my children; they are my inspiration", says Basnet who is herself an inspiration for many Nepali youths.
---
---