What next for high school graduates?
From Humanities to Science to Commerce subjects, students do not have a shortage of choices when selecting a stream of education they want to pursue.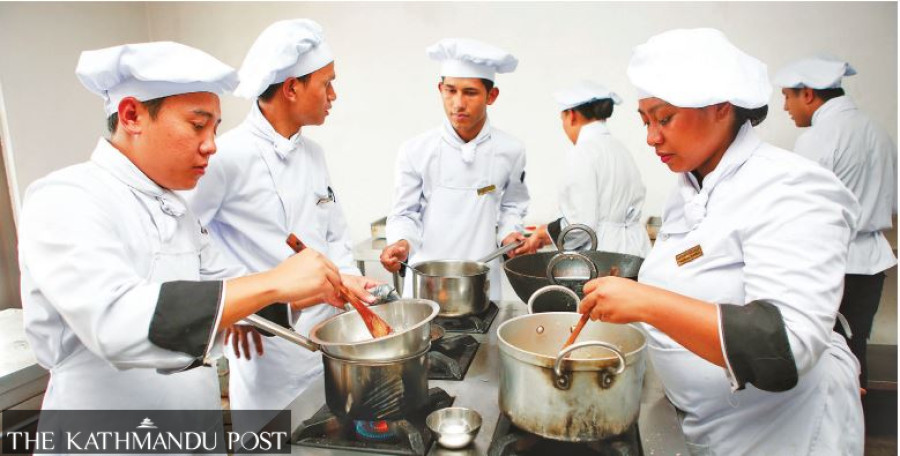 Seeking suggestions from seniors and teachers can provide clarity to the students unsure of what to study. Sanjog Manandhar/TKP
bookmark
Published at : September 11, 2022
Updated at : September 11, 2022 13:23
Kathmandu
With the announcement of the National Examination Board's results for grade 12 on September 2, many young adults in Nepal are currently on the threshold of choices that will go on to affect their future course of life.
Passing high school is one of the milestones students aim to achieve in their academic journey. Out of the total 363,008 students who appeared for grade 12 examinations, 4,171 secured Grade Point Average (GPA) between 3.61 and 4. Other 30,107 students scored 3.21 to 3.60 GPA. None of the students secured a 4.0 GPA.
High school graduates have many options to choose from depending on their field of interest. From Humanities to Science to Commerce subjects, students do not have a shortage of choices when selecting a subject stream they want to pursue. Given that it is one of the most important decisions a student takes, it is imperative to understand what they are signing up for, say experts.
"One must consider one's choices carefully while selecting a college that one would attend for a minimum of four years. The decision is crucial as they are joining university from school. They should carefully analyse their passion and the opportunities before opting for a particular subject to specialise in," said Binay Kumar Kushiyait, a professor at Tribhuvan University.
Seeking suggestions from seniors and teachers can provide clarity to the students struggling to make a choice. A detailed study of college undergraduate courses and their features might help students make the right decision.
To choose the right subject, one needs to keep a few things in mind. First, you need to ask yourself a few questions. Which is the career that inspires you the most? What are your future plans? Why do you want to take up a particular subject? Will it help your career goals? What is your goal? Which subject will help you to achieve that goal?
For instance, Humanities students can choose a Bachelor of Arts programme, which includes a wide variety of major subjects such as Journalism and Mass Communication, Political Science, English, and Fine Arts, among others. The Bachelor of Arts is a four-year undergraduate programme in colleges in Nepal.
Students can also branch out to specialised courses such as Hotel Management and Hospitality.
Global Academy of Tourism and Hospitality Education (GATE) is among the several colleges that provide Bachelor in Hotel Management (BHM) courses. It provides quality education to students in line with the hospitality education provided by educational institutes in Switzerland, says Khem Raj Lakai, the founder and CEO.
According to Lakai, the college has adopted the 'learning by doing' method with a major focus on internship placements in colleges abroad.
"Our college is one-of-its-kind in Nepal. We have had foreign students graduate from our college," said Lakai. "We aim to provide the best education in the hospitality sector to our students. We are a leading college with the motive to turn the concept of making Nepal an education hub into a reality," said Lakai.
GATE college offers a four-year BHM course with a fee structure of around Rs1 million. Besides tuition, the fee also covers meals for students at the campus, said Lakai.
For students from the Commerce stream, subject choices are aplenty. From Bachelor of Business Administration, Bachelor of Business Management to Bachelor of Business Studies, and Chartered Accountancy, students can pick from a wide variety of subjects.
Uniglobe College, affiliated to Pokhara University, enrols 96 students in its BBA course every year. According to Nar Bahadur Bista, principal and managing director of Uniglobe College, the college has already produced nine gold medalists in BBA and BBA-BI.
"We provide practical exposure-oriented education which helps students inculcate what they learn in the classroom into everyday experiences," said Bista. "Our teaching methods are research-based, and the placement rate is very high."
If you are a science enthusiast, the fields of medicine and technology provide you with fertile ground for your career development. Science students can opt for Bachelor of Medicine, Bachelor of Surgery (MBBS) course, Bachelor of Engineering, Bachelor in Information and Technology, and BSc Nursing, among others.
Some colleges in Nepal also offer various courses for aspiring students to gain internationally-recognised qualifications by partnering with foreign universities.
Among the several colleges offering Information Technology courses, The British College is a frontrunner with courses such as Bachelor (Hons) in Computing being run in partnership with Leeds Beckett University, the UK, and BSc (Hons) Cyber Security and Digital Forensics in partnership with the University of the West of England on offer.
The unique selling point of the college is that it produces industry-ready graduates, says Amar Deep Mandal, head of admissions and marketing at The British College. "Also, we provide up to 100 percent scholarships to meritorious and deserving students," Mandal told the Post.
According to him, graduates from the college receive better job placement opportunities since it is the only college in Nepal accredited by the British Accreditation Council as an Independent Higher Education Provider. "For international exposure to our students, we conduct education tours to Dubai and Singapore under the International Mobility Programme," said Mandal.
In his poem 'The Roads Not Taken', Robert Frost says life calls for tough decisions, and making wise decisions makes all the difference. Grade 12 graduates are now faced with decisions that could make or break their careers.
Kushiyait, from Tribhuvan University, says students must research extensively and go through every detail available regarding a course and a college. "Always remember, you are currently at a point in life when you have to make the most important decision of your student life. Make the right choice," he said.
---