The path to the future
One of the most important decisions a fresh SEE graduate must take is about where they are pursuing their higher studies.

Post Photo: Elite Joshi
bookmark
Published at : July 4, 2019
Updated at : July 4, 2019 13:02
Aakarshan Neupane is looking forward to his higher studies after successfully completing his Secondary Education Exami-nations. The 16 year old is excited to go a journey of higher learning, which will be a catalyst for his dream to pursue his post-graduate studies abroad. But for him and many other fresh SEE graduates, what additional benefit a college offers is as important as the reputation of the institution itself.
Neupane, the 1st runner-up in Mr SEE from Kathmandu district, will be joining Himalayan White House College in Tinkune. He says that he chose the college not just for the courses of his choice offered at the college but also for the 50 percent scholarship the college is offering.
This college also runs a 'super 40 seat' scheme, which helped Neupane reach his final decision to join the college. The college promises extra attention and facilities to the top 40 students with the highest GPA in their batch. The 40 students will also enjoy a certain percentage of discount on their tuition fees.
"Additionally, we will also provide special STEM classes after school for these 40 students," said Yubraj Ghimire, CEO of the college.
Himalayan White House College is also among the many other educational institutions that offers additional benefits and attractive facilities to fresh SEE graduates.
Admission to these higher institutes of learning follows an easy procedure. Each aspiring student fills an application form, purchased at a cost of Rs 150, and then sit for an entrance test. If selected, their admission process takes off.
The fee structure for bachelor courses can be anywhere between Rs 50,000 to Rs 200, 000 depending on the college and the course.
There are some colleges offering courses only for one particular stream. Global College of Management in Baneshwor is one such college. They offer management courses to its 900 students, according to Dr Khagendra Ojha, CEO of the college.
"We offer an international standard of education to our students. Our fee structure might be higher than the rest of the management colleges in the valley but the quality of education we strive to impart is also better than the rest," said Ojha.
The fee structure for grade 11 is 200,000 and 180,000 for grade 12 at the college.
On the other hand, a majority of colleges in the valley cater to students from all streams. Triton College in Koteshwor offers all three main streams of higher studies—science, management and humanities. The fee structure varies from stream to stream—Rs50,000 for management and humanities and Rs75,000 for science.
According to the National Education Board (NEB), 449,642 students appeared in the SEE exams this year under the regular category and 9,633 students appeared under the partial category.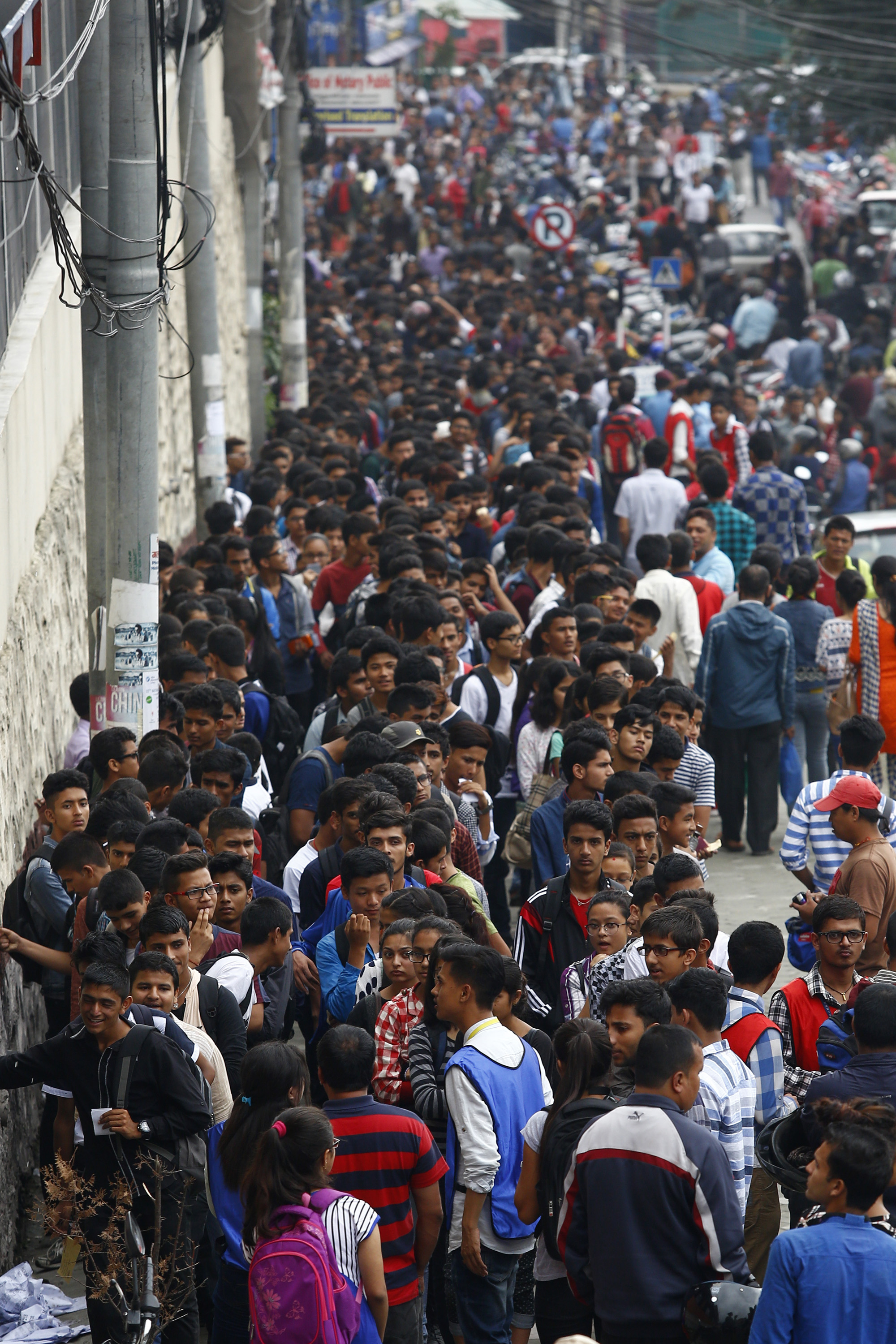 Post Photo: Sanjog Manandhar
For some students and their guardians, the quality of education does not necessarily have to be directly proportional to the fee structure of a college. Nirmala Dahal Baral, whose son Niraj Baral scored a 3.95 GPA, lays out the need for and the importance of educational institutions to offer quality education at affordable prices for students.
"Every parent wants the best for their child but seeking the best doesn't necessarily have to burn a hole in our pocket," said Dhakal. "Our priority is to seek a balance between the cost of an education for our son and the quality of the said education."
Niraj will be joining St Xaviers College in Maitighar which according to the Baral family offers a variety of courses, great faculty, facilities and other benefits at a competitive price.
Aside for restructuring their fees bracket to make it affordable, and going all in with additional benefits at a premium price, some colleges are expanding the variety of courses they can offer to students who want to pursue something different than the normative science, management and humanities courses.
Surendra Shrestha, chairperson of Nobel Academy in Baneshwor informs of his college's plan to introduce new courses like fine arts to students. This, he believes, will be able to help the students seeking creative freedom to develop their understanding of the fine arts and hone their talent further. However, the college also caters to those who want to study science, management and humanities.
The colleges maybe offering the best courses, excellent facilities, attractive features and competitive pricing but is that enough to attract students to join their institutions?
For students like Neupane, it was the 'super 40' scheme that helped him take his final decision on joining the Himalayan White House College but for Smriti Baisnab, there are other factors that led to her decision to join her choice of college, St Xavier's.
"St Xaviers is one of the most prestigious colleges in Nepal. It has the reputation to back its claim of being one of the best colleges here," she said.
The institution, extending services to students for more than 25 years, has proved to be an excellent institute of learning—opening the doors of opportunity for students aspiring to pursue their further studies abroad.
"I want to go abroad for my further studies and my teachers at school said that St Xaviers College grooms you for the world outside Nepal," said Baisnab.
While students dream of their future, these institutions are busy looking out for those promising young minds who will boost the image of their college and join the list of successful alumnus.
To achieve that, colleges offer scholarships, facilities, variety, and most of all a learning environment where young minds can thrive.
By offering students scholarships based on their GPA score or under sports criteria, institutes of higher learning put everything on the table.
---
---