Nepal receives 188,400 doses of Moderna vaccine from COVAX
With this, the number of Covid-19 vaccine doses the country has received crosses 25,000,000.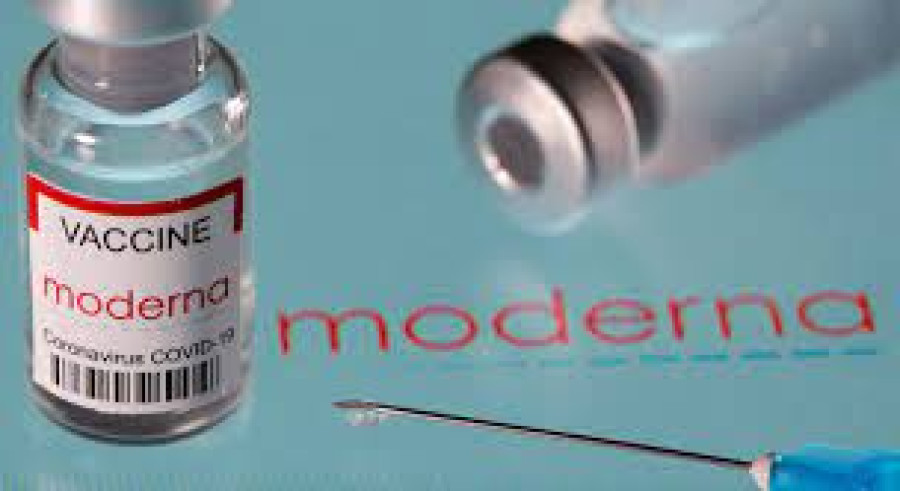 REUTERS
bookmark
Published at : December 4, 2021
Updated at : December 4, 2021 10:52
Kathmandu
Nepal on Friday received 188,400 doses of the Moderna vaccine from the COVAX facility, the international vaccine sharing scheme backed by the United Nations. This is part of the 3,712,000 doses of Moderna vaccine committed by the facility.
"We have received 188,400 doses of the Moderna vaccine from the COVAX facility," Badebabu Thapa, a senior officer at the Logistic Management Section under the Department of Health Services, told the Post.
The Moderna vaccine is the fifth Covid-19 vaccine Nepal is going to use after AstraZeneca, Vero Cell, Janssen and Pfizer-BioNTech Covid-19 vaccines.
Moderna vaccines need to be stored in minus 20 degrees Celsius.
As the authorities concerned have already stored the Pfizer-BioNTech vaccine in minus 70 degrees Celsius, the country will not have any problems storing the Moderna vaccine in minus 20 degrees Celsius, officials said.
The Ministry of Health and Population said that the priority group for Moderna vaccine has not been decided yet and that a decision will be taken once the Vaccine Advisory Committee makes the recommendation.
Officials said that the vaccine will most likely be administered to children between 12 and 17 years.
"Moderna vaccine can be administered to children above 12,'' said Dr Shyam Raj Upreti, coordinator of the Covid-19 Vaccine Advisory Committee.
Nepal also purchased 4 million doses of the Moderna vaccine through COVAX's cost-sharing scheme using the Asian Development Bank's loan. The doses are expected to be delivered within the first quarter of 2022.
Nepal so far has received 25,049,840 of Covid-19 vaccines—Vero Cell, AstraZeneca, Janssen, Pfizer-BioNTech and Moderna.
Nepal launched its Covid-19 vaccination campaign on January 27 this year with 1 million doses of Covishield gifted by India.
Nepal needs to vaccinate around 78 percent of its over 30 million estimated population, or around 25 million people, as per the government's new plan that includes those aged between 12 and 18 years. Earlier, the government had planned to vaccinate only those aged 15 years and above.
Since around 4-5 million people are said to be living abroad, the government needs to vaccinate around 19-20 million people. For this, the country needs a little over 40 million doses of double-shot vaccines.
As of Friday, 8,613,847 people (28.4 percent of the total population) have been fully vaccinated.
---
---