Nepal secures 4 million doses of Moderna vaccine through COVAX
Delivery of the vaccines, procured through the COVAX cost-share option and with World Bank financing, is expected to start by March 2022. The vaccine could be used for those as young as 12.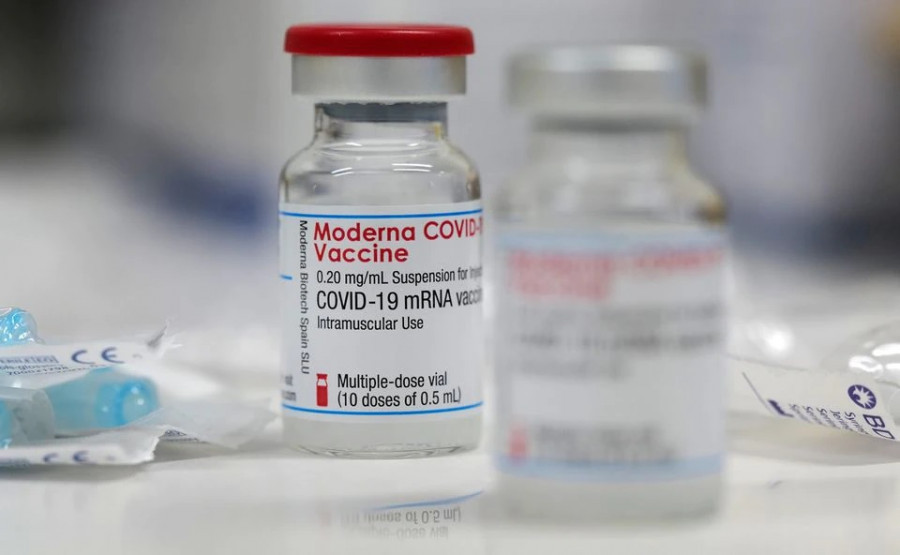 In this file photo, a vial of the Moderna Covid-19 vaccine is seen at a local clinic in Aschaffenburg, Germany. REUTERS
bookmark
Published at : August 13, 2021
Updated at : August 13, 2021 22:09
Kathmandu
Nepal has reached an agreement with GAVI, a global health partnership dedicated to immunisations, to procure 4 million doses of the Moderna vaccine through the COVAX cost-share option. The vaccine is being bought with financing from the World Bank.
"We are honoured to support Nepal, along with our development partners, by financing the purchase of safe and effective vaccines through the COVAX facility," said Faris Hadad-Zervos, World Bank Country Director for Maldives, Nepal, and Sri Lanka, in a statement Friday. "This is a key element of our overall Covid response by helping to meet emergency health needs and strengthening the healthcare and vaccine delivery system."
Delivery of the American Moderna vaccines is expected to start by March 2022 and could be used for children aged 12 to 17 years of age for whom it is deemed safe and effective.
"Nepal is an early mover in utilizing the COVAX cost-share scheme, and I am pleased to note that we have finalized the arrangement, despite very challenging circumstances, to bring safe and highly effective vaccines to Nepal," the World Bank's statement quoted Minister of State for Health and Population Umesh Shrestha, as saying. "Moderna vaccines have helped expand options for vaccinating Nepalis above 12 years of age and fast-track Nepal's progress towards a safer post-Covid world."
The World Bank has made available $104 million to support Nepal's health response to the pandemic, with $67.5 million earmarked to purchase and deploy Covid-19 vaccines.
Last month, 1,000 oxygen concentrators were procured through the aid project while seven oxygen generation plants are being established, one in each province.
"We commend Nepal for being the first country in South Asia, and one of the first in the world, to join and tap into the COVAX cost-share option," said Hartwig Schafer, World Bank Vice President for South Asia, in the statement.
Nepal so far administered Covishield, the AstraZeneca type vaccine manufactured in India, Vero Cell of China's Sinopharm, and Janssen of Johnson & Johnson to inoculate its population against Covid-19.
Of the three makes of the vaccine, Nepal has received AstraZeneca and Johnson & Johnson vaccines under grant assistance or through COVAX, an international vaccine-sharing scheme backed by the United Nations and the Moderna vaccine is being procured under a cost-sharing scheme for the first time.
According to the Health Ministry, as of Friday, so far, 4.65 million people have taken the first dose of the coronavirus vaccine and 3.22 million have been fully immunised.
---