Primary health centres to administer Covid-19 vaccine to expedite first phase
The Ministry of Health and Population aims to complete the inoculation drive by February 5, officials say.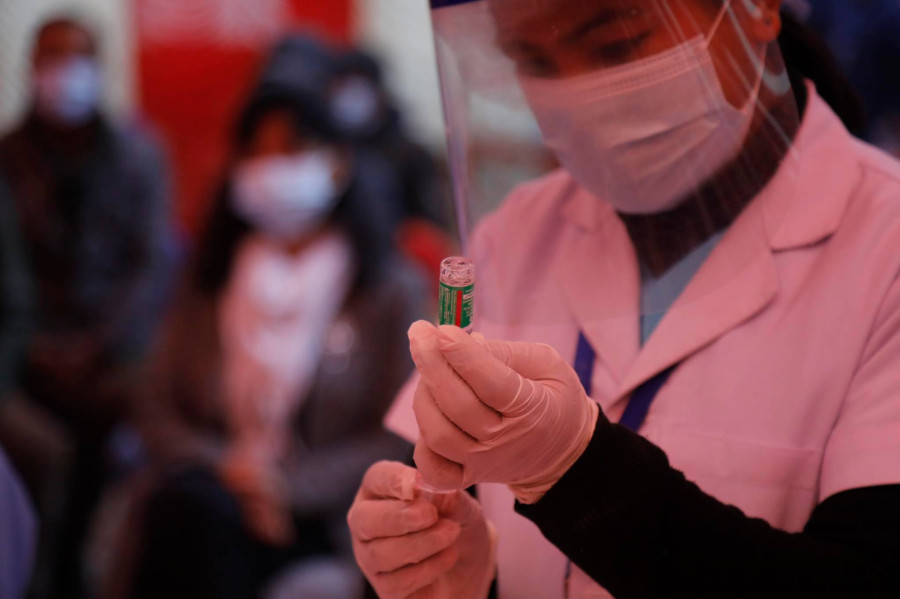 Elite Joshi/TKP
bookmark
Published at : January 31, 2021
Updated at : January 31, 2021 08:36
Kathmandu
In a bid to expedite the first phase drive of Covid-19 vaccination, the Ministry of Health and Population is working to expand the ongoing immunisation drive to be carried out from primary health centres.

Earlier, the ministry had decided to immunise frontline workers such as health workers, supporting staff, sanitation workers, female community health volunteers, security personnel, people taking refuge in old age homes and prisoners from district hospitals only.
"To expedite the ongoing drive and for the ease of the people to come to the vaccination centre, we have been working to immunise people from primary health centers," Dr Samir Kumar Adhikari, joint spokesperson for the Health Ministry, told the Post.
"We will take the immunisation programme to the primary health centres of districts of the Tarai region and some hilly districts, where the number [of health workers] is high and people have to come to district hospitals from very far."
The Health Ministry aims to complete the ongoing drive by February 5. According to officials, it will be difficult to vaccinate all targeted people, if the pace of administering it is not accelerated.
The ministry aims to vaccinate 430,000 people in the first phase and complete the drive within 10 days.
In the last four days only 64,822 people received the jabs, according to the data provided by the Health Ministry. On Saturday, 14,894 frontline workers were immunised until 3pm.
"We will increase the number of booths and try to complete the ongoing immunisation drive within 10 days," added Adhikari.
Female community health volunteers of remote villages and health workers serving in rural municipalities have not been able to reach immunisation centers due to various reasons including transportation.
Moreover, health workers serving in private health facilities and pharmacy operators have not sought immunisation due to confusion if they were on the first priority list.
"We have been trying to clear the confusions and requesting people to seek immunisation," Dr Jhalak Sharma, chief of the Child Health Section at the Family Welfare Division under the Department of Health Services, told the Post.
Nepal rolled out its Covid-19 vaccination drive on Wednesday, a little over a year after the country confirmed its first coronavirus case on January 24, 2020.
The inoculation drive was launched after India supplied one million doses of Covid-19 vaccine, developed by the University of Oxford and pharmaceutical giant AstraZeneca and locally manufactured by the Serum Institute of India, world's largest vaccine manufacturing company.
The India-manufactured vaccine, named Covishield, is Nepali authorities' preferred choice, as the country's existing storage facility supports the vaccine to maintain its cold chain. The Covishield vaccine needs to be stored in temperatures between 2 to 8 degrees Celsius.
Officials at the Health Ministry said they are told that additional four million doses of vaccine will come at the earliest but do not know when.
"We are told that additional doses will come within a month and we are told to plan accordingly," an official at the Health Ministry told the Post, asking not to be named.
Sharma, chief of the Child Health Section, said he is hopeful to get the additional doses of vaccines. "There is no reason for not believing," Sharma added.
Over 21 million Nepalis (72 percent of the population) need to be vaccinated against Covid-19 as vaccines produced so far have not been tested on children up to 14 years of age.
Covishield, however, can be administered only to those aged 18 and above. Authorities have to buy vaccines from other companies, which are tested on people over 14 years. Each person needs two doses of vaccine.
Dr Shyam Raj Upreti, chief of the Covid-19 vaccine advisory committee, concedes that it takes over a year to immunise all eligible citizens even if vaccines would be easily available.
The Health Ministry said no major incident happened to the people after the immunisation. The immunisation programme has been operating from 143 centers of 77 districts throughout the country.
Meanwhile, Prime Minister KP Sharma Oli, who had earlier said all eligible citizens will get vaccinated against Covid-19 within three months, contradicted his own statement on Saturday. Oli, who was speaking at a programme in Chitwan, said all citizens will be vaccinated by the end of 2021.
---
---