As Covid-19 cases rise, government scrambles to contain the virus flare-up
As new measures to curb the coronavirus spread, authorities impose odd-even rules for vehicles in the Valley and other districts with over 200 cases and bar social gatherings at hotels and restaurants.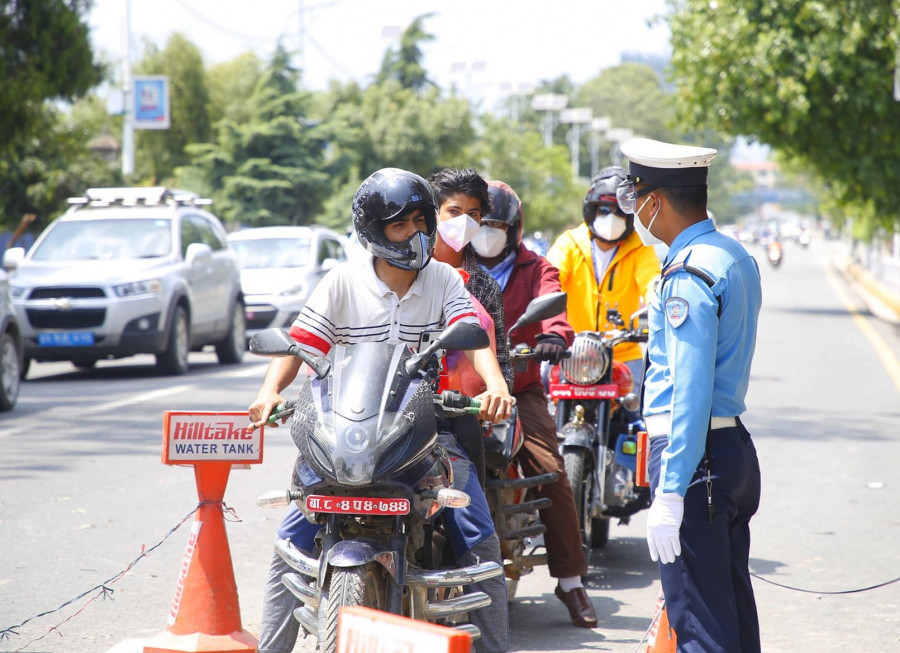 Post File Photo
bookmark
Published at : August 6, 2020
Updated at : August 6, 2020 07:47
Kathmandu
On Wednesday too, at 4:15pm, Dr Jagshowor Gautam, the spokesperson for the Health Ministry, appeared on television, gave the latest figures on the number of Covid-19 infections, active and recovered cases, and the number of deaths due to the coronavirus.

Before concluding his press briefing, which he conducts every day, he urged all to take precautions, view everyone else as a person who has been infected, suspect everyone regardless of who they are—friends, acquaintances or unknown people—as a coronavirus carrier, wear masks and maintain physical distance. His "not-to-do" list was long.
What, as usual, Gautam missed was an update on available hospital beds, what measures the government, or his ministry for that matter, is going to take in the immediate future and how it plans to contain the virus and treat people.
As of Wednesday, Kathmandu Valley has reported 787 Covid-19 cases, according to the Health Ministry.
"The national Covid-19 tally has reached 21,390, with 60 deaths," said Gautam.
In Bagmati Province, where the Kathmandu Valley falls, there are 800 active cases, according to the Health Ministry.
Gautam admitted that the cases have been rising at an alarming rate.
Kathmandu's government hospitals are already overwhelmed with Covid-19 patients, with no beds available for new patients.
"We will keep all asymptomatic patients at their homes," Gautam told the Post. "If the number of cases continues to surge at the current rate, severely ill Covid-19 patients could die if they don't get beds."
According to the Epidemiology and Disease Control Division, which keeps track of Valley's Covid-19 cases, as of 5pm Wednesday, 103 new cases were reported.
Of them, 62 are from the Valley—57 from Kathmandu and five from Lalitpur. The rest were from various districts who are in the Valley for various purposes, according to the division.
An official at the division said they are still working to arrange beds for those who tested positive.
"We don't know how we are going to find beds as we are getting new cases every day," said the official who spoke on condition of anonymity because he was not allowed to speak to the media. "Moreover, we are still unable to contact around one and a half dozen people who tested positive yesterday."
Public health experts say the more Covid-19 cases are being reported, the more confused the government looks.
"The situation could soon go out of control," said Dr Baburam Marasini, former director at the Epidemiology and Disease Control Division. "After failing to upgrade health infrastructure, the government is now planning to ask Covid-19 patients to stay home. This could result in an explosion of cases."
The government plan to ask Covid-19 patients to stay at home too doesn't seem to be part of a studied decision.
Doctors say a lack of preparation and failure to recognise the threat, coupled with ad-hocism, could spell a disaster and government officials seem to be oblivious to what is writing on the wall. Home isolation is a much more complicated process than the way the government officials have been portraying it, according to them.
Authorities have to conduct an assessment of homes of infected people to allow them to stay in home isolation and monitor every day to ensure that others are not at risk. Given the government's resources and wherewithal, this simply seems impossible, as cases have been rising at a steady rate, a doctor said.
"Isolation of the infected people is the only way to contain the spread of the virus," said Dr Sher Bahadur Pun, chief of the Clinical Research Unit at Sukraraj Tropical and Infectious Disease Hospital. "This is a critical time for the government and it should start preparing to set up isolation facilities instead of mulling allowing infected people to stay in home isolation."
Public health experts for long have been urging the government to start preparing for the worst case scenario.
Many say the conflict within the ruling Nepal Communist Party (NCP) too added to confusion, as Prime Minister KP Sharma's Oli's fight with his rival—the other chair Pushpa Kamal Dahal—also put governance by and large on the back seat.
Since Oli takes the lead in almost all decision-making, without paying heed to even his Cabinet members and experts, not much preparation could be done during the four-months of lockdown, a period doctors say could have been used to set up quarantine and isolation facilities, increase hospital beds, train health workers and expand testing.
Gautam told the Post on Wednesday that Covid-19 patients could also be kept at the Nepal Army and Nepal Police hospitals, as well as quarantine facilities where suspects were housed in the past.
"The number of isolation beds that we have today, however, may not be sufficient in the coming days," said Gautam.
A scrambling Health Ministry is now trying to find a way to contain the rise in cases. It has sent a proposal to the Cabinet for a "semi-lockdown" in Kathmandu Valley.
According to officials, the ministry's assessment is that the Valley has seen a sudden surge in Covid-19 cases since the lockdown was lifted on July 21.
"To prevent the situation from going out of control, we have proposed semi-lockdown immediately," a senior official at the ministry, who did not want to be identified, told the Post. "We hope that the Cabinet will pay heed to our proposal to prevent a possible catastrophic situation."
According to the official, the ministry's proposal to impose a semi-lockdown entails shutting down public transportation services, hotels, restaurants and roadside eateries where people gather in masses without maintaining physical distance.
The ministry has also urged the Cabinet to shut gyms, beauty parlours, barber shops and massage centres, which it says are operating despite not getting permission even after the lockdown was lifted. The ministry has also proposed restrictions on public movement.
The government on Wednesday evening decided to impose the odd-even rule for vehicles starting Thursday in Kathmandu Valley as well as all other districts that have reported more than 200 Covid-19 cases.
As per the latest decision, the odd-even rule has been enforced for public and private vehicles plying inside Kathmandu Valley and other districts with more than 200 active cases, according to Umakanta Adhikari, deputy spokesperson for the Home Ministry.
The ministry has also barred vehicular and public movements from 9pm to 5am.
"The rules apply to all three districts of Kathmandu Valley and districts with more than 200 active cases," said Adhikari. "Except for essential service vehicles, all other vehicles should follow the odd-even rule."
The Home Ministry also said vehicular movement has been barred from 9pm to 5am in all those districts where the odd-even rule is applicable. The ministry has barred all kinds of gatherings—parties, seminars, feasts and other social gatherings at hotels and restaurants.
Public health experts say the authorities seem to be realising the threat level now but they are still making knee-jerk reactions, like in the past, and are failing to respond in a proper way. A complete lifting of the lockdown was a mistake, and now after the surge in cases, restrictions may work to some extent but putting infected people in home isolation could be risky, according to them.
"Asking people to stay in home isolation is quite risky, as family members could be infected who then could transmit the virus to neighbours and to the community," said Marasini.
"There is still an opportunity to build isolation facilities if the authorities work on a war footing. Hotels, lodges and party palaces should be converted into isolation facilities. Keeping the infected people in complete isolation is the only way to contain the virus spread."
Chandan Kumar Mandal contributed reporting.
---
---