Six vultures found dead in East Nawalparasi, 12 more taken ill
The birds are suspected to have fed on poisoned carcass.

A local man carries the carcass of a vulture in Kawasoti on Monday. Photo courtesy: Raj Chapagai
bookmark
Published at : March 13, 2023
Updated at : March 14, 2023 07:22
East Nawalparasi
Six vultures died while a dozen more were taken ill in Kawasoti Municipality-3 of East Nawalpur district on Monday.

The adult vultures were found dead near their habitat in community forest areas in Kawasoti Municipality-3, said DB Chaudhary, a conservationist who has been working for years in vulture conservation.
An additional 12 vultures were also found sick around the Kerunge river. Conservationists suspect the vultures might have consumed poisoned carrions, particularly the carasses of jackals that died of poisoning recently.
"Poultry farmers had used the poisoned feed for jackals that entered the coops to prey on chickens and ducks," Chaudhary said, adding as many as three jackals were found dead in the area recently.
Conservationists have started a search operation to locate other vultures that they fear may have been ill or dead.
Chaudhary said they have deployed vulture conservation enthusiasts, and staff from the Jatayu Restaurant, a community-managed vulture restaurant, to search for other vultures. A team of district forest officials are also involved in the search process, he said.
Since the birds of prey travel across a large area in search of food, conservationists haven't been able to confirm the total number of affected vultures yet.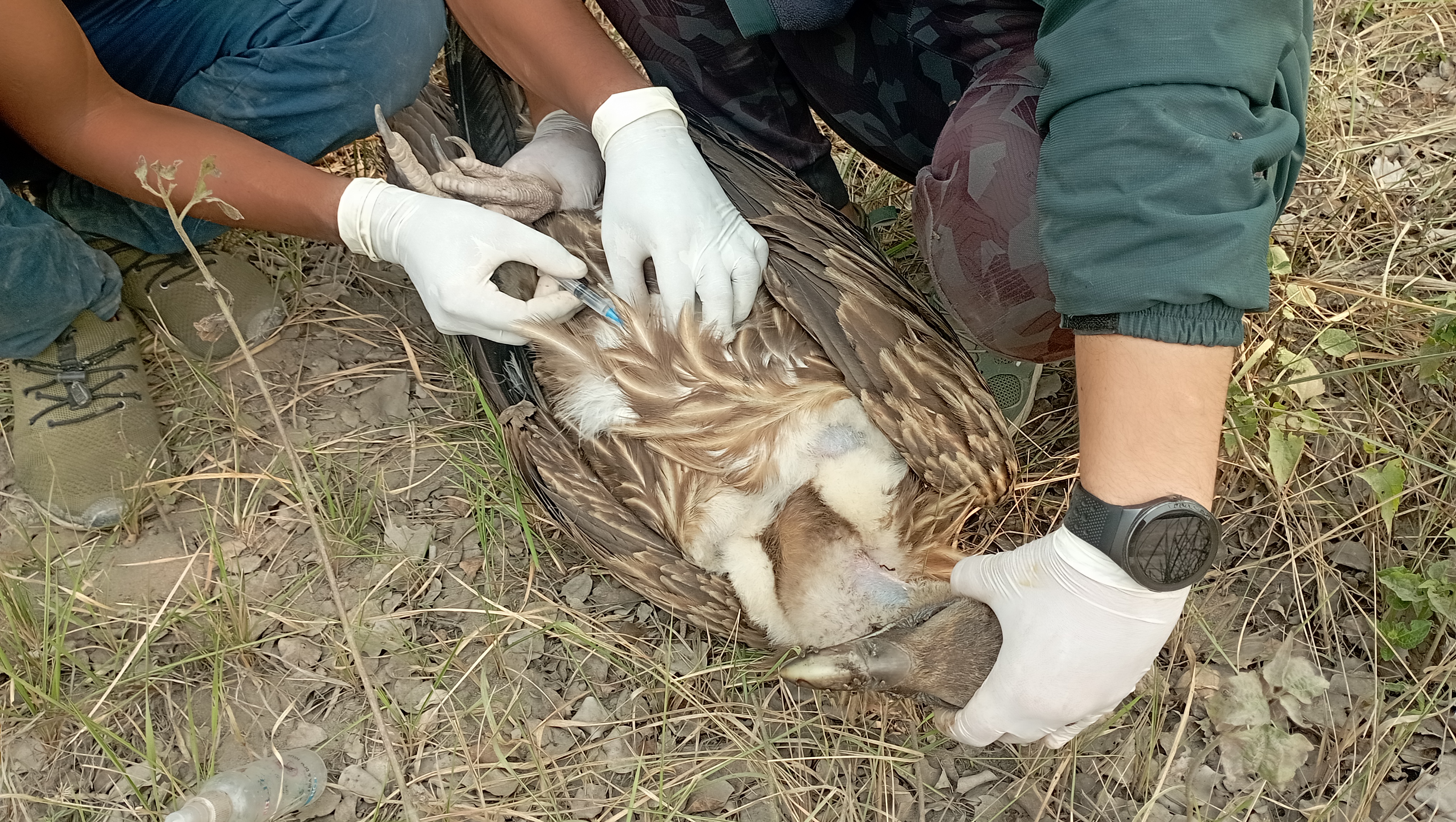 Raj Chapagai
Meanwhile, a team of veterinarians from the Chitwan National Park and the National Trust for Nature Conservation reached the incident site to provide medical treatment to the sick vultures.
According to Mohan Kafle, head of Kawasoti Division Forest Office, a team of veterinarians, led by Deputy Forest Officer Shishir Lamsal, arrived at the site to provide necessary medical treatment. Following the treatment, a total of eight ailing vultures flew to the wild while four seriously ill scavenging birds have been kept at the vulture restaurant under the care of veterinarians.
As many as 10 vultures bred and raised in Chitwan National Park's breeding centre were released in the wild on Saturday. A team of conservationists had released the birds in the Pithauli forest area near a vulture restaurant—an artificial feeding site—in Kawasoti of East Nawalparasi district.
Nepal has so far recorded nine of the 23 vulture species found in the world. The IUCN lists four of them—white-rumped vulture, slender-billed vulture, red-headed vulture and Indian vulture—as 'critically endangered'. The Egyptian vulture is listed as 'endangered' and three species—bearded vulture, cinereous vulture and Himalayan griffon—are categorised as 'near threatened'.
The Kawasoti region is home to eight of the nine species of vulture found in Nepal. The country has an estimated 15,000 vultures.
---
---