Delay in PCR test results compels many to remain in quarantine for longer period
According to Provincial Health Laboratory, the delay in reporting results was due to an increase in swab collection.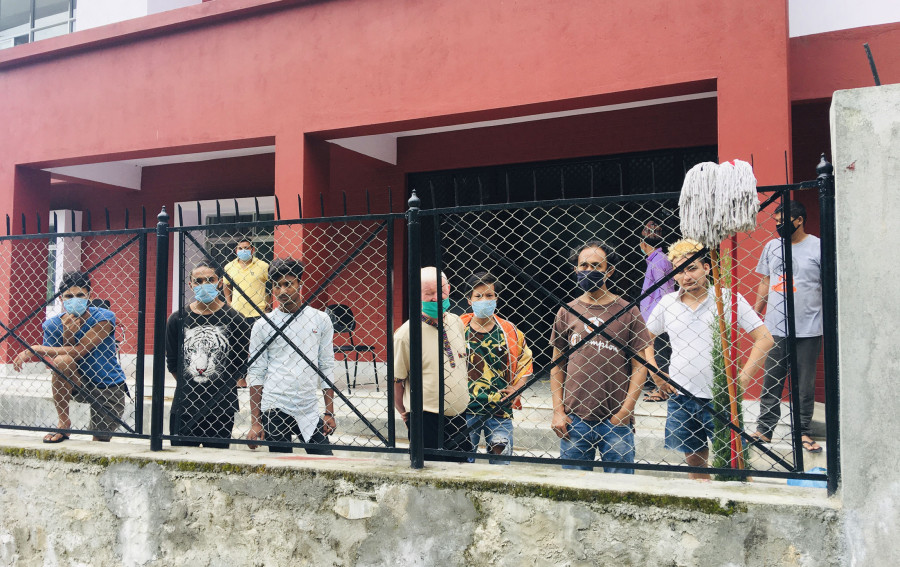 As of Saturday, results of 2,522 samples were yet to be received, according to data with the Provincial Health Directorate. Aash Gurung/TKP
bookmark
Published at : June 14, 2020
Updated at : June 14, 2020 08:00
Lamjung
Man Bahadur Gurung has been staying at a quarantine facility set up at a government office in Besisahar, the district headquarters of Lamjung, for the past three weeks. He does not know how long he has to stay there as his coronavirus test results have not arrived yet.

Gurung, a resident of Besisahar Municipality, was quarantined after he returned home from Chitwan on May 25. His throat swab was collected on June 5 and sent to Pokhara for a laboratory test. But the test report has not come yet.
[Read: Quarantine centres are turning into Covid breeding ground, National Human Rights Commission warns]

"I am forced to stay here as my PCR (polymerase chain reaction) report has been delayed. I am worried I might catch the coronavirus here in the quarantine. I have to stay here with many people who have returned from India and other countries," said Gurung.
Currently there are 33 people, including Gurung, at the quarantine centre set up at the building of the urban development office.

The health officials have so far collected swabs from 17 quarantined people, but the results have not come yet.
The quarantined individuals have been demanding their test results at the earliest so that they could go home.
Chief District Officer of Lamjung Krishna Prasad Sharma admitted that the quarantined people are in fear owing to the delay in the PCR test results. According to him, 49 people in the district are awaiting their PCR test results.
Delayed test results have also caused anger and frustration among the people staying in other quarantine facilities of Gandaki Province. Meanwhile, the expenses of local governments have increased as the test delays have led to the increase in the quarantine period.
The quarantined individuals complained that one has to stay in the facilities for about five weeks due to the delayed PCR test results.
"I have stayed here for 11 days now and my swab is yet to be collected for the PCR test. And even after that, it will take many days to get the lab report. I don't know how long I would be confined here," said a man staying in a quarantine facility of Phalebas Municipality in Parbat district. Dr Shishir Devkota, acting medical superintendent of the Parbat District Hospital, said the PCR reports of 205 swabs sent from the district are yet to come.
According to Ishwor Pandey, chairman of Bhimsen Thapa Rural Municipality in Gorkha, delay in test results has created confusion and problems in the local units of the district.
Four days ago, 47 samples were collected after an individual in the Gorkha District Police custody tested positive for coronavirus. But the results are yet to come, say local authorities.
According to data of various local units in Gorkha, results of 340 samples are yet to be published in the district.
"Those staying in quarantines have to bear mental and psychological stress due to extended quarantine period and delay in test results. And the rural municipality has also been compelled to expend more funds in quarantine facilities due to the delay," Ramesh Thapa, chairman at Shahid Lakhan Rural Municipality, said.
In Myagdi, 45 swab samples were collected from the Beni quarantine facility a week ago and sent to Pokhara for PCR tests. But the individuals are still awaiting their results.
Similarly, in Baglung, the results of 516 swab samples are yet to arrive, according to Suraj Gurau, chief at the District Health Office in the district.
According to the data of the Provincial Health Directorate, as of Saturday, results of 2,522 samples in the province are yet to be received. Sapana Sharma, director at the Provincial Health Laboratory, said there has been a delay in test results due to the increase in swab collection.
"Of late, the collection of swab samples has increased by three times and this is causing delays in test results," said Sharma.
Agandhar Tiwari in Parbat, Hariram Upreti in Gorkha, Ghanashyam Khadka in Myadi and Prakash Baral in Baglung contributed reporting.
---
---