Road construction works in Baglung lack in quality
Poor monitoring and evaluation is blamed for lack of progress and inferior quality of work.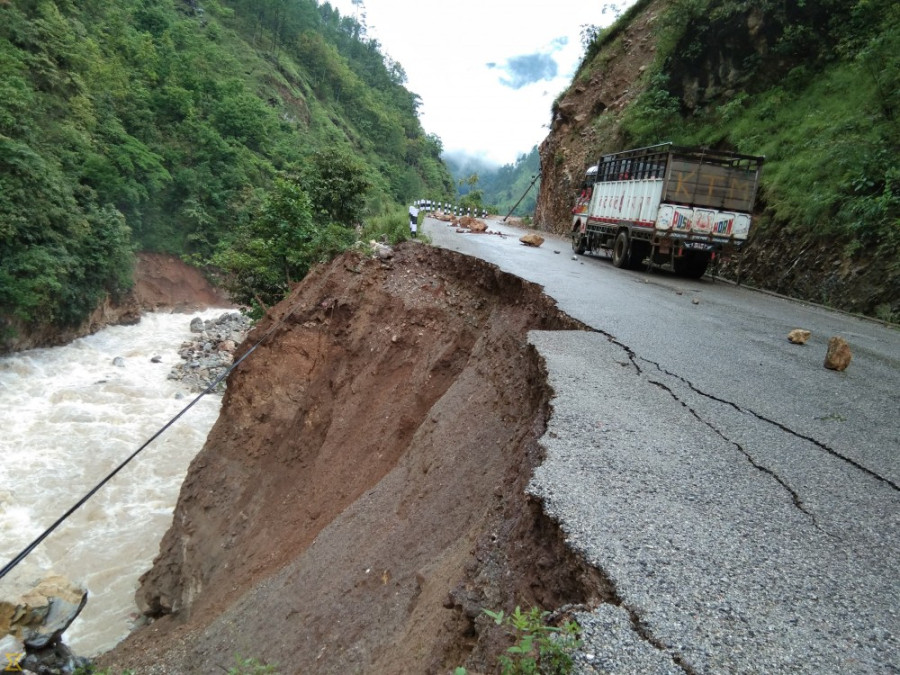 A stretch of road eroded by river water in Badigad Rural Municipality, Bajhang district. Post Photo: Prakash Baral
bookmark
Published at : July 15, 2019
Updated at : July 15, 2019 15:46
Baglung
There are around two dozen road construction and upgradation projects in Baglung district, none of which have been carried out properly. Construction of most of the projects is either incomplete or lacking in quality, mainly due to a lack of proper monitoring and evaluation by the authorities concerned, according to local representatives.

With a budget of Rs5 million provided by the provincial government, Satbise Construction Company was awarded the contract to upgrade a road section in Bukeni of Tityang.
"We recently visited the construction site but we found the work to be incomplete and not properly executed," said Ganesh Thapa, the ward chairman of Baglung Municipality-9.
As per the construction contract, the company was to build gabion and retaining walls, and widen the road. However, the road—although although newly built—looks dilapidated even before it has been formally handed over to the Division Road Office.
"We are not happy with the construction work and have urged the authorities not to clear the final bill to the contractor," Thapa said.
Twenty-two road projects are underway in the district in the current fiscal year with the support of the provincial government.
The elected representatives opined that the construction work is of inferior quality, as the government authorities failed to monitor the work effectively and take action against inefficient construction companies. The Division Road Office is responsible to monitor and evaluate the development projects in the district.
Rajendra Dhungana, chief of the District Coordination Committee, claimed that despite the inferior quality of work, government authorities have released the last installment of various projects in Balewa, Tityang, Burtibang, Bungadovan, Kushmisera among other places.
"The authorities are releasing the budget by preparing a fake evaluation report on a commission from the contractors," Dhungana said.
However, division engineer Dayaram Adhikari said the road office stops paying the contractors if the work is found unsatisfactory.
"We have stopped payment in cases of inferior and incomplete work done by contractors. We have so far released Rs 1.6 million out of Rs 5 million. The remaining amount will be released only after we have monitored and evaluated the projects," he added.
***
What do you think?
Dear reader, we'd like to hear from you. We regularly publish letters to the editor on contemporary issues or direct responses to something the Post has recently published. Please send your letters to tkpoped@kmg.com.np with "Letter to the Editor" in the subject line. Please include your name, location, and a contact address so one of our editors can reach out to you.
---
---