It's the environment, stupid
The consequences of considering the environment as an enemy of development will be at our own peril.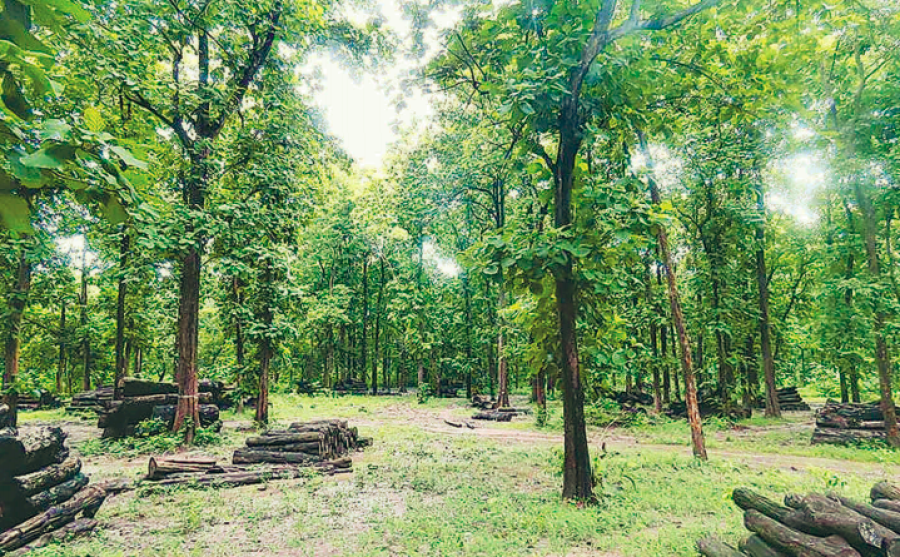 Environmentalists are concerned about a large number of trees that will be lost to the project. Post file photo
bookmark
Published at : September 16, 2020
Updated at : September 17, 2020 01:37
Extreme natural events have increasingly become the new normal in Nepal. From extended droughts or severe flash floods to landslides and wildfires, the scale of these climate disasters has been terrifying. Such extreme weather events have killed and displaced thousands of people, and destroyed property and infrastructure worth billions. Being one of the most vulnerable countries to the effects of climate change and deteriorating ecological conditions, Nepal must be ready to brace these increasing risks as well as rethink its development ambitions because growth at the cost of the environment is not sustainable.
Take, for instance, the controversial Nijgadh International Airport project in Bara district. If built, the 'strategic airport' is planned to be the largest airport in South Asia in terms of area, covering 8,045.79 hectares. On paper, it is said, the airport will be able to handle 15 million passengers annually and accommodate the Airbus A380 super jumbo in the first phase. And by the end of the third phase of construction, the airport would have a parallel runway which could enable it to handle 60 million passengers annually.
The 25-year-old idea of an international airport that intends to serve as a regional aviation hub is ardently contested by environmentalists, economists and geostrategists for lack of contemporary context. But Nijgadh airport has also been touted as an economic promise for the region because of its location near the Indian states of Uttar Pradesh and Bihar, and the under-construction 76-km fast track road that will link Kathmandu to Nijgadh. But what is the environmental impact of this mega infrastructure project that has been dubbed a national pride project?
As per the 2017 Environment and Social Impact Assessment report prepared by the Tourism Ministry, a massive swathe of forest area needs to be cleared, requiring some 2.4 million trees to be felled for construction in the total proposed area. The proposed building site, according to the 2018 assessment report, is one of the richest forest biodiversity areas in the Tarai, making it an important ecological corridor under the Tarai Arc Landscape with its close proximity to Parsa National Park. The government needs to pause and look at its own hard-won conservation goals in the region that have been applauded worldwide and considered a model for others to follow. Any change in land use can have serious implications on the environment and wildlife as pointed out in the assessment report.
There is little doubt that the country needs a second international airport, but all stakeholders must first come together to conduct a comprehensive environment and social assessment before taking any further decisions. Besides, we also need a sound aviation market analysis of how economically feasible an airport of this size is for a country like Nepal. The Tourism Ministry, on Tuesday, directed the Civil Aviation Authority of Nepal to select a consultant to prepare an 'updated' master plan for the proposed airport. While this has courted criticism, there is a need to conduct a transparent study in line with international environmental guidelines and standards for airport infrastructure development and its operation.
Nijgadh airport is just one example as the political leadership continues to beat the drum of prosperity. The government must take to heart the fact that the environment is as important as the economy, and it must make a concerted effort to ensure that its ambitions are cleaner, greener and sustainable. As the effects of climate change get closer to home, all quarters of society must consider the immeasurable loss of human lives and future burdens to the country. If we continue to consider the environment as an enemy of development and haphazardly avoid science and environmental concerns, the unavoidable consequences will be at our own peril. We have been warned.
---