Nepalis aren't ready for electric vehicles
The limited number of battery charging stations remains one of the significant issues for making EVs popular.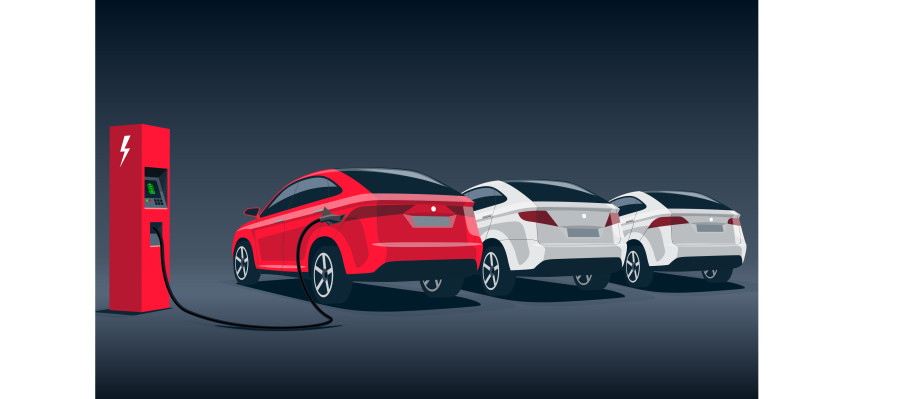 Shutterstock
bookmark
Published at : December 5, 2021
Updated at : December 5, 2021 21:49
Demand for electric vehicles (EVs) has swelled in the last few months due to a hike in fuel prices and the announcement of a tax rebate by the government on their purchase. Notwithstanding the price reduction measures to make EVs relatively more affordable, they have not yet become an attractive proposition to buyers owing to multiple factors.
The launch of an electric trolley bus service in 1975 heralded the introduction of EVs in Nepal, which was followed by three-wheeler Safa tempos in 1995. Despite this long history, as of 2020, the market size of EVs including electric two-wheelers and cars constituted a meagre 1 percent of the country's total vehicle fleet, indicating the considerable scope and potential for electric vehicles. The entry of brands such as Mahendra e20 plus, Hyundai Kona, Hyundai Ioniq, Kia Niro, BYD All-New e6, Tata Nexon and Peugeot Partner Tepee in the budget and mid-range categories gave a significant boost to EV sales. The imposition of a blockade by the Indian government gave a further fillip to their turnover, especially after 2015.
Most early users of e-vehicles identified themselves as environmental activists. Of late, newer versions of EVs with embedded features are available that attract consumers' attention. Industry representatives of EVs opine that buyers are driven by commercial reasons such as lower operating cost, comfort, value for money, style and design rather than environmental concerns alone.
Infrastructure challenges
The limited number of battery charging stations remains one of the significant issues for making EVs popular. Given the spurt in demand, the planned construction of 50 charging stations across all provinces by the Nepal Electricity Authority by the next fiscal year may not suffice. It is some solace that private players are establishing their charging stations. However, looking at the country's state of infrastructure and its terrain, meeting the surging demand for charging stations appears as a daunting proposition. Research studies state that setting up a charging station entails the fixed costs of installation, utility service, transformers, and equipment and the variable costs of electrical charge. This makes the adoption and commercial success of EV dependent on the charging infrastructure.
Moreover, these service stations require a dedicated technician and a regular electricity supply. There is bound to be a lot of hesitancy on the part of consumers to go for EVs so long as they are not completely convinced of the availability and accessibility of charging stations, battery usage cycles, ease of charging, availability of after-sales support, battery disposal, warranty period of the battery and insurance of the parts. For instance, take the case of a consumer opting to go on a drive on the highway. He wants to be pre-informed about all the details of the charging stations much before he embarks upon his journey. On a comparative note, even larger markets like India seem to suffer from a similar lack of charging stations and inadequate numbers acting as a dampener for EV sales. Also, the time needed to recharge batteries is considerably higher than that required to fill up a tank with gasoline. This acts as a constraint, especially during inter-city or highway travel using EVs should there be no quick charging stations in place in sizable numbers.
Given the limited usage of e-vehicles, especially among the urban community owing to limited charging stations in the country, the perception that electric cars are suitable, especially for short distances, has remained pervasive among prospective consumers. Lack of adequate knowledge on the usage, especially concerning the features of the cars, battery usage, terrain, driving patterns, charging patterns and habits seems to have created confusion among potential buyers. Using an EV and maintenance is akin to using a cell phone, where the usage pattern determines the efficiency of the battery. Recently, the perception about EVs is slowly changing with high-end brands such as Tesla, Audi and Jaguar launching their sophisticated and versatile range of EVs across the world. Thus, the sale of EVs is likely to gain momentum and demand may rise purely for conspicuous reasons. However, the challenge remains to position EVs as utility purpose vehicles rather than merely vehicles driven for environmental concerns.
Way forward
EVs can become commercially successful only when they are made available at a comparatively affordable price with a wide range of options to choose from and adequately backed up by essential infrastructure and after-sales services. As per a study, EVs may not be an attractive proposition for economic and environmental gains in the immediate run. Similarly, simply providing tax incentives may not be enough to guarantee a change in the attitude and perception of consumers. Given the modest size of the market, EVs may not effectively reduce pollution in a more prominent measure. Ideally, therefore, consumers should base their decision to buy EVs only on rational grounds. The state is expected to make the right policies on taxes and infrastructure for power generation and distribution, including roads and battery disposal. Devising and formulating a suitable policy after conducting a cost-benefit analysis based on a long-term analysis of appropriate vehicle use becomes imperative now.
Studies suggest that setting up EV charging stations is more economical per km compared to petrol and diesel engine vehicles per km. Similar studies need to be carried out to calculate the cost of disposing electric and chemical waste from batteries. The government aims to increase EV sales, both cars and two-wheelers, to 25 percent by 2025. Thus, mere exhortations to encourage EV use without extending policy level support would be lip service. If the government is committed to promoting and popularising EV sales, it should be setting up fast charging stations to make this a real game changer. Substantial investment for each game changer has to be made besides encouraging and enlisting support from private players.
The price burden on customers can be offset only by extending duty concessions on chargers and other ancillaries. Research and development endeavours to set up appropriate apps and find out the status of charging stations will be necessary. While limited scale testing of such apps by sellers and limited scale use is happening, consumer anxiety can be reduced only when they are made readily available to them too. The consumer should not be expected to pay a premium price for EVs if the requisite infrastructure is not put in place.
---
---