Taking in art
The recently concluded month-long art festival Kathmandu Triennale 2077 attracted thousands of visitors, and we set out to find out what people thought of the exhibitions.

Sanjog Manandhar/TKP
bookmark
Published at : April 6, 2022
Updated at : April 7, 2022 12:34
Kathmandu
Following the chalk outlines of human bodies, which are part of Ashmina Ranjit's massive artwork 'Happening; Present Situation', 64-year-old Prem Krishna Prajapati seemed amazed by the artwork. Ranjit's artwork depicted Nepal's decade-long civil war's chaos and trauma.
When Prajapati walked into Nepal Art Council (NAC) that afternoon, he had no inkling that the venue was hosting an exhibition of Kathmandu Triennale 2077, which exhibited artworks at NAC, Siddhartha Art Gallery, Bahadur Shah Baithak, Patan Museum, and Taragaon Museum). The month-long festival concluded on March 31.
As Prajapati moved from one artwork to another, he looked enthralled, bewildered, and lost at the same time. "I had come to the Babarmahal area for some work. As someone who loves art, I decided to visit Nepal Art Council since the gallery usually holds exhibitions," shared Prajapati, a Bhaktapur-based pottery artist. "I am pleasantly surprised by the artworks on display in this exhibition. It feels like our country's art understanding has come a long way. I am so happy that I made it here today," said Prajapati.
Throughout March, the Post visited the five venues that hosted Kathmandu Triennale 2077 and talked to the visitors to understand the general public's thoughts about the exhibitions' artworks.
According to the organisers of Kathmandu Triennale 2077, one of the main focuses of the festival was to break down divisions of what could be called art and deconstruct the West-influenced notions of art. To drive home this point, the festival featured a wide range of art forms and mediums. The artworks also covered many social and cultural issues from caste, sexual violence, internet, identity, and indigeneity to power hierarchy and culture.
"Our indigenous communities have always made art, but their works have always been labelled as crafts [or traditions]. By featuring artworks by indigenous communities, we wanted to dismantle the idea of high and low art, which are also western concepts," said Sheelasha Rajbhandari, one of the curators of Kathmandu Triennale 2077. "With this event, we wanted to break the concept of the 'art gap' that we think exists amongst us and tell people how our language, our ways of life, and our practices are wrapped in art cultures."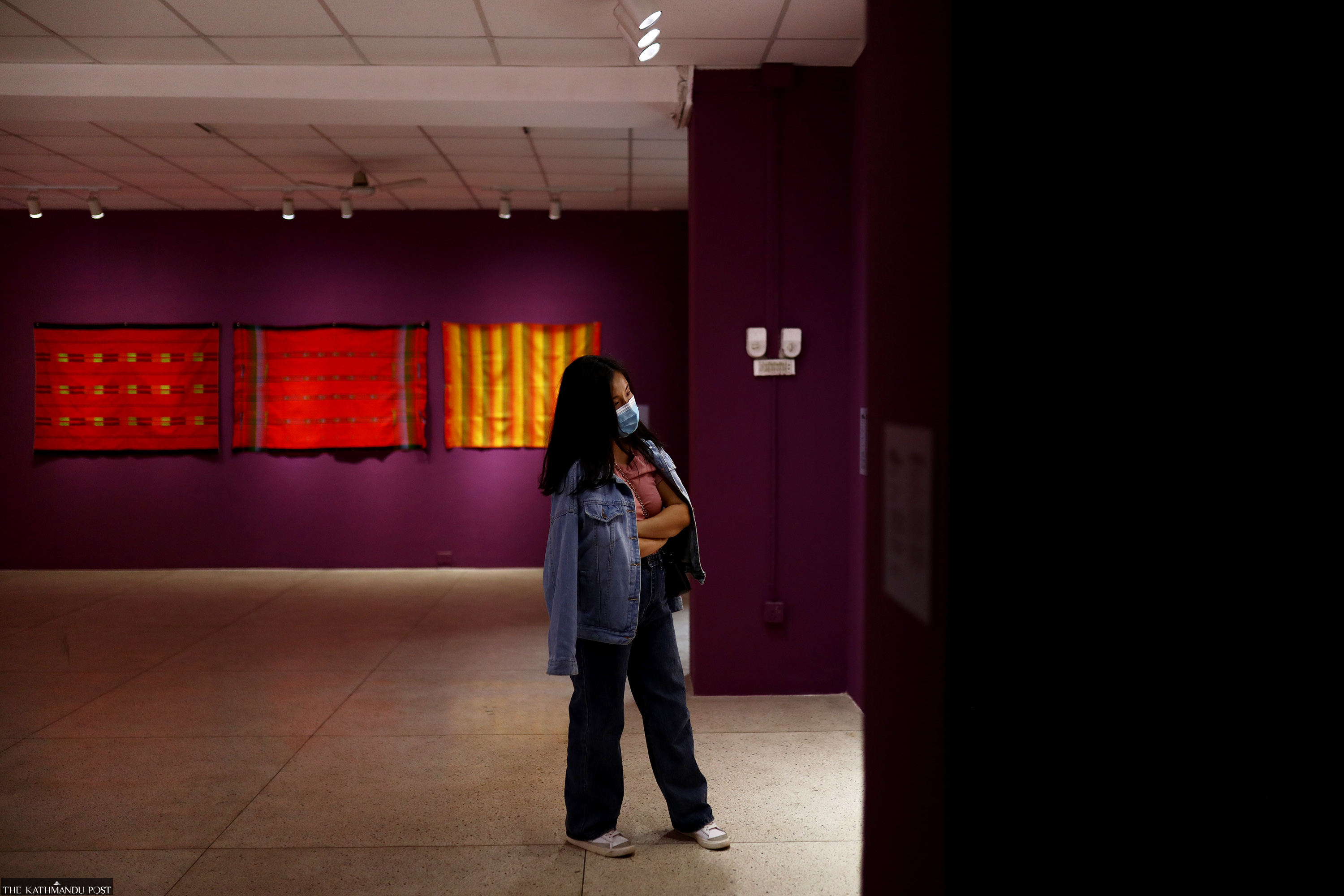 Sanjog Manandhar/TKP
Inside the five venues where the exhibitions were held, one could see visitors discussing the social and cultural issues the artworks raised.
"It was refreshing to see artworks raise a wide range of social issues, especially artworks that discussed the taboo surrounding women's sexuality and nudity," said Tsering Dolma Lama, a visitor to Nepal Art Council. "I also love how the festival has exhibited artworks of different mediums."
At Bahadur Shah Baithak, one of the five venues, Janesh Singh arrived with his aunt in the hopes of better understanding art. Janesh said he found it essential to understand art as his young son had started taking art lessons at school. Janesh and his aunt roamed the halls of Bahadur Shah Baithak, observing works like Mary Dhapalany's enormous orange and yellow-hued woven mat, which was hung on one of the walls.
"The artworks exhibited here are very different from my definition of what constitutes art. I am surprised and confused witnessing the diversity of works and what can be called art. Although I had trouble understanding some of the artworks, I enjoyed the exhibition," said Janesh, a surgeon.
Janesh and his aunt said that they found Colombian visual artist Liliana Angulo Cortés's work 'Quieto Pelo, 2008', which is a photo series depicting braids, the most striking of all the artworks present at the exhibition. Cortés' series documents "the tradition of hair care and the global sense of identity [the braiding culture gives] the diverse African diaspora."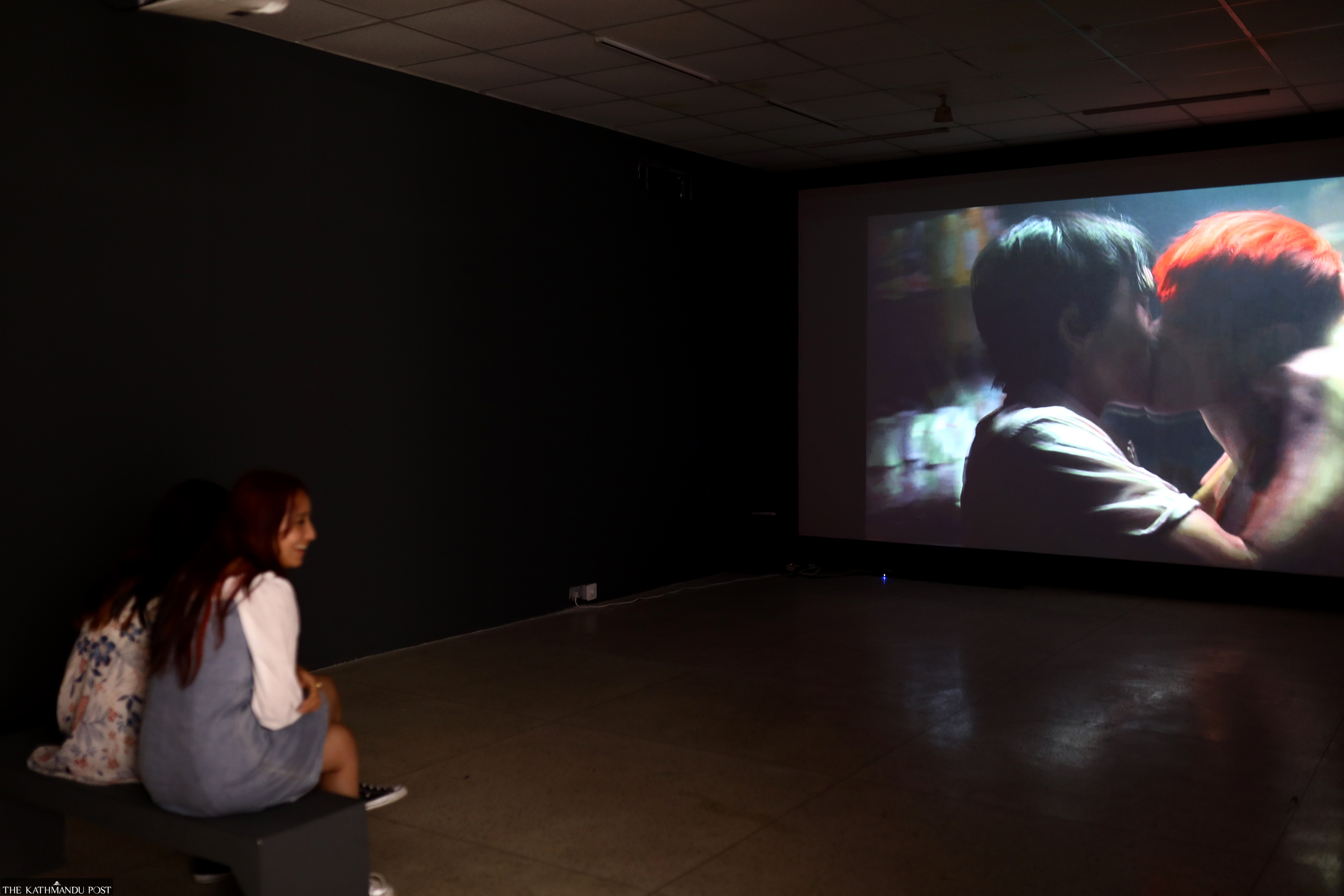 Sanjog Manandhar/TKP
At Siddhartha Art Gallery, Isha Chaudhary and her friends exclaimed how the exhibition has broadened their understanding of what makes art. "I thought the exhibition would just feature paintings, but the wide range of art forms and mediums has shown me the endless possibilities of art," said Chaudhary. "To be honest, we came here to have a fun-filled time, but the exhibition has become more of a learning experience on art and several pressing social issues."
According to the visitors the Post spoke to, the vast and complex work of the Triennale also became an exciting revelation to many on what art can do for people and the role art could play in starting critical social and political discourse.
As expected, the exhibitions were visited by many young art students, and many of them said the festival's venues also served as places to brainstorm ideas and think about art.
"For a recent art graduate like me, the exhibition proved to be a riveting experience as it widened the perspective of how I can make art. It allowed me to see many tangents to the life of art once it is served to the public. There were a lot of visual projections, and it was my first time seeing textiles as an art medium. What was also interesting to see was the extensive range of topics the exhibitions covered like feminism, intersectionality, natural disasters, indigeneity, and identity," said Sujata Khadka, an artist.
Khadka was also one of the participating artists in the Triennale. Her featured work, 'Why Censor! 2021', depicted pixelated body parts of a woman and incited how governing patriarchy (including social media companies) forbids women from expressing their sexuality and experiences.
"I think the Triennale has provided a platform for emerging artists to understand art and its access much more profoundly," said a gratified Khadka.
Professor Abhi Subedi, a keen observer of Nepal's art scene, believes that major art events like the Kathmandu Triennale have the potential to shake the grounds of art's understanding. "These events embody a performative element necessary to build interest in art; they lure people's attention and encourage more engagement. Such events play a role in bridging the gap between art and the public," said Subedi, a playwright and an art critic. "Festivals like Triennale are important because they open opportunities of seeing things differently and bring people closer to art by emphasising their participation."
But having witnessed the 2017 Kathmandu Triennale, which took art to the general public by presenting murals and art installations in public spaces and thus making it easier for the general public to engage with art, Subedi said he hoped that the festival's organisers would do something similar with Kathmandu Triennale 2077.
"I just think when we do exhibitions inside closed spaces like galleries, there is less opportunity to intrigue people who do not consider themselves art enthusiasts," said Subedi.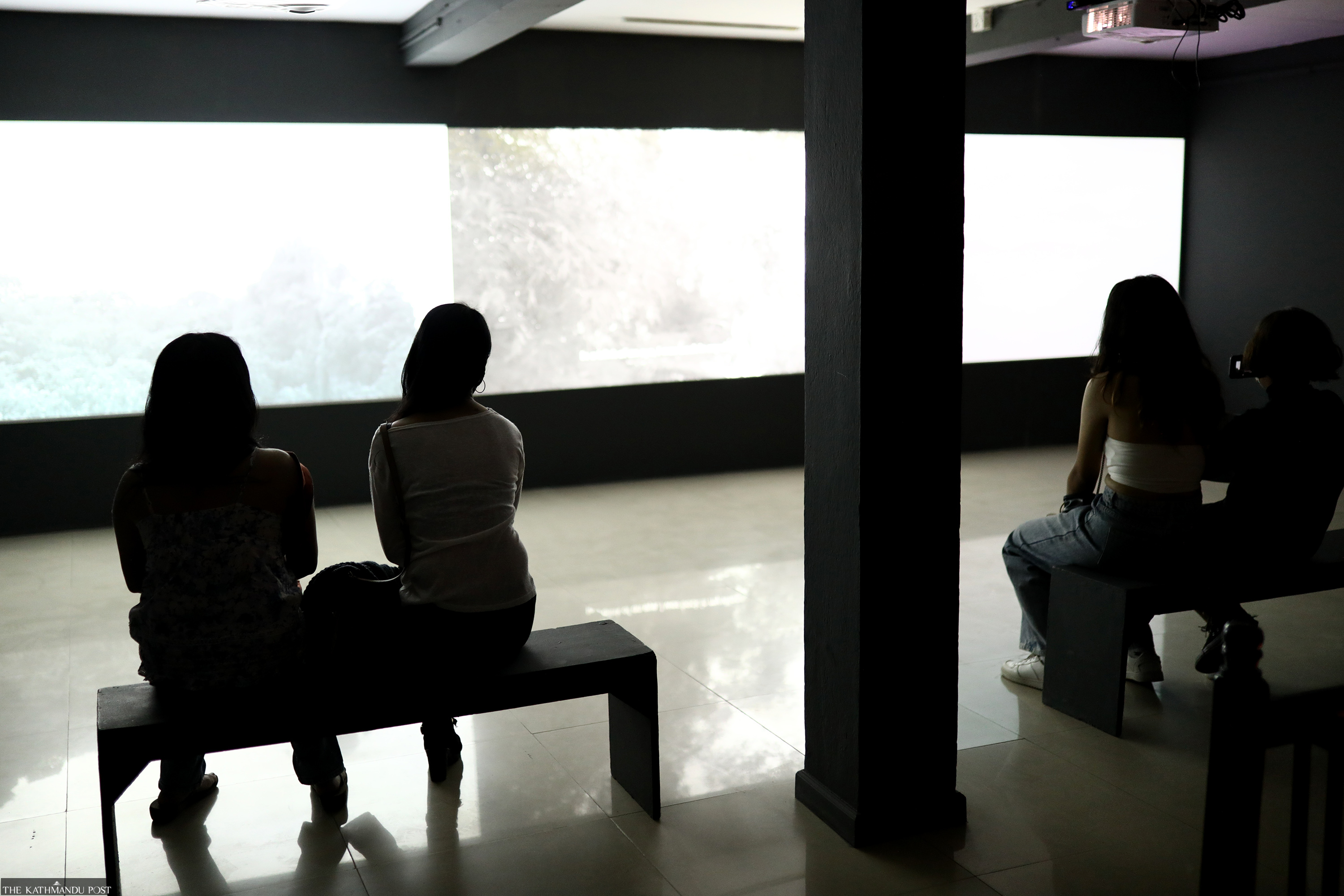 Sanjog Manandhar/TKP
For this year, the Triennale curated the exhibitions acknowledging that "contemporary art and culture [are] far better served when the delineations of what constitutes 'art' are opened up, or ignored altogether."
The festival's organisers shared that the changes witnessed in Nepal's art scene in recent times prompted their decision to focus on this theme.
Rajbhandari and her team believe their show is the culmination of the many discussions and processes happening in the Nepali art community and the need to create a more inclusive art world where art doesn't exclude people and their practices.
"We cannot see the Triennale as a separate and exclusive event; I would say the credit of everything that happened—the exchange and the discussions on art—was all possible because of the art community's attempt to take Nepali art to the international arena. The credit goes to the people demanding changes from the existing systems," said Rajbhandari.
In her review of the Triennale, Hera Chan, an Amsterdam-based writer and curator, writes how Triennale plays with the underlying social issues of 'indigeneity, caste, class, and power' by pulling together 'vast timelines, processes and perspectives of the world'.
Chan also goes on to say what that means for the art world. She writes, 'The triennial (sic) moves toward the possibility of another canon, asking us to look at our world from the perspective of a future, winning resistance.'
In an email interview with the Post, Yasmin Afschar, a Switzerland-based art historian, curator, and writer, (who was here to see the exhibition las month) wrote, "At the Kathmandu Triennale 2077, the demarcation between 'outside(r)' and 'inside[r]' became obsolete, which is enriching and liberating." Afschar also drew attention to the fact that the festival brought together "a lot of activist practices" that made the exhibition familiar and accessible to people.
According to Afschar, festivals like Triennale introduce people to the world's realities and ways in which people can relate to them. "They are like translators; they allow people to engage with topics relevant to their own realities through diverse forms of expressions… and helps to develop new perspectives on things we know," she said.
As one of the largest art exhibitions in the country, Triennale made apparent in all feelings and emotions what art can be.
"I went to the works that drew me, and I just passed by works that I didn't understand," said Shanta Singh, who visited the exhibition at Patan Museum. "I think there is beauty even to that incoherence, and I don't think everyone has to understand everything. The existence of the diverse artworks in this room and the realisation of how art has changed is what I think is important."
---
---