Towards an evolving art world
Rajan Sakya's Museum of Nepali Art, or MoNA, is just about ready to fill the void of a Nepali art museum that the art community has discussed for years.

Besides its selection, there's certainly much to appreciate at MoNA, especially its recognition of visitors and its emphasis on presentation. Deepak KC/TKP
bookmark
Published at : December 17, 2020
Updated at : December 17, 2020 09:25
Kathmandu
There's a quote by Harriet Tubman that comes to mind when entering Rajan Sakya's Museum of Nepali Art, MoNA, "Every dream begins with a dreamer." And Sakya, the dreamer, has set off to unfurl a new beginning for the art community.
With his new venture, an art museum, Sakya has filled a void that the Nepali art community has felt for a long time: a void for a museum that promotes and records Nepali art entirely. And in this regard, it wouldn't be an exaggeration to say that MoNA, located in the premises of the Kathmandu Guest House in Thamel, feels awe-inspiring, perhaps even exotic but with a mix of a traditional insight.
"This space showcases our living culture and tradition; it reflects who Nepalis are. And it is our art that best tells who we are," says Sakya, the CEO of the KGH Group of Hotels and Resorts.
But the museum, which celebrated its opening in early February this year, had to close down because of the country-wide lockdown to curb the spread of the virus. However, it is now all set to promote and discuss Nepali art. MoNA hopes to bring people closer to understanding art and expanding the horizon of Nepali art and aspires to be a common art space and platform where people can come, learn and discuss Nepali art and practices.
At the museum, a huge oil on canvas painting titled 'Teaching of the Buddha', depicting Buddha teaching his disciple Vajrapani, one of the earliest-appearing bodhisattvas in Mahayana Buddhism, by Samundra Man Singh Shrestha, will greet visitors. His work is a sight that will arrest the visitor's attention easily—bringing them closer to understanding the art practices in Nepal, moreover to the people's ties with the stories of the Buddha that they have grown up listening to.
The museum's collection features over a hundred works of both traditional and contemporary works, even sculptures with works from artists like Lain Singh Bangdel, Shashi Bikram Shah, Kiran Manandhar, Uma Shankar Shah, Erina Tamrakar to artists like Anandamuni Shakya, Lok Chitrakar, Mukti Singh Thapa, Puran Shakya.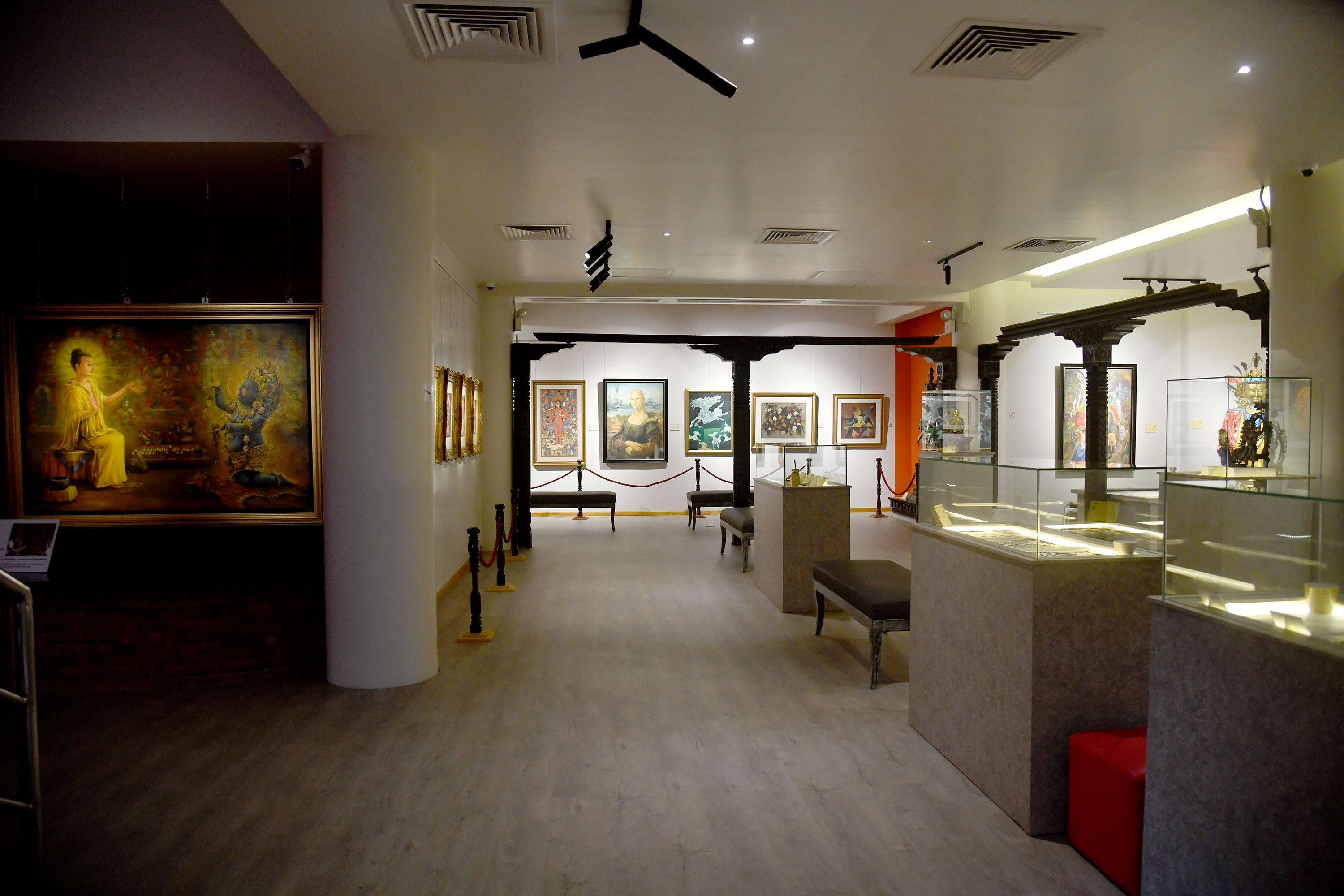 Deepak KC/TKP
But viewers are most likely to remember the traditional art that finds more space in the museum and feels firmly established. The various paubhas at the museum are able to show Nepal's variant communities' deep faith in religion and culture. They show how although times have changed the way of looking at life, life is still the same. The works also reflect how over years, artists of various time have been working on the same kind of faith and imagination.
The traditional art series also traces the art practices of artists who have time and again worked on creating the same deities for the teachings of life they represent. One memorable series that the museum brings together is of Tara, a female Buddha who symbolises compassion and protection. The series presents how different artists have manifested the character of Tara through time. While Anandamuni Shakya's Arya Tara is a monochrome pigment work that shows her surrounded with leaves and flowers, another artist Surendra Man Shakya uses stone and watercolour and elaborates the features of Arya Tara. Here, what is interesting to see is how both the artists give a different face to the deity although the iconography is the same.
Besides promoting Nepali art, MoNA also tries to bring audiences closer to the works of the artists by making them see their effort and hard work hidden in their art. For instance, an enclosed glass case in the hall shows the colour palette and the rough brainstorming sketch of Samundra Man Singh Shrestha's 'Teaching of the Buddha.' While another glass case presents paint brushes used by renowned traditional artists like Anandamuni Shakya, Siddhumuni Shakya, and Surya Bahadur Chitrakar.
There's also the work of Purna P Hyoju that will stay with people long after the museum visit. Hyoju's quote beside his incomplete Akshobhyavajra-Guhyasamaja mandala reads, "I wish to grant immortality to this Mandala, to be eternal. This work is more about my journey as an artist than the art itself." This juxtaposition adjacent to the installation that shows his working space feels unsettling but in a graceful way, as the mandala itself is a representation of impermanence of life yet we try to leave it behind as something more permanent.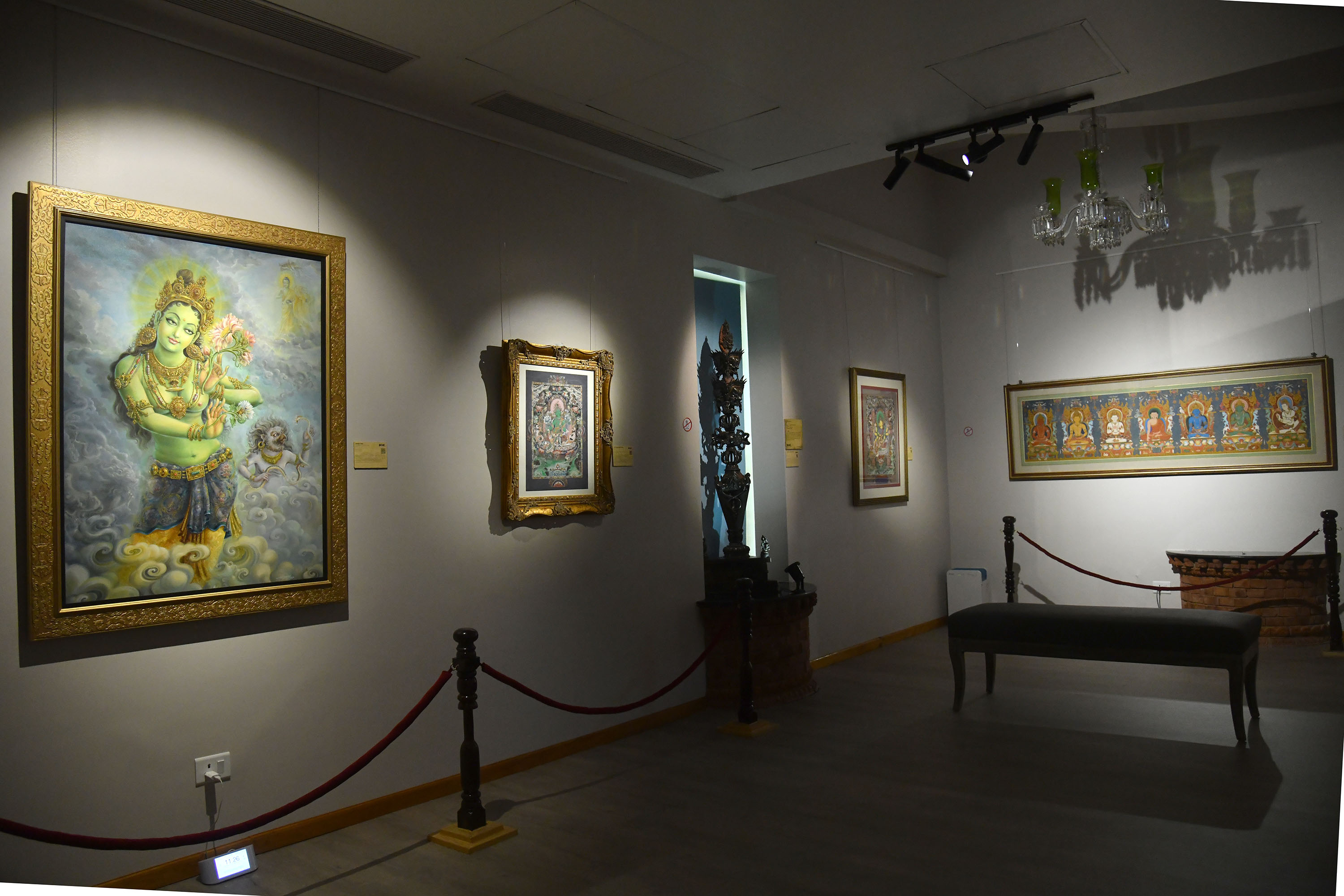 Deepak KC/TKP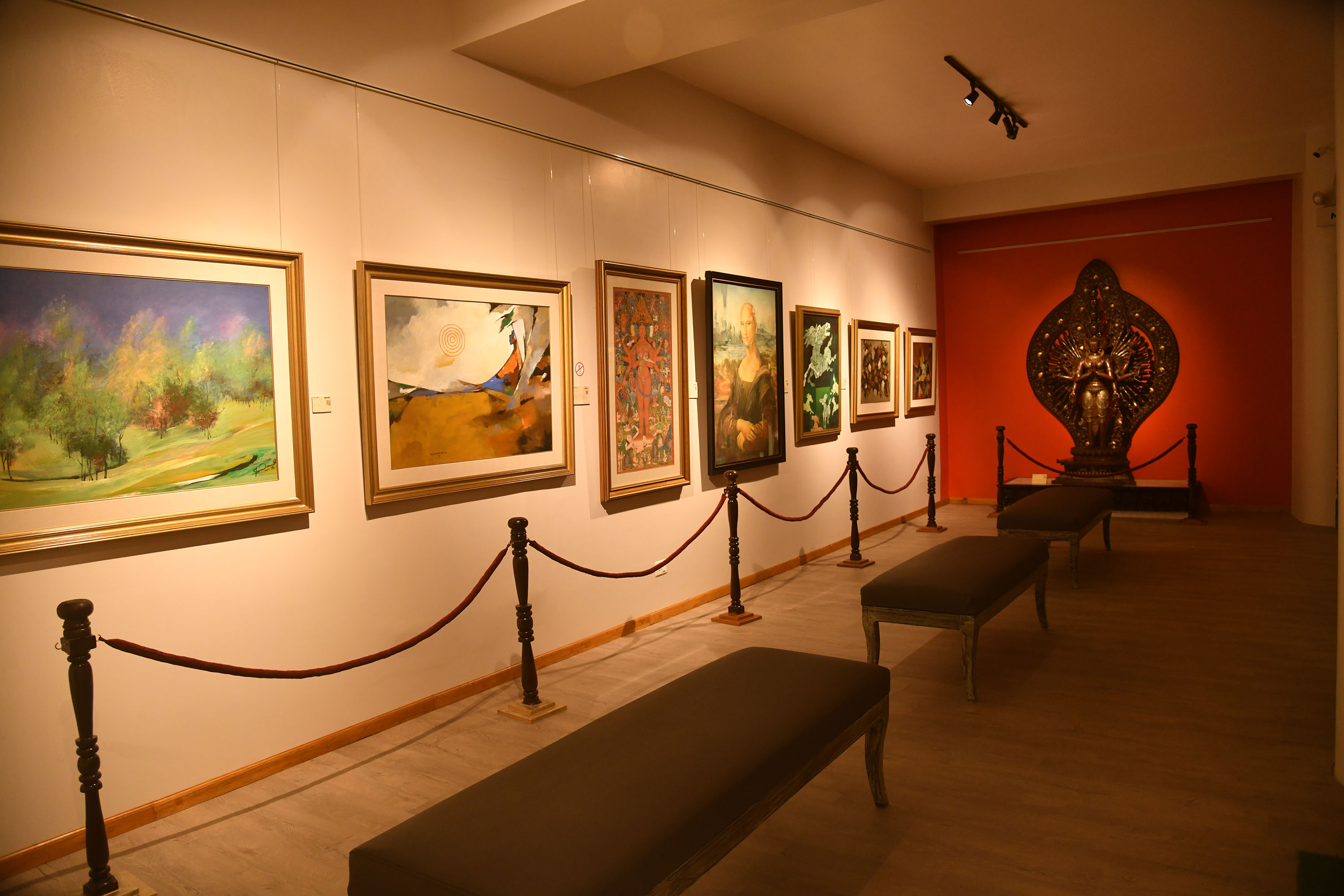 Deepak KC/TKP
There's a story that Sakya happily recounts of the Bahrain prince who first had declined to visit the museum when he was at the Kathmandu Guest House, and then spent a total of three hours appreciating the works. And it is likely that most visitors will also find themselves spending more time in the corners of this hall, immersed in the works of artists.
There's certainly much to appreciate at MoNA, especially its recognition of visitors and its emphasis on presentation. The design ensures you to take your time to visit the artworks. There are neat seating arrangements where visitors can sit and enjoy their muse. This arrangement also works as an advantage for the museum as it encourages visitors to look deeper into art, not take just a peek but take a more profound view of the work.
MoNA also draws attention to works with attractive frames that enhance the works of artists and delve in the idea of antiqueness. In artworks where the details are minute and need more attention, it exhibits the artwork with heavy concentric frames that pulls the viewer right into the work. For example, in a miniature thangka work of Ganesh by Rabi Shrestha, the framing of the artwork ensures that the viewers see the artwork as an important piece of work.
The hall also uses ventilating and air-conditioning systems and humidifiers to moderate temperature and relative humidity for the works preserved in the museum. And the art space is divided into five parts with typical wooden structures from Newa architecture that also work as markers of entering different sections in the museum.
But there's also a lot that MoNA as a museum will have to work towards, for the role of an art museum goes beyond just showcasing works of artists. It has to be able to educate people of art and the country's art history, push the development of art, and both record and preserve monumental works in regards to the work and the artist and his time.
"Expanding their collection will be integral if they are looking to represent the Nepali art," said Sujan Chitrakar, the academic programme coordinator and an assistant professor at Kathmandu University's School of Art, Center for Art and Design. "But what they have done is commendable, that too from a private sector," he said.
Roshan Mishra, the director of the Taragaon Museum, also agrees with Chitrakar and believes that Sakya's initiative is a start towards a more evolving art scene in the country but there's room for improvement, he says. "They will have to see towards what the museum can offer as a package to the visitors visiting and will have to think of acquiring works more with the idea of a permanent collection," he said.
At present, although the museum looks enchanting, there are many things that MoNA will have to look into going forward if it is to represent Nepali art in all its entirety. Diversity and inclusion would be key, not that the institution's collection isn't already quite inclusive, but the importance of the collection needs to be more well-established with inclusion that can represent the culture of the Nepali diaspora with more detail and insight to works of artists.
Another major barrier of the museum in terms of accessibility. Prices for tickets to get inside start at Rs 500, and this price for an average Nepali is quite expensive and a figure that will keep visitors from returning again.
The contemporary section perhaps will also need to become more prominent. Although the works presented are appealing, they aren't alluring enough to get people curious about understanding the history of contemporary art. The works presented urge interest but not enough to dig further in. But considering that the museum largely consists of a private collection of Sakya and his family, this is understandable. And an investment like this must have cost a fortune, over a million according to Sakya. But the future will unrelentlessly ask for more and that is destined.
However, what cannot be dismissed is the fact that Sakya has done something even the government of the country hasn't been able to do for years—despite a need for such an institution has always been discussed by the art community.
But Sakya's dream is still unfinished. He plans to expand both in the collection of works and in space. "I plan to expand the museum to Patan and Pokhara," he says. Another initiative the museum has been working seriously towards is a monthly newsletter called The Art Post, which the team at MoNA believes will be vital in pushing the conversation of art and making it more accessible to people.
There is no doubt that MoNA has made a significant contribution and marked a defining moment in the art movement of the country. And this, maybe, people, will remember.
---
---