Spelling it out: Exhibiting the obvious
The visually appealing artworks explore culture at "Canvas at Theatre", but they lack both depth and novelty.

The open air exhibition 'Canvas at Theatre', organised by Theatre Mall, Kirtipur showcases 26 artworks from various artists. Ankit Khadgi/TKP
bookmark
Published at : January 16, 2020
Updated at : January 16, 2020 08:31
Kathmandu
Famous for its Newar food joints, narrow gallies, and as a university student hub, Kirtipur has been welcoming a diverse group of people for a long time, along with successfully preserving the traditional Newar culture.
During 2017's Kathmandu Triennale, Amrit Karki also made the historical citadel of Nayabazar, Kirtipur his canvas by painting 21 houses with a single thread of red, making a rectangle. Now, almost three years after that visual installation, the historical town is hosting a new kind of art exhibition, highlighting 26 artworks of various artists.
'Canvas at Theatre', organised by Theatre Mall, is a unique styled exhibition one wouldn't expect a theatre house to host. Located in Kirtipur's Rarahil Memorial School, viewers can experience both the art exhibition and the play 'Jamun ko Rukh', organised by the theatre group at the same time.
Twelve of the artists mainly opted for etching, a process of making artworks by making prints on metal plates with the use of acids, while there are a few who also used the medium of acrylic as well.
Most of the artworks are tied together with a similar theme—reflecting the socio-cultural aspects of society. From Subhas Tamang's work titled 'Study of History IV', where he displays how automobiles were brought to Nepal years ago, to Manisha Manandhar's 'Jwalnhyaka' an artwork where jwalah nhyaka and sina muh, a traditional, decorated hand-mirror and a container to store sindoor are the main subject, the artists have cultural elements in their sights when doing their works.
Gazing upon artworks, outdoors, that are next to a theatre can be a new and exciting experience for the viewers. There are few works that really stood out from the rest, however.
Sony Rai's 'Replacement' is one aesthetically appealing piece. It easily and aptly conveys what the artist is intending to express. Through the medium of etching, she has created something that reflects the replacement of traditional hand-loomed clothing with fast fashion brands and wasteful industry. In one image, the woman is wearing a traditional outfit. However, cleverly, in the reflective image of the same woman, we can see the logos of the global brands emblazoned on her outfit like that of Levis, Puma, Prada and so on. The motifs Rai has used clearly help viewers understand what she wants to express.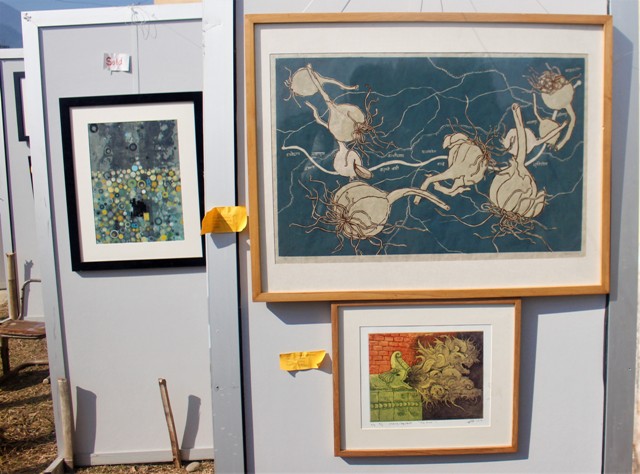 Ankit Khadgi/TKP
'Memories of Soil' by Bidhyaman Tamang also succeeds in conveying another message, reflecting upon the Capital's amoeba-like urbanisation. In his artwork, one can see the depictions of uprooted bulbs of garlic placed above a map of Kathmandu and its nearby districts. The artist juxtaposes the figures of garlic over the map to show how in the past, Kathmandu and its nearby cities were lush green and were a fertile area for growing abundant crops which later got replaced because of urbanisation, hence the title. The soil has been uprooted in lieu of progress, and the artist clearly depicts that.
Representing the struggles faced by women in our society, due to an entrenched patriarchal mindset, Bishan Rajbhandari's work in the exhibition is something that many, especially women can connect to. In his piece, also a result of the etching process, Bhandari conveys a strong message without too many frills or motifs. In it are figures of a man and a woman.
The man, holding a leg of a woman, seems to be taking steps for walking. In the background of the male figure, the artist has used muted tones to represent darkness. The female figure's head and leg is in the same background along with the male figure, while her other leg is on a juxtaposed, bright pink background. It seems the artist wants to show how bright her life could be if she were to be able to use her own two feet to walk, and weren't dragged down by the opposite sex.
Rajbhandari successfully encompasses the struggles many women facing—a suffocating environment which makes them feel trapped.
There were few acrylic paintings, but there was nothing unique and surprising about them that could grab the attention. However, every piece's detailing is exceptional, and the decision to use etching as a medium is a commendable departure from regular paint on canvas.
Art, and quality of art, is in the eye of the beholder. It's forever a subjective perception that drives our interpretations. It always varies, from person to person, and the artists' motivations are entirely personal. Sometimes they express their own emotions and feelings, other times they reflect on their culture, society and their version of reality.
However, what was disappointing is that the motifs were clearly visible in almost all of the artworks, the metaphors rather obvious, and unrequiring of deeper thought—the result can feel slightly trite and uninspiring or interesting.
Everything at the exhibition was visually appealing, speaking to the ills and good in our society, but lack the required depth to compete in this day and age's high-quality art scene.
It's not that to be a great artwork, one needs to make it complex. But artists should be able to convey their message through their works in a way that incites discourse in their audience. Great art can mean a great many things that individuals can interpret in their own way. Art should also be able to make the viewers think and rethink about their works, every time they gaze upon the work—which is in itself is a victory for artists. But it's not the case here, as the art is rendered forgettable because of its lack of nuance—unfortunately, it seems to still be the case with a lot of Nepali artists these days.
The exhibition and the play 'Jamun ko Rukh' will be held until January 18 in Theatre Mall, Kirtipur.
---
---