Jazzmandu sets up its closing night with virtuoso performances from musicians, both Nepali and from across the world
The penultimate event for this year's jazz festival was a tribute to Rabin Lal Shrestha, a Jazzmandu stalwart who recently passed away.

Tabla maestro Rabin Lal Shrestha, left, passed away in August. Photo courtesy: Jazzmandu
bookmark
Published at : October 23, 2019
Updated at : October 23, 2019 13:42
Kathmandu
Bouncing between percussionists, as if following a tennis match, the audience watches in awe as tabla player Bijay Shrestha and drummer Navin Chettri to-and-fro on their instruments.

On the original song 'Guru Rabin Lal', a tribute to Bijay's late father Rabin Lal Shrestha, the duo showcase a virtuoso performance, an entertaining display that captures the audience entirely even before the melody comes into full swing.
This was just one example of innovation and collaboration during Jazzmandu this year, as traditional Nepali music met jazz. Instruments such as the ishraj, tabla and bamboo flute, were paired with the accordion, piano and electrified instruments, a signature of Kathmandu's premier jazz festival's penultimate event at Kantipur Temple House in Thamel.
Ahead of the closing night on Wednesday, the Temple House event podium was among the audience's favourite nights, for its diverse yet inclusive displays of musical miscellany with distinctly jazzy and raga undertones.
As with every iteration, this year's Jazzmandu too lured audiences to spots all over the city—bars, restaurants and hotels. With artists hailing from Germany, France, the United States, Singapore and Nepal, who play music influenced from even further afield, the entire festival revelled in its celebration of diversity.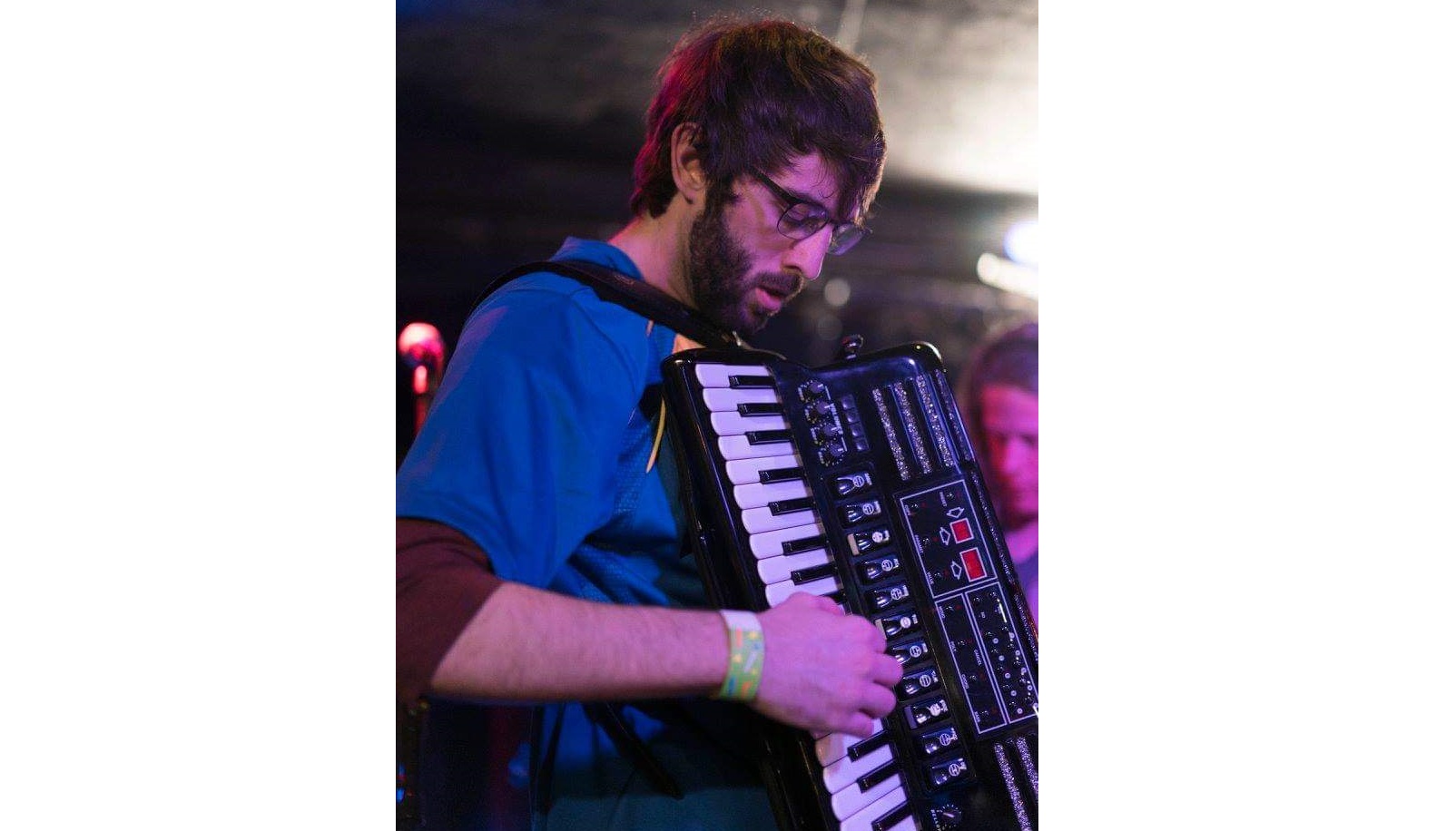 Adrian Crookston's forró seems to have been a favourite at Jazzmandu this year. Photo courtesy: Adrian Crookston
What sets Jazzmandu apart, however, is not just it's championing of different musical stylings but also it's dedication to professionalism, something that could be felt across the entire week of events. The slick set-up of the podiums was just the start, with appropriate stages, lighting, memorabilia, and bar and food. For the event at Gokarna Forest Resort on Saturday, a hike for most that live in the city, organisers went so far as to arrange courtesy buses. Sounds of Latin Jazz at Yala Maya Kendra in Patan was intimate, rather than cramped. At Temple House, an even smaller venue, it was very much the same.
The Tuesday night event was attended by somewhere around 150 people, who sat cross-legged in front of the Jazzmandu stalwarts playing various tunes. While one of the festival's regulars, Rabin Lal Shrestha, was missing as he had recently passed away, appropriately in his place was his talented son Bijay. The entire evening was dedicated to the famed tabla player's memory.
The music that kicked off the event was led by flautist Dhan Bahadur Gurung and ishraj player Santosh Bhakta, whose ethereal playing resonated throughout the small space, every corner vibrating with the haunting sounds of Eastern Nepal.
It didn't take long, however, for the jazzy influences to come through. Cadenza Collective's Chettri on the drums and Abhishek Bhadra on the keys held everything together. Soon, artists started circulating through the stage, and they never stopped. Tamang Selo in the form of a modern 'Blues Selo', a number written by Chettri himself, was particularly entertaining. While the space did not particularly accommodate dancing, it was a number that would definitely have prompted a bit of a jive had Temple House been just a smidge larger.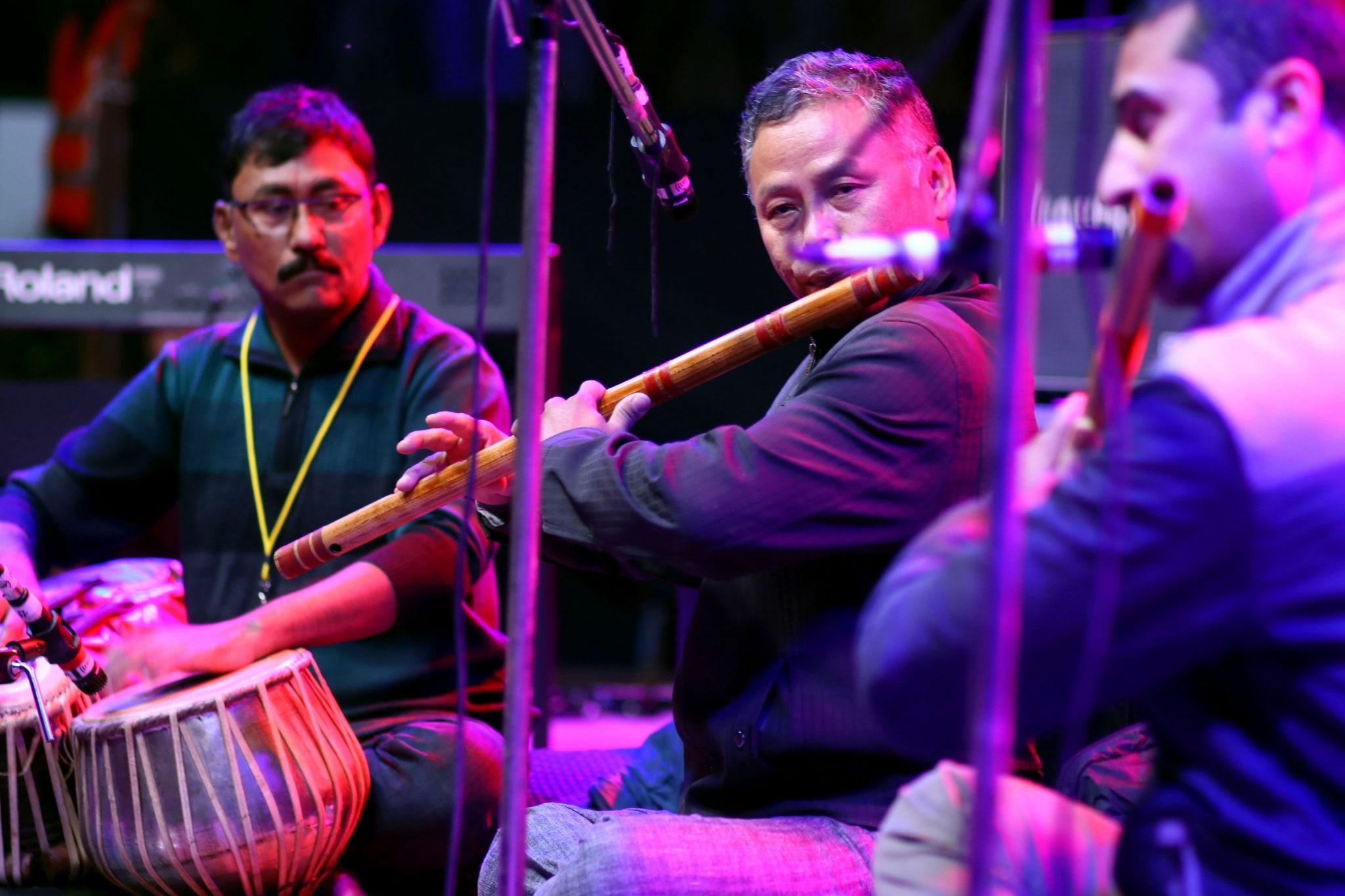 Tabla maestro Rabin Lal Shrestha, left, passed away in August. Photo courtesy: Jazzmandu
What followed were a suite of songs, including jazz standards by John Coltrane, and before the intermission, a taste of North-East Brazillian forró. The traditional Nepali instruments alternatively juxtaposed and synchronised with the visiting musicians' warm brass in elegant fashion, providing something the audience had likely not heard before.
Further collaborations followed, with several of the visiting artists circulating among the Eastern Nepali musicians. Finally, for the final number, 24 artists crammed onto the stage to play a final tune for Tihar, written by Chettri, called 'Bhailoni, Deusi'. The unrehearsed song saw the entire crowd on its feet and clapping along, as the music moved into reggae rhythms.
Those who attended Sunday evening's event in Patan may rightly have expected similar themes at Temple House. Sounds of Latin Jazz was led by France's Faby Medina Quartet, with songs traversing the Atlantic, jumping between France, Guadeloupe, New Orleans and Brazil.
All numbers concordant, the quartet displayed deft versatility and Medina herself showed exceptional ability in reading the crowd and shining a light on the trio behind her. Divvying out solos to bassist Bruno Sharp, pianist Frank Herrgott and drummer Jean-Pascal Molina, each artist received plenty of praise for their individual performances.
From classy jazzy numbers yearning for a scotch and cigar to upbeat numbers that were so much more than toe-tapping, the quartet's diverse set was well-paired to the equally diverse crowd. With the group's set over, and a well-satisfied crowd refuelling at the bar, the next to come out was Adrian Crookston and Palouse Forró.
While Faby Medina's set was certainly an entertaining one, with danceable numbers and dulcet tunes, forró infected the crowd. The festival MC, Roman Gautam, set everything up for the second half of the evening, explaining the party, genre and dance's Afro-Brazillian roots, and despite no one really knowing the specific dance, people couldn't help but jump up and jive in whatever manner they saw fit.
Traditionally played with an accordion, triangle and a Brazillian drum called zabumba, Crookston was accompanied by Chettri on drums and Rajat Rai on guitar. Despite seemingly never-ending lines on the keyboard and ever-changing bass notes, the accordion was the star of the show. Chettri and Rai's talent held the entire set together, and their skills took centre-stage in various solos. Equally impressive was Chettri's ability to sing with such fluency, considering the lyrics were entirely in Portuguese.
Chettri, who is also the artistic director for the festival, told the Post that the festival had been a success. While he could not provide particulars for ticket sales, his metric was the vibe.
"I think our vibe has been pretty consistent with Jazzmandu. We always strive for that. It's a week-long festival, where musicians get to bond, collaborate and play in pretty amazing venues," said Chettri. "Just looking at the crowds and their energy, it felt great."
According to Chettri, 2020's year's Jazzmandu dates have been tentatively set for November 5 to 11.
This year's Jazzmandu closes tonight, October 23, with a set at Hotel Yak & Yeti from 5.30pm.
---
---