Adding Brazillian flavour to an already jazzy line-up
Jazzmandu is returning for its 17th festival this year, and the set list is as diverse as ever.

Photo courtesy: Jazzmandu
bookmark
Published at : October 16, 2019
Updated at : October 17, 2019 07:50
Kathmandu
An Italian-American playing North-East Brazillian tunes on the accordion with Nepali musicians, in Kathmandu, is just one example of the diverse line-up penned for Jazzmandu this year.
Accordion player Adrian Crookston, from Moscow, Idaho, is one of several visiting musicians at the 17th annual Jazzmandu festival this year.
With acts from around the globe and Nepal, Kathmandu Jazz Festival has cemented its place in popular culture. Having been on the annual event calendar since 2002—when it was founded by Chhedup Bomzan of Lazimpat's Jazz Upstairs, and Navin Chettri, drummer and vocalist of Cadenza Collective—the festivities will kick off on Thursday and will last for six days with concerts and events across the Valley.
Crookston, who is visiting Nepal for the first time, will introduce a genre of music that might be new to many—forró. The style, originating in North-East Brazil, is popular all over Brazil.
"It's a genre, but it's also a rhythm and it's a party and dance," Crookston told the Post. And while forró might not fall under the jazz umbrella, they do share similarities.
"It's kind of like Jazz and Forró have kind of similar roots, parallel histories," said Crookston. "Jazz is definitely, I would like to say, an innovation given to the world primarily by black Americans. Forró is Afro-Brazillian, and now a lot of musicians use jazz language in their music."
That jazz language is the basis of the entire festival, but the world of jazz is as diverse as the festival's musicians and is ever-evolving—that's where the accordion meets the Afro-Brazillian genre.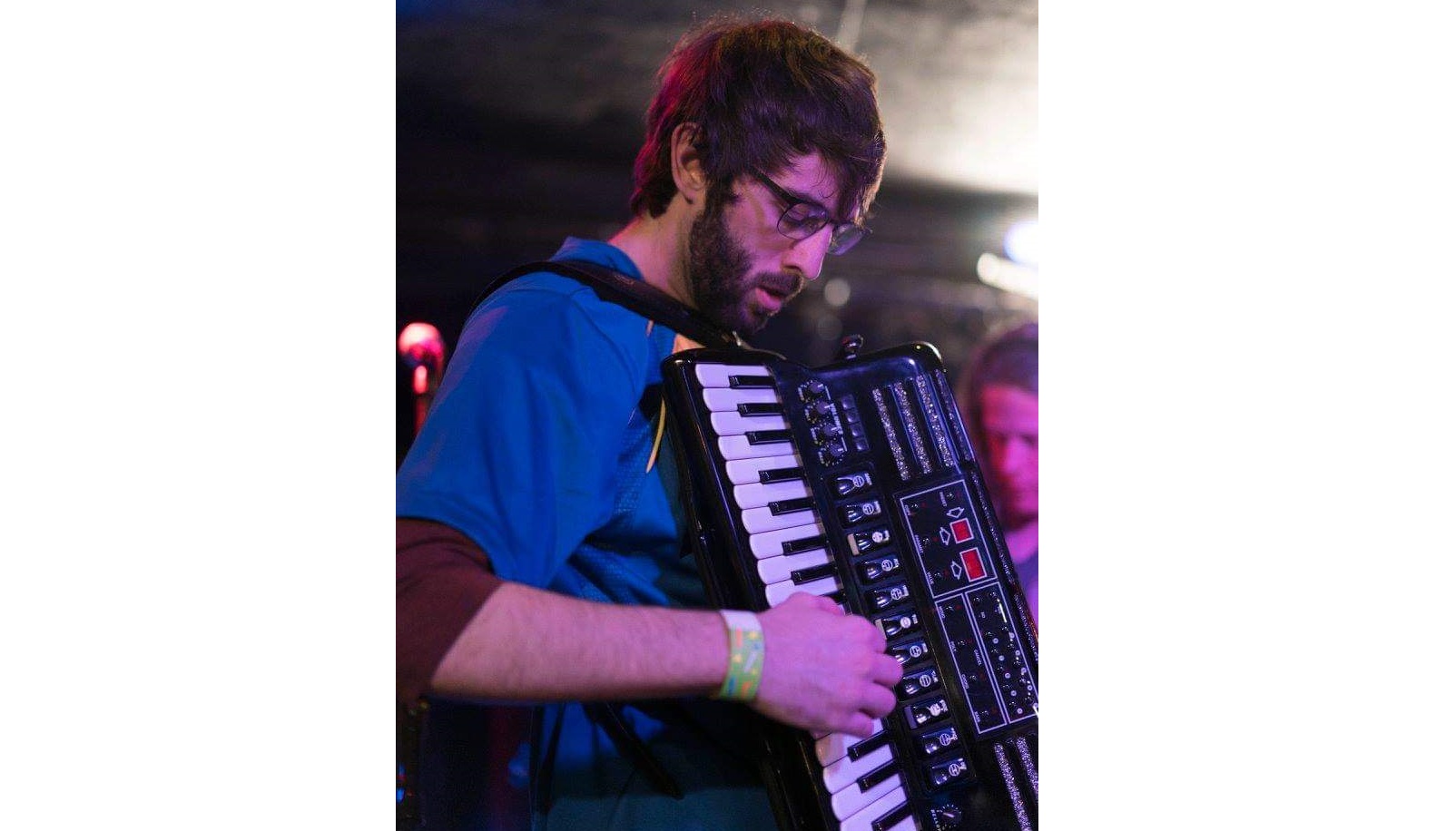 Adrian Crookston's forró seems to have been a favourite at Jazzmandu this year. Photo courtesy: Adrian Crookston
"The accordian of course is a European instrument. You have a lot of indigenous and African rhythms and melodic lines that they would play on things like flutes or really primitive violins—they started playing those lines on the accordion," said Crookston. The result is something quite unique, and far from the traditional tunes played in Europe. "A lot of the scales are not typical, they are modal scales," he said. "It's really a unique style of accordion playing."
Crookston will be one of many musicians playing across the six days of festivities; he will be joined by Nepali musicians Navin Chettri and Rajal Rai of the Cadenza Collective as part of Palouse Forró.
The music, which is sung in Portuguese, is pervaded with a feeling of "saudade"—a feeling of nostalgia or melancholy—and the lyrics often talk about a feeling of a place, nostalgia and migration from northern to southern Brazil.
Chettri, also Jazzmandu's artistic director, has already played many times with Crookston, in Idaho, where they both live. Chettri first listened to forró about three years ago, and snapped up the chance to play with Crookston when they first met. Brazillian flavours, from arguably better known genres like bossa nova and samba, can be felt throughout the jazz world. Having already highlighted them at previous festivals, showing a different side of Brazillian music was a chance too good to miss for Jazzmandu.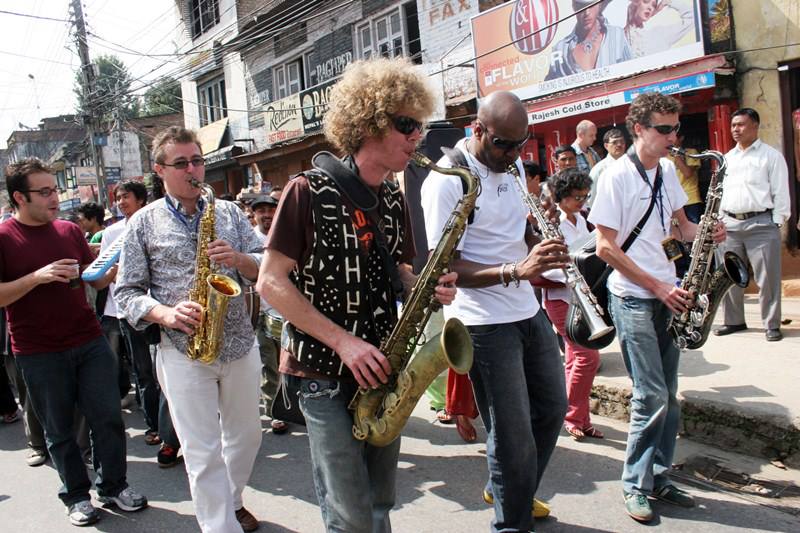 Jazzmandu hosts several events each year, such as jazz parades. Photo courtesy: Jazzmandu
"I thought, 'I have to make this happen, and get forró to Nepal'. There's some sort of connection with Nepali folk music," Chettri told the Post.
He said he believes the genre shares some similarities with Tamang Selo, specifically, because they are both dance-friendly and upbeat. In some sense, both genres share the idea of "saudade", he said. One facet of the festival Chettri is most looking forward to is when they meld Nepali and Brazillian music together, at Jazz at the Temple House on Tuesday, when Crookston's accordion will be accompanied by traditional instruments such as the tabla and bamboo flutes.
For Crookston, events such as Jazzmandu are especially important. Not just for the evolution of the Nepali music scene, but for the good of the community, he told the Post.
While Crookston will be promoting flavours of forró, other musicians, such as France's Faby Médina will play her interpretation of swing and be-bop, while German trio RSxT will expose the public to their contemporary, hip-hop and electro-inspired interpretation of jazz.
"It's essential. The more exploration one can do in other places and cultures, the more one can feel connected to other people," said Crookston. "Music is super important. If you understand music and it's rhythms, then you understand that culture."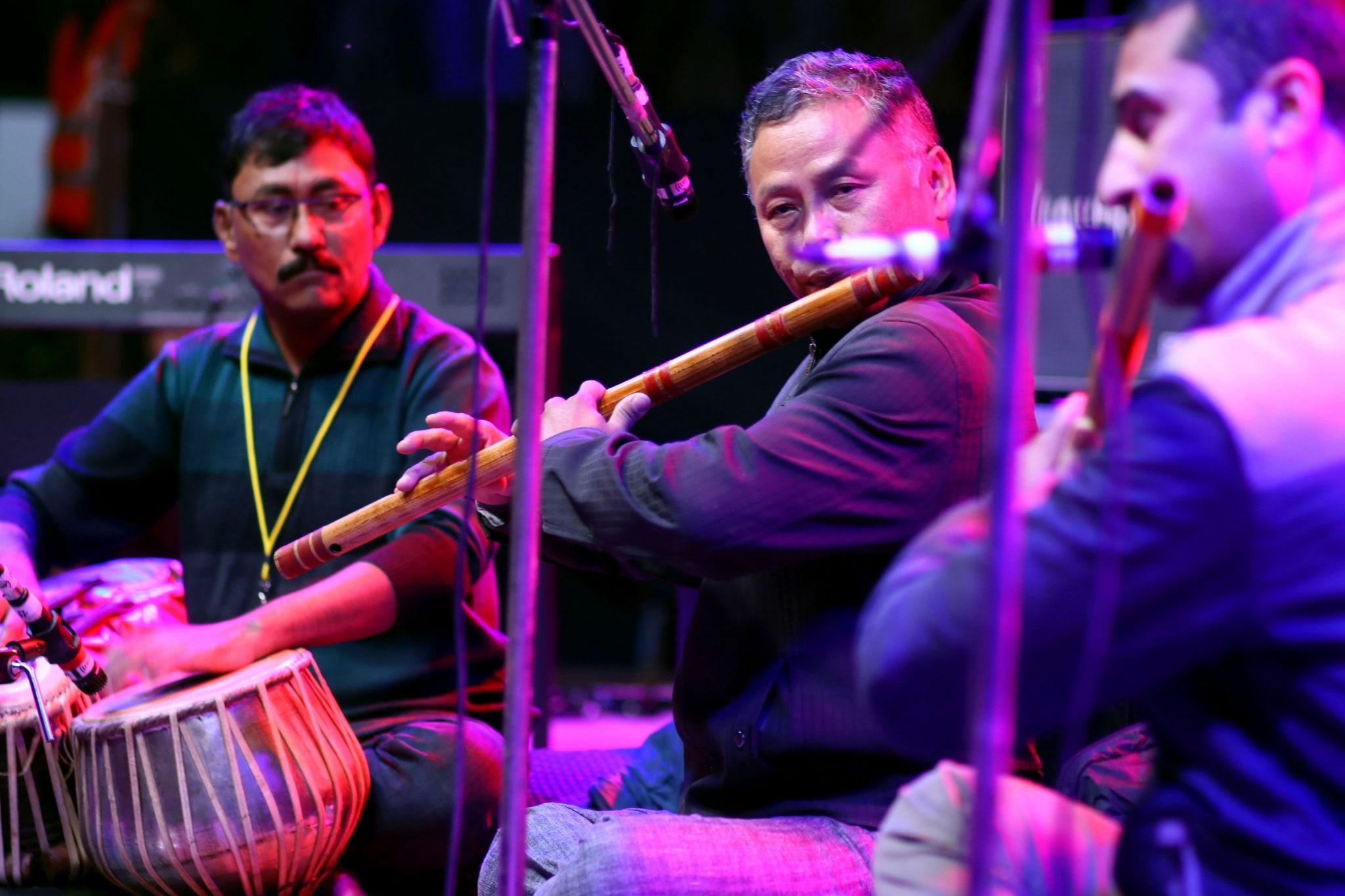 Tabla maestro Rabin Lal Shrestha, left, passed away in August. Photo courtesy: Jazzmandu
Jazz evolution
When Chettri and Jazz Upstairs' Bomzan started the festival in 2002, they never really anticipated the event being such a huge success.
"I think we just take it a year at a time. We finish with one, then we think 'OK, we're going to do one more'," said Chettri. And despite that happening 16 times, it still feels new and exciting for the organisers. "When we did the first one, we thought 'wow, this is possible. We have to push this and do it'—we'd had nothing like this before in Nepal," he said.
While the festivals have been about entertaining the masses with good music, it's also been a matter of exposing the Nepali public on the diversity of jazz. The genre was relatively unknown to the country prior to the festival, according to the artistic director.
While he was used to answering the question of "what is jazz?" he is now talking about the various styles and influences from Nepal and abroad. "There was a time when there was hardly a saxophone player in Nepal."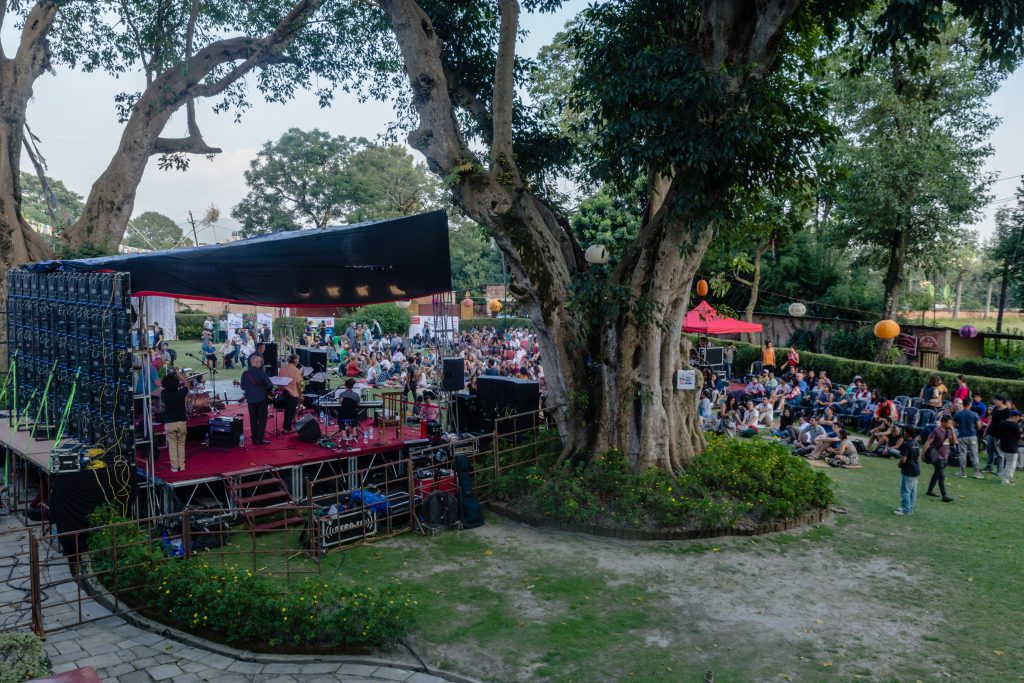 One of the largest events will be held at Gokarna Forest Resort on October 19. Photo courtesy: Jazzmandu
But seeing the education that the festival has imparted over the years is especially heartening, with more people taking an interest in the genre. It's a conscious effort, especially considering the several programmes held for young people. Keeping the event "sincere and true" was especially important.
"We want to grow still, and we are learning every year too. And, as that goes, people's expectations are also rising. I don't think that's a bad thing because it keeps us on our toes," said Chettri. "I don't think I would have even really thought about bringing forró two or three years ago, but here we are."
But now, with Jazzmandu's influence spanning close to two decades, he hopes people are enjoying and learning more about the wide-spanning genre. And with more Nepali musicians getting involved, there's an exciting future ahead. One band, Jooni, is especially exciting, Chettri said. The band is a multinational mixture of musicians that brings together several influences.
"I certainly hope Jazzmandu has influenced the music scene. When we started, the word 'jazz' was a foreign word," said Chettri. "I don't get questions about that anymore."
Jazzmandu will run from October 17-23, at various locations. For more information and tickets, visit jazzmandu.org.
---
---