Murals are everywhere but there is hardly any graffiti in Kathmandu
Street art, however, has a more visual bent and has been embraced in the form of commissioned murals on embassy, business or NGO walls around the Valley, mostly speaking to activism and ideas rather than the scathing social commentary that graffiti is often known for.

The Patan-based street art community expressed its anger at disrespectful graffiti in April. Via Facebook
bookmark
Published at : May 3, 2019
Updated at : August 6, 2019 12:58
Kathmandu
When Aditya Aryal sprayed a stencil of a topless Kumari on a Kathmandu wall, scrawling "rape me" above her head, he incensed Nepali society. With one piece of street art, Aryal, who goes by the name SadhuX, became infamous.
Five years later, sitting in his Patan art space Kaalo.101, Aryal reflects on the piece that brought him such notoriety.
"Art can be a powerful medium to express your feelings, anger or frustration," he says, weighing what to say between sips of coffee. "You can say a lot of things that you can't say with words."
Aryal seems equally frustrated as he speaks about the socially-driven constraints around his work. Pointing to a canvas piece on the wall, he says, "At the end of the day, to make someone happy, I have to make something like that."
The piece is in Aryal's distinctive style—a bright psychedelic portait of a man lying under a tree, a visually pleasing piece, but without a political or social edge. He half-heartedly admits that he gets joy from such pieces.
"I want to separate street art and graffiti completely," states Aryal matter-of-factly. Both have their place, he says, but there are few who take their protest or commentary to the streets. Street art came from graffiti, which is a subversive pursuit done without permission in public spaces.
Street art, however, has a more visual bent and has been embraced in the form of commissioned murals on embassy, business or NGO walls around the Valley, mostly speaking to activism and ideas rather than the scathing social commentary that graffiti is often known for. Artists get paid well for painting these murals, so many do them to enable them to pursue their passion projects, which, for street artists, are often not the kind that show up on embassy walls.
Graffiti and tagging in Nepal, says Aryal, is small and almost non-existent. It is in fact so small that he knows most of the people who are actively scrawling the walls, and knows who has done each one.
Among this motley crew is Arin Shrestha, one of the few artists tagging Kathmandu's walls. The 26-year-old goes by the name Rog and lives next door to the original Kaalo.101 space, in a soon-to-be opened artists' residence. Shrestha describes his work as tagging and graffiti. It's a fast form of art, done under the shroud of darkness, and used as a means to lay his mark on the city. Shrestha sports his distinctive style of tagging and calligraphy on his face—green and red tattooed lines streak from his forehead to his cheek, across his left eye, where the green turns into type, but is obscured by his beard.
Shrestha describes the hard-and-fast style as "dirty", which is a good thing, but refrains from calling it political or social commentary.
Ashin Gurung, a Pokhara-based graffiti artist, feels the same way about tagging. Having gotten into tagging and graffiti through his hip-hip and b-boying past, the 24-year-old primarily focuses on graffiti under the street name Strew.
But none of his art is inherently political or socially-driven, he says.
"Graffiti artists don't ask for permission and go crazy, but street artists approach walls in a different way," Gurung told the Post over the phone. The work that the public is proud of are large beautiful pieces, such as murals—this is what those in the scene consider street art, says Gurung. His own work, however, consists of stylised lettering, bright colours and graffiti—the kind one might expect in places such as Barcelona or New York.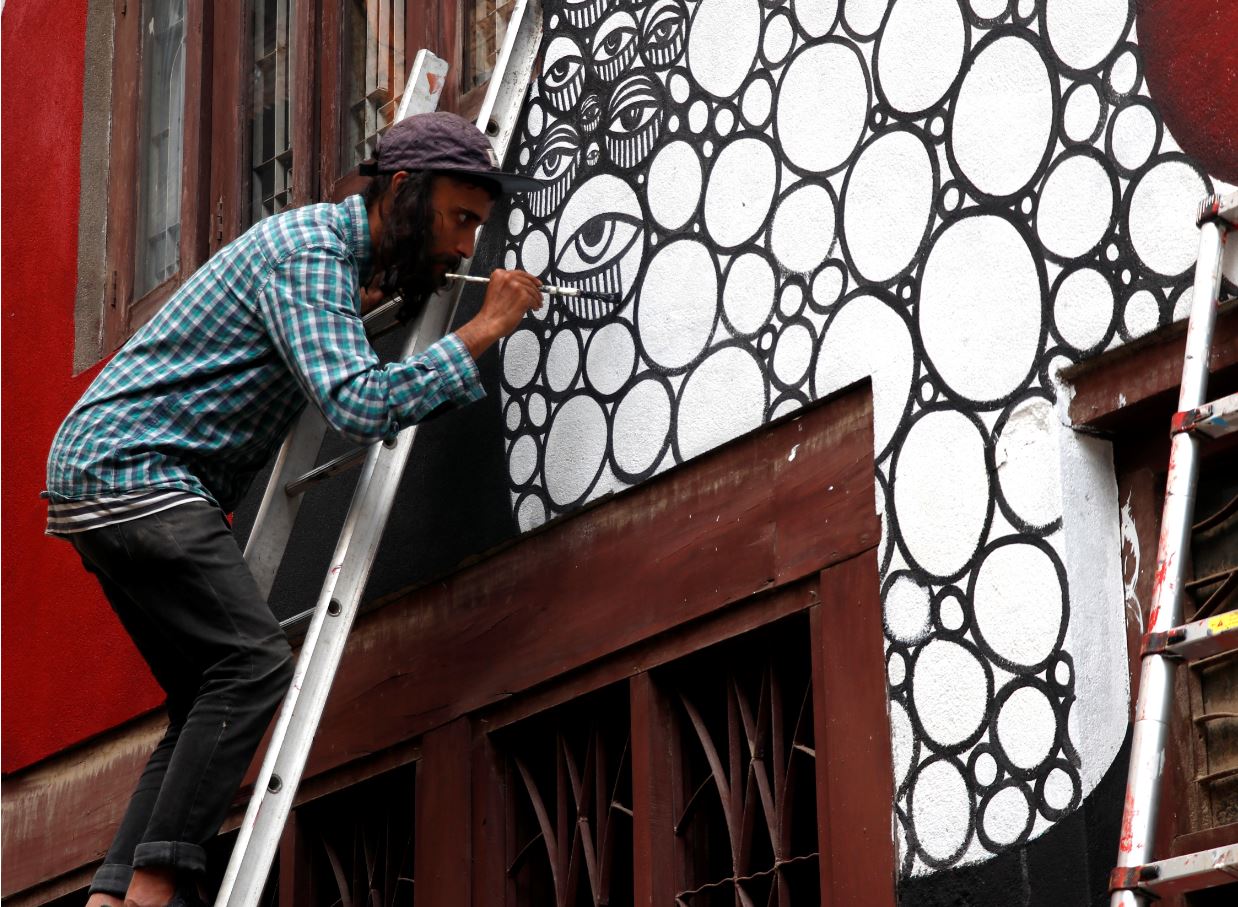 Aditya Aryal, who goes by SadhuX, paints a mural. Sanjog Manandhar /TKP
"I have done some socially-driven artwork," says Gurung, referring to the women's rights murals he has painted. "I really want to do those types of projects because it makes a positive impact." Both Shrestha and Gurung consider the political scene tiring, and believe they are best to look at social commentary.
So neither Rog nor Strew's works is inherently provocative. "Everything is messed up. I don't know who to believe because everyone has their own truth," says Shrestha. "I don't want to poke society because I also don't want them to trouble me."
With the 'Rape me' Kumari stencil, Aryal poked his artistic finger at Nepali society, pointing to its underprotection of women — specifically the rape of Sita Rai in 2012. But given the volume of criticism, Aryal learned soon enough that insulting the living goddess was a step too far. Edging out politics, religion is the most contentious subject one can broach in Nepal, he says. The artist's space points to an appreciation for all mediums of artistic expression, but there are limitations.
Filled with purely aesthetic and socially-driven pieces in equal measure, Aryal's home is laden with art. Women's rights, politics, conservation, global movements—everything is there.
"I want to work with sensitive subjects, but I don't want to offend anyone," says Aryal, considering his 'Rape me' piece. "But at the end of the day, that's the quality of street art. That sort of imagery is going to offend someone."
Aryal is resigned to the fact that offending people comes with the territory, and he just has to deal with that. But with the lines between expression, insult and dissent becoming thinner, Aryal has to approach things differently. And, it seems, the scene has followed suit.
"I have to be smart now," he says. "I am angry with my government, but I can't express it through art. Two of close artist friends have received threats for taking on religious topics."
Second in the hierarchy of offence is politicians, who seem to be unable to take criticism. Aryal says he's not scared to broach these subjects, but now, the implications of such work have become larger than being temporarily maligned.
"We have freedom of speech, but we still get threats," he says.
Sporting butterfly wings, the Kumari piece paid tribute to Nirvana's 'In Utero' album, which contains the song 'Rape me'. Not long after the paint dried, the Post published an opinion piece on the Kumari art. The two provocative words were painted over by a member of the public. But Aryal wasn't so easily defeated. He repainted the words soon after, only to have the entire piece painted over. It was later exhibited in New York, and the original piece was purchased for 2,000 euros. Aryal's work can now be found worldwide, in countries like Denmark, India, Germany and the UK.
All three of these artists, however, draw a line in the sand when it comes to where they do street art, tagging or graffiti. They never touch schools, heritage areas or religious sites, and only think about government buildings occasionally. Kaalo.101's social media pages recently lambasted an unknown tagger for scrawling paint across a traditional home in Patan.
"We do value the global graffiti movement, but only if it is executed in an empowering context and not as an oppressive, colonising practice of some immature males going around and pissing on each corner," the Facebook post said. "We have a responsibility as artists and if you consider yourself as one, you should try to value, understand and connect with your context rather than following a global movement blindly."
While Aryal has definitely made a name for himself, Gurung and Shrestha are working to make theirs. Rog, which means disease in Nepali, says his art is a disease he wants to spread around the city. The few people who truly appreciate his 'dirty' work are those he calls 'the infected ones'. Because not many people are "infected" by Rog's graffiti and tagging, he has had to find the perfect time—the wee hours of the morning—to spray the city walls.
Once his style is fully evolved, Rog's pieces might appear with more distinct messages and themes, he says. Shrestha, however, does not know whether he wants to get involved in politics or a social movement, so it's hard to make a statement.
Shrestha and his friends used to tag late at night, but their seemingly suspicious behaviour led them to be questioned by police. People too are hardly welcoming of his tagging.
"It's like when you learn a language you have to start with letters, rather than words. Without learning 'a, b, c, d' you cannot say 'apple'," says Shrestha. "I need to write 'apple' properly. I will write stuff later, mostly related to disease, how society treats art as a disease. They want to get rid of it, remove it and throw it away."
---
---