The many lives of Kajal Naina Sherchan
Founder of internationally renowned jewellery brand Kajal Naina shares her winding life trajectory from art to dentistry to finally jewellery design.

Photo courtesy: Kajal Naina
bookmark
Published at : May 9, 2022
Updated at : May 11, 2022 16:25
Lalitpur
Nepalis interested in designer jewellery are most likely familiar with the name Kajal Naina, a jewellery brand out of Hong Kong and the brainchild of Kajal Naina Sherchan Rai. The brand became very well known in Nepal after actor Priyanka Karki wore a custom-made mangalsutra from Kajal Naina for her wedding. But unbeknownst to many in Nepal at the time, Kajal Naina was already an award-winning jewellery brand. In 2018, the brand bagged two awards—Bronze A' Design Award in Jewelry, Italy, and an Outstanding Achievement for Jewelry Design at Saul Bell Design Award for the brand's 'Laliguras' (Rhododendron) series. The brand also won first place in the People's Choice Category of the 2019 International Jewellery Stars Award.
Popular among young adults for minimal yet chic design, Kajal Naina, says Sherchan, was started to create jewellery designs that suited the personality of modern women across the globe. Sherchan, who founded the brand in her late thirties, "has always had a special bond with jewellery" but never really saw herself working as a professional jewellery designer.
"I grew up loving jewellery because on every special occasion of my life—be it my birthdays or a visit to someplace—my parents, especially my mom, would mark the occasion by gifting me a jewellery piece. Sometimes, the gift would be a charm bracelet or earrings. For me, jewellery has never been just ornaments but also a memento of precious memories," says 44-year-old Sherchan.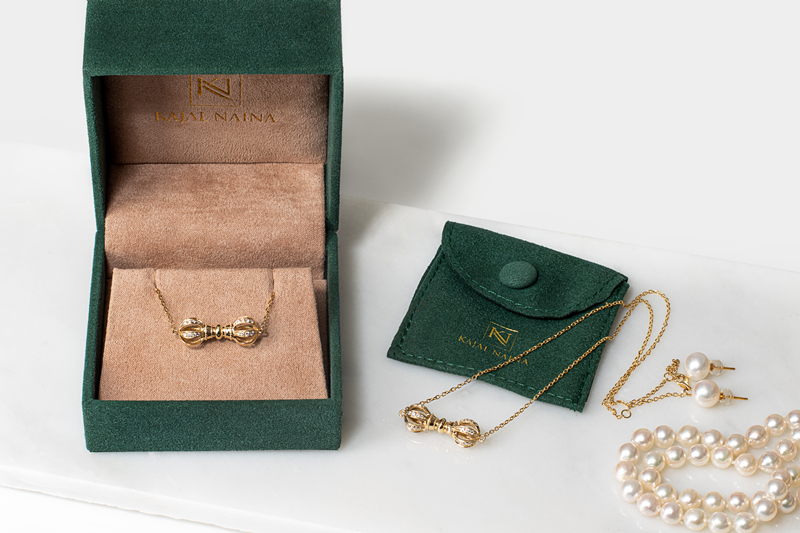 Photo courtesy: Kajal Naina
Before becoming a full-time jewellery designer/entrepreneur, Sherchan was a successful dentist. Studious in nature, Sherchan, as a little girl, always told everyone that her aim in life was to become a doctor.
But by the time she graduated high school, she no longer wanted to become a doctor. "I took a gap year after high school to give myself time to think about what I wanted to do in life," says Sherchan.
Then one day, she told her parents that she wanted to join an art university and become an artist. The news, says Sherchan, came as a shock to her mother, who thought her daughter would indeed go on to become a doctor.
"We have several engineers and doctors in my family, but nobody in the family ever put me under any pressure to become a doctor or an engineer. I was the one always constantly saying I would be a doctor one day," says Sherchan. "This is why my mother was quite shocked when I told her that I wanted to become an artist."
But a visit to a dentist completely changed her plans.
"The year I was to join an art university, I visited a dentist for a dental appointment, and the female dentist told me that dentistry is a combination of science and art," says Sherchan. "That was when I decided to study dentistry and become a dentist."
Not long after the visit to the dentist, Sherchan left for India to study for her BDS (Bachelor of Dental Surgery). During her second year in college, Sherchan received the news of her mother's disappearance. Not long after her mother's disappearance, Sherchan's father suffered a stroke that left him bed-ridden for the rest of his life. These subsequent tragic events tore Sherchan apart, and she wanted to quit her studies and return home.
"But I decided against quitting my studies because I knew that the only way to honour my mother's memory was to finish my degree and become a dentist," says Sherchan.
After finishing her studies, Sherchan returned to Nepal and started practising as a dentist. She eventually went on to run her own private clinic in Kathmandu. In 2009, she met her future husband.
"I had to choose between my career here in Nepal or join my husband, who worked as a banker in Japan. I chose the latter. Given that I already had a successful career here in Nepal, it wasn't an easy decision to make," says Sherchan.
In Japan, Sherchan was unable to work as a dentist because the country didn't recognise her dentistry degree from India. She started learning Japanese to pursue a dentistry degree in the country, but then she became pregnant and that put her plans on hold.
"I had to give birth to children one day or another, so we decided that the time was right for us to become parents," says a candid Sherchan. "Both my daughters were born in Japan. Keeping our children's future in mind, we decided to move to Singapore, where English was widely spoken."
In Singapore, Sherchan tried to get into the prestigious National University of Singapore (NUS) to pursue Master's in Dentistry.
"There were only three seats available, and I didn't get into NUS on my first attempt," says Sherchan.
Not the one to give up on her dreams easily, Sherchan spent considerable time preparing for the entrance exam and got into NUS on her second attempt.
"It was one of the happiest moments in my life," says Sherchan.
But her happiness was short-lived. During her first year at NUS, she had to quit her studies and move to Hong Kong.
"We had to move to Hong Kong, and it didn't make sense for me to continue my studies in Singapore because the degree wouldn't be recognised in Hong Kong," says Sherchan. "Looking back, it was all the difficult decisions that I have had to make almost all my life that shaped me into the person I am today. I have always had to make important decisions, move on with life, and focus on making the best out of the situation. I have been able to create the Kajal Naina brand because of my experiences," reflects Sherchan.
After shifting to Hong Kong in 2016, Sherchan enrolled in a jewellery design class. Surprisingly, her aim at the time was to become a carpet designer.
"It was a friend of mine who saw my potential and encouraged me to get into jewellery designing," says Sherchan. "Once I started jewellery designing, I gave my all and even took business classes to understand the financial aspect."
Regardless of all the sacrifices she has made for her family, Sherchan says she is happy with where she is today and her journey wouldn't have been possible without the support of her family. Sherchan is now focused on taking Kajal Naina to greater heights.
"When my parents were alive, one of their ways of showing me their love was by gifting me jewellery," says Sherchan. "Today, I make jewellery that I know many people buy to gift to their loved ones. I couldn't be happier with what I am doing in my life."
---
---