For the love of books
Meet bibliophiles who have been quietly building their book collections.

Beeju Maharjan/TKP
bookmark
Published at : February 19, 2022
Updated at : February 19, 2022 07:57
While e-books might have put a dent in the popularity of physical copies of books, they haven't dissuaded many bibliophiles in Nepal from continuing to rely on physical books. Many ardent readers have gone a step further by creating their own book collection, some even worthy of rivalling small public libraries.
Some private book collections have also extended to the public's reach, like scholar and historian Dilli Raman Regmi's private collection, which became Dilliraman Kalyani Regmi Memorial Library, and opened to the public in 1981.
"A book lover will always find a way to make a collection, a library of their own, and it won't be all that surprising. It's just a natural thing for them to do," says 73-year-old Indira Dali, an advocate for public libraries and the former chair of the Dilli Raman Kalayani Regmi Memorial Library Development Board.
The Post recently sat down with some passionate bibliophiles—whose collection has been a significant part of their identity—to bring forth their stories about their love for books and how their collection increased to shape as a library in their homes and communities.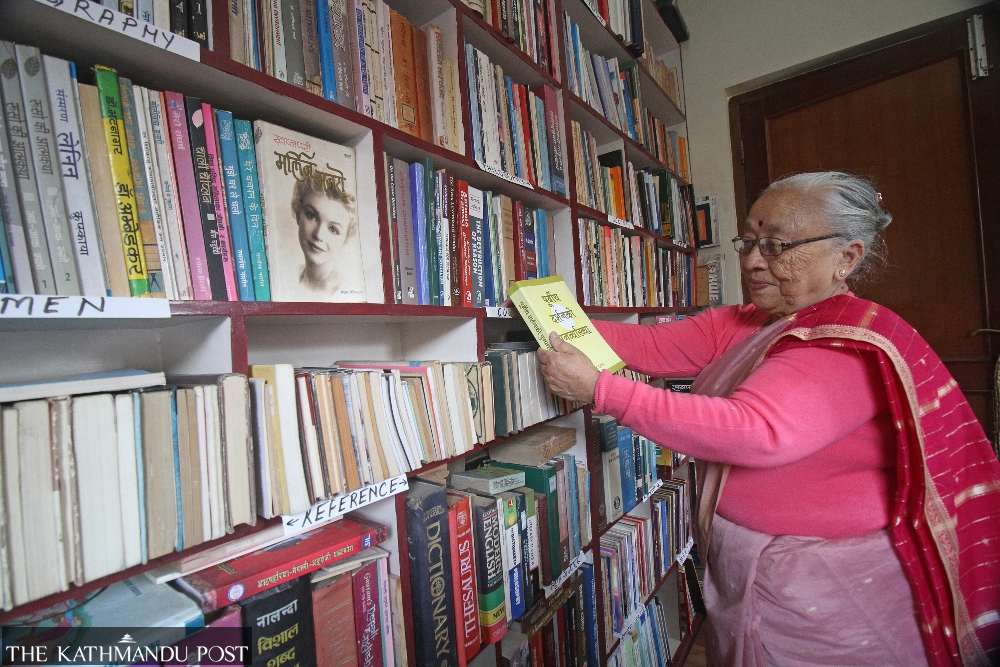 Beeju Maharjan/TKP
Indira Dali: 'It has been my dream to read all my life.'
In Indira Dali and her husband Ninu Chapagain's home library in Sanepa, there are books everywhere—on the shelves and inside boxes. With over 4,000 books, the room has limited space for people to move around.
Dali, a library advocate and a children's book writer, often frequents the room to find books to help her with her manuscripts, essays, and reports.
"In the past, I used to have a lot of fiction books. But of late, I have begun collecting books that help in my research as a writer," says Dali. "And that is what I think a home library should be able to do—to help one in one's pursuit of work."
Dali started collecting books long before she dreamt of being a librarian. When she was a girl, her father used to read her fairy tales like 'Cinderella' and 'Hansel and Gretel' in Nepalbhasa, and this, she says, drew her into the world of books. She vividly remembers her father's bookshelves lined with his science and English books.
"It has been my life's dream to spend all my time reading and become a learned person. Because of our family's weak financial state, my mother had to struggle a lot to send me to school, so I never took school for granted and focused a lot on studying. Naturally, books became my companion," shares Dali.
In the many years that Dali has been collecting books, she has made it a point to find books by women writers and create a bibliography of women writers in Nepal. "A lot of those boxes you can see in my library are works by women writers. We must have that in documentation because works by women writers have not been documented as much as works by men have been. And because education for women started much later, you don't find many books written by women," says Dali.
Once Dali starts talking about books, it becomes evident how much she loves books. She speaks enthusiastically about her book collection and is quick to share what she says are must-read books.
"You must read Rabindranath Tagore, Sarat Chandra, Maxim Gorky, Leo Tolstoy, Nikolai Ostrovsky, Charles Dickens, William Shakespeare, Parijat, and Laxmi Prasad Devkota. They were great writers. I used to sleep besides their books. And I used to copy the words of 'Geetanjali' by Tagore and 'Lalitya' by Lekhnath Poudel in my register copy. When I was younger, I have spent innumerable days reading the works of these splendid writers," says Dali, her eyes lighting up.
Dali was also one of the leading people responsible for getting Jamal's Nepal National Library building's construction off the ground. Before Dali and her compatriot's intervention, the project had been stalled for years due to the vested interest of business people and the country's apathy for learning institutions like libraries. She is also passionate about children's libraries and has co-founded Community Child Development Library, a children's library, in Sanepa. "If you want to cultivate a reading culture, you must start with children," she says. "It was my father who helped me develop a reading habit, which has benefited me immensely."
In a world where many are choosing e-books over physical books, Dali is a firm believer in the latter's importance.
"The relationship you have with a physical book is nothing in comparison to something you have in your device," she adds.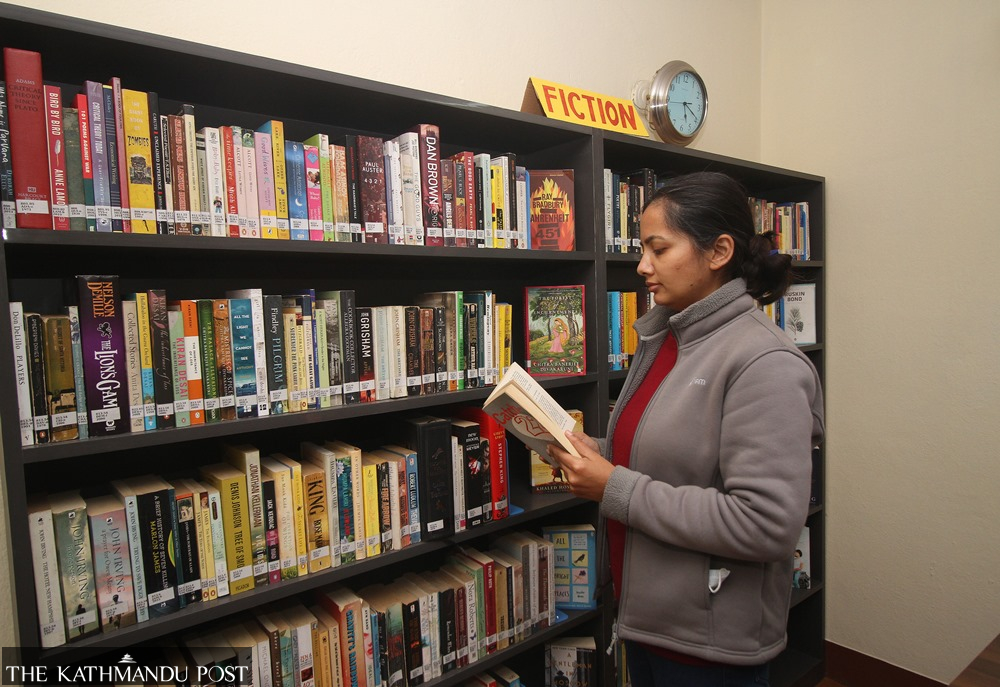 Beeju Maharjan/TKP
Priyansha Silwal: 'We wanted to remember our Sanu with books.'
The sorry state of government-run public libraries in the country has made them one of the last places for people to think of as places to find books to read. But things are completely different at Sanu ko Pustakalaya, a community library, started by Priyansha Silwal and her family. The library opened in October last year. The well-stocked library, located in Manbhawan, Patan, is devoid of the musty smell that one usually finds in many public-funded libraries.
This newly opened community library was started in the memory of Silwal's younger sister, who passed away around a year ago. The family started the library with their own book collection. The afternoon the Post visited the library, warm sunlight pouring through the windows bathed the room, and a handful of readers were lost in the world of books. At the library entrance, a portrait sketch of Silwal's sister 'Sanu' welcomed readers inside their book world.
"We are a family of readers, and reading has been a significant part of getting through life. It's the bridge to knowledge. But it has also been a comforting companion for us," says Silwal, choosing her words carefully and softly, not wanting to disturb the other readers in the room. "I remember turning to books when my sister passed away—most of them were books she had gifted me. Reading helped everyone in our family deal with our grief."
The idea of setting up a memorial library came to the family as it tried to gain a sense of balance. "Sanu was an avid reader, and the Sanu ko Pustakalaya is our attempt to remember her life by bringing a library where people could come and read, which Sanu loved to do," says Silwal, an ENT doctor.
Before deciding to set up the library, the family, says Silwal, first researched the need for a public library. "We came to the understanding that most state-funded libraries are not user-friendly. As a result, they fall short in giving a good environment for people to spend time reading. Spaces like these have become quite uncommon in recent times, and so we thought it's an idea we could work on," says Silwal.
The family's book collection had about five hundred books, Silwal says.
"Our family collection was made up of my father's economic books, my mother's Nepali fiction books, and Sanu's array of spiritual books and my English fiction, and classics books," says Silwal.
Since the family's collection wasn't enough to start a library, they started racing out to family and friends to contribute to the cause.
"Many of them came forward and donated books and money for the library. And because we are new, we are still growing our collection," says Silwal.
At present, Sanu ko Pustakalaya has a collection of over 2,500 books, and includes non-fiction, fiction, and children's book sections. Currently, the Silwal family funds the library's upkeep, but in the long run, the family hopes to sustain the library with the funds collected from the institution's readers' membership programme.
"This journey of setting up and sharing this library with the people has been a gratifying one," says Silwal. "We have also realised that the joy of sharing books comes with much responsibility, and we want to make it a learning space that keeps evolving so people can make the best use of it."
Beeju Maharjan/TKP
Pushpa Raj Bajracharya: 'I think of books I own as memories of my life that I can revisit whenever I want to.'
Sixty-one-year-old Pushpa Raj Bajracharya loses all track of time whenever he spends time in his home library. The room is his favourite part of his house, located in Chakupat, Patan.
"I started collecting books when I was about 11. And I began with the electronic engineering books that my elder brother had left behind. He was a very talented person. He even used to make radios out of matchboxes," says Bajracharya, his voice soft and careful.
"As a child, I looked up to my brother, and I admired his creations. I wanted to learn from him and become like him. But unfortunately, my brother passed away when he was 22, and his books became the only way to get to know his works better. Reading his books made me fall in love with reading, and I eventually started collecting books and now have a home library of some sort," he explains.
Bajracharya is a man of many talents; he is a sculptor, data engineer, computer technician, and also has a handicraft business. He says that he has never shied away from pursuing his interests and believes in always being open to learning new things in life.
"I love reading books and immersing myself in the knowledge it holds, but on the contrary, I was not very interested in school. I felt like schools limited us to only a few books, and as a young, impulsive, and determined boy, I was more into exploring books that were not part of my school curriculum. At that age, I had already understood the ability of books to broaden my knowledge," he says.
Over the years, whatever new interests Bajracharya developed, he researched them by reading books. Books about science led him to understand religion, and books of religion led him to understand life, he says.
"When I was trying to understand parapsychology, I wanted to understand the idea of reincarnation, which eventually brought me to the world of Buddhist philosophy and science," shares Bajracharya.
Today, Bajracharya's book collection has many books on electronic engineering, parapsychology, psychology, and an extensive collection of Buddhist literature. His library is also filled with books and magazines he read as a child, such as 'Science Today' and 'Science Reporter' magazines.
When he pulls out a book titled 'Journal of Rare Buddhist Texts Research', Bajracharya eyes sparkle with excitement, like a child showing their favourite toy. Through the years, Bajracharya's collection of Buddhist literature on the Newa Buddhist community of Patan has also made him a go-to person for Buddhist reading materials. And he doesn't mind visitors who want to spend time in his library. Every now and then, his friends drop by to borrow books from him. And many student researchers rely on his collection. "Knowledge should always be shared. Although my library is not public, I don't like to say no to people who want to read like me," he says.
For Bajracharya, the books in collections are priceless. During his free time, he likes to revisit old books. "I think of books I own as memories of my life that I can revisit whenever I want to. They are phases of my life. Books, after all, embody knowledge that we all are after in life," he says. "These collections were made with hard work. And they are my life's most valuable possessions."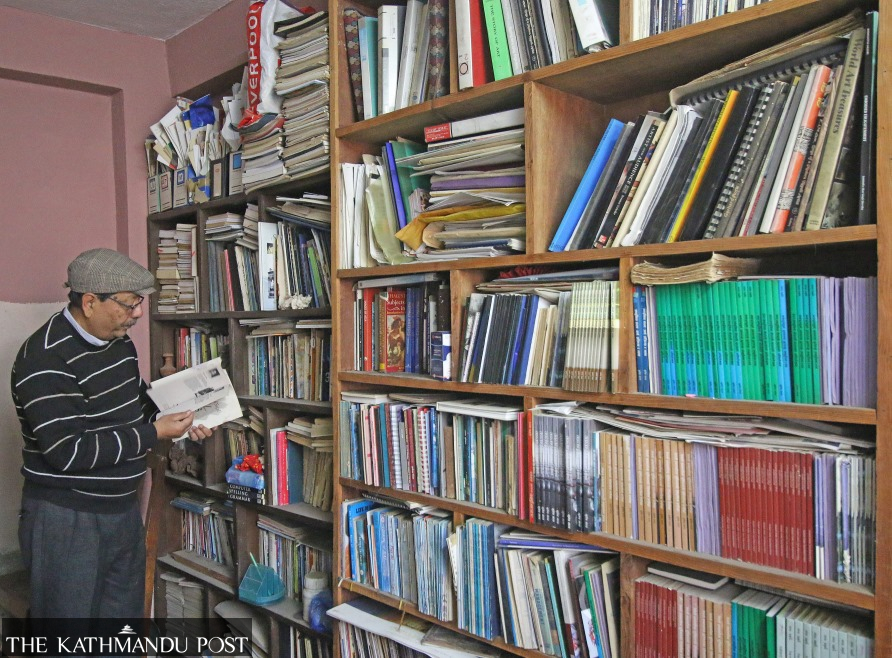 Beeju Maharjan/TKP
Mukesh Malla: 'I wanted to build an inventory to help my writing.'
On the third floor of Mukesh Malla's house in Bulbule, Chabahil is a room filled with art books. From catalogues of old exhibitions to books that delve into art history and culture, Malla's collection is a treasure trove for those interested in arts. Malla can often be found reading on the library's bed, which is also his preferred place to sit when writing analytical pieces about Nepal's art practices. The air in the library is thick with the particular smell of old books.
Sixty-eight-year-old Malla is an artist and has written extensively about Nepali art and artists. He is also one of the eminent art critiquers in the Nepali art community. His first book was 'Tulikaghat', published in 1995. He also regularly writes art columns for Nagarik, a Nepali national daily newspaper. "I started writing in 1973 when I was living in Dharan. I used to read art pieces written by Raghubir Sahai for an Indian magazine called 'Dinman', and I think it was his writings that got me into art writing," says Malla.
"At first, I took it up as a way of earning some money but eventually I became more passionate about it, and that's how this collection you see here started," shares Malla, beaming in front of his collection.
Malla's home library is personalised and is more functional and practical than any library can be. He has files of his own published articles and stacks of photocopies of art-related books, which include a copy of 'Investigating Modern Art' by Liz Dawtrey, Toby Jackson, Mary Masterton, Paul Wood, that he collected while growing up. Malla even has a catalogue of Siddhartha Art Gallery's 1991 exhibition of carpets by Yogendra Dangol and Kumbeshwor Technical School.
Malla started collecting art-related books and writings to work on his craft as a writer. "Good writing is not just about perfecting language but also about giving readers the right information to help in their critical thinking and analysis," says Malla.
As a writer pursuing art writing, Malla felt that it was imperative to create an archive of books and reading materials to rely on to help make his writing truthful and factual.
"Today, my collection helps me map the development of art and critique the Nepali art practises rightfully," he says. Malla, over the years, has collected over 1,000 books about art, of which hundreds and hundreds are Nepali documentations about art.
His repository is even considered significant in the Nepali art community and has drawn many visitors interested in understanding Nepal's art history to his home.
Malla's motivation for the collection, over the years, has fortified even more with the understanding that libraries in the country still do not have enough books on Nepal's art history and literature. And even with his extensive collection, he remains a hungry bibliophile.
"It's sad that our libraries still don't have a good collection about Nepal's art history. A lot of these libraries only curate lavish collectors' books. It's a shame that even after all these years, we don't have a good art library," says Malla. "Which is why I feel all the more proud of my collection and possessive of my handpicked books on art."
---
---